Marutirao Keer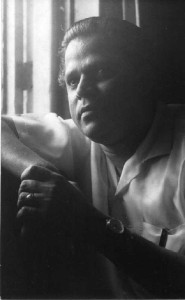 I still remember my childhood when I used to always see three names as Assistants to R.D. Burman, Basu, Manohari and Maruti. When I started understanding music and the musical field I came to know the full names of these three assistants. Basudeov Chakravaty, Manohari Singh and Marutirao Keer.
This must be the first instance when the rhythm assistant was given so much of importance. And why not , Pancham's music was full of rhythm.  I always admired Pancham's rhythm from the day I started liking him.
I had a chance to meet Maruti Rao in 1978 during the recording of The Burning Train. That was the time I realized how important Maruti Rao was to Pancham. Pancham was very close to him on set as well as in his private life. Pancham used to always visit Maruti Rao's home at Dadar. Together they created enigmatic rhythms for number of songs at his place.
Maruti Rao started his career as Tabla player. His gurus were Shree Bhanudas Mankame, Shree Bhairav Prasad, Shree Sunder Prasad & Ustad Gamekhan Sahab. Marutirao played almost for all music directors (except SJ as per him). Almost all the tablas heard in marathi filmi and non-filmi songs have been played by him. He started playing for Dada Burman (S.D. Burman) and then with Pancham. There were times when both of them were assisting Dada Burman.
His mastery over tabla reflects in  his playing for GUIDE's "Piya Tose Naina Lage Re". During those days while rehearsing for Dada in JET Bunglow, Marutirao and Pancham  became friends. Pancham and Marutirao had such a great understanding that only Pancham's sheer eyecontacts  were enough for him to give what Pancham wanted. Marutirao remained as his rhythm assistant and close associate right from Pancham's first film "Chote Nawab".
Today Pancham has the most fan following amongst all other Music Directors. Majority of the Fans are due to Pancham's creation of novelty rhythms. Marutirao shares a big credit for this. Pancham and Marutirao used to always look for something new, something creative in the rhythm side. It may be the style of playing or it could be introduction of new instrument. Marutirao once narrated the story of TUMBA, while Pancham and his group had gone for some shows in Africa. There they saw this African Instrument called Tumba. Pancham told Marutirao to watch how that player is playing, his style, his throw and everything. After sometime Marutirao stood up and started playing the TUMBA and the artist along with all other spectators kept on watching Marutirao playing TUMBA for next hour or so.
This triggered Pancham and thus he brought TUMBA to India. The legendary TUMBA played in "Aya Hoon Main Tujhko Le Jaunga" from Manoranjan is a classic example of his rhythmic playing. Shammi Kapoor the director of the film came and hugged Marutirao after the recording.
PanchamMagic was lucky to have Marutirao as one the early guests. It was a golden day (or rather days since he stayed in Pune for 4-5 days) for all Panchamites to meet and hear from horse's mouth about making of rhythms. For Marutirao it was just normal and always said Pancham always wanted something different and new which I used to make for him. The polite man kept on saying "Ho Gaya, Ban Gaya". After Pancham's death Marutirao decided not to play for recording. However his wife expired within a month after that and then he decided that he will never touch Tabla again. PanchamMagic members were thrilled when Marutirao asked to get a tabla for him to play. 4-5 days with him went like 4-5 minutes.
I personally had a chance to go to his house number of times during making of this episode of PanchamMagic. I actually took all my cassettes, CDs and a the player with me his home. Initially he was reluctant to even hear any music but as I started playing the numbers one by one, he remembered each and every song. Morning to evening we both used to listen to various rhythm patterns and he kept on explaining the variety hidden in those patterns.
Marutirao not only played for Pancham but also gifted good musicians to the industry. Such a kind hearted person, did so much for everyone and lived a simple life in his 10×12 ft room in Dadar. His first 'CHELA' was Amrutrao Katkar. He taught him tabla but then he asked him to switch over to RESO RESO. Today pick up any song of Pancham and you will hear Marutirao's chela – Amrutrao Katkar's reso reso. Homi Mulla in one his interview had specifically mentioned that Marutirao was the one who taught him Duggi Tarang. No wonder that because of Marutirao the whole of Pancham's rhythm side was filled with Marathi Manus like Anna Joshi, Amrutrao, Manya Barve, Naik, Satnak and many others.
Pancham created a non filmy album "Dil Padosi Hai" with Ashaji and Gulzar Saab. All 14 songs spread over 2 long play records are fantastic. Lets specifically look at the tabla of two songs : "Sham Se Ankh mein Nami Si Hai" the tabla played in this song can be easily recognized as arrangement of Marutirao which is typically from DELHI GHARANA. The song simply get lifted by the uneven steps of tabla.  Another song which actually should be part of Guineas Book which was created in 17 matra (or 8 ½  matra) "Joothe tere nain".
Pancham was always fascinated by fusion and this featured in his work specifically in rhythm side. He used to mix Tabla with drums for western songs or he would use drums for classical songs. Simple example for this would be a very complex rhythm in the song "Tumse Milke Zindagi Ko" from film Chor Police or "Mausam Pyar Ka" from Sitamgar. The best amongst all is "Jab Andhera Hota Hai" from Raja Rani. Pancham was a dreamer and his assistants like Marutirao used to bring those dreams to existence.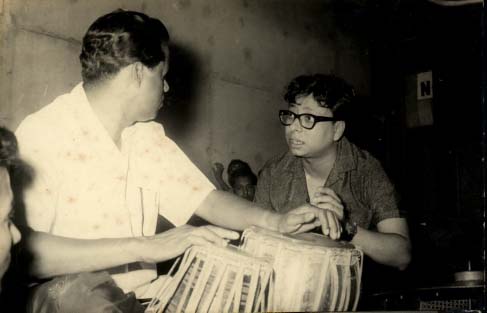 Marutirao passed away Jan 2005, leaving his complex rhythms and so many mysteries which are still unsolved. PanchamMagic gives ovation to such magician who made Pancham the biggest magician.
Ankush Chinchankar
panchammagic.org

He is hard of hearing now. But at 72, Marutirao Keer, the best tabla player and music arranger the Hindi film industry has ever seen, can be excused. Not long ago, however, Keer could pick up the faintest aberration in a musical pitch and had the ingenuity and skill to switch over from tabla to the tumba, without missing a beat. More importantly, Keer was telepathically linked to music composer Rahul Dev Burman. In the city as a special guest for an audio-visual tribute to R.D.Burman organised by Panchammagic.org. Keer, despite his recent bout of ill-health, was energy personified when talk veered to his days with 'Pancham"-as R.D was known.
"I have no hesitation in calling Pancham the best music composer of all time. Not just because he gave Indian cinema songs like Aaja Aaja, Gulabi Aankhen, Kuch Na Kaho, but for the simple reason that his understanding of music was so somplete that he dared to experiment with any instrument ans sound" says Keer. a native of Ratnagiri, Keer was attracted to the tabla at an early age ("padhai-vadhai mein koi interest nahin tha") and gravitated towards Mumbai to find a guru and work. "I found four of them" he laughs, referring to Bhanudas Mankame, Bhairav Prasad, Sunder Prasad and Gamekhan Sahab who in stages, tookthis young man on a musical journey which introduced his fingers to the maigc of rhythm.
"The reaosn why Pancham and myself were so attuned to each other's thining and sense of music, is beacause i could provide him with the theka and pick-up he required for all his compositions. We were perfectly matched. Unka khali ishara hi kafi tha" says Keer, his eyes misty at the thought of those golden days, when nights were spent trying to get every track done differently. Pancham, recalls Keer, did not care two hoots for the commercial angle of the industry. He was a total non-conformist when it came to the herd mentality. For him, what mattered was to keep creating different forms of music, as can be witnessed in the title track of Bhoot bangla, or in the way he got tabla player Samta Prasad for the background track of the scene where Hema Malini is chased by Gabbar Singh's men in Sholay. "And the fact that he had a perfect understanding of how western music could be used for hindi films is more than evident in the songs of Teesri Manzil or in the song duniya Ko goli maaron in Arjun," adds Keer.
Having moved into the S.D.Burman camp, Keer made his presence felt immediately, which is why Pancham picked him up to be music arranger for a non-released film titled Raaz. "Mehmood's Chote Nawab was the film that got Pancham into the limelight, but he truly arrived on the scene with Teesri Manzil. And the credit for this music must go to his penchant for improvising all the time. He would get records from the United States showcasing the use of instruments like th ebongo and tumba, and then would ask us to create similar sounds. He had an inherent belief in fusion and examples of this can be found in The Burning Train- in which one exceptional number had to be unfortunately edited at the last moment." recalls Keer.
ASk him for a closer look at the kind of person Pancham was and Keer says that "he was one of the most genuine, sincere and creative human beings." Not given to tantrums, nor suffering from filmi ego, Pancham was music personmified."When he walked, his body moved as if rto the beat of a rhythm unwinding in his head." says Keer. Besides, giving hindi films a new range of foot tapping and woul-swaying music, Pancham created a genre of his own. Which included blowing over the top of an open bottle or drumming on a dholki submergerd in water. Keer is glad he was fortunate enough to have beeen present through it all. "Even if it seemed like madness at times," he says.
Huned Contractor
Times of India
Friday, June 29 2001
Manohari Singh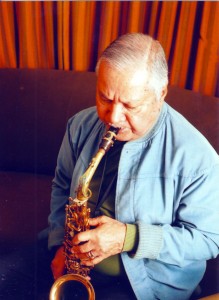 One of the senior most member of R D Burman team, and without whom pancham's music would not have been the same as what we hear today. Always, in credit titles in movies composed by Pancham, carried 3 important names of Basu-Manohari & Marutirao as his assistants and arrangers.
Manoharida  is considered Master of instruments like Alto Saxophone and also other blowing instruments such as many types of flute,(English flute, Pan flute, recorder, piccolo etc)clarinet and had played mandolin too in few recordings in 1960s.
Manohari da alongwith Basu da( Basu Chakravarty, Pancham's  another assistant) came from Kolkata with music director Salil Chowdhury  to Mumbai. He was associated in playing sax there  in jazz bands as well as in the Calcutta Symphony Orchestra.
Basu & Manohari da were friends together and knew no one in Mumbai music scenario of films. Salilda introduced  Manoharida to S D Burman and started playing as musician with Sachin da and gradually came into arranging the music with so many instruments he had played and had knowledge of Brass instruments comprising of Trombones, Trumpets, Tubas, Tennor sax etc. In those days even pancham assisted dada burman alongwith manoharida and after the death of Sachinda Manohari da carried on as an arranger with pancham da.
Manohari da mainly handled the brass section and Basu da who later joined as an arranger too with pancham handled the string section of violins, violas, chellos, guitar, santoor etc.
Manoharida used to play saxophone in music clubs of Kolkata, and was so good in playing jazz style, which pancham couldn't miss it hearing and over the years, made use of saxophone in such beautiful manner in his songs, that you can hardly miss Manoharida's sax in any of Pancham's compositions.
Even in S D Burman's compositions, one cannot miss Manoharida's sax playing  like in Guide's Gata rahe mera dil, Sharmilee's Khilte hain gul yahan, Jewel thief's  Raat akeli hai….innumerable songs indeed,where one cannot move ahead while humming these songs, you unknowingly hum dada's saxophone pieces too..they are mixed up so well in the composition. S D Burman gave Manoharida's first break in Shakti Samanta's  film Insaan Jaag Utha…and then on Manohari da was with Burmans through out, with occasional playing for sax & flute with other music directors like Roshan, Laxmi-Pyare, Shankar Jaikishan, Kalyanji Anandji etc.
Manohari da had arranged saxophone for Laxmi-Pyare's  score of Amir Gareeb which had main hero Dev Anand as saxophone player. Kishore kumar's main aaya hoon from Ameer Gareeb became immensely popular with Dada's sax in foreground.
Manohari da was very strict when it came to arranging of music in studio, he was popularly known as "soldier" for his nature which was so strict and observed discipline all the time.
Many times he used to compose the interlude parts of songs in the car itself while going to filmcenter for recordings. Music was all the time on the minds of these great geniuses like Manohari da and pancham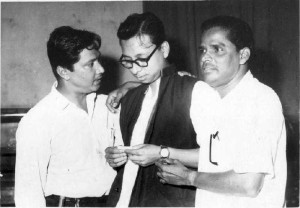 .
I had opportunity of  carrying Manoharida in my car twice to Pune for our Panchammagic shows and shared some great moments with him. We also interacted a lot for our instrumental shows which we conducted showing people, what brass, violins, pianos and other percussion instruments were all about in pancham's songs. Manohari da was used to be commander in chief, arranging all the music played by his original  team mates as well as other established musicians.
In rehearsals we came to know, how each and every piece of instrument and music was important to him and was so keen on getting it perfect to achieve the correct result. All musiscians were so humble with Manohari da's instructions and followed his arrangements with equal craftsmanship.
Even though he was not keeping well lately, manoharida was playing sax in live shows in very big way and he used to play many songs, solo  entirely on sax. His favourite solos were "Khoya khoya Chand" from Kala Pani, "Gulabi aankhen" from The Train, "O Mere Dil Ke Chain" from Mere Jeevan Saathi, "Ye Jo Mohobbat Hai" from Kati Patang etc, which always used to get never ending applause from audience.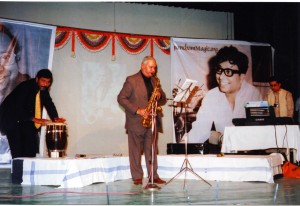 Manohari da's saxophone creations to name few,  "aaja aaja" from teesri manzil, "mehbooba" from Sholay," "Ye Jawani" from Jawani Diwani, "Gata rahe mera dil" from Guide, and has endless list with pancham and S D Burman. With others like Shankar Jaikishan's he had great playing in "Aji Roothkar Ab Kahan Jaiyega" from Arzoo, "Hai Duniya Usiki" from Kashmir Ki Kali with O P Nayyar, "Janam Janam Ka saath hai" with Shankar Jaikishan, "Jiska mujhe tha intezaar" from DON for Kalyanji Anandji, "Main aaya hoon" from Amir Gareeb for Laxmi –Pyare…the list is literally never ending.
He had played mandolin for pancham's "Tum bin jaun kahan" alongwith Kishore Desai in Pyar Ka Mausam and  "Dil Jo Na Kah Saka" from Bheegi Raat for music director Roshan.
The success he has got is for mainly his style of playing saxophone in jazz style and was very expressive in his blowing of saxophone, for example who will forget the sax pieces he had played in "Roop Tera Mastana" from Aradhana..just mind blowing and so romantic. He had played it in two tone as well.
Born on 8th March 1931, Manohari da also had composed music independently for films like Subse Bada Rupaiyya, Nargis, Chatpattee alongwith Basudev Chakravarty.Their duo was known as Basu-Manohari. "Dariya Kinari ek bunglow" and the "The whole thing is that ke bhaiyya" became super duper hits those days from Subse bada Rupaiyya.
Manohari da graced many shows of panchammagic, and loved all of our members so much. I still remember the standing ovation he used to get after the playing, be it flute or saxophone.We had great felicitation on stage by making wearing him a traditional Pagdi, and he looked so humble, always joining hands to audience and so much respect he was reciprocated with.
Such a fine artiste left for his heavenly abode on 13th July 2010 and industry will miss him as musician and conductor-arranger of songs but, never the less artistes like Manohari da will always live in music lovers' minds with his fabulous saxophone sound for as long as music exists , which is eternal.
Sandeep Kulkarni
Panchammagic
Basudev Chakraborty
copy paste article here
Swapan Chakraborty
Sapan Chakravorty
Pancham had GEMS in his team. At one time he had almost 8 music directors working under him as a part of his team. Sapan Chakravorty was one of them.
Sapan worked as RD's assistant music director and worked with him almost till the end of RD era. Sapan himself was a very good musician as well as a singer. Other quality which must be mentioned here is that he was a good lyricist and has written many of Pancham's Bengali pooja numbers. He himself has composed music for 5 hindi and 15 bengali films. Highlight of his career as a music director was for Amitabh starred movie Zameer (1975) and 36 Ghante (1974).
Pancham and Sapan together have sung many songs of which few mentioned below were chart busters along with few of his solo songs sung under Pancham's music direction.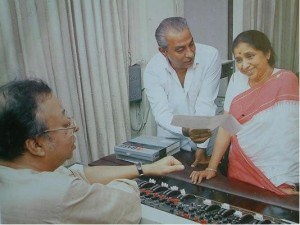 • Golmaal Hai Bhai Sab Golmaal Hai (Golmaal) with R.D. Burman
• Naram Naram Raat Mein (Naram Garam) with R.D. Burman
• Mere Saath Chale Na Saya (Balika Badhu) solo
• Ho Sajan Aye Ho ( Ratnadeep) with Bhupindar Singh
• Kayda Kayda (Khubsoorat) with Rekha
• Pritam Aan Milo (Angoor) solo
Babloo Chakraborty
Babloo Chakravarty
In 1982-83 when Basuda left Pancham Team, Babloo Chakravarty who was related to Basuda entered Pancham camp. Bablooda had earlier worked with LP as an arranger and had also assisted RD during recording of MILI (S.D. Burman).
During discussion with Bablooda in one of the PanchamMagic show, it was clear that Bablooda was highly impressed by Pancham and his team specifically Marutirao about whom he spoke with very high respect.
Bablooda assisted Pancham for Many movies which are listed below. The highlights of his career has been Sagar, Arjun & Agar Tum Na hote. He was possibly the assistant who tried to change Pancham's normal style of western and made his music more to sound Indian like songs in Dacait Lava etc.
Bablooda today is a leading arranger and he always remembers the work he has put in during Pancham time.
1992 Khule-Aam (assistant music – as Bablu)
1992 Sarphira (music assistant – as Bablu)
1991 Gunehgar Kaun (music assistant – as Bablu)
1989 Aag Se Khelenge (music assistant – as Babloo)
1989 Joshilaay (music assistant – as Babloo)
1987 Dacait (music assistant – as Bablu)
1987 Ijaazat (associate composer – as Babloo)
1986 Samundar (music assistant – as Babloo)
1985 Saagar (music assistant – as Bablu)
1985 Arjun (music assistant – as Bablu)
1985 Lava (music assistant – as Bablu)
1984 Karishmaa (music assistant – as Babloo)
1984 Jhutha Sach (music assistant – as Bablu)
1984 Duniya (music assistant – as Babloo)
1984 Farishta (music assistant – as Bablu)
1983 Agar Tum Na Hote (associate music – as Manohari Babloo)
1983 Rang Birangi (assistant music – as Bablu)
1975 Chupke Chupke (assistant music – as Babloo)
1975 Mili (assistant music – as Ashish Babloo)
»
---