Pancham
An Anthology of R.D. Burman's Musical Works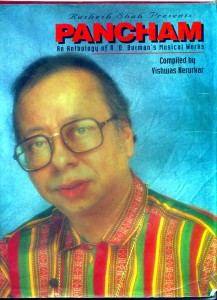 The Pancham Bible, as one may call it, is one of the most complete tributes that anyone ever paid to Pancham. And it is paid by Vishwas Nerurkar, the man behind the book. The book presents Pancham's work in as exhaustive a form as it could have been. It covers each song that Pancham is known to have composed, encompassing all languages (Hindi, Bengali, Oriya, Marathi, Tamil, Telugu), all mediums (TV, cinema, documentary, non-film, puja songs) and even unreleased works. It's difficult to even imagine the effort that Vishwas would have gone through in compiling this book. He was assisted by Bishwanath Chatterjee in this effort. And it goes without saying how much a Pancham fan feels thankful to Rashesh Shah (son of Bharat Shah), who presented and published this book.
Apart from the discography information, the book contains some excellent articles by Gautam Rajadhyaksha, Gulshan Bawra, A. Purushottam and Vishwas himself, paying tribute to RD. Interspersed with some memorable photographs, the book is an excellent piece of work in terms of printing, paper quality and design as well. For an RD fan, the book is as indispensable a possession as any of the maestro's scores.
Here's some more information about the book..
Dedicated to
S.D. Burman
First Published
September 1997
Publisher
Mr. Rashesh B. Shah
Can be obtained from
Vishwas Nerurkar
2/15 Kailash Parwat
Gilbert Hill
Near Bhawan's College
Andheri (W)
Mumbai-400 058
Phone : 624 3587
Copyright
Vishwas Nerurkar
Ganer Rajputra Rahul DevBurman [Prince of Songs: Rahul DevBurman]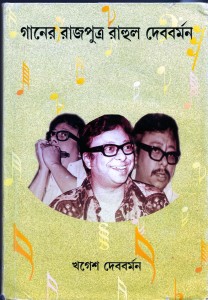 Ganer Rajputra Rahul DevBurman [Prince of Songs: Rahul DevBurman]
Author: Khagesh DevBurman
Language: Bengali
Publisher: Prantik
Price: Rs 275/-
Author's Contact Details:
Mr. Khagesh Dev Burman / Mr. Rajnish Dev Burman
GD-135, Sector – III, Salt Lake,
Kolkata – 700 106, West Bengal, India
Phone No. : (033) 2321-9309 / 2359-9451
Mobile : 098311 25443 / 098301 54828
E-mail : [email protected]
Website : http://www.khageshdevburman.com
Review of the book:
This Bengali Biography of R D Burman is authored by Khagesh Dev Burman, M.A. in political Science from Calcutta University; who also hails from the Royal Family of Tripura & shares the same heritage as legendary S D Burman and R D Burman. He was the pioneer who brought all the poets of Tripura together & under his able editorship, a book named "Prantik" (Meaning Collection of Poems) was published. His poems and short stories were published in regular interval in various literary magazines from 1955 onwards. Because of his literary activities, he earned name as an author and has been awarded "Sachin Samman" by Govt of Tripura for his research oriented book "Sachin Kartar Ganer Bhuban".  He has also authored namy other books in Bengali.
The biography contains most of the incidents, achievents, Struggles etc of R D Burman from 1939 as well as many rare photographs from the Dev Burman family album. This book will be a prized possession for ardent R D admirers.
Contents of the book "Ganer Rajputra Rahul DevBurman":
| | |
| --- | --- |
| Content: | Page |
| Preface | 13 |
| Kolkata (1939 – 1955) | 18 |
| Mumbai (1955 – 1994) | 36 |
| The Fifties | 39 |
| The Sixties | 44 |
| The Seventies | 64 |
| The Eighties | 155 |
| The Nineties | 257 |
| Conclusion | 266 |
| Family Tree of R D Burman | 285 |
| Rahul DevBurman: Milestones | 286 |
| Hindi Film Songs by R D Burman | 294 |
| Music Director R D Burman (List of Hindi Films) | 297 |
| Music Director R D Burman (List of Bengali and other Regional Films) | 310 |
| Music Director R D Burman (List of Unreleased Films) | 313 |
| Authors Favourite Songs | 316 |
| The Team of Rahul DevBurman (List of Accomplishing Musicians) | 318 |
Copies of this book are available with:
Prantik, G.D. 135, Sector III, Salt Lake, Kolkata – 700 106 (Phone : 2321 9309, 2359 9451)
Dey Book Stores, 13, Bankim Chatterjee Street, Kolkata – 700 073 (Phone : 6516 6695)
Adinath Bros., 9, Shyama Charan Dey Street, Kolkata – 700 073 (Phone : 2241 9183)
Book Friend, Shyama Charan Dey Street, Kolkata – 700 073 (Mobile : 98302 24091)
Phalguni Dash
panchammagic.org
Pancham Unmixed: Mujhe Chalte Jaana Hai (an unending journey)
A film on R.D. Burman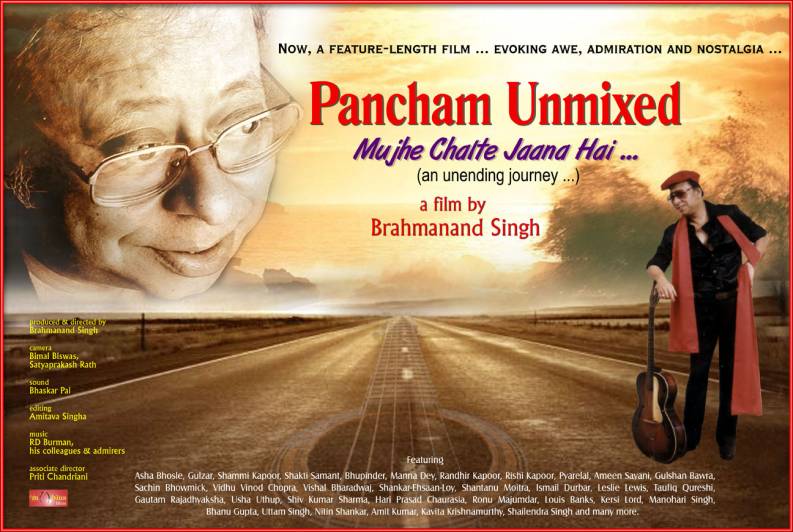 Brahmanand Singh
Brahmanand S Singh, a writer and filmmaker from Mumbai explores Pancham's personal and musical journey in this captivating and one of its kind documentary film on R D Burman. The documentary features interviews with Pancham's friends, associates, his contemporary artists, current musicians, and fans. It is easily one of the most remarkable works on any Hindi film music composer. Even if you are not a fan, the film will keep you engrossed despite lacking any singular narrative thread. If you are a fan though, you will find it as enjoyable, moving, and nostagia-evoking as some of Pancham's music. The Pancham fan community will always be thankful to Brahmanand for this effort.
Image of Pancham Unmixed DVD setThe interviewees in the film include Amit Kumar, Asha Bhosle, Anand Bhosle, Amin Sayani, Annette Pinto, Badal Bhattacharya, Mili Bhattacharya, Bhanu Gupta, Bhupinder Singh, Bubbles Behl, Chaitanya Padukone, Doel Gupta, Emil Isaac, Gautam Rajadhyaksha, Goldie Behl, Gulshan Bawra, Anju Bawra, Gulzar, Pandit Hariprasad Chaurasia, Homi Mullan, Indrani Sen, Indru Atma, Ismail Darbar, Javed Akhtar, Kavita Krishnamurthy, Kesri Lord, Lesle Lewis, Louiz Banks, Manna Dey, Manohari Singh, Nitin Shankar, Pyarelal, Ramesh Iyer, Randhir Kapoor, Ranjit Gazmer, Pandit Ronu Majumdar, Rupankar, Sachin Bhowmick, Shailendra Singh, Shakti Samanta, Shammi Kapoor, Shankar-Ehsaan-Loy, Shantanu Moitra, Pandit Shivkumar Sharma, Shrishti Arya, Tabun Sutradhar, Taufiq Qureshi, Pandit Ulhas Bapat, Usha Uthup,Vidhu Vinod Chopra, and Vishal Bharadwaj.
Shemaroo has released a 2-Disc Collector's Edition DVD set that includes a coffee-table book Strings of Eternity. For more details on the Collector's Edition set, visit Shemaroo's special site for the film.
Courtesy: panchamonline.com
»
---