The Accidental Actor
Rahul Dev Burman (or Pancham as he was fondly known) was a man of talents – some he was born with and some he trained for. Acting in Hindi movies was however a quirky happenstance. Had it not been for the apt casting by Mehmood, and the surprising confidence exuded by Pancham, this acting debut would have largely gone unnoticed.
Pancham made a total of 3 onscreen appearances of which 2 were acting roles in Hindi films and the third role was in a Bengali movie where he played himself.
Pancham's debut as an actor comes at a very interesting stage of his life and career. Actor/movie maker Mehmood, who had provided Pancham with his debut assignment as a music composer for 'Chote Nawab', had a significant influence on Pancham's budding career and personal life. Not only was Mehmood instrumental in getting Pancham some of his initial assignments, he also showered Pancham with gifts (his first car) and added him to his inner circle of friends.
Pancham who was also working as a music assistant to his father Sachin Dev Burman (Dada Burman), had always displayed a streak of independence and playful spirit. His lack of interest in school and penchant for composing music forced Dada Burman's hand in taking over the reins of his son's career. Thus Pancham was assigned to formal training in music – first on tabla with Pt. Brijen Bishwas and then on sarod with Ustad Ali Akbar Khan. Pancham also had the privilege to be guided by other stalwarts like Annapurna Devi (former wife of Pt. Ravi Shanker and Ustad Ali Akbar Khan's sister) and Ashish Khan (Annapurna Devi's nephew).
But Pancham was also to display that streak of independence even at learning music. From the jazz clubs on Park Street, Calcutta to the music clubs in Bombay, Pancham indulged in imbibing western music – particularly jazz and latino music. It was an interesting choice of music taste which balanced the structured approach of Indian classical music, with the free form extrapolative style promoted by jazz, and the focus on rhythm in Latino music.
Thus Pancham's work as an assistant under his father, displayed an amalgamation of his training – both formal and acquired. Perhaps it was the energy of his youth or simply the mettle of his character, his talent even as an assistant did not go unnoticed. It was none other than the ace film maker Guru Dutt who recognized his unique talent and offered him his independent assignment as a composer at the tender age of 18.
However fate had other plans. Like many of Guru Dutt's ventures, RAAZ never got completed and was shelved due to his disinterest. Pancham had to wait for another 4 years before he would encounter his golden opportunity. This came in the form of CHOTE NAWAB, which movie maker Mehmood had originally planned to rope in Dada Burman as the composer.  Dada Burman however refused to compose for a small movie and a new and untried movie maker. Mehmood decided to rope in son Pancham instead. This was the prophetic meeting of two brilliant minds who wanted to take control of their fortunes and give vent to their streak of independence.
Chote Nawab came and went and Pancham was still awaiting to jumpstart his career. It was Mehmood once again who came up with the next assignment – BHOOT BUNGLA. This time Mehmood had decided to launch himself as a movie director.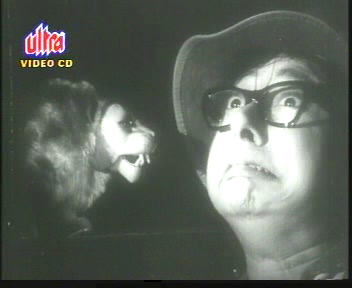 BHOOT BUNGLA was planned on a shoe string budget wherein Mehmood even had an acting role planned for Pancham. The storyline was essentially that of the suspense genre with liberal dose of campy horror thrown in for good measure. This was the Indian counterpart to a campy Abbot and Costello Hollywood movie. Into this premise, Mehmood smartly weaved in a parallel take of youth in the form of a youth club. This afforded for a soundtrack that not only involved suspense but also the dynamism of the youth.
Pancham's introduction as an actor is almost halfway through the movie. He plays the part of one of the youth club member named Stocky who draws the short straw for accompanying Mehmood to the haunted house. It must be said, Pancham displays amazing confidence and bravery in facing the camera as the scared Stocky.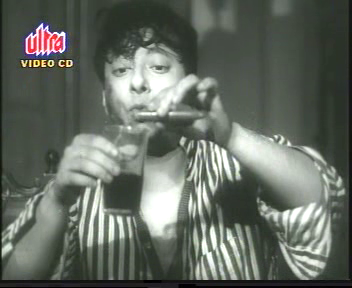 What follows is a page straight out of an Enid Blyton adventure novel or a scene from the movie 'Abbot and Costello Meet Frankenstein'. A fearful Stocky (Pancham) accompanies Mohan (Mehmood) to the haunted bungalow. Pancham utilizes his rotund form and bespectacled visage to advantage – ably using exaggerated expressions and facial contortions.
The sequence inside the haunted bungalow is one of the most inspired pieces of Hindi black and white cinema – the suspense/horror kind. Mehmood and Pancham not only seek out the evil spirits, but also break out into an impromptu song and dance with the skeletons. It is amazing to watch a debutant Pancham match steps with the seasoned comedian Mehmood – not only in dancing but also the crazy emotions and slapstick comedy needed for this goofy situation.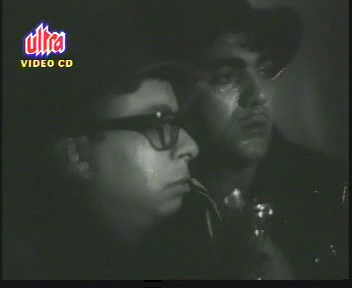 It also helps that both Pancham and Mehmood can sing and hold a tune. Thus we get some real zany moments of insanity – both on screen and playback. It is almost difficult to discern which portions were rehearsed and planned versus which were simply performed impromptu. Of course the hand of Mehmood the movie maker is very much visible in staging this song, as is evident in his handling of the other tunes for the movie. Both 'Jaago Sone Waalon' and 'Ek Sawaal Hai' are impressive piece of staged musical performance, where the singing, dialogue and dance steps meld seamlessly, making it seem like a Broadway spectacle.
The next significant scene is when Mehmood and Pancham free themselves from captivity by the skeleton people. Here, Mehmood takes a back seat, and provides Pancham with the limelight. And Pancham executes a hilarious escape and tea-party sequence with élan. Google eyed as Bugsy Keaton, with the seriousness of Bertie Wooster, Pancham manages to treat Mehmood to a high tea ritual. Not only does the resourceful Stocky (Pancham) furnish all the ingredients for a proper tea, but also teaches Mehmood a few tableside manners.
The third scene is enacted at the police station as Mehmood and Pancham narrate their encounter with the skeletons to the disbelieving cops. Here Mehmood contrasts his role as the lead hero and lets Pancham run riot with his drunken brawl with the police officer.
BHOOT BUNGLA provided Mehmood and Pancham with creative and commercial success and strengthened their partnership further. Mehmood even announced Pancham as the lead hero for his movie PADOSAN.
Another significant influence and benefactor in Pancham's life was veteran movie maker Nasir Husain. Pancham got his first big commercial success with Nasir Husain's TEESRI MANZIL. Unlike Mehmood, who made small budgeted comedies and social movies, Nasir Husain had the reputation for making musicals and love stories on a large scale.
Although Nasir Husain was senior to Pancham both in age (8 years) and experience in the Hindi film industry, it did not stop them from working on the same wavelength and becoming good friends. After making the serious 'BAHARON KE SAPNE', Nasir Husain decided to get back to his original 'formula' style of movie making and announced 'PYAR KA MAUSAM'.
Pancham was roped in to play a small part as the comic assistant to the comedian Rajendranath. Comedy in Nasir Husain movies involved complications over mistaken identity, vaudeville styled entertainment, slapstick and a generous dose of play on the Hindi and Urdu languages. Actor Rajendranath had struck gold with Nasir Husain way back in 'Jab Pyar Kisise Hota Hai' – playing the comic character of 'Popatlal'.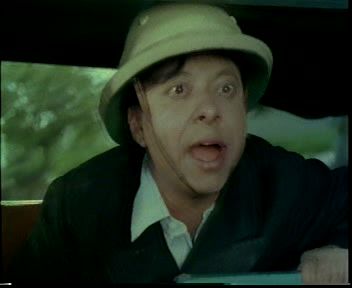 In 'PYAR KA MAUSAM', Rajendranath played a 'Popatlal-like' character named 'JhatPat Singh'. Pancham played his unnamed secretary/assistant. Given the slapstick nature of comedy in 'PYAR KA MAUSAM', both Rajendranath and Pancham had a limited scope in demonstrating any of their histrionic ability. Their comedy was restricted to falling over each other, pie fights and whispering nonsensically into each other's ears. Pancham had an even restricted amount of things to do on-screen and mostly spent his time nodding to Rajendranath's dialogues or spouting a counterpoint or correction.
Pancham however, carries forward some of the style he displayed in 'BHOOT BUNGLA'. For instance his Bertie Wooster like bumbling, his British accented 'Very True!', the Laurel-like (of Laurel and Hardy) predilection for perfection – even when being slapped by a pie or having his dress torn off.
An amazing contrast one cannot help but notice while watching 'PYAR KA MAUSAM' is the onscreen bumbling versus the insanely brilliant and serious work Pancham had accorded this movie. While watching him whisper inane nothings into Rajendranath, one cannot imagine that it is this same impish character who had pitted Mohd. Rafi and Kishore Kumar on 'Tum Bin Jaaon Kahan' and had come with a winning version with each singer. It was as if, tired from the complex work of creating songs like 'Aap Chaahe Mujhko', 'Che Khush Nazare' and 'Ni Sultana Re', he decided to unwind at Nasir Husain's set with some frivolity.
As mentioned before, Pancham was also offered the lead role by Mehmood for his movie 'PADOSAN'. However, Sachin Dev Burman, decided to put some sense into Pancham. Dada Burman's advice to Pancham was simple and direct – he needed to focus on what he did best and give it his best. Pancham abided with his father's request and decided to put a stop to his acting ventures.
Acting for Pancham was accidental – not intentional. He certainly made a mark with his appearance in 'BHOOT BUNGLA'. However as a comedian in Hindi Film Industry, there was only so far he could traverse in terms of commercial or critical success. Years later, Pancham would even laugh off at the mention of his 'acting career'.
The character of the lead hero in PADOSAN called 'Bhola' was that of a buffoon who falls in love with his beautiful neighbor. Not having any striking skill of his own, he seeks the help of his troupe of friends to woo the object of his desire. Mehmood played the role of 'Master Pillai' – his rival in wooing the heroine Saira Banu. As in BHOOT BUNGLA, 'Bhola's troupe of friends provided the youth-club like support group – which of course provided ample scope for musical sequences in the movie. The screenplay was tailored to suit Pancham's onscreen image and carry it to the next level – lead role as an actor.
Pancham's hesitancy to act and commercial consideration for Mehmood the producer lead to the role landing in actor Sunil Dutt's. And Sunil Dutt, the veteran and more saleable star, took it to a complete different level – which only a seasoned actor can accomplish. Sunil Dutt utilized his tall, lanky frame to advantage and enhanced the bumbling Bhola's character even further with his histrionics. The movie, Pancham's music went on to become a hit and cult classic and provided a unique dimension to Sunil Dutt's career.
Pancham on the other hand continued with his decision to not act in movies anymore and focus on music composition as his career. The only film appearance he made was years later in the Bengali film 'Gayak' – where he played himself. Although he had not composed the music for 'GAYAK', he agreed to play a small role to support protégé Amit Kumar in his acting venture.
In his personal life, Pancham preferred his privacy and came across as a shy and humble person to the point of being labeled as 'lacking self-promoting capabilities'. He preferred the company of his select friends and there are numerous accounts of his acts of frivolity in their company. His presence on stage shows however was a complete opposite. On stage he was the epitome of a confident entertainer – easily playing an instrument, conducting the orchestra, singing and dancing.
Eventually, acting became an interesting chapter in his life – not the focus nor the defining factor, but an interesting facet of his multi-talented personality.
Shashi Rao
»
---