Venue: Tilak Smarak Mandir at 7:30pm
Guests:
Tariq Khan (Actor)
Anand (Anand Milind) (Composer)
Manish Kulkarni (Guitarist)
Prakash Magdum (Director NFAI)
Akul Raval & his troupe (Percussionist)
Chaitanya Padukone (Film Journalist  & Author of R. D. Burmania)
Being part of the Pancham family is equal to belonging to a timeless cult. At once ubiquitous and equally rare, the Pancham fan is a species unto (him/her)self. This growing global family of THE BOSS of music – Rahul Dev Burman or RD to many – comprises of stalwarts and novices, from intense artistes of monstrous talent to excited commoners who, regardless of their background or upbringing share a common bond and a sense of kinship based on a mutual, unspeakable love for their dear idol.
Probably none of the many mutual admiration societies that have proliferated all over manages to bring together the musical/film geniuses fortunate to have worked with Pancham and the absolute layman under one roof quite in the same manner that Panchammagic of Pune does. What results is a bi-annual (4th Jan and 27th June each year) Pancham pilgrimage like no other, which perhaps no personality – earthly or celestial – would have the sheer magnetism to draw, with devotees at times streaming in from far corners of the world.
It is an event one really looks forward to, and as the date approaches, excitement and expectations grow exponentially. It is indeed a tribute to the Panchammagic(al) team that they are able to live up to the lofty expectations of an already astute audience nurtured over the years on Pancham nuggets. The format of the program, though consistent, varies subtly in its intricacies each time and therefore the content and guests at the show are always a revelation, thus keeping everyone interested.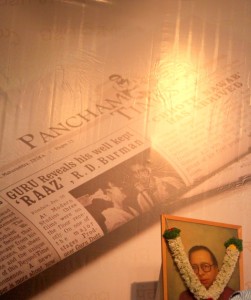 4th Jan, 2017 was no different. For an avowed Pancham lover such as yours truly, being from Mumbai affords an easy excuse to join in a reunion with close (geographically as well) friends from Pune, and revel in gushing amazement at the man's mind-boggling talent, regardless of one's individual claim to fame.
Shortly before the event (less than 24 hours earlier), I learnt of the invitee list and started connecting the dots. Tariq Hussain Khan and Anand (of the Anand-Milind duo who composed for Qayamat se Qayamat Tak) certainly spoke of a connection with the Nasir Hussain family of film-makers. The 3rd invitee, the awesome guitarist Manish Kulkarni, was a person I had mostly seen on music shows on TV, though I had heard of the fact that he was a disciple of the great Tony Vaz – Pancham's supreme bassist – and a wonderfully gifted player himself. (Maybe Tariq the guitarist on screen prompted the choice of a guitarist for theme continuity?)
A close friend's family and I drove down to the regular venue, Tilak Smarak Mandir in the heart of old Pune city.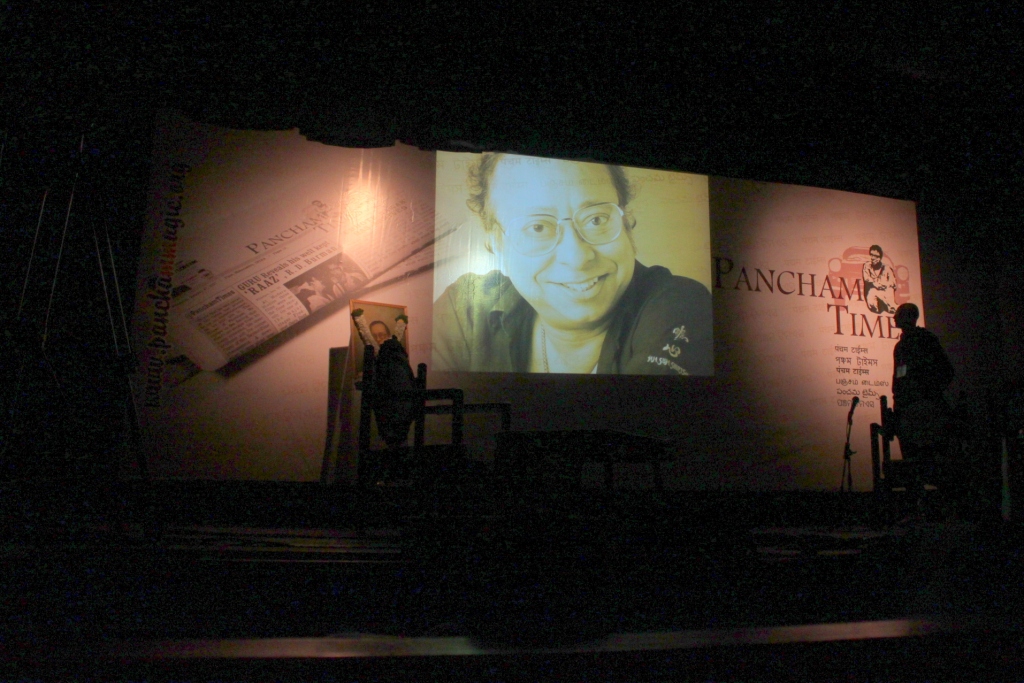 The dramatic, pulsating Pancham number that usually ushers the speakers at all Panchammagic events on stage would make a Muhammad Ali go green with envy. The choice of number for the day was rather obvious. As the curtains parted and lights dimmed, the sound system belted out the immensely loved HKKN competition medley, setting the mood for the evening.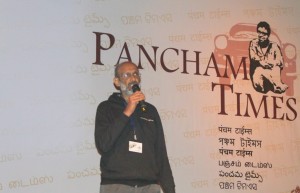 Ashutosh Soman took the stage and proceeded to pay tributes to some departed members of the Pancham family – namely the great musician/arranger Kersi Lord (a colossus in music), the mandolin (among other stringed instruments) player Ravi Sundaram, Tabla Player Ramakant Mhapsekar, percussionist Vijay Indulkar and Panchammagic's dear Pol kaka, an individual who made a yeoman's contribution to the team during it's formative years. A clip of a demo of the wonderful pedal matka (another example of the sheer lengths Pancham would go to, to make the sound just perfect, and an instrument that plays in "Saamne Ye Kaun Aayaa" from Jawani Diwani) given by Mr. Indulkar in an earlier program was shown. Ravi Sundaram's loss rankled especially, since he was a fixture for the event and people were looking forward to an enthralling experience listening to him play the mandolin/banjo/bouzouki etc.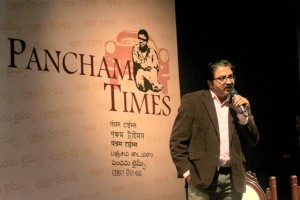 The first invitee was Mr. Prakash Magdum (Director, NFAI – National Film Archive of India, an organization entrusted with preservation of the heritage of Indian cinema), a modest individual and Pancham admirer. Ashutosh Soman of Panchammagic made an earnest request on behalf of all Pancham fans for Mr. Prakash Magdum to try and arrange a special screening of the unreleased Gulzar movie "Libaas" – one of Pancham's masterpieces. Mr. Prakash Magdum, while unable to make assurances, said he would certainly look into the matter and also cited the example of other films like director Jabbar Patel's "Musafir", for which too he promised he would try to arrange a screening if he could. Ashutosh made a fond recollection of how Gulzar saab had mentioned that the sole reason his unreleased film "Libaas" was alive and breathing was Pancham. It was by dint of his fabulous music alone that the film did not meet the fate of so many other unreleased, forgotten movies that people have no recall of.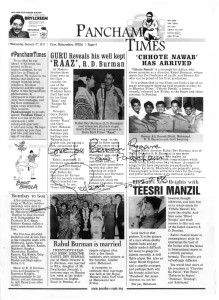 Ankush Chinchankar – the de facto "master of ceremonies" – was then accompanied on stage by Sagar Kopardekar and Shantanu Kher, and the trio proceeded to throw light on the parallel theme revealed on the face of the tickets we held. The theme was "Pancham Times", a beautifully crafted collection – presented in the form of a newspaper available to attendees free of charge – of truly rare Pancham memorabilia in the form of old pictures and articles dating back to the time of Pancham's earliest releases. To possess such cut-outs from magazines or papers so dated itself would be the work of a true connoisseur, but to re-cast all these in fonts used back in those days and edit and assemble them in the form of a newspaper was indeed a unique idea, once again setting Panchammagic apart.
After this came the much awaited entry of the first guest of the day – Tariq Khan. The YKB melody was played, and Tariq in the same form of old, came dancing on to the stage to the joy of all the Panchamites in the audience.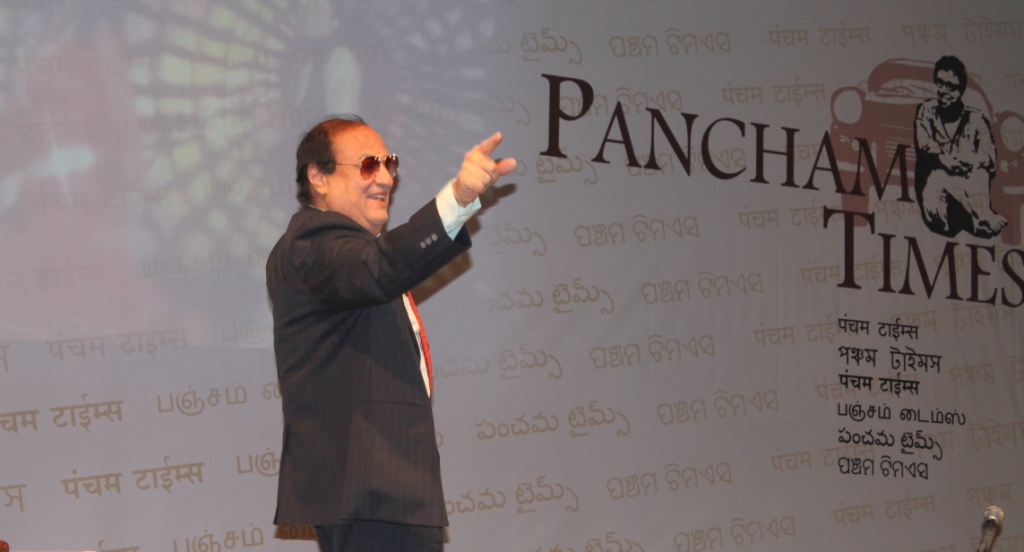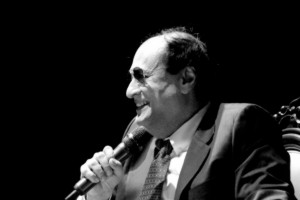 Enthusiastic as always, Tariq acknowledged the knowledgeable Pune audience and proceeded to throw light on his thoroughly "melodious" career as a musical hero. Ankush noted how well Tariq seemed to "play" the guitar on screen and Tariq replied he did learn to play a bit. However, some of the nuances on screen came thanks again, to Pancham who was always very involved with the picturisation of his songs. As a lovely example, he told the audience that the quick slap to the wooden back of the guitar before he started "playing" the prelude of "Kyaa Huaa Teraa Waadaa" was Pancham's suggestion, to make the on-screen strumming look realistic. He readily acknowledged the huge contribution Pancham made to his career, and fondly recalled his early days, his entry into the world of cinema and all the great numbers such as "Lekar Hum Deewaanaa Dil" and "Ye Ladkaa Haye Allah" as they were played on screen for the audience. Ankush observed how "Kyaa Huaa Teraa Waadaa" gathered such a cult following that for years college students would wear a blue band around their forehead, aping Tariq's style on screen. The group, loaded with information on Pancham as always, brought out a novelty in the form of a clip of the Tamil version of the song "Yaadon ki Baaraat" that was played on screen, leaving the audience in splits! In a salute to Pancham's genius, Tariq expressed amazement at how the Hindi version of YKB had played continuously for 100 weeks in distant Tamil Nadu, a state that does not quite pride itself as a mainstay of the Hindi language.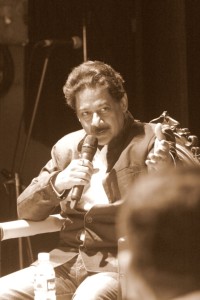 Music composer Anand then appeared on stage. Being the son of the erstwhile film composer Chitragupt, the questions naturally dwelt on his initiation into music, and into film compositions in particular. He reminisced how his father had huge respect for the great Dada Burman, and how the senior Burman was somewhat responsible for the furtherance of the former's career. As the topic veered to Pancham, he shared an anecdote where his father once told the then young Pancham how to make utmost use of his free time to make and keep aside pre-created compositions, for given his talent the time would not be far when he would have loads of work and no time to finish it.
Of obvious interest was the question of how Anand-Milind were chosen to score music for QSQT, a film produced by Nasir Hussain, instead of Pancham who was a permanent member in the film making family's camp. In answer to this, Anand revealed that the film's director and Nasir saab's son, Mansoor Khan, had a very good equation with the duo. Moreover, having always placed Pancham in a position of respect, he was unsure of how he could extract the kind of music he wanted from Pancham (I confess I was not quite convinced by the explanation, though that is purely a personal opinion).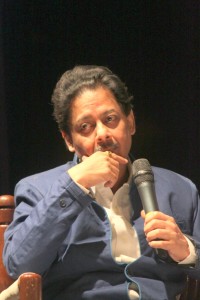 It is a norm to hold screenings of a film awaiting release for distributors from all over the country. QSQT had over a 100 screenings done, but had hardly any takers, the main reason offered being the lack of "Punch" in the music. At a time when Nasir Hussain had to himself contribute money for the project to take off, and when the composer duo was at their lowest in confidence, only Pancham and Shammi Kapoor from among Nasir saab's old acquaintances was effusive in praise of the music despite having lost out on a sure chance of scoring the music himself. Such magnanimity is unheard of in the industry, and Anand said the duo will forever remain in Pancham's debt for the initial confidence and support he gave them. Nearing the end of his part on stage, Anand struck a rather sad note and spoke of an incident when Pancham confided in him about lack of work and resulting loneliness.
Just before the interval, Anand was followed by film journalist and Pancham fan Chaitanya Padukone, who chose the occasion to release the 2nd edition of his book, "R. D. Burmania" in the presence of the esteemed guests on stage. Chaitanya proceeded to narrate some anecdotes of times he spent in the company of Pancham.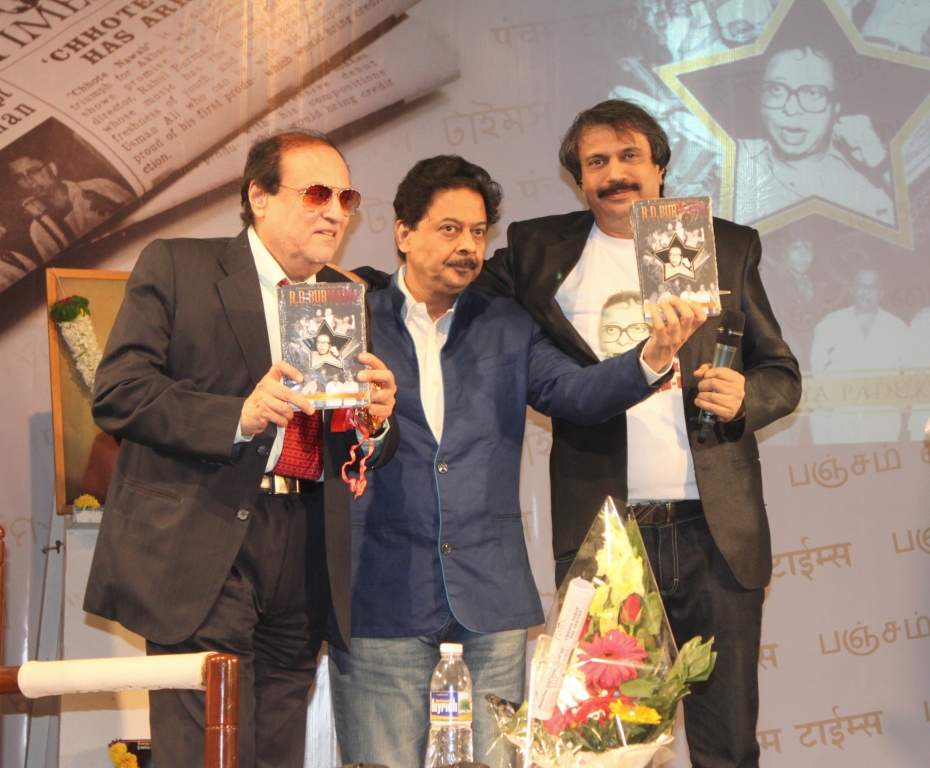 Post-interval, Mr. Akul Raval and his troupe of young percussionists from Ahmedabad played to some interesting mixes of Pancham's themes from various films, and left the audience in raptures.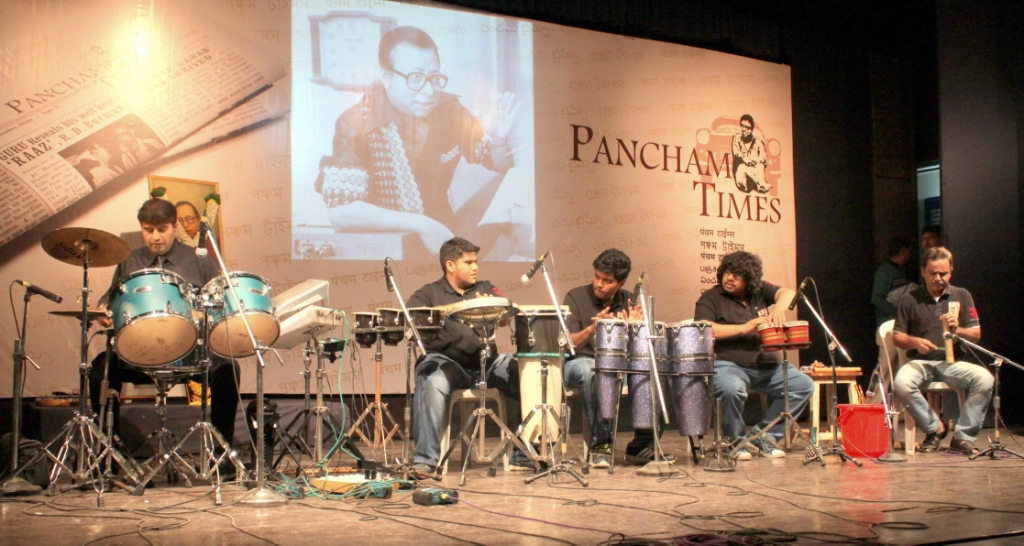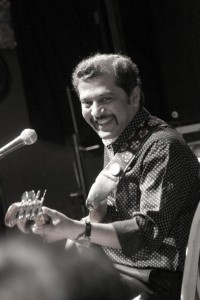 The stage was finally set for the wonderful bass guitarist Manish Kulkarni. Although immensely talented and having learnt his craft from none other than the great Tony Vaz himself, Manish is reticent in nature to the point of being probably a bit nervous in front of an audience awaiting sound bytes from him on various topics. As he slowly unraveled in front of the fans, he played the bass pieces from some beautiful RD numbers totally impromptu, and was perfect to the very last note on each occasion. He stressed on how Pancham never let one instrument dominate another and allowed each it's pride of place as the occasion demanded. Ankush and Shantanu marvelled at how Pancham created magic with the bass guitar, one of his favourite instruments, being the only composer to so invariably use it in so many of his timeless compositions. Ankush pointed out the instance of the sad Bengali number "Naa Deko Naa" sung by Asha, a true marvel where Pancham has used the bass in conjunction with Zarine Daruwala's sarod pieces, an idea so novel that only and only Pancham could come up with it. Moreover, the bass guitar is unheard of in a sad composition, and for a song where one would not even call a guitarist to the studio, Pancham went ahead and made that instrument the centre-piece of the song, to unforgettable effect!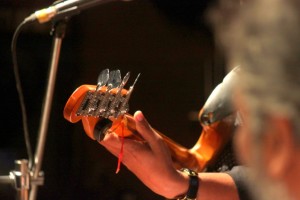 Manish regaled the audience by playing to the notations of various Pancham songs with a perfection that made it hard to distinguish his effort from the originals even for seasoned Pancham listeners. His playing of the "Dhuan" songs was met with claps and whistles and the audience demanded an encore on a few occasions. Finally, Ankush coaxed Manish to describe that immortal song from Masoom – Tujhse Naaraaz Nahi Zindagi – in his own words. Manish, by now engulfed in the entire emotion around him, beautifully explained how this wonderful solo in Lata's voice was always a duet for him – a duet between Lata and the bass guitar.
It was 1 a.m. in the night, and the audience was still fresh and thirsting for more. Ankush, thoroughly enjoying himself, remarked how the topic of Pancham's use of bass could go on forever with the dissection of innumerable songs. Just like each time, when so much more seemed to be in store, the program had to be wrapped up. People lingered around, seeking autographs and pictures with the invitees, and using the opportunity to bump into each other to recall old times and perhaps to look forward to what lay in store for us all in June.
Pancham is a daily part of all our lives. But to see him twice a year in a gathering of admirers like no other and to spend weeks soulfully recalling the events is something that makes the drudgery of routine in our otherwise colourless lives worth enduring. I wish more "Pancham Times" to all my co-Pancham admirers and a life full of his melody, for he has blessed us with the sound of his incredible music and left our empty silences more beautiful than anything we could have filled them with.

Shirish Prabhudesai

panchammagic.org

Moments:
Photos By: Prasad Sanvatsarkar
---