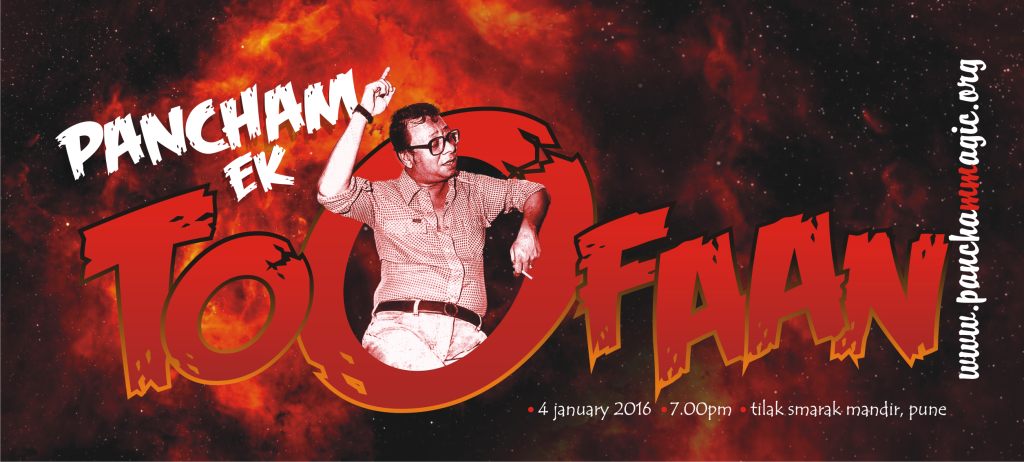 Venue: Tilak Smarak Mandir at 7:30pm
Guests:
Pandit Hariprasad Chaurasiya (Flute Wizard)
Salim (Salim-Suleman) (Composer)
Shri Udaykumar Dubey (Dholak)
Sunil Avachat (Flute)
Ashwin Shrinivasan (Flute)
Two days every year have started pulling me automatically to Pune, thanks to Panchammagic. Having attended the June '15 show live, I definitely wanted to attend this year's opening show. And many friends were supposed to come along this time since Pt. Hariprasad Chaurasia talking live about his experiences with Pancham was a once in a lifetime opportunity. But if you know a typical 'Bombayite' –travelling all the way to Pune on a WEEKDAY just for a 'conversational' event slowly dilutes their enthusiasm. Eventually, it was just me, having cancelled all my classes… As I boarded the bus for Pune, obviously I was excited, curious and hopeful for all that I could 'take home' from this event.
We were still trying to come to terms with the fact that it was Pancham's 22nd death anniversary already as the curtains opened up and the very attractive backdrop read 'Pancham Ek Toofaan'. And then came up the next painful realization… that a fair, tall, handsome 'young' Panchammagic member Homi Mullan had left us, forever… One of the senior most musicians from Pancham's team,a part of every film straight from Chhote Nawab days, Homi da was also a musician with Dada Burman and had worked with every composer from Naushad to Vishal Bharadwaj. A true magician, it appeared as if he could play almost every instrument – whether percussion or melody. It was announced that he was one of the most enthusiastic members of the group ever since he came in contact with Panchammagic in 2000 and had been a part of every show since then. Every show he attended was followed by phone calls about how the show was and who should be invited for the next one. His fun loving nature and passion for life naturally highlighted his devotion for Pancham. A small tribute to Homi da was presented – a 20 minute compilation of his interactions with various Panchammagic shows over last few years. Thanks to the Panchammagic team for not only compiling and presenting it but for also making it available online for those who couldn't make it to Tilak Smarak Mandir, Pune on 4th Jan '16.
Ankush then invited Pt. Hariprasad Chaurasia on stage for a leisurely and informal chat on our common idol – Pancham. He also invited Ashwin Srinivasan to join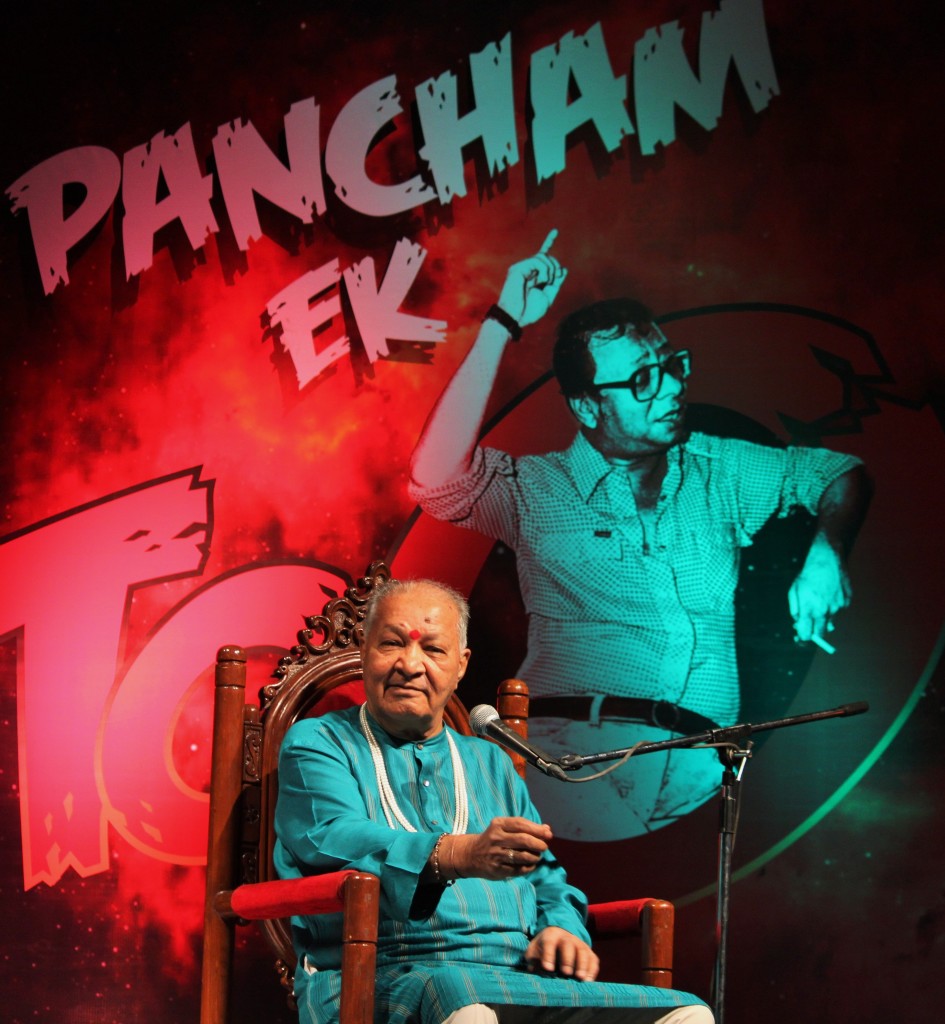 the conversation and I thought it was a brilliant idea to have a flutist interact with the maestro. Panditji had us in splits with his unique narration style and very interesting incidents not only with Pancham but more so with Dada Burman. An interesting story of Panditji eating several Rosogullas alone and Dada commenting about that by telling Lataji, "Hori bohot meetha bajata hai, itna Rosogulla khata hai na!" left the entire audience roaring with laughter. Panditji's description of Dada – whether his appearance (like a 'Nepali' appearing at his house at 5 am confusing Panditji's watchman) or his nervousness (saying "nahin nahin, hum mar jaayega" for everything he didn't want to do) and that too while almost enacting Dada's mannerisms was absolutely hilarious. It was very interesting to hear straight from Panditji himself of his initial struggles from being a stenographer to a job on radio to being picked up by Madanmohanji's arranger Sonikji for his first film song recording – 'Phir Vahee Shaam' followed by 'Main toh tum sang' – both on the same day.
 It was amazing to learn that while Pancham was just about to start recording Ye kya hua (Amar Prem), Panditji was just present there and originally had absolutely no part in the song. Pieces on violin and cello were being finalized. Panditji was just kind of rehearsing the tune while Kishore Da was singing. Pancham, happened to hear them and just before the final recording,changed the entire plan!  He said that the flute pieces were sounding like a 'part of the song' and that's how the song will be recorded!
The other interesting part of Panditji's sharing was about how the artists back in those days had no ego hassles. He spoke about how much he learnt and enjoyed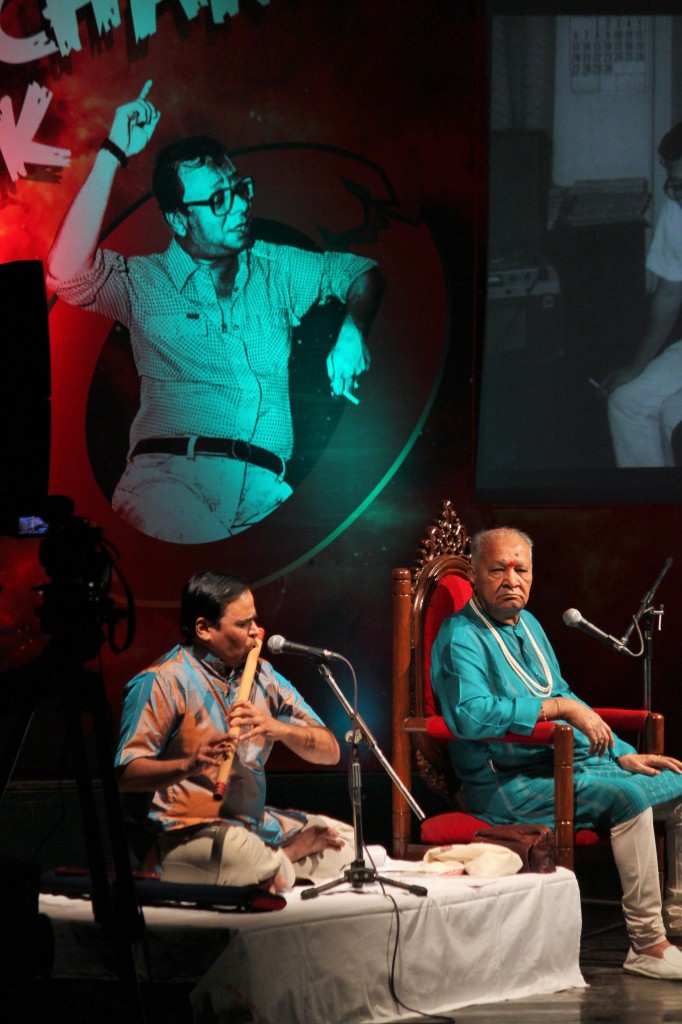 while playing with Manohari da and Sumant Raj ji. At this juncture, the original song Bheegi bheegi raaton mein was played followed by Sunil Avachat (Panditji's disciple) and Ashwin playing the song live. An interesting point was brought up by Ashwin that the piece right before the opening line of the song has 3 simultaneous flutes being played at different scales. Panditji confirmed this saying it was himself, Manohari da and Sumantji playing together.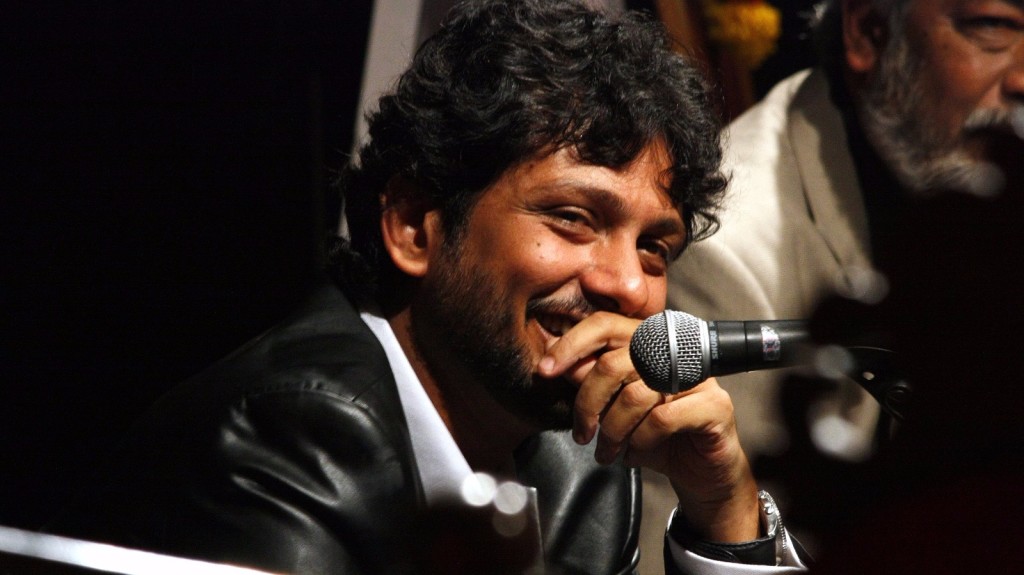 The biggest 'take home' for me from this entire conversation that lasted more than 1.5 hours was Panditji's honest confession as to how he had to somehow struggle and manage with one single flute most of the times. Ashwin showed his entire bag full of several flutes that he needs to carry for playing at different scales. To this,Panditji replied that back then it was not easy to get a good flute! One Mr. Limaye could make one on order but used to take about a year and a half to deliver. And therefore most of the times he managed various pieces at any scale using one single flute. "Jis tareh agar aapke ek pair mein koi defect ho ya aapko ek aankh se theek se dikhayi na de toh bhi aap aise batayenge jaiseki sab normal hai, aapko koi problem nahin hai – aap apni kamzori chhipaane ki koshish karte hain… Ab agar main ye kehta ki ye piece iss baansuri mein nahin baj sakta ya main ye nahin baja sakta toh phir meri vahan zaroorat hee kya hai?" said Panditji as a matter of fact!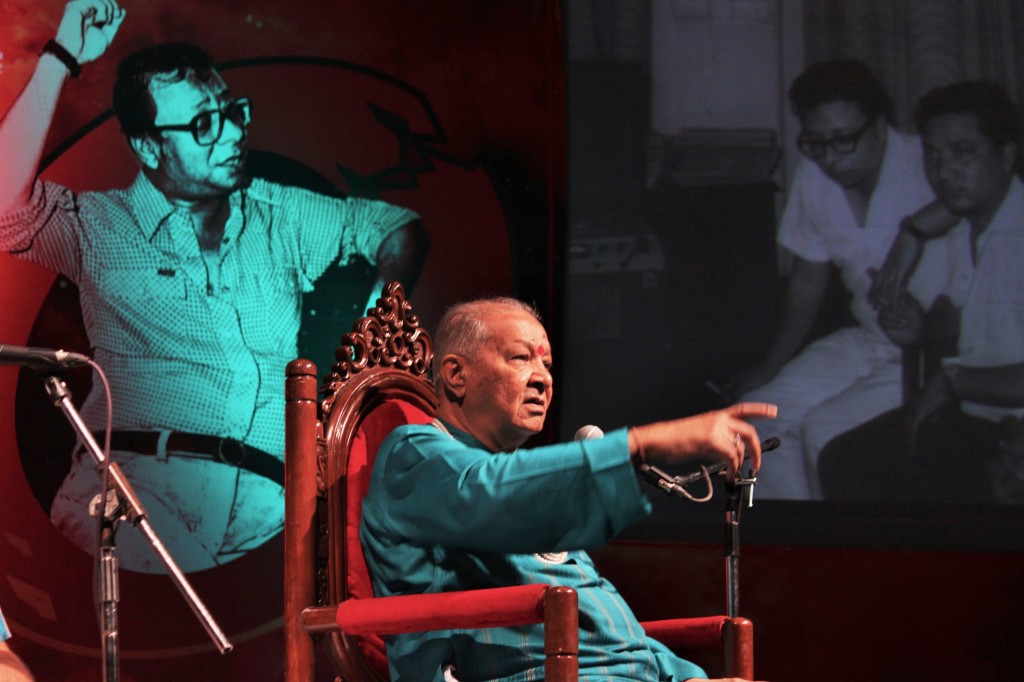 After someone came 3-4 times and whispered something to Ankush, he suddenly announced that so and so will now honor Panditji on behalf of Panchammagic. This was as surprising to Panditji as it was to us in the audience! And he immediately taunted – Buss! Ho gaya? Matlab ab main jaaoon? Abhi toh aur bhi bohot saari baaten hain!
It was really sweet of him to repeatedly express his amazement as well as deep appreciation towards music lovers and Pancham fans in Pune. He kept saying (even on our way back to Mumbai the next morning) that this was possible only in Pune. Only in Pune people are so appreciative of not only music but also artists! Only in Pune one can see a full house on a Monday evening to hear conversations about their favorite artist!
This was immediately followed by a quick launch of a documentary film "Homi Mullan – the unsung hero" and a video clipping of the same was shown. The makers of the film also shared their experience of working with Homi da. It was heart piercing to think of the fact that Homi da was so looking forward to this release date but left us just 9 days before the launch! Mrs. Mullan's presence made the moment even more touching. Unfortunately it was announced that due to some unavoidable technical issues, the DVDs could be bought in about 20 days.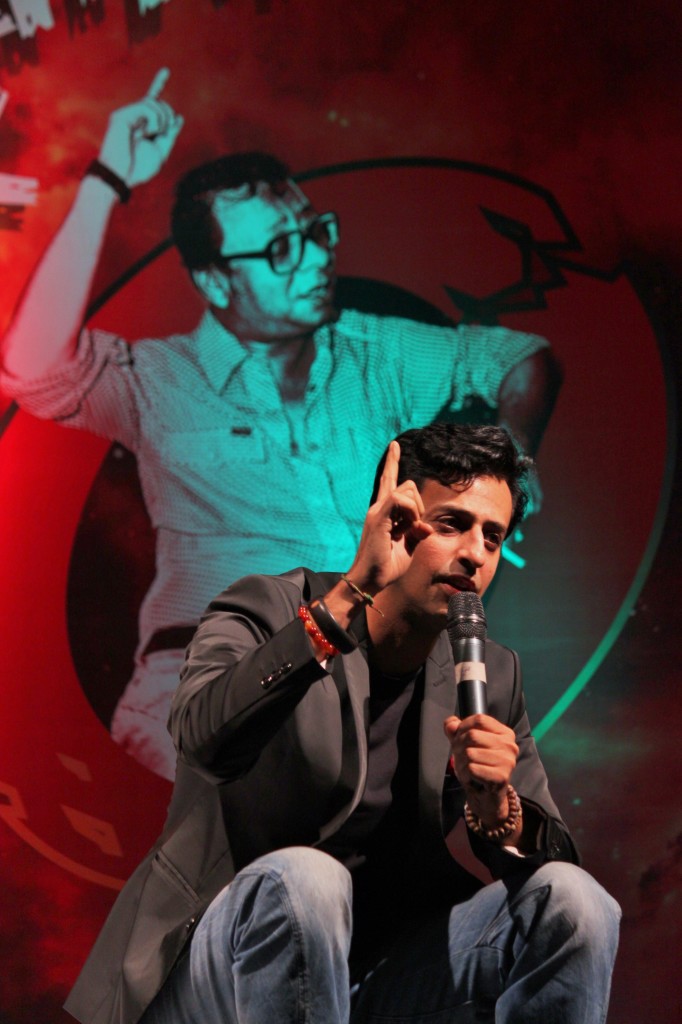 It was announced that composer Salim Merchant (of Salim-Sulaiman duo) was getting late and therefore the interval was postponed to immediately start a conversation between Salim and Ankush. A session that lasted over an hour was mixed with audio clippings being played – including the title track of serial 'Subeh' sung by the Boss himself (here Ankush rightly connected the line – Vaqt ko moad den, hum vo TOOFAAN hain – going with the theme of the evening) and a rehearsal session of 'Pyaar humein kis mod pe le aaya' where Pancham da was singing some dummy lyrics like "aisa matt karo tumhari bhabhi jaag jaayegi… ta rarara… roop tera mastana…"
Salim spoke mainly about Panchamda's recorded songs sounding like live performances. He said that these songs sound so alive because the musicians had such a wonderful time creating them, interacting and rehearsing with each other. This element, he reiterated, was totally missing nowadays and therefore even the best of songs sound so plain.
The real crescendo of the evening was very appropriately kept for the end. Percussionist Uday Kumar Dubeyji was invited on stage.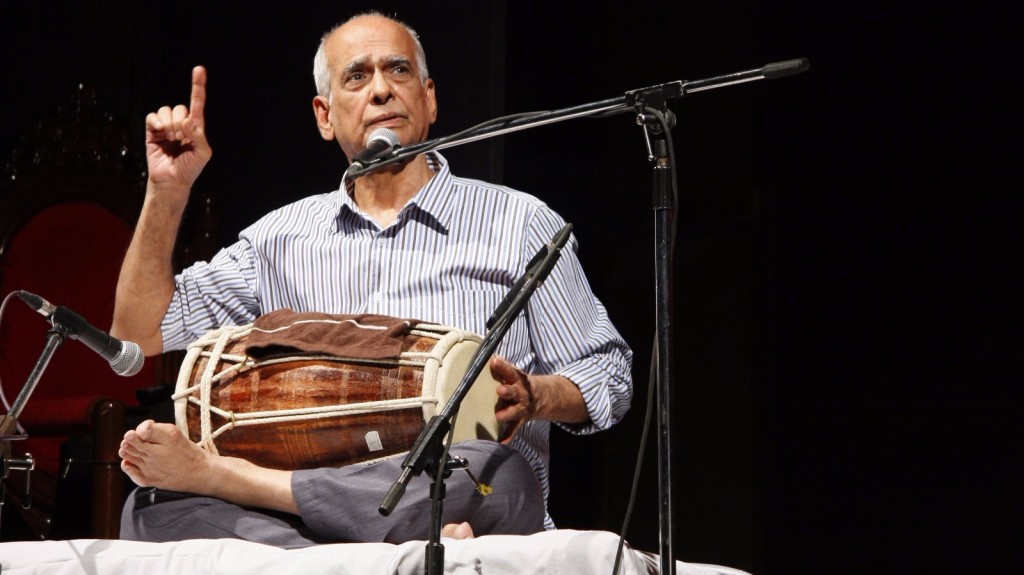 Although he had performed a full 1.5 hr session way back in 2010 for Panchammagic, it was the first time I witnessed his brilliance on stage. Every Pancham song after Teesri Manzil that had a dholak being played had Dubeyji playing it. Now in his 76th year, to begin with Dubeyji impressed me with his posture. Sitting in Ardha-padmasana with the dholak in his lap, he had a spine so straight that I rarely see even teenagers nowadays with! And then came Kajra lagake, Kaahe ko bulaya, Nisultana re, Bangley ke peechhe, Jai jai Shiv Shankar, Aaina vahee rehta hai… One after the other… Each one leaving the audience totally spellbound!
He knew exactly where, how much and how he has played! Sitting there with his hands crossed over his dholak, eyes closed, knowing exactly when to hit one beat and the flow, the pattern of playing, pauses… Absolutely unbelievable… Absolutely mesmerizing! Exactly like I've witnessed two other musicians of Pancham da playing live on stage, in their mid-70s – Manohari da and Homi da… One word to sum up the shocking brilliance of each of these magicians – precision!
As we wrapped up the evening at midnight, it still felt like NO!!! Not yet!!! Give me more!!! And we were already discussing what could be the possible choices of guests for 27th June. Of course I was extremely happy about my decision to travel all the way to Pune for an evening I will cherish forever… Thank you Panchammagic for this once in a lifetime opportunity… Looking forward to witnessing many more evenings to 'take home' from, reliving the Pancham Magic…
Divya Naithani
panchammagic.org
Moments:
Photos By:Nachiket Deo, Prasad Sanvatsarkar
---