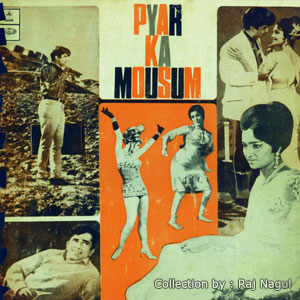 Film: Pyar Ka Mausam (1969)
Producer and Director: Nasir Husain
Lyricist: Majrooh
Singer: Mohd. Rafi, Kishore Kumar
We tend to think of "Tum bin jaoon kahan" as the same song being sung by Kishore Kumar and Mohd. Rafi  in Pyar Ka Mausam, whereas it is actually three songs appearing four times in different situations reflecting  different moods with the same mukhda and the same tune. The song, like many Pancham songs originated as an adhunik Bangla song (Bengali modern song) "Ek din pakhi ure," which was very popular in Calcutta.
The first version, sung by Kishore Kumar, comes right at the beginning of the film where Bharat Bhushan sings "Tum bin" to his wife Nirupa Roy and son Faisal Khan, who plays the young Shashi Kapoor. This version comes closest to the Bengali original. Kishore Kumar's voice fills up the idyllic surroundings of the Nilgiris. Bharat Bhushan, who owed his success to a few very memorable songs by Rafi, is singing in Kishore Kumar's voice − perhaps for the first time. There is minimal orchestration. Kishore Kumar's voice holds our attention. There is only one antara in the film version.
Tragedy strikes. The boy Shashi Kapoor is separated, the father Bharat Bhushan turns blind and the mother Nirupa Roy goes into shock and turns amnesiac.  Years later, a grown-up Shashi Kapoor by chance comes across his father Bharat Bhushan singing the song. All Hindi films with lost-and-found themes have situations where characters meet and fail to recognize each other, yet strike a bond with each other. There are only a few bars on the mandolin as Kishore Kumar sings this slow version of the song. The mood is somber and wistful. This slow version serves as an important point in the plot to introduce Shashi Kapoor to the song. This is achieved with Kishoreda's soulful rendition. Another gem.
Having established that Shashi Kapoor is now familiar with the song and is quite mesmerized by it, Nasir Husain takes us to the Mohd. Rafi version a few scenes later. Shashi Kapoor serenades Asha Parekh with this song. Here as in Kishoreda's slow version, Manohari Singh's mandolin plays the intro. Majrooh Sultanpuri introduces different antaras − a fresh take on the budding romance.
"Dekho mujhe sar se kadam tak, sirf pyaar hoon main;
Gale se lagalo ke tumhara bekaraar hoon main;
Tum kya jaano ke bhatakata phira,
kis kis gali tumko chaah ke…"
This is wooing Majrooh style. Bold, confident and so suave, yet playful. There is a certain kind of sophistication that we see only in Rafi songs for Nasir−Pancham−Majrooh.
In the Kishore version, Pancham used his vocals for the interlude "ahaa ha haa ha ooo" like only Kishore can. Notes by Manohari Singh's mandolin in the interlude music are soft, soothing   and caressing, reminiscent of the second movement of "Lara's Theme" − Somewhere my love from Dr Zhivago.
The interlude for the second antara is the same as in the Bengali version.
"Ab hai sanam har mausam pyar ke kaabil;
Padi jahan chhaon hamari saj gayi mehfil;
Mehfil kya tanhai mein bhi lagta hai jee,
Tumko chah ke, tum bin…"
The two versions have been unfairly compared in my opinion. There are misconceptions such as this being some kind of a contest between the two greats of the Hindi film music. There are some who hold this song as the tipping point from whence Kishore Kumar moved ahead of Mohammed Rafi. Kishore Kumar's success in the seventies is a matter of fact but this song alone did no such thing. If we confine ourselves to Pyar Ka Mausam, it was a moderate success and its songs became quite popular. However, they were not at the top of the hit parade. The fact is in those days songs could be promoted only on radio. If one had an album of half a dozen or more songs one would naturally showcase the variety of singers to add weight. In the case of Pyar Ka Mausam, Kishore's version was bound to have more airplay as there were other songs of Rafi to be showcased. Binaca Geetmala's final list for the year 1969 shows "Ni sultana re" from Pyar Ka Mausam at the 15th spot, right after "Mere sapnon ki raani" from Aradhana, which is 14th on the list, and "Tum bin jaaoon kahan" is number 17 on the list, with both versions getting credit.
Kishore Kumar had sung "Ek din pakhi ure," which had already become very popular as an adhunik Bangla gaan. Therefore, many of us identify this song only with Kishoreda. The moot point is not who sang better. People are free to choose whom they prefer. However, this is missing the point. When people say Amitabh's role was better than Rajesh Khanna's in Namak Haraam, they are being unfair to the efforts of team Hrishikesh Mukherjee and Gulzar, apart from the artistes themselves.  Here too, such debates detract from the effort that Nasir Husain, Majrooh and Pancham have put in in Pyar Ka Mausam. One has to see the movie to really understand this.
We now move to the piece de resistance, which is the final version, sometimes called the sad version. This is the version that has not been given its due even though it is pivotal to the film. Both the earlier versions actually build up to this song.
 Humiliation of the poor hero in a room full of rich people is a familiar situation in Hindi films. The hero usually breaks into a melancholic song, often on a piano, venting his ire at the world or targeting the hapless rich heroine.
Most Nasir Husain films have a set situation where the hero at some point will sing a song reminding the heroine of his love in front of a full gathering, with "Kya hua tera vaada" from Hum Kisise Kum Naheen being the most famous of them. This has always been a surefire hit situation for many films, where the hero wins back the heroine against insurmountable odds with a song in the last reel. "Dil jo na keh saka" from Bheegi Raat and "Rang aur noor ki baraat kisay pesh karoon" from Ghazal are examples of such last-over match-winning innings.
However, here, Nasir Husain is not quite aiming at this.
Here too, Shashi Kapoor the hero is set up for a public humiliation and is mockingly asked to sing a song. Shashi Kapoor had until then, in his career, two very popular "piano moments" − "Yahan main ajanabi hoon" in Jab Jab Phool Khile and "Waqt karta jo wafa" in Dil Ne Pukara. Husain's treatment is different. His hero is more Lochinvar than Devdas. His hero, on being slapped by an irate father-in-law-to-be, does not suffer silently but calmly retorts, "Yeh mat samajhiyega  ke mujhe chaante ka jawaab dena nahin aata. Agar mere haath nahin uthe  hain to sirf is khayal se ki kal  mera aapse koi aur rishtaa hone wala hai" (from Hum Kisise Kum Naheen).
Rafi starts with a defiant declaration −
"Meri  nazar mein sirf tum ho
Ke aur mujhko pata nahin hai;
Tumhari mehfil se uth raha hoon
Magar rasta kuch nahinh hai"
This is a Pancham−Majrooh song, so the rage is controlled. The violins heighten the drama, the piano strikes harsh notes in sharp contrast to the soft and gentle notes heard on the mandolin and guitar in the earlier versions of Rafi.
This "Tum bin" is set at a faster tempo, reflecting the anger and hurt. There is only one antara −
"Kabhi mere gham ki kahani dil se mat kehna,
Kahin meri baat chale to sun ke chup rehna,
Mera kya hai kat jaayegi yeh zindagi, tumko chaah ke,
Tum bin…"
There is a lot of dignity here. No self-pity. Even in over-the-top situations such as the one in Jheel Ke Us Paar, where a blind Mumtaz is humiliated in a party, Pancham's tone for Lata's   "Keh rahen hain ye aansoo baraste huye," has so much class, so much dignity that it rises way above the film itself. What Pancham is doing in this version is revisiting both the earlier romantic versions and playing off them. The editing reinforces this with the images of Bharat Bhushan singing the earlier versions.
The song is not over yet. For all those who emphasize the importance of lyrics over music, here is a fine example where one of the greatest lyricists yields space to the narrative power of the music director. Majrooh and Nasir Husain recognize this is Pancham's moment.
If we reflect, some of the most memorable moments in watching cinema, especially Hollywood or European, are works with great orchestral compositions with no lyrics.
Pancham starts with the theme music on the saxophone that has been recurring through the movie, and it blends in to higher notes on the violins, rising to a crescendo in a manner that is quite emotionally stirring. He has done it before in Bhoot Bungla with "Jaago sone walon," where after the third antara his violins move ever higher in a most dramatic way.
Having raised it high, a change of scale.
"Tum bin jaaoon kahan?"asks Rafi.
This is now a question that the hero is asking of the heroine. It is as if Shashi has climbed an emotional mountain and is now asking from the top of that mountain.  In Ghazal, Rafi had similarly arrived at the question, "kise pesh karoon?"
Nasir Hussain and Pancham came up with a similar build-up in the third antara of "Hai agar dushman" in Hum Kisise Kum Naheen, where Rafi's alaap forces the heroine to rebel against her father and join the qawwali with "Lo zara apni khabar bhi…."
In a different film, this would be the cue for the heroine to do something dramatic.
But for Husain, the narrative purpose here is not about getting the heroine to rebel but to use the mukhda to jolt the mother out of her amnesia as she connects to her past.
"Tum bin jaaoon kahan?"repeats Rafi.
Pancham does not linger on the question. He has raised the bar with the violins. Now he proceeds to descend to a dramatic resolution.
In a most wonderfully shot and edited sequence, Nirupa Roy rushes down the stairs perfectly matching the music and collapses on the piano.
One marvels at whether Pancham recorded the music to the edited sequence or the sequence was edited in sync with this piece of music. Whatever be the sequence of events, the result is sheer magic on the screen.
We realize that Nasir Husain, Majrooh and Pancham had meant to use the song to establish the narrative link from the start of the movie to its dramatic climax. This was repeated in a different way in Yaadon Ki Baaraat, where the title song reunites separated brothers, and in Hum Kisise Kum Naheen, where "Kya hua tera vaada" makes the heroine realize the identity of her childhood sweetheart. These sequences are made possible only through the power of the Pancham's music. The emotional wallop that these moments pack makes Nasir Husain movies what they are.

Dixit Arya

panchammagic.org
---