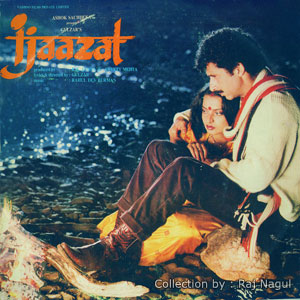 Film: Ijaazat (1986)
Producer: R.K. Gupta
Lyricist, Director: Gulzar
Singer: Asha Bhosle
 "Settling Scores" − An Unsettling Score
LOVE − another four-letter word! Hurts you more than any other such word, that too lovingly! What an irony! And the plethora of feelings it evokes in you is almost the same in number Gulzar has had his takes on. I don't think anyone has ever described the nuances and minute feelings of love that one experiences like he has. But when it came to expressing the pain in love, guess no one has been better at it than him −
"Mujhe agar baahon mein bhar lo, shayad tumko chain mile…"
"Woh khat ke purze udaa rahaa tha, hawaaon ka rukh dikha raha tha…"
"Haath chhoote bhi to rishte nahin chhoda karte…"
"Tere bina zindagi bhi lekin…zindagi to nahin…"
"Dil hai to phir dard hoga, dard hai to dil bhi hoga…"
"Kabhi kisi roz yun bhi hota….hamari haalat tumhaari hoti…"
Maya – the affection, the compassion or the illusion? All of these, per my English dictionary. Maybe Gulzar too has referred one, for he brought to life a character that was perfect to these meanings! So much that even Sudha, who is possessive about Mahendar, falls in love with the enigma that she is.
"Ek dafa woh yaad hai tumko,
bin batti jab cycle ka chaalan hua tha,
humne kaise bhuke pyase becharon si acting ki thi.
Hawaldar ne ulta ek atthani deke waapas bhej diya tha,
ek chavanni meri thi, woh bhijwado..."
Is love a matter of give and take? Yes, has to be mutual at least (Naah, I haven't seen/heard of unconditional love!). And no, because whatever you do for the other person is never out of compulsion or calculation, it's always out of love. But what happens when things go wrong? You want to be back to your normal self by "settling accounts" (not necessarily in a negative sense tough), at times wanting back everything that you gave and at times, even "give back" (pun intended) everything that you got! Of course this is on a lighter and a "fighter" side, but giving back would be more in terms of things tangible, because somewhere you are so much hurt and heartbroken, you just don't want to keep anything that would remind you of the times past. And the wanting back becomes more abstract – it is the emotions, love and time that you have "spent" on someone, spent with someone; the good memories that you have made with that someone. Such a dilemma one is mostly in, you want to forget and yet you want to kind of cling on to your love by remembering the good times, the smallest of things and the minutest of incidents.
The first time I had heard this song, I hadn't quite liked it. There was something uneasy about the song. It wasn't just the unusual and awkward pattern of the song and lyrics. There was more to it. And that unrest, to my surprise, couldn't find a reason. I could feel each and every word of a lady who had lost her love, wanting her share of love back, her memories back; I could feel those expressions in the singer's voice, with the minimal music only adding to its loneliness. But I hadn't yet realized that it was the uncalled-for pain that I couldn't really bear! The picture of a lady dressed in white, a soft glow of light around, sitting on the stairs, remembering her good times, in pain but having no complaints, rather, having a light smile on her face − it was painfully beautiful and beautifully painful!
The lines between music, lyrics and singing blur here. They diffuse into each other resulting into what is Maya! It is almost impossible to note or think about the instruments and technicalities here − everything is inseparable; as inseparable as Gulzar's flowing verse, Asha's extraordinary vocals or Pancham's understated music. What does catch one's attention, though, is Pancham's expertise in composing just about anything; his sense of keeping the music beautiful yet minimal and simple, accentuating the lyrics and their emoting, thereby bringing out the soul of the song even more. No lesser a feat this is! The visual composer that he always was, Pancham knows it is a monologue even if it is written for someone to be "heard." It's a dry spell of love, the words reminiscing about the past. So if you haven't seen the song, what does your imagination tell you? The quick notes of the synth in the starting as if a memory has sprung up, guitar strums, flute, reso reso and the haunting alaap; and you know the lady has probably slipped into her loving times. And thus starts Asha at her expressive best. The soft entry of the tabla at "lauta do" (which normally happens at the starting of the mukhda in most songs and are pretty prominent in sound too) is a treat to hear! The use of the santoor in the first interlude surprises you as the words of the first verse tell you, it is used for autumn leaves falling and getting scattered, unlike generally denoting raindrops or jharnas or such. Whereas the clarinet, the longish sarod piece and the flute intensify going down memory lane in the second interlude, the synth and guitar strums, instead of the santoor, are used for rain that follows in the next verse. Pt Ulhas Bapat's superb santoor again takes over in the short third interlude with the song (and the lady) wailing off on the antara instead of a repetition of the mukhda. Something tells me this is Pancham's idea since it is not a regular song and, hence, he too comes up with his regular "irregularities" to put his stamp all over! The only grouse I have ever had about Gulzar's songs from his own movies is that some of the most beautiful lyrics hadn't met with an equally beautiful on-screen picturization. But wait, that too changes this time, and how!
There are things you can't write on, they are beyond anything and everything. And there are things that you can't stop writing on, because every time you've experienced them, they've always added a new dimension to your understanding. Words had been failing me for the last few days and rightly so. What to write about a song that is an identity by itself? What to write about someone who has given words to those feelings of yours that you yourself were not able to express? What to write about that master who is beyond any comprehension? And yet amazingly, this is where I land up! A free flow of feelings, filling up two pages of this book, making me realize this song is almost a kind of an oxymoron – a song you can't really write about, and yet can't stop writing about! In fact, it's not exactly a song − it's an experience, and a rather Maya-vi one at that!
And to think of Asha and Gulzar winning the National Award for this song but Pancham being left out only increases the unrest. And all I can say is…Pancham, aapka kuchh samaan shaayad yahaan padaa hai…(lene) aa jao, ya (dene) bulalo! After all, all of life's suffering, unsettling and restlessness is generally put to rest, only when one actually "Rests in Peace"!
"Ek ijaazat de do bas, jab isko dafnaungi…
Main bhi waheen so jaungi….
Main bhi waheen so jaungi…"
Shivani Zaveri
panchammagic.org
---