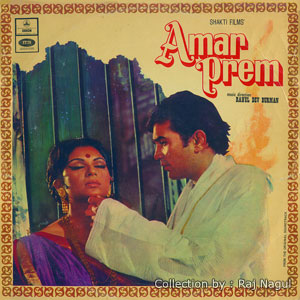 Film: Amar Prem (1971)
Singer: Kishore Kumar
Lyricist: Anand Bakshi
Producer and director: Shakti Samanta

One of the gifts that the Hindi film industry has given us is the three tragedy heroes, who shunned their friends, near and dear ones or the so-called civil society and embraced the company of wine or a woman.
Devdas, who tried to find solace in the company of Chandramukhi (Dilip Kumar/Devdas/1957); Vijay, the extremely emotional poet, who sought support from Gulabo, a courtesan who was looked down upon by society (Guru Dutt/Pyaasa/1957); and Anandbabu, who realized that Pushpa whom people had declared louche was actually honorable (Rajesh Khanna/Amar Prem/1971). These are the three heroes who emerge from the annals of the Hindi film industry's tragedies.
Any work of art or creation, particularly cinema, which gets acclaimed as the best, has to be complete or best from all angles. Amar Prem can be considered as one such piece. Broadly speaking it may not be a tragedy as such but a shadow of sadness and melancholy is cast on the entire movie. This melancholic mood is reflected from all angles, be it cinematography, direction, acting, lyrics or music. Amar Prem, which was released by the end of 1971, was one of the milestones of the journey of the trio of Kishore Kumar−R.D. Burman−Rajesh Khanna. Exactly 10 years had passed since RD (or Pancham) started working independently as a music director and he had created an image for himself by then. While on one side he created melodies based on purely classical Indian music like "Ghar aaja ghir aayee" (Chhote Nawab), "O mere pyar aaja" (Bhoot Bungla), "Sharm aati hai magar" (Padosan), and "O Ganga maiyya" (Chandan Ka Palna), on the other side he was also carving out a niche for himself by creating jazzy songs like "Aao twist karen" (Bhoot Bungla), "Aajaa aajaa main hoon pyar tera" (Teesri Manzil), and "Gulabi aankhen" (The Train). After the success of Teesri Manzil's music, RD was branded as westernized and he had to bear its consequence. Hare Rama Hare Krishna and Caravan, released in 1971, furthered that "western" image of RD, and hence Amar Prem, released in the same year, played an important role in Pancham's career.
Pancham aptly proved his credentials to give music for a movie like Amar Prem, which needed a special type of melody, if we can say that. For me the most remarkable thing about this movie is that all the songs in this movie are beautifully entwined with pathos, which I feel was the need of the story.
The deep and pure love between Anandbabu (Rajesh Khanna) and Pushpa (Sharmila Tagore) is made even deeper by the director with the help of his able music director. Keeping in mind the genre of the movie, the way RD composed all the songs, if it can be termed, in one color, was mind-blowing (remember, RD had done Teesri Manzil earlier, whose songs had zing and verve, while here was Amar Prem, whose songs were filled with pathos to move your heart).
Even connoisseurs of music were shaken by Lata Mangeshkar's soulful rendering of "Raina beeti jaaye." At the same time, Lata's "Bada natkhat hai" had a veneer of light melody to cover the undercurrent of deep longing and desperation, and even Sachinda's rendering of "Doli mein bithai ke kahaar," done solely for the love of his son (he never sang for any other music director), expressed the sorrow perfectly.
And what to say about Kishore Kumar! Without referring to the three songs sung by him, any discussion on Amar Prem can't be complete. To rate "Chingari koi bhadke," "Yeh kya hua," and "Kuchh to log kahenge" is impossible. God save the one who has to do this (this same problem one faces when one attempts to rate "Pyar diwana hota hai," "Yeh jo mohabbat hai," and "Yeh shaam mastani" from Kati Patang). But going by the sheer criteria of personal choice, I will rate "Kuchh to log kahenge" as the best. How to and what to write about a song that makes me silent and sends me into a reflective or pensive mood!
Pushpa, who due to constant berating by society, has lost all her dignity and self-esteem, and for the first time finds support from Anandbabu. The song is in the scene where Anandbabu consoles her and asks her to disregard the slander directed at her. This song scales great heights due to Anand Bakshi's simple words that go straight to your heart, Pancham's novel melodious tune and Kishore's flawless timbre.
Soulful songs can be of many varieties. Although this song sounds sad, expressing misery or grief, it actually consoles and tries to heal the wound. This is expressed not only in words but also in the tune and the rendering, and even the instruments used contribute immensely in achieving this soothing effect.
The prelude (M0) starts with the flute, which heralds the onset of a very soothing, healing, consoling melody. The flute doesn't go to a high pitch but is spread at the same level, tone and pitch. In the first interlude (M1), the cello gives a somber overtone to the song and a long solo on the violin accentuates the effect. And this stays with the song until the end.
The tonal quality that Kishore Kumar maintains throughout the song is beyond words. His rendering of "chhodo bekaar ki baaton mein" is incomparable. At the end of second antara, he sings "yeh sach hai jhoothi baat nahi, tum bolo yeh sach hai naa…," which gives us an ethereal experience and you have to bow your head before that divine manifestation.
As far as I remember, in one of panchammagic's programs, Gulzar saab was asked, "Which movie of Pancham that you missed do you regret the most?" He had replied, "I would have liked to write lyrics for Amar Prem, and Pancham had even asked me about it, but I was so engrossed with my first movie Mere Apne that I was unable to spare time for it. Of course, the work that Anand Bakshi has done is highly commendable."

Normally no one can compare Mirza Ghalib and Anand Bakshi, but reflecting on this particular song I came across some peculiar similarities. Ghalib had said −

"Kahaan maikhane ka darwaza 'Ghalib' aur kahan waiz,
par itna jaante hain kal woh jaata tha ke hum nikle"

(Is there any relation between the pub and a preacher? But yesterday when I was coming out of the pub I met him at the doorstep.)

Anand Bakshi phrased the same feeling as follows −

"Humko jo taane dete hain, hum khoye hain in rang-raliyon mein,
humne unko bhi chhup chhup ke aate dekha in galiyon main"
Certain movies that leave a deep impression on our mind at a certain age lose their charm with the flow of time – in fact, we often realize their hollowness with the passing of time. But Amar Prem is one of the exceptions. It may not be Devdas or Pyaasa, but even now, it moves your heart. Its songs make you somber, and evoke a sense of desperation. "Chhodo bekaar ki baton mein  kahin beet na jaaye raina" brings tears to your eyes. And perhaps this desperation, this somber feeling gives a boost to your life…

Sunil Deshpande 

panchammagic.org
---