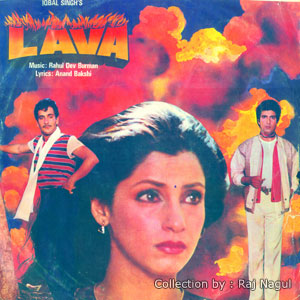 Film: Lava (1985)

Producers: Balbir Kaur

Director: Ravindra Peepat

Lyricist: Anand Bakshi

Singers: Asha Bhosle and Manmohan Singh

While it's a fashion to say that Pancham was a spent force in the 1980s − especially after Saagar − I personally just love his creations during this period. He was at his experimental best!
Lava is one soundtrack that has never ceased to amaze me. Many would rate that stunning "Hum tum dono milke" as the best number of the album. But my favorite is "Jeene de yeh duniya." Its multiple versions are added incentive to like the song more.
The happy version is picturized on the carefree couple − Dimple Kapadia and Rajiv Kapoor. The song is preceded by the usual pledge by the hero, "Duniya ki koi bhi taaqat humein juda nahin kar sakti, maut bhi nahi!" Manohari Singh's superb saxophone piece takes over, followed by a string-like instrument (most probably played on the synthesizer). This is a signature tune that is repeated in all the three versions. Another common thing with the versions is the picturization – they are all shot at Director Ravindra Peepat's favorite spot, Bhandardara waterfalls.
The surprise package in the happy version is cinematographer Manmohan Singh's choice as a male lead singer. With Kishore Kumar and Shailendra Singh giving playback in the other songs of the album, it would be intriguing to know what made Pancham choose Manmohan Singh. That said, Manmohan has done total justice to this beautiful composition. Asha Bhosle carries the romantic mood with usual aplomb, ably assisted by Pancham's superb orchestration.
The happy version has three verses. Anand Bakshi comes up with his pet words "vaade-kasme-rasme," "girna-sambhalna." But it is the sadder version of the song where Bakshisaab delivers some killing lyrics:
"Kaagaz pe kuchh ho likha to mita doon,
sauda kiya ho to keemat chuka doon,
dekha ho sapna to sapna bhula doon;
Kaise bhula doon tumhein yaad aanewale,
log hum neerale, pyar karne waale…"
"Gajra khula tha kajra baha tha,
kal raat mujhko tu yaad aa raha tha,
aankon mein bas jaa maine kaha tha;
Yeh kab kaha tha ki neendein chorale,
log hum neerale, pyar karne waale…"
The third version is the climax picturized on a disgruntled Dimple, who is about to commit suicide. A "heartbeat" prelude is followed by Asha's voice wrenched in emotion. Just listen to the way Asha has rendered the word "chaahe" in "chaahe maar daale" in all the three versions. Sheer class!
The third version is available only on the published LP record of the film. How I wish HMV had released this soundtrack in stereo! In fact, I would have loved to have some of Pancham's 1980s albums in stereo (especially Sitamgar!).
Listen to the entire Lava soundtrack and you are convinced that Pancham still had that "Lava," the fire left in him to deliver stunning numbers. The line "Kaise bhula doon tumhein yaad aanewale" has become the Pancham fan's epitaph to this master composer.

Ashish Kashikar
panchammagic.org
---