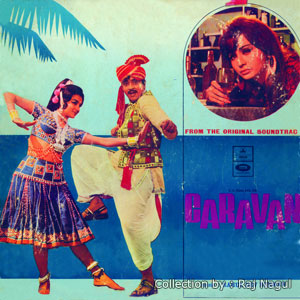 Film: Caravan (1971)
Producer: Tahir Husain
Director: Nasir Husain
Lyricist: Majrooh Sultanpuri
Singer: Lata Mangeshkar

There are a few songs of RD which will always remain in my playlist come what may. Musafir Hun Yaaron, Tere Bina Zindagi Se, Tum Aa gaye Ho, Aanewala Pal, Tere Bina Jiya Jaye Na forming the first few of about 50 songs I just can't travel without!!
But the song I want to talk about here, is particularly special to me because of its emotional intensity and portrayal of passion. The song is Dilbar Dilse Pyare from the film Caravan. And I barely remember the visual portrayal on screen, which I honestly feel, doesn't match up to the audio.
The whole experience starts with the metallic percussion which starts like an announcement of sorts asking for order and attention. One feels like submitting to this call from the word go. And then the Strings which enhance this powerful percussive commandment and then the Dulcimer which kind of takes you to a tribal, primal world! Breakdown! Enter the sway of rustic Spanish Guitars and a Synthy combination of flute and reed enchanting and deepening the trance that you have hypnotically submitted yourself to. Seamlessly this suction transforms into a chorus section led by the queen enchantress herself.. So much drama even before the actual song begins. Why would anyone need a visual for such expression?
The wonder is, what would the brain that executed this, be thinking of to derive at such a unique sound for this situation? Scoring to visual is one thing. But scoring to inspire visuals? Based on a predefined cinematic situation? Wow!
I don't want to do a running commentary about the song here on. But I surely will pick on aspects of it which form the twinkling flashes of this Diamond. The most striking (sometimes irritating) part of the song is the crassness of the chorus singers. But then you don't expect a bunch of nomadic men and women to be pitch perfect. Do you? There should have been a reason to get the chorus singers to sing with that rawness. The casting for that section, I mean. They also play the role of singing obligatos in the song. They must have had their hearts in their mouths singing out every part back-to-back!
The other thing, which even lay people now know of about Pancham's music is the gap (or the lack of it) between the Mukhda and first Antra. A lot has been said and discussed about this tendency in his music. But the suddenness in this song with which the antra takes off is just as blinding as the song itself! In my personal opinion, the "arre a aa…" bit before the words of the verse that Lataji sings, is actually the interlude. And that bit precedes the antra everytime with a slight variation. It also works as a filler between repetitions of the first line in all antras.
The bringing together of both the natural 2nd (Shudhha Rishabh) and the flattened 2nd (Komal Rishabh) notes, likewise with the natural 6th (Shudhha Dhaivat) and the flattened 6th (Komal Dhaivat) in any scale needs an acute sense of aesthetic appreciation. Some south Indian Raagas have this built-in, where the mood in that moment is heightened with an emotional peak in the way they are both depicted in tandem. Hindustani Classical has this quality most present in the raaga Sindh Bhairavi. And to do it in commercial film music, I don't think any composer in the history of Indian film music has been able to achieve this with so much command and ease as Boss has. This song incorporates both these combinations when you least expect it to, every time!
I think this tendency to spring surprises comes from his innate childlike excitement and enthusiasm for life itself! Even in audio clips where we hear him speak and recordings of his sittings where he sings his songs with music bits encompassing and visualising moods and stories in his music, this quality is so evident.
Like the minimal presence of first interludes in most of R.D's songs, the other striking quality in his music was the elaborate (sometimes as memorable as the song itself) interlude section before the last antra. There are so many examples of this. Aanewala Pal, Phoolon Ka Taaron Ka, Tu Pyar Tu Preet, Jaanejaan Dhoondhta Phir Raha, Deewana Leke Aaya Hai, Yeh Kya Hua, Raina Beeti Jaaye, etc.
One such moment in this song which gives me goose bumps every time is the interlude before the third antra. Here, for a change, it is the natural 2nd note playing catalyst to the emotional peak instead of the other way around. The section starts with the dulcimer part predominantly using komal rishabh and then the string / flute part sort of breaks it down and then the shudhha rishabh comes into play just for that one bar, intensifying the already intense mood, giving way to the reed part to blend and bring back the flattened 2nd note.
And what can anyone say about the groove which makes the song what it is! The element of trance that carries throughout the song, simple breaks and single-note pickups. A straight (Now popular) hip-hop groove conjured up way back in the 60s which feels fresh even half a century later! He has used this groove in a few other songs with slight changes in instrumentation, but to maximum effect each time! Hum Bewafa, Tere Bina Jiya Jaaye Na, Aap Sa Koi Haseen, O Majhi Re, etc., all use this, but each song brings in a different flavor. Genius!
The only regret I shall carry with me throughout my lifetime, is that I could not meet my God, my Guru, studying whose music, I have learnt so much and apply it in my compositions (and not merely copy his 'style'), my arrangements and even in my classical music renditions. Aspects such as simplicity, groove, importance to silence, gaps, laykari, frequency distribution, Bass Guitar!, percussion distribution and their placement in the groove complementing the melody, optimum tempo and pitch for a song, cinematic visualisation, and a million other things that surface upon repeated listening and study of his music – endlessly rich!
There are people who grace this earth once in a million years. But for me, R.D Burman only comes once in the lifetime of this universe! We are only blessed to have been able to enjoy the treasure he has left us behind.
Love you Panchamda…!
Ashwin Srinivasan
panchammagic.org
---