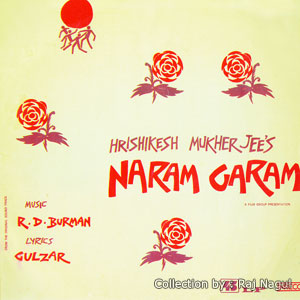 Film: Naram Garam (1981)
Producer: Subhash Gupta, Uday Narayan Singh
Director: Hrishikesh Mukherjee
Lyricist: Gulzar
Singer: Shushama Shreshtha, Shatrughna Sinha
(Disclaimer: This piece is only a figment of my imagination. Please do not read anything more into this than a loving, fun-filled appreciation of Pancham.)
Location
Pancham's music room. It's past lunch time and RD's got an exasperated look on his face. He lights up another cigarette and exhales, shaking his head.
Pancham (to no one in particular): Arre, woh aya ya nahin? It's now over 3 hours, yahan pe peti aur pet par haath rakhe hue baithe hain.
Musician: Nahin boss…abhi tak nahin.
Pancham: Main hi badaa ghonchu hoon!! Why did I think of using HIM as playback? Main hi gaa leta ye gaana Sushma ke saath! Dus minute mein nahin aaya to…
(A voice booms outside Pancham's music room):
Jali ko aag kehte hain, bhuji ko raakh… jis raakh se barood bane, usse Vishwanath kehte hain!!
Pancham cries: Aa gaya mera Shatru!
Shatrughan Sinha (enters the music room and runs to Pancham and hugs him): Abe saale ghonchu!! Main kahin jaldi to nahin aaya?
Pancham (throws the cigarette away and sits next to his harmonium, gesturing Shatrughan to sit): Tu jaldi nahin aaya, main jaldi mein thaa!
Shatru: Ha ha ha! Khaaamoshhh!
Pancham: To shuru karein?
Shatru: Irshaad!
Pancham: Wo chhutti par hai. So, you know the situation − Kiran's telling you that your brother's chosen a girl for you to marry, and your reaction is that of protest and anguish. This is the theme; Sushma ko maine gaana sikhaya hai. I'll go through the song with you and explain you. Theek?
Shatru: Irsha…sure!
Pancham: To maine ye gaaana wo Khubsoorat ka gaana tha na − "Sun sun sun didi" − us framework se shuru kiya hai. Accordions, guitar strumming…and the same rhythm. Then Sushma gaana shuru karegi: "Haaaaan…," ye alag sa touch, kyon ki she's pulling your leg. And the violins come in reverse after every line that she sings…a simple tune − suno (Pancham sings Sushma's tune). Then comes your part, and I've changed the tune a little as it flows into your reply…and ek dum simple rakha hai − so you can pick it up fast.
Shatru: Khaaamosh!! Hum woh pandit hain … jo shaadi bhi karate hain, aur shraadh bhi!!! Tu gaana suna Pancham, aur dekh main kya karta hoon!
Pancham: To sun − ye tune ek dum tere personality ko fit karti hai − thoda aggressive, a little complaining. (Sings) "Haan re bhaiyya ne phir koi ladki dekhi hai"…samjha? The "haan" should be a little pronounced, bilkul tere style mein. And after this, the orchestra stops and you half sigh and half sing…aise… "Teri chaachi bulldozer!"
Shatru: Abey kya bulldozer!! Tractor kyon nahin? Okay, okay, ashtray neeche rakh Pancham. Aaage?
Pancham: Then Sushma repeats the mukhda tune and…
Shatru: Khaaamosh!! Mujhe pataa hai − pehla interluuude!
Pancham: Nahin ghonchu! Yahaan par twist − we'll go into the antara tune and you sing "Din aur rat ki khit pit hogi horn bajayegi, achhe khaase ghar ko wo garage banayegi." Here you pause and on-screen…(consults notes)…Kiran presses the horn.. so we'll have the horn sound in rhythm with the flutes. Then, when I cue, you repeat this line in the same tune…and then Sushma continues in the same tune, "Are aap ko ainwe chachi se khatra lagata hai, shaadi ho jaye to dekhe kaisa lagata hai…" and then the next line, Sushma crosses over to the tune, a simple track change that comes back to the mukhda.
Shatru: Waaah Pancham!!! Kya baaaaaat hai…ek dum superb!
Pancham: Aage sun. Is baar "teri chaachi bulldozer" par thoda alag emphasis…aise (sings the line). Samjha? "Bulldozer" par "rrrrrr" extra. Why are you looking at me like that? Are you worried?
Shatru: Khaaaamosh!! Sar pe kafan bandhne waale kabhi maut se nahi darra karte! Ye dekh − "Teri chaachi bulldozerrrr"!
Pancham: Soooperb! Ab sun, this is one short interlude piece, just four-five strokes on the santoor, that go into the same mode as the antara tune, then stop. Then you begin, "Jane ab kya hoga wo kya haal banayegi, Muh se khaata tha wo naako chane chabvayegi."
Shatru: Haa haaa haaa! Ye Gulzar bhi kya likhta hai! Kahin se bhi moohavraa laata hai!
Pancham (sighs): And try setting what he writes to a tune. Kya kya kahaan kahaan se chabaana padta hai. Anyway, after you sing this line, there's a music piece that has the flute, santoor, keyboard swirling as Kiran comes twirling and sits next to you. And at the second end of the piece, I'll cue and you repeat this line. Then Sushma continuing the tune, "Ha gobhi aalu bane to kehana aalu gobhi de…" Here, before she moves to the next line and without interrupting the flow, you have to do a surprised "Haiiin?" Theek hai? That'll be a good touch on-screen. (Stares at Shatrughan) You look worried again.
Shatru: Khaaaamosh!! Jinke badan kagaz ke hote hai woh agni devta ki puja nahi karte!! I'll do this!
Pancham: Verry good − and then, she'll sing "Haar na khana mar na khana, Khana baki jo bhi de" and then the switch to the mukhda. Then, your turn to sing your line…
Shatru: Haan re bhaiya ne phir koyi ladaki dekhi hai, Teri chaachi bulldozer!
Pancham: Bhai waah! Only this time, sing it in a tired, defeated way, aise (sings). And then Sushma sings "Aaane waali hai" and the orchestra stops abruptly.
Shatru: Kya mazedaar gaaana hai Pancham!!!
Pancham: Arre bas yaar ban gaya. Ab chalo khaana khaaate hain, then we practice.
A couple of days later, the song is recorded and Pancham and Shatru step outside the studio for a smoke.
Shatru (dragging deeply on his cigarette): Pancham because of you, I'm now confident, main bahoot achcha gaa sakta hoon. Kyon na tum aur main aur Gulzar ek ghazal album karein? Main gaoonga!
Pancham (stares at Shatru, then imitating him): Khaaaaaaamosh!!!!
(Both of them laugh heartily.)
Vineet Upendra
panchammagic.org
---