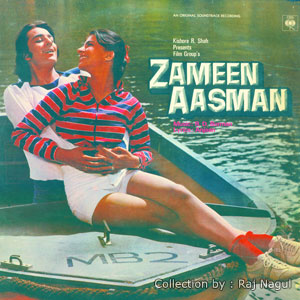 Film: Zameen Asmaan (1984)
Producer: Film Group
Director: Bharat Rangachary
Lyricist: Anjaan
Singer: Lata Mangeshkar

Unlike most of the Pancham fans who were in their teens in the 1970s and 1980s and discovered Pancham during that period, I was introduced to Pancham in the early 2000s when I was a teen. You know that unsettling and intriguing initial period of being a Pancham fan, excitement of discovering his songs that you haven't heard before. I remember when I heard this song for the first time − that personal "eureka" moment – the joy of discovering a new gem of Pancham. I was so dazzled by the beauty of this particular song that I lost myself completely in it and put this song on the loop whole night. I was listening to it, appreciating the sheer wizardry of Pancham throughout the night. It's difficult to put my feelings about this song into words − I don't think I can ever do that but still I am taking on this daunting task and trying my best.
I know many Indian film music lovers will differ with me but I still think that Lata Mangeshkar sounded her best in the 1970s and 1980s, and in all Pancham compositions during that period. Pancham always reserved his best tunes for Lata and apparently even Asha Bhosle would feel envious about that. There are over a hundred solos that Lata sang for Pancham and each one of those is a gem. The song I now write about is very dear to me − because this is a song that transcends me to another world every time I listen to it. Each time I listen to this song I find something new and interesting about it.
Prelude
Pancham starts the song with the vibraphone and a mellifluous flute to set the mood of the song, affirming to you that he is taking you to some beautiful pahadi place somewhere in northern India. Two flutes start talking to each other − trying to converse but far away from each other. This long flute piece is then followed by a grand electric guitar sound and synth, hi-hats, and drums. Subsequently, an exquisite chorus follows, which is a Pancham's hallmark – "pa pa pa para parapa…." Pancham − the visual composer − makes sure all the time that he creates an atmosphere musically, so that it justifies/flows well with the situation/visuals/mood of the characters on-screen. Even if you don't watch the video, you can almost visualize a girl who has just fallen in love promenading on a green landscape, lip-syncing these beautiful lines while staring at the clear blue sky. This is certainly one of the longest preludes among all Pancham's songs. Pancham takes his time to set the mood before Lata can begin her magic.

Mukhda

"Aisa samaa na hota,
kuch bhi yaha na hota;
Mere humrahi jo tum na hote…"
Personally I have always loved Pancham's antaras more than his mukhdas − but this mukhda, albeit short, is as beautiful as the antaras. Those lovely maadal beats accompanying Lata and that guitar twang (after "hota") enhance the beauty of the tune to a supreme level. Love the way Lata stretches "samaaa" to express the grand beauty of the atmosphere around her (Anita Raj on screen). She renders the two instances of "hota" differently in the two mukhda lines and, if you listen carefully, there is a stroke of blue in "hota" of "kuchh bhi yaha na hota." These subtle nuances in Lata's singing make this song such an extraordinary experience.

Interludes

In the first interlude, Pancham keeps things short and simple. Maadal beats and a flute piece go beautifully with the reso reso, and then Lata immediately breaks in with the first antara. In the second interlude, Pancham uses an elaborate and sleek orchestration, with various sounds blended to create a romantic and an almost dreamy/surreal atmosphere, which gives enough scope to Sanjay Dutt and Anita Raj to take a ride on a bike and run in slow motion on-screen. A stunning electric guitar sound leads the proceedings, supported by dreamy synth sounds, breezy violins, reso reso and wonderful maadal beats to create the surreal landscape in our minds. In the third interlude, Pancham sticks to the theme of the song and brings back the chorus. In the postlude, Lata joins the chorus and ends the song on a beautiful note.

Antaras

Listening to the antaras of a Pancham song is always a treat − he always offers you something pleasantly unusual and special. Here the lovely antaras are supported by simple, yet equally beautiful, lyrics penned by Anjaan. And notice how Lata has rendered the antaras, especially the first word of the second line in each antara ("aise," "phir" and "hota"), it's just mind-blowing stuff! I can forever listen to this song just for that incredible harkat:
"Mausam yen na aata yun na chhati yeh ghata,
Aise gungunati yun na gati yeh hawa;
Gul shabnam ke moti na pirote,
Mere humrahi jo tum na hote…"
"Raahen wohi waadi wohi badla kucch naheen,
Phir bhi tere milne se hai duniya kyun haseen;
Kahin khwabon mein hum gum na hote,
Mere humrahi jo tum na hote…"
There is a difference in the way she completes or ends the antaras. At the end of the first antara, she stretches "hoteeee" and reaches to the highest vocal scale possible, stays there for a while and lands smoothly/slowly with "aaa…ooo"− this is my "eargasmic" moment − it's like going high in the sky, reaching its limit and start falling slowly and freely. It's there in the first antara, but when you expect it in the second antara, it's not there. Once you miss it in the second antara, you don't expect it in the third, and here Pancham gives you a pleasant surprise:
"Hum tum jo na milte to na chhata yeh nashaah,
Hota kucch bhi hota, yeh na hota jo hua;
 Yahan milte na dil aise khote
 Mere humrahi jo tum na hote…"
Notice carefully how she renders the word "nasha" in the last antara − she actually renders it as "nashaah" rather than just "nasha." It's amazing how Pancham infused the much required intoxication into the word "nasha" to make it more meaningful − giving it a palpable emotion of being intoxicated by love. The feeling of a girl trying to tell her lover how the whole world around her has changed because of him/his love comes across so beautifully only because of the way it has been sung. Lata's singing prowess is in full display in this song, where she makes each word sound more meaningful and beautiful.
I don't know if it's just me, but I find a tinge of sadness in all the antaras of this song – especially the second line of each antara. I feel an underlying current of pathos and I don't know the reason for this as the lyrics don't suggest anything like that. It certainly strikes a different chord in my heart for sure.
One of the many things I love about Pancham is that he always used the right sound, at the right place, in the right amount, and never overdid anything − which I rarely noticed with any other Hindi film music composer. The use of sounds in this song is exemplary – the right balance of music, perfect singing and beautiful lyrics makes this song such a delightful experience. Although the video features only two antaras, it's quite a decent effort from the director. The picturization doesn't harm or dampen the beauty of this song as it is usually the case with many of the videos of Pancham's songs. I quite liked it – the beautiful Anita Raj, the handsome Sanju Baba, shepherds playing flute and those green landscapes embracing each musical note coming from this Pancham's creation.
Aisa "music" yahan na hota,
music mein "soul" na hota;
Pancham agar tum na hote,
mere humrahi jo tum na hote…

Rahul Nahire

panchammagic.org
---