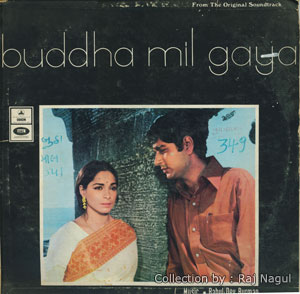 Film:  Buddha Mil Gaya (1971)
Producer: L. B. Thakur
Director:  Hrishikesh Mukherjee
Lyricist:  Majrooh Sultanpuri
Singer:  Lata Mangeshkar
Buddha Mil Gaya, released in 1971 marked the beginning of a director-composer association that was to create several masterpieces in the years to come. Pancham went on to compose music for 11 Hrishikesh Mukherjee films, highest with any single director and what gems were born out of this collaboration! Pancham composed a wide variety of songs for Buddha Mil Gaya and as was common in those days with Pancham films, all were chartbusters! It is not surprising considering the genre of Hrishikesh Mukherjee's films that he provided Pancham many opportunities to compose tunes based on Indian classical music. 'Aayo Kahase Ghanshyam' and' Jiya na lage mora' provided the classical element in Buddha Mil Gaya out of which 'Jiya na' remains one of my all time favorite compositions.
'Jiya na lage mora jiya' for me is one of the best semi-classical song in Hindi film music. It's beautiful melody interspersed with subtle trademark Pancham nuances and the godly rendering by Lata Mangeshkar makes this such a heavenly composition that no matter how many times you listen to this, it's bound to give you goose bumps every time. Composed in his favorite raag Khamaj, Pancham breezes through the notations of the raag. He makes beautiful use of komal nishaad in an extraordinary 'ga ma pa dh ni(k) dh' phrase at 'na ja re' ending with 'ga ma pa.. re ga.. ma.. Jiya…'. The notes flow effortlessly around the construct of the raag. Pancham adds subtle flavors which takes this song to a completely different level like the slight pause in the first antara after 'do pal to thaher ja' and the way the antara is bridged with the mukhada, this phrase is sung differently in both antara's and you just can't choose which one is more beautiful.
The melody of this composition is so strong that Pancham did not feel any need to use lot of instruments for its arrangement. This song is a fine example to demonstrate that Pancham knew exactly when, what, how and how much to use as far as musical arrangement was concerned. The guitar chords and tabla are just enough to support Lata's silvery voice. Interludes mainly with Sitar and flute provide the perfect bridge to slide smoothly from the mukhada to the antara. However, how can a Pancham song be complete without some deft Maruti Keer touch! In the first antara, the tabla is played in 3 different variations of the same taal, one when the antara starts which is same as the mukhada, another at 'do pal to thaher ja' and another after the pause again for 'ha..do pal to thaher ja'. These subtle variations in the rhythm pattern make the first antara extremely beautiful. The third variation is missing in the second antara as there is no pause. Pancham does another magic in the second interlude. The M2 starts with sitar and beautiful little aalaps with Lata just caressing the notes Pa and Sa and arriving gently at Ga, this is then followed by a beautiful flute piece which converges and ends at the lower scale nishaad, the note and the corresponding chord creates a mesmerizing feel, Pancham brings the song back to its original scale quickly from where the second antara starts. This little piece is absolutely amazing and worth a keen ear.
I have always been a bit biased towards the semi-classical Pancham compositions and think he was brilliant with these type of songs as he always added his innovative touch to these compositions, also most of the times he got meaningful lyrics for these type of songs which makes them very special. I think he should have got more opportunities to create such compositions. Ardent Pancham fans will always crave for more, however all we can do is savor what he has given us and 'Jiya Na' is one such gem that needs to be cherished. Happy Listening!
Anand Dhodapkar
panchammagic.org
---