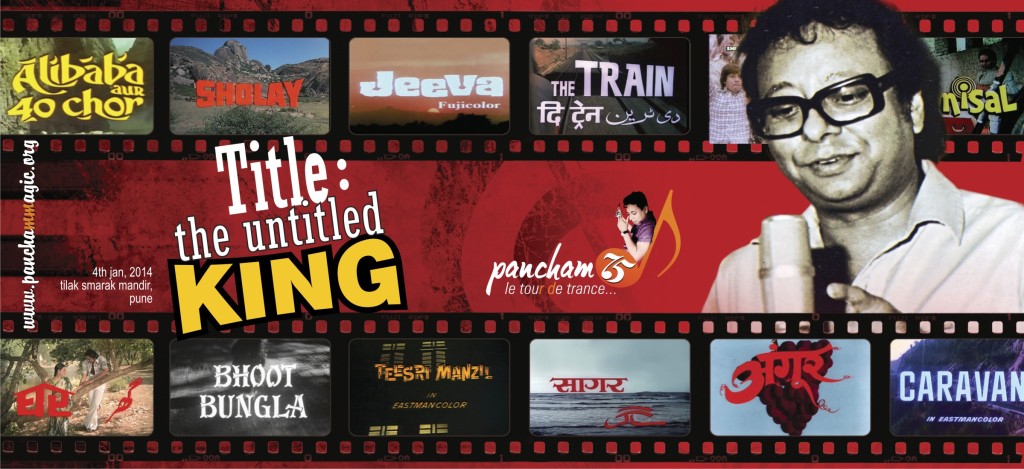 Venue: Tilak Smarak Mandir at 7:30pm
Guests:
Raju Singh
Jayanti Ghoshar

Aslam
&
Kunal Mehta , Parikshit Lalwani

January 4, 2014.  It has been 20 years since Rahul Dev Burman, popularly known as Panchamda, physically left this world.  His music and memories and still afresh in the minds of his numerous fans. He has left enough tunes to last a lifetime and more.
I made the trip to Pune for the biannual event, which has become a must and addictive for me.  A report on the event.
The theme for the Event was Title music – a genre of music which is generally overlooked by many composers and stock tunes are usually played in the credit tiles, to do away with it.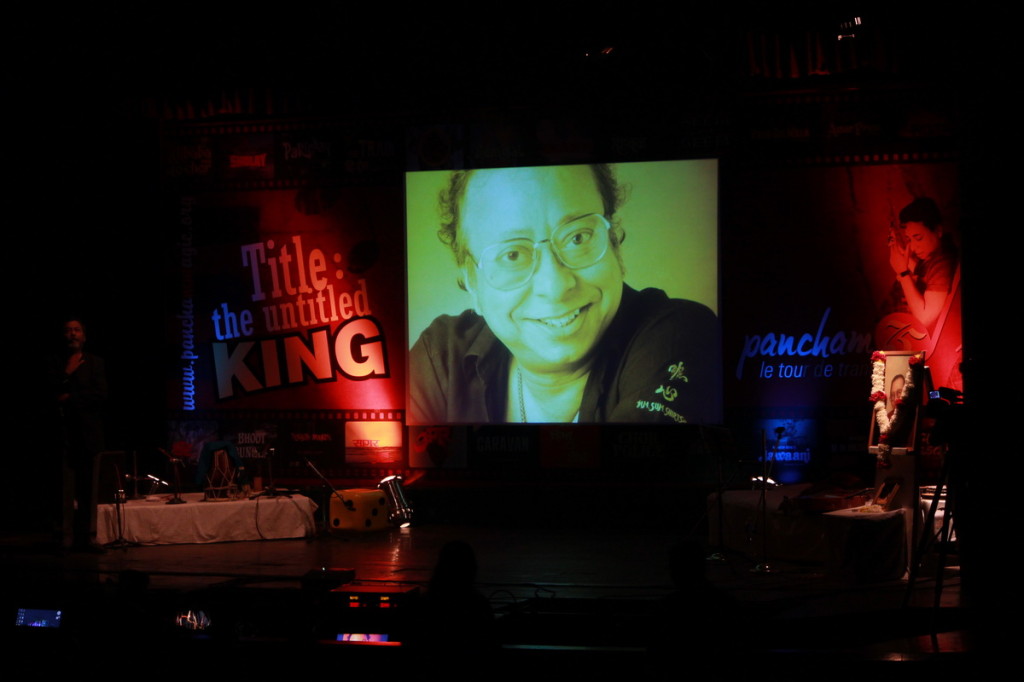 The show begun, as usual with dynamic prelude music of medley songs of Hum Kisise Kum Naheen, followed by the powerful vocals of Pancham singing `Tume Kato Je Doore Kothaa Je Haariya Gele' filling the by now packed Tilak Simark Mandar.
As the theme of the evening was Title music, the show begun with an absolute amazing title music of Teesri Manzil.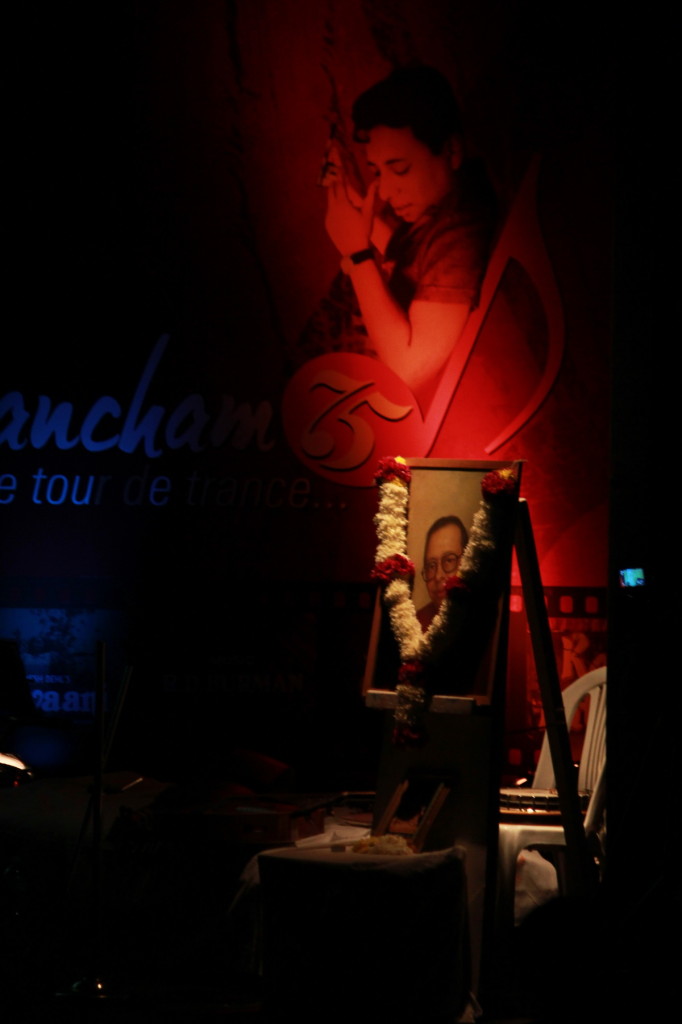 The affable host of the evening, Ankush Chinchankar welcome all the Pancham fans and echoing the sentiments of Pancham fans said that it is 20 years since Pancham left for his heavenly abode, but there has not been a day, hour, minute or a second when his memories and music have left us.   Ankush then introduce the theme of the evening – Title music.  He said we must be wondering why the show had become differently, as the theme of the evening too was different – Titlte music – a genre of music often overlooked by many music composers, but not by Pancham.  He said Title music was forte of Pancham and he can be said to be king of Title music.   He used to do sittings with the director of the movie before creating the title music. The title music composed by Pancham for films was also released on LP records, which is usually not the case with other composers.  Pancham used to work hard and made his presence felt in the Title music – whereas most the music compoers usually composed stock medley tunes of the songs as title music.  Ankush said that the purpose of today's theme is to see how much Pancham has achieved in little music.  Title music should introduce the movie to the viewers, and set tone for the movie.  Teesri Manzil's title music was an example which set the tone for the whodunit thriller at the very beginning.  Next, tittle music of Carvan and Bombay to Goa was played as another examples.
Pancham had also given fabulous music to cartoon-type credit titles, as seems to be the norms in the late sixties – the movie was Mehmood produced Pati Patni, which was released in 1966.   After playing the title music Pati Patni, in which Manna Dey, who had passed away recently, had sung for Pancham, as  a small tribute to the great singer, some of classic Manna-Pancham songs were played.  Ankush mentioned that a few years ago a team of Panchammagic.org had gone to Bangalore to invite Manna da for the event at Pune, but due to ill health of Manna da, he could not make it to Pune for any of the edition of the show.
The title music of Kaala Sona was played next which had fabulous flute pieces played by Manohari da, which later resurfaced in an Pancham-sung song tum kiya jaano mohabbat kiya hai. 
Ankush said that whenever a star son was launched in the movies, its music was composed by Pancham – like Rocky, Love Story, Betaab – naturally the star fathers wanted a hit music for their sons and Pancham had obliged them by giving blockbuster music for star-son's debut movie.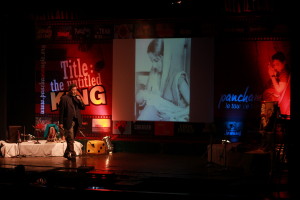 Before showing one of example of such movies – Betaab – which had outstanding introductory music for Sunny Deol followed by equally outstanding title music – Ankush said it is worthwhile to see the excerpt of an earlier show, where the director of Betaab, Rahul Rawail, had appeared and talked about the title music of the film.  It made for an interesting viewing – it seems Pancham, after recording the songs of the movie had not yet begun work for the background music of the movie due to some time constraints – and when pressed for it by the director, had agreed to see the movie in the evening next day before leaving for an late night flight to New York to attend the premier of Sunil Dutt director movie, Dard Ka Rishta, and had said to the director that after seeing the movie he will talk to his team, and its background music will be done.  Pancham had to catch a flight to US at 2:30 a.m.  Accordingly a special preview was arranged for Pancham next evening.  After viewing the movie, Pancham had said he will discuss the background music pattern with his team and had left.  The same night, at around 3:00 a.m. an excited Pancham had appeared on the door of the director – puzzled Rahul Rawail had asked Pancham that you were supposed to catch a flight at 2:30 a.m. what happened to that.  Pancham had replied that after seeing his movie, he had decided to to be directly involved in the background and title music of the movie.  He has already made the introductory music and wanted him to listen to it right now at his sitting.  Such was dedication and enthusiasm of Pancham for the title music and the background score of a movie. Rahul Rawaid said this 9 minute piece was one of the best ever background music composed.  He also said that it was recorded in one take.
Title music of  Deewar, which had fantastic titlte music was played next. Ankush said that Pancham used to play an entire 40 piece orchestra for the title music – yet one can hear each individual instrument like cello, guitar, violins, clearly, and the effect created was marvellous.  Pancham had used title music to create an image of the protagonist of the film – as an example the title music of The Great Gambler was played –  to create an image or the character of Amitabh as Great Gambler.
Pancham had also given music of few TV serials one of which – some Pancham fans present in the audience correctly guessed – was Subah which had fabulous Title music and title song sung by Pancham himself.  Ankush mentioned that its title music was nowhere available – not even with the serial's producer and director.  A recorded from TV version was somehow obtained by the Panchammagic team and its digitally cleaned format was played to great applause and a demand for an encore, which was rightly agreed to by Ankush.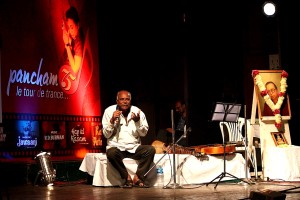 Ankush said that they endeavour to bring the people who had worked with Pancham for creating music but, thanks to Homi Mullan ji, they were able to located and to bring a person, who had not touched any music instrument, yet was very close to Pancham for many years – Pancham's driver, Aslam, who worked was with Pancham for many many years.  Ankush invited Aslam to share his memories with the audience.  Aslam begun by narrating how he came to work with Pancham – he was working as a garage mechanic and his father was working with Sachin da.  Dada Burman had purchased a fiat which had starting trouble and Aslam was called for its repair it and was subsequently employed by Dada Burman to work as driver for Pancham.   Aslam ji shared many memories of Pahcham.  Like Pancham has told him that Laxmikant Pyarelal were his friends and he has played mouth organ for them in a song in Dosti and also helped them refine a tune – woh jaab yaad aaye – from Parasmani.  Once when a song of LP had become a hit, someone had remarked this to Pancham and Pancham had smiled and said hain, jaanta hoon, woh mere aache dost hain, and later had remarked to Aslam that `Miyan, woh do hain aur mein ek hoon, loogon ko kiya maloom ke hit gaane ke liye mujhe kitney difficulty hotey hai.'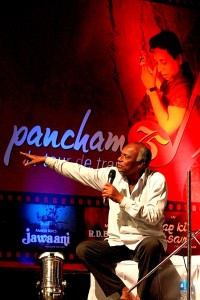 Pancham had once talked to Aslam about Teesri Manzil and showed him its cassette and said to him that for this movie he had worked very hard and had made 40 songs, out of which 9 were eventually selected.  Aslam narrated an interesting incident about Teesri Manzil.  Majrooh had recommended Pancham to Nasir Hussain and had persuaded him to listen to Pancham's tunes.  Impressed by Pancham, Nasair saab had arranged a meet of film's hero, Shammi Kapoor ji with Pancham and Majrooh saab.  Upon hearing the tunes played by Pancham, Shammji had exclaimed `wah kiya baat hai burkhurdaar'.  Upon hearing this, Pancham had become a little perplexed and called Majoorh saab out and said `aab yeh burkhurdaar bhi gaane mein lagana hoga kiya'.  Majrooh had laughed and explained to Pancham that burkhurdaar means son, and Shammji had referred to you as burkhurdaar as you are like son to him.
Aslsam also said that Pancham usually used to sit in front, while he was drawing, and mostly used to beat the window or car's top with a rthym and make some tunes.  The tunes of the songs of The Train were made while travelling in a car with Aslam!  Alsam also mentioned that Pancham like power in cars and had disliked the new Tata Estate car, which was purchased by Asha ji, as it was run on diesel and did not had much power.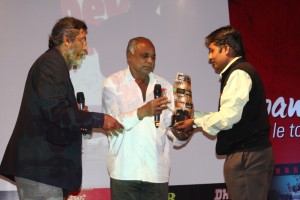 Upon asking if Aslam used to just drop Pancham at studios or also was with him, he said that as per Pancham's instructions he used to be around in studios.  Pancham had three wants of water, black tea and cigarettes, while he was in recording studio, which Aslam took care of.  Aslam also shared his memories when Pancham had suffered his first heart attack, while recording for songs of Shakti Samanta directed movie, which had Mithun Chakraborty and Amit Kumar and sung for it at Filmcenter. He also said that Pancham was very lonely in his last days and usually used to tell him to take him to airport, where he used to talk to him about various new things and also about air-planes.
Ankush returned to title music themes, after Aslam was thanked for his memories of Pancham and given a memento, by playing the Bangla version of Aar Paar, Onyaay Obichaar, during the recording of which Pancham had suffered his first heart attack, which gave one ambiance and feel of Eastern India,  followed by two power backed title music of Azaad and The Burning Train, which also had Pancham's unique and powerful vocals.
The title music of  Hulchul, which is unique in the sense that this thriller-of-a-movie had no songs, just an outstanding title music with various genres of music.  It is assumed the title track was composed first before it has shot by the director.  Pancham can be said to throw visuals to the directors to compare with his musical score.
A mention of film Title Music can not remain complete without a mention of mother of all title music – Sholay.  The best of all title music – in any form of films, arguably, was saved for the last.  The playing of title music was applauded by all with demands for an encore.
Ankush then called the first guest of the evening – Shri Jayanti Goshar.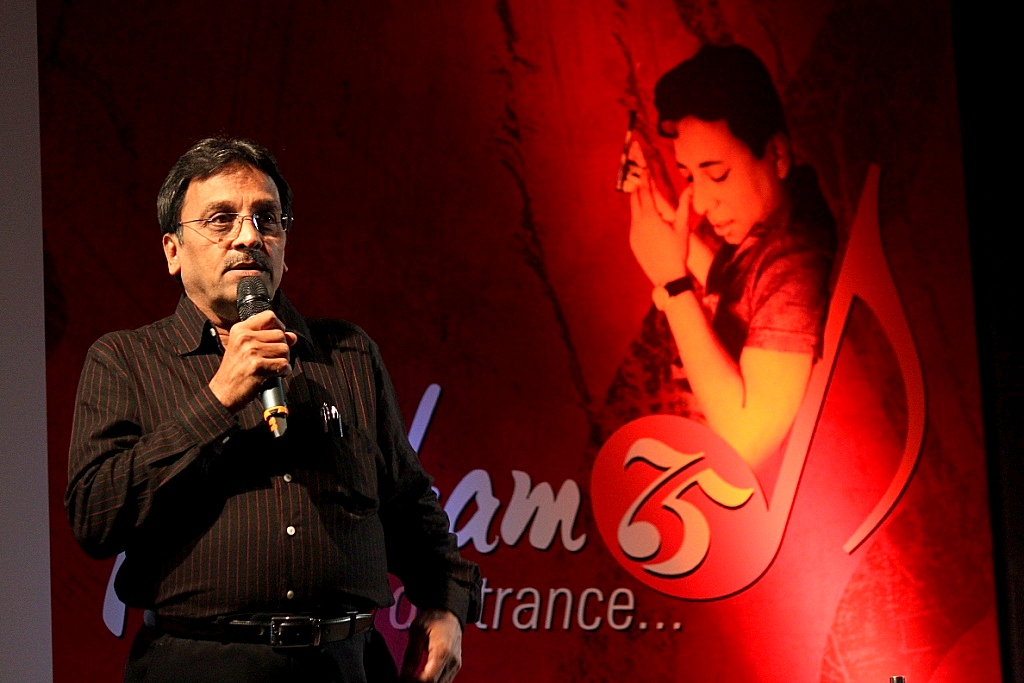 Jayanti ji had played various instruments for Pancham – banjo, mandolin, guitar.  When asked by Ankush when he had started playing first for Pancham, Jayanti informed us that it must be in 1977 or in 1978, though he could not recall the movie or the song.  Jayanti begun by playing the fantastic banjo piece from evergreen qawwali of Hum Kisisi Kum Naheen, followed by another banjo pience from qawwali of Zamane Ko Dikhana Hai and O Maria from Saagar.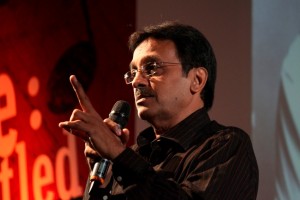 Jayanti was reminded by Ankush that there was also a spoon-hitting-glass sequence in the beginning of the qawwali in Zamane Ko Dikhana Hai.  Jayanti narrated an interesting incident of recording of this song.  It seems Pancham wanted an off-beat or after the beat effect of spoon-hitting-glass in the song, and the the musician who was playing this piece, Mohanlal Kanchwala was playing it as per the beat, which resulted in several retakes, and some frustrations around.  But Pancham was cool and composed and said to all that don't worry, ho jayega.  And in the next retake, Pancham stood near Mohanlal Kanchawala and when his turn came to play, Pancham poked him at his side with a finger which tickled Mohanlal and he gave off key effect of spoon-hitting-glass, as wanted by Pancham!  Such was innovative and playful ways of Pancham to get what he wanted!
Ankush said that Jayanti ji will be back after the break, to play more music, and called on stage the other guests of the evening, Raju Singh and his team of sound designers Kunal Mehta and Prakishit Lalwani and Homi Mullan ji to release the new year calendar of Panchmamagic.org. The other regular personality, Mr. Raj Sippy, was conspicuous by his absence.  I learnt later that Mr. Raj Sippy was busy with a shooting assignment and as such had not attended this edition of the event.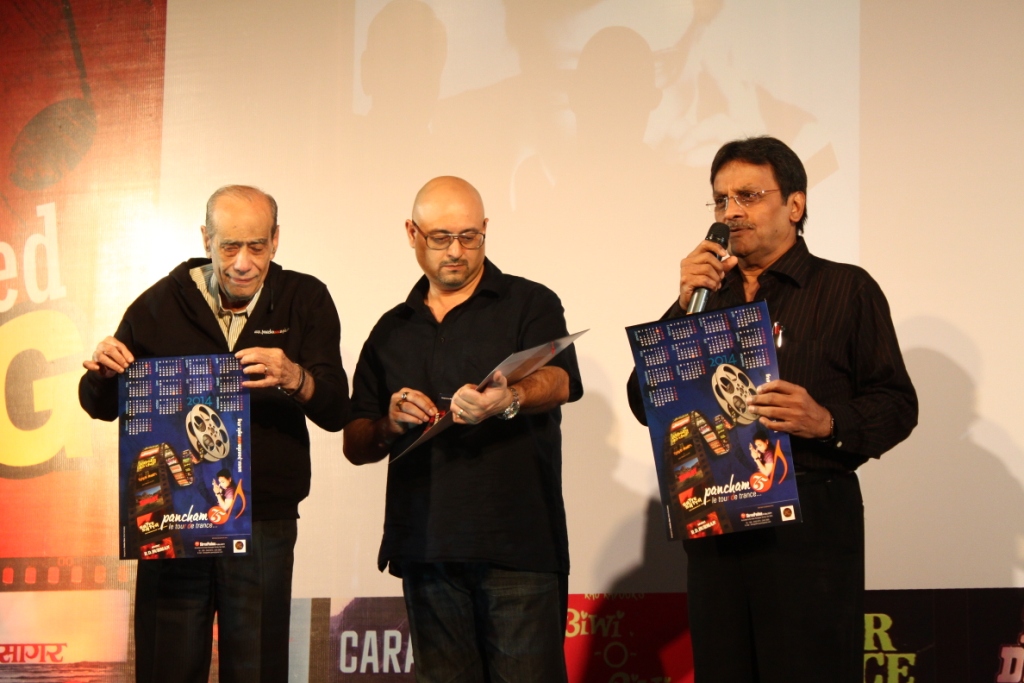 After the break, Ankush invited on the stage the Raju Singh and the sound designers  Kunal Mehta and Prakishit Lalwani who have recreated the background music of Sholay 3D, which incidentally had released on January 3.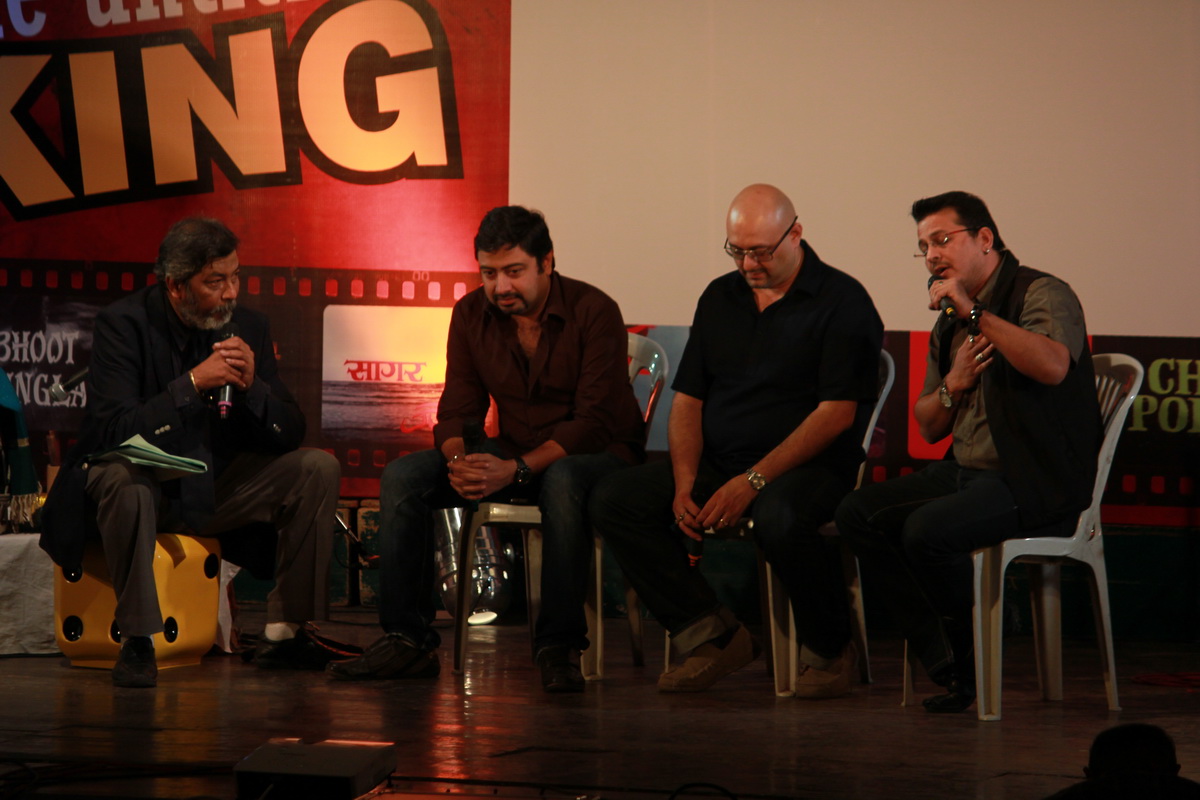 Raju Singh begun by emphasizing that they have recreated the sound of Sholay 3D and tried to keep the soul of the background music intact, and avoided the use of electronic music as far as possible, and acoustic instruments were used for recreating the soundtrack music.  He also said that Homi ji and Jayanti Goshar too have played various instruments in the music recreation.  It took them 2 years to recreate the music of Sholay 3D and he and his team had actually shifted base to Chennai, for six months, to avoid taking up other assignments before the work on Sholay 3D was complete.  They had visited the R.D. Burman chowk and his residence, which is situated near Pancham's home at Khar-Santacruz in Mumbai, and had cleaned the chowk and also Pancham's fabled blue fiat car, as a tribute and to seek Pancham's blessing, before they started work on the 3D version of Sholay.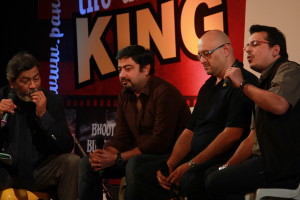 The print of Sholay which was given to them, Raju Singh said, had dialogues, background music all in one track.  They painstakingly had separated the dialogues and the music part, and as it was practically impossible to redub the dialogues part, it was retained.
Various tracks from the recreated soundtrack version were played – the title music, end music, train chase sequence, harmonica piece and the eerie Gabbar sound.  Two of the songs from the movie – yeh dosti and holi ke din – were also played to give an glimpse of the recreated Pancham music.
An interesting anecdote was shared by Raju Singh during the recreation of the Sholay music.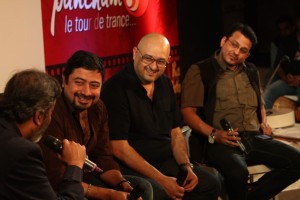 In the scene where Thakur Baldev Singh returns to village after massacre of his family, a weird sound plays in the backround to enhance the bewilderment of the man who has lost his whole family suddenly.  Raju Singh said they tried various instruments, including electronics, to create that sound but were unsuccessful.  No one seems to know how that sound was created or which instrument was used.  Finally,  they were successful in finding not only the weird instrument but also the man who had played it.  It seems Pancham had got made that instrument by using the back part of a truck – which joins two rear tyres and had a ball like object in the middle.  That part was welded on both ends by metal rods and the bow of the sarangi was used to play on those metal rods to create that weird sound!  The man who had played this instrument, Rijraam, was dead, but his son was tracked down and this instrument was found in a locked room in his home and he actually played his very instrument to create that weird sound!  Later on a small video clip of this instrument being played for recording of the sound was shown.
To my naked ears, the sounds of various scenes played for us from the recreated version, did sound similar, but a bit louder.  Only Pancham and no one else, can, create or recreate the Pancham sounds, perfectly.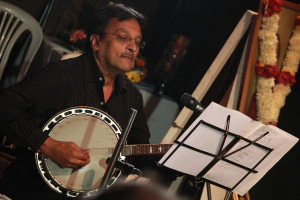 Ankush than called on stage, once again, Jayanti Goshar and also invited on stage Dr. Rajenda Durkar to play dholak.   In the scene in Sholay, where Sachin is showing to leave village for city and is spotted by the dacoits, a beautiful rabab piece was played in the background.  This musical piece was played by Jayanti ji in the recreated scene.  He said in the original version of Sholay, this piece was played by Bhupji and his rabab actually belong to him, but is with him for last several years.  Jayanti also played beautifully the rabab music pieces from Yama Yama.
Jayanti gave a excellent demonstrations of mandolin. He began by playing classic tune of Tum bin jaon kahan in which the mandolin was played by Manohari Singh ji, followed by equally lovely tune of Do lafzon kee hai dil ki kahaanee, Sun champa sun tara and Piya too ab to aaja on mandolin.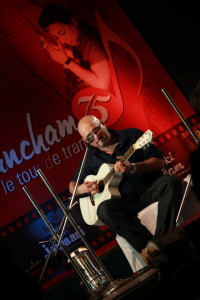 When it was turn of Jayanti ji to play some guitar pieces, Ankush invited again Raju Singh on stage to accompany Jayanti.  And what better way to begun, when two guitarist from Pancham team are together than the playing of Sholay title music, and Raju Singh also whistled. This superb recreation prompted Homi Mullan ji on stage to thank Raju Singh and Jayanti jo, on behalf of Panchmmagic for gracing the show.  Both the guitarist also recreated the tune of few Pancham songs on guitar, including Tumse milke aisa laga tum se milke, and Raju Singh singing the mukhda of the song.
Raju Singh also gave a demo of bass guitar.  Ankush mentioned that Shri Charanjit Singh, father of Raju Singh, was key bass guitar player in the team of Pancham. 
Raju Singh said when he had played bass guitar for the first time for Pancham, he found a chocolate as usual on his seat, and when he had mildly protested to Pancham that he is no longer a child, Pancham had told him that mere liye tum hamesha baacha he rahega, and also told that you have a big task ahead of you and your father has spoiled me with playing of bass guitar in his songs, and he always looked upon bass guitar as main instrument in the song and not as accompanied or harmony instrument, and said if you remove bass guitar form my songs, you will remove soul of it.  Raju Singh gave an excellent demo of bass guitar from a song from Sanam Teri Kasam – jaan-e jaan o meree jaan-e-jaan.
The show ended fittingly by both the guitarist doing an impromptu jam session playing various Pancham tunes and also interlude guitar pieces.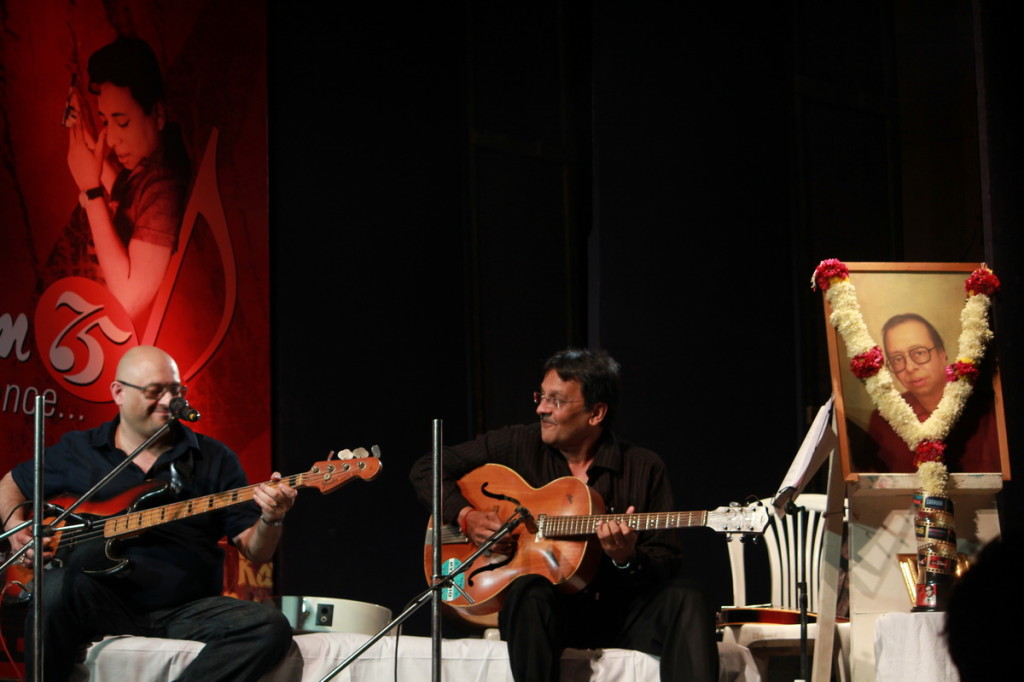 It was an exhilarating evening of Pancham music, and his memories.
The team of Panchammgic.org deserves a big applause for keeping alive the memories of Pancham and discovering new traits of his music in shows after shows!
NOTE: This is a personal account of the show, as I  saw, heard and as my mind registered it. It is written from memory.  I apologize for any error, omission or incorrect reporting. It is possible that I might have misheard or misunderstood something which is written above.  If you had happened to attend this show, I will be grateful if you can point out any omission/correction.
Raju Bathija
panchammagic.org
Photos By:  Mahesh Ketkar & Prasad Sanwatsarkar
---