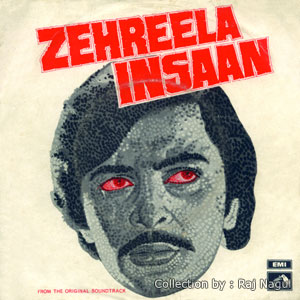 Film: Zehreela Insaan (1974)
Producer: Veerenra Sinha
Director: S.R.Puttana Kanagal
Lyricist: Majrooh Sultanpuri
Singer:  Asha Bhosle
The hero Arjun (Rishi Kapoor) is in a sad mood, deprived of his lady love Aarti (Moushmi Chatterji), who has been asked to marry against their wishes. Wandering to a lonely place of ruins, he is emotionally wrecked and in introspective mood.  He meets Margaret (Neetu Singh) who offers love and emotional support. It does not interest him however. Days pass by and he even fails his academic exams.
 Sitting one fine day and still brooding, Margaret's soothing words begin to play in Arjun's mind. The situation presents an opportune moment for the film's composer R D Burman (RD) and his music team. Arranger and staunch RD pillar Manohari Singh adds complexion with an intense Alto Saxophone piece in the background. The sad but assertive expression makes it loud and clear that Arjun is beginning to have a change of mind.
 The backdrop now veers towards romance as Arjun sees Margaret getting in to his life. As Church bells ring in the background, Margaret offers him her chain. There is pleasant contrast introduced with instrument Sitar played as Arjun gets his chain to Margaret. It is a nicely picturised scene with the reel-life (and real-life too!) pair of Rishi Kapoor and Neetu Singh getting closer and accepting each other. Guitar strums begin, percussion instrument Maadal gets in to rhythm and the mood for an exquisite song gathers pace. It is perfect situation for RD to let loose. And how well he does!!!
I assume this was one of the many songs where the composer given free hand and he used it to the fullest.  Why would he not? It was the mid 1970s after all and he was at the peak of his composing prowess. He also had ace singer Asha Bhosle to deliver what was conceived and who too, arguably, was at a career peak. Song writer Majrooh Sultanpuri gets in to action with the mukhda (main song tune) words "Ye silsila pyaar se chala". You are swaying right away. Margaret's dance steps are endearingly done to the free-flowing Organ instrument in the prelude. Asha Bhosle stamps her vocal presence and attention to detail with characteristic emphasis on the sound "la" as she goes "Ye silsilla, pyaar se challa". Déjà Vu in a way perhaps, but who cares when the magic enhances multifold!
The first interlude begins again with the Organ; the Mandolin joins in, adding sheen to the brilliantly playing Maadal as percussion.
"Ye main na jaanu hai pasand tujhe kitna,
seene mein tere dil rakh diya apna,
teri nazar se bandha hai mera sapna"
go the words. Majrooh saab's stylish, eloquent writing takes the antara (song stanza) to ecstasy, near euphoria levels. The on-screen intensity however is subtly, sweetly and beautifully conveyed. Of course, special thanks to the off-screen chemistry between the composer and song writer. It dazzles all along!
As you are ready to intoxicate with Mandolin and Maadal in the second interlude, the loving song picturisation and tender writing reappear to engulf you.
"Aa teri baahon pe gira doon main ye zulfein,
aa tere seene pe jhuka doon lambi palkein,
dil dono ras ke katori jaise chalke"
goes the antara. Majrooh's amazing versatility to bring life to and fuse with any situation manifests. The stalwart always seemed to have had ready words for song situations. As the antaras end, the phrase" Aa ja re, aa ja re, aa ja, aa ja, aa ja" reverberates vociferously. The sensuous crooning signals elation and jubilation for the heroine.
As with many of his creations, RD's inborn ability to seamlessly move from the antara to the mukhda speaks volumes of the effortless composer he was. The descent is perfectly timed and balanced. Finally, as the hero joins the heroine to hum "Ooo, Ooo" along with, you are convinced how surpassing and influential RD's tunes too were !!
The song's strength and captivating factor is its pacy rhythm and a peculiarly likable to and fro movement. The easy flowing rendition well illustrates the special connect between the composer and singer. Asha's voice for Neetu Singh is perfectly in sync too with the heroine's on-screen movements.
Though you feel the song gets over quickly, the dew-fresh sparkle and bounce stay and linger. To tug at your heart strings forever!
Shankar Iyer 
panchammagic.org
---