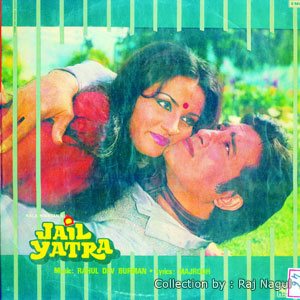 Film: Jail Yatra (1981)
Producer: Vijay Maria, Parvin Bali
Director: Bhappi Sonie
Lyricist: Majrooh Sultanpuri
Singer:  Lata Mangeshkar, Asha Bhosle

As we all know now, Pancham was always itchy to do something new and never tied himself into set or already established styles of composing tunes. Though the basic structure of any hindi film song remain same like Mukhada – Antara – Mukhada, he allowed himself to think beyond. He let his mind free to surrender to every musical note. His compositions remained fresh and unique due to that only.
Paa ke Akeli… is one of the rare gem which went unnoticed due to several reasons. One can easily compare this song with Pancham's other popular composition, Bangale ke Peeche (Samadhi, 1972). In fact the starting music piece (M0) of this song defiantly leads you to Bangale Ke Peeche. However later on Pancham makes you forget the old roots and give you completely new and freshly crafted composition.
Incidentally, both the songs Bangale ke Peeche and Paa ke Akeli are written by great lyricist Majarooh. This song is nothing but a well written chhed-chhaad story. It is quite possible that producer/director must have asked similar tune and Pancham have wisely provided the feel of original theka but composed altogether different song. I strongly feel that from picturization point of view this could have been all time great Street song instead of Mujara.
Regarding the basic tune of this song, Pancham kept it very simple. He played with it by adding different musical shades like vocal experimenting on repeating the words like Dekho re Dekho re Dekho re or Hoy Hoy Hoy or Haay Re Haay Re Haay Re Re.. and most importantly every time nourishing the treatment given to word Dagabaaz. Uff! The way both singers Lata and Asha have recited this word throughout the song, each time gives you goose bumps.
After listening to this song, you will agree that this is all time great female duet sung by Lata and Asha. Being associated with Pancham for long time, they could have provided exact effect what Pancham must have 'demanded'. Both Lata and Asha have brought those Latake-Jhatake and Nakhara which is actually, Chaar Chaand Laganewali baat in this song.
Song could have been easily started directly from the words Paa ke Akeli.. after the initial music interlude (M0). However Lata and Asha starts with Aha Aha Aha (Asha ), Hoy Hoy Hoy (Lata) which actually provides too good effect. Pancham scored a six on very first ball here from composition point of view. Rest of the song is just effortless hitting out of the ground.
Coming back to Paa ke Akeli, Pancham wisely converted this song into duet. If you pay attention to words then you can realize that this is actually solo number and not duet. Words like Mein to Jaan Rahin thi, Sair ko Chaman mein or in last antara Chadhi Jawani Meri, Aafat Karen states that this is version of sole female's expression. What Pancham did is that he split each line and gave it to Lata and Asha and asked them to repeat each other's line after each cycle is completed which creates wonderful effect. Thoughtful division by composer followed by exact replication by singers. Though this looks simple today but it is not that easy to think from scratch.
Like I have mentioned above, the most important element in this song is that word – Dagabaaz. Pancham has musically tweaks n peaks this word so well. Dagabaaz yeh kya kiya, Dagabaaz re… is that key (linking) line which is sung by both the singers turn by turn. And the way both have expressed this word Dagabaaz re, creates outstanding effect.
Pancham had that strong ability to create something different in his most of his compositions just like providing a sudden surprise element at the end. By the time you are used to the song, suddenly you say – Are yeh kya?. Many times it could be a scale change (changing the position of Sa in the song) or altogether a different Antara tune or replacing music interlude with words or humming.
Last Anatara of this song is Pancham's sudden surprise (should I say musical gift?) to all of us. After second Anatara of this song ends, after almost 4:12 mins, you think that song is over. However suddenly Lata starts with Haay Re Nahin Sunata Na Na Na and Asha follows her by saying O Hooo.. LahLa Lahala Lahala La La which flows into line Are Chhooood… Julmi… Dekhenge Saare Logwa, Haay Haay, Are, Haay Haay.
If you realize, this whole piece is nothing but replacement of music interlude (M3) before third Anatara. Especially the way Asha recites the words Are Chhooood, Julmi.. by leaving taal in between. What an effect it has created! You just don't believe what you have come across. In Gulzar's words, Yeh Sirf Pancham Kar Sakata Hai.
While analyzing this song, I have purposefully kept the orchestration part aside which is equally important. I could have explained rhythm patterns he has used or his use of instruments like benjo or duggi or dholak or could have elaborated brilliant use of violins in background when Lata and Asha are singing but it could have been injustice to his basic composition. Some other day may be!

Jiyo Pancham!

Sagar Kopardekar

panchammagic.org
---