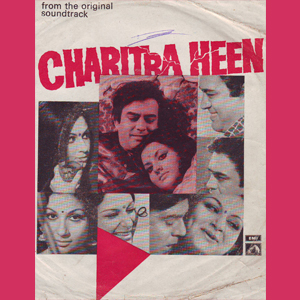 Film: Chareetraheen (1974)
Producer: Ghosh
Director: Shakti Samantha
Lyricist: Aanand Bakshi
Singer:  Asha Bhosle & Chorus
1974 film starring Sanjeev Kumar & Sharmila Tagore in lead roles had  this superb club song alongwith  Dil se dil milneka koi karan hoga…a lovely kishore lata duet ..both these tunes got very popular and was having Pancham stamp all over.
Asha has done more than justice to this song filmed on a situation where Sharmila denies her identity to Sanjeev kumar and lyrics are kept very simple without much of poetry involved.
Song Starts with……..instrument  known as Chinese cymbal( played by Homi Mullan) which has rivets alongside the periphery of symbal, also coupled with Bass and electric guitar, very short intro music compared to other Pancham's cabaret numbers yet very effective, gives a correct feel of dark, smokey club atmosphere .
Pancham says in one of his radio interviews, that they were thinking a lot about the rhythm in this song for a long time in studios , when  a chaiwala came with tea in cup n soccer  for Pancham  where musicians are seated and among-st all instruments, poor fellow missed the step and his cup fell on the side of instrument called Timpani. The sound was unusual with ceramic hitting the metal, and as always Pancham caught fancy of it….Taddddack…was the kind of sound." Chalo ise lagate hai rhythm mein"…were Pancham's words.
He made Bugji (Burjor Lord) play that rhythm with vibraphone hammer on side of Timpani kept upside down throughout the song..!! Vancy has played drums in this song & congo, bongo also form a part of rhythms.
Back to sign line, the intro with unusual bass note and electric guitar leads to yet another powerful, typical pancham trademark bass kick and sharp tone of asha gets into groove
 teri… meri ….meri…teriiiii…teri meri yari badi puraaaaaani…
tune mujhe pehchana….( mind boggling high pitch lines) main hoon wohi teri diwani…
ho ho jani..o jani..oh jaaaani…
Wonderful pickup on drums and sign repeats. Those who have film version get to hear some extra singing and extra electric guitar for their listening pleasure enhanced..!!
Simple 2×4 beat rhythm has timpani beats, cymbals & triangle strokes inter-spread with very difficult timing. What I love about this wording is words come into pauses, and not in a single line , generally like in other songs..teri…meri…meri…teri.. like these they are pronounced with extending the iii s, aaa s and ee s.
1st interlude picks up after male chorus….ruuu…ruu..ruu in 4 bars support and asha's he..he..he..he.. with guitar on wa-wa pedal and  violins, coupled with dialogues where Sanjeev kumari tries to make sharmila realise her identity…( unfortunately this part is omitted in the song on record)  followed by heavy brass section leading to Antara…aankhon ne dekha dil machal gaye…uff hum dono kitne badal gaye…here , mark the timpani rhythm distinctly in off beats.
Trumpet piece after every line is such, that when you sing the song, you cant go ahead without singing these trumpet pieces too…its that much integral part of it, played by Georgy.
Trumpet in this song is played at certain places in certain way is just fantastic.
Next lines ..kitne mausam aaye nikal gayeee..uff hum dono kitne badal gaye…back to cross or linking line…. tune mujheeee..pehchanaaaaa, main hoon wohi bhooli kahani..oh jani..jani jani jani…and into sign line again..simply superb.! The way Asha sings…tune mujhe pehchana..is just out of this world.
2nd  interlude is again like chorus picking up after sign line and asha's he..he.. he…now followed by synthesizer, trumpet & brass getting into dialogues on screen ( not on record again) Background has violins and trumpet still playing, leading into heavy brass to go to 2nd Antara…Surat wo lekin won ajar nahee….dono pe kya gujari khabar naheeee….not to miss the fabulous trumpet piece again repeating inbetween, and into cross line, tune mujheeee..pehchanaaaa…main hoon wahi sapnon ki rani…oh jani oh jani..jani jani..oh jaani…teri meri meri teri..yari badi purani…and a powerful brass note ends it all..again Pancham has done away here without any long Coda music .
The song is nicely picturised on Leena Das & Sharmila sharing the lines, even musicians shown in the song have proper Bass & electric guitars in their hands for a change..Sharmila Tagore, rarely seen in such songs has done well too.
The whole experience of this song sums up in to  powerful sharp singing by Asha with her extensions of words, ha.. ha s...trumpet pieces…timpani rhythm and not to miss the fabulous bass guitar played by great Tony Vaaz, you simply cant get satisfied with these collective pleasures of Teri Meri yari badi Puarani…!! and want to listen it all over again and again..My only wish, that this would have been a little longer song and all what we hear in film version could have been on the record too..!
But this happens with almost every Pancham song..isn't it?
Sandeep Kulkarni
panchammagic.org
---