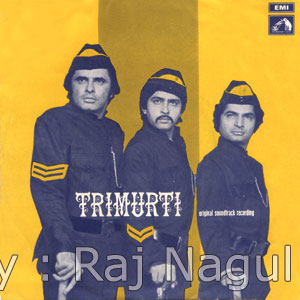 Film: Trimurti (1974)
Producer: Rajendra Bhatia
Director: Rajendra Bhatia
Lyricist: Gulshan Bawra
Singer:  Asha Bhosle, Manna Dey. Bhooshan M, Pankaj M
Film songs can be broadly classified as serious and comical. Pancham had composed numerous comical/fun songs in his musical career, one of which is generally considered among the top comical songs ever composed, while some, like the one for which this write up is about, remained  in oblivion, even for an ordinary Pancham fan.
Being a Sindhi, I had always wondered if Pancham had a Sindhi connection or used a Sindhi word in his song – well, he has, and it is in this comical song. Sindhis are spread all over world, and the only connection or only individualism left for them is the Sindhi language which some of us still speak. The new generation of Sindhis have more or less assimilated with the local milieu, and have adopted the local culture.
Two famous and well known Sindhi words are `Saain' and `Wadee', which are used effectively in this comical song. This comical song has been written by lyricist Gulshan Bawra, whose wife, if what I had read correctly, is a Sindhi. I think the director of the movie, Rajendra Bhatia is also a Sindhi. A famous Sindhi film personality, Asrani, was also part of this movie.
Trimurti released in 1974, is story of 3 brothers played by Sanjay Khan, Rakesh Roshan and Asrani. In the movie I.S. Johar had played a Sindhi character, Shaadi Laal, who had 2 wives and 2 daughters, and, like a typical Sindhi, is money-minded. The situation of this comical song is a party, which Rakesh Roshan's father, a rich man, played by A.K. Hangal, hosts, when it was found that Rakesh Roshan is his lost and found son. To liven up the party a unique game is played — any guest on which the spotlight stops has to sing extempore. In other words has to sing about something spontaneously. Pancham has created an excellent song for this unusual situation. The song starts off as a kind of Bhajan but with the introduction of harmonium in the first interlude takes the form of a Qawwali/rap singing. The spotlight first stops on I.S. Johar who is reluctant to sing and wonders what he can sing – he is prompted by A.K. Hangal, to sing about `daulat' (money) which he always praises and worries about.
Since Qawwali is one of the easiest type of singing, in a group, and requires minimum instruments – a harmonium and dholak – and a mehfil – are enough to begin. Pancham had correctly given it a Qawwali flavor to this make-you-smile impromptu singing song. Minimum of instruments of harmonium and dholaks are used throughout the song. While Manna Dey had sung for I.S. Johar and perfectly `sounded' and `flavored' the two Sindhi words – `Saain' (which literally means `Shri' or `Mister') and `Wadee' (which literally means `Again'). Asha Bhosle had sung for Praveen Babi and for 2 characters of I.S.Johar's daughters, Bhooshan and Pankaj have sung for the 3 brothers.
The songs has 8 mini antaras.
Daulat ke rang hazaar hain
yeh raaz hamein maulam na tha
sab paise ke rishtedar hain
yeh raaz hamein mauloom na tha
rang daulat ke wadee daulat ke
range daulat ke saain daulat ke ..
What is wonderful about this funny songs is free flowing lyrics – raaz be baat, hero, zero, ananda, baida, bhaasha, dil, dili, akhbar, johar, and pyaar – the characters take cue and picks up a word from previous antara and just sing spontaneously about it. It must be among the earlier rap/free flowing song of Hindi films. Pancham had done full justice to the situation of the song – like free flowing lyrics – the composition is also easy and free flowing, without any gimmicks, to sound like a spontaneous party song.
Gulshan Bawra had also given it a philosophical twist towards the end :
Baseraa pyar ka hai jis dil mein
usko phir koi gam nahin hota
pyaar hee sabsey bhaadee daulat hai
pyaar badtaa hai kamm nahin hota …
Pancham ke raang hazaar hain, yeh raaz hamein mauloom hain. Indeed.


Raju Bathija
panchammagic.org
---