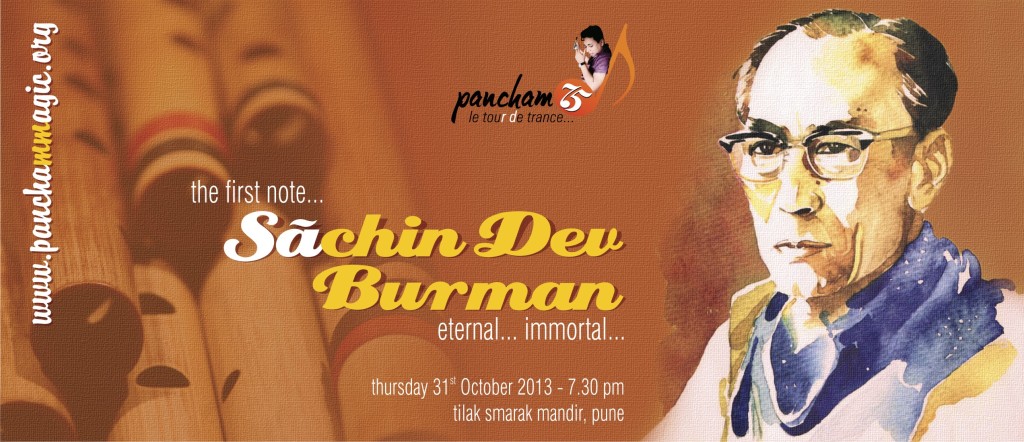 pancham 75 le tourR De trance 
Musical Voyage of our beloved music composer started in 1939 and by 27th June 2014, Pancham would be 75.
To mark this "Diamond Jubilee", to borrow the phrase from film industry, panchammagic wishes to have the celebration all through the year with various concept based programs.
 After Successful special screening of movies 'Golmaal' and 'Teesari Manzil 'panchammagic.org' brings you the third installment of the Celebration, an Audio Visual show on Sachin Dev Burman in panchammagic.org tradition:
"The first Note…SACHIN DEV BURMAN…eternal…immortal"
Special Guests for this events are:
Shri. Anand Modak (Renowned Composer)
Shri. Homi Mullan (Renowned Percussionist)
Shri. Amrutrao Katkar (Renowned Percussionist)
Date: 31 Oct 2013
Time: 07:30 p.m.
Location: Tilak Smarak Mandir, Pune
Contact For Patron Pass: Mahesh Khajgiwale: +91 98230 79113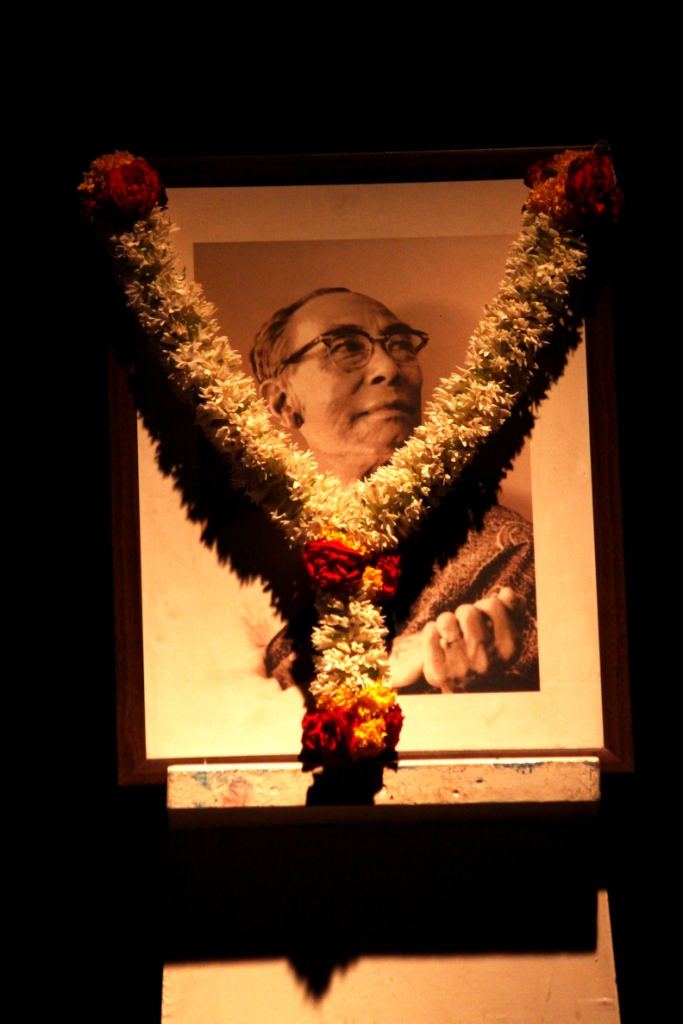 Sachin Dev Burman needs no introduction – the numerous songs composed by him have been part of our lives – one grew up listening to them, and still listens to them, with awe and admiration. For me, songs composed by musical genius will remain, eternal, immortal, unforgettable.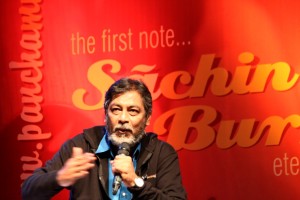 The program  began with the dynamic prelude music of Hothon Pe Aisi Baat from classic Jewel Thief (1967) which was musically composed by Sachin Dev Burman. I kept staring, in admiration, at the garlanded portrait of genius composer, which had pride of place on stage, wondering how he could have composed such perfect prelude music for a climax song, for a perfect thriller movie. The host of the evening, affable and smiling, Ankush Chinchankar, welcomed all for the special event and said we should begin with a biographical sketch of the great composer, which he said will be done by Ms. Prabha Joshi.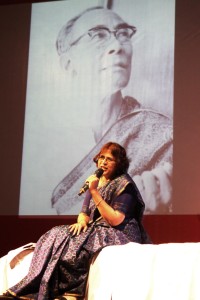 Ms. Joshi begin a long, and well researched biographical sketch of Sachin Dev Burnan, right from his birth, on October 1, 1906, in the royal family of Tripura. Sachin da had got music as a legacy as his father, Nabadwip Chandra Deb Barman, was a Dhrupad singer, and had got his musical training under great musicians K.C. Dey and Ustad Badal Khan. The life of Sachin Dev Burman is fascinating. Ms. Joshi touched on various musical milestones of Sachin da, his fascination with a folk song sung by an old farmer, at a field, near his home (this folk tune later on was adopted by Sachin for Bengali song, Rongelaa, Rongelaa, and in Hindi film, Devdas (1955) as devotional song Aan milo, aan milo, shyam sanware) and his earlier recording under name Kumar Sachin Dev, his first meeting with Meera Dasgupta, who later become his student, and his wife, and later on his assistant music director, and journey to Bombay, at the invitation of producer Sashadhar Mukherjee of Filmistan, his first break in Hindi films, Shikari (1946), his first musical hit Mashaal (1950).
The audience were treated to several audio snippets of Bangla folk tunes, in unique and distinct voice of Sachin da, which later on become well known in their Hindi film song versions. The biographical sketch was interlaced with rare audio recordings of Kishore Kumar and Asha Bhosle about Sachin da. Kishore Kumar, in his unique style, and perfectly mimicking Sachin da, narrated how Sachin da used to call him just before recording just to check his voice quality and had got disturbed and worried when he found out at a film's premier, just before recording of songs from Jewel Thief, that Kishore had slight cold, and had shouted the manger of the theater, where the premier was being held, to shut down the air conditioning of the cinema, as his singer had cold!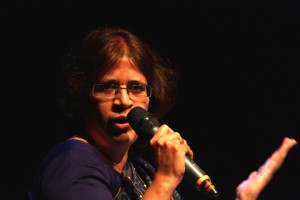 Asha Bhonsle narrated amusing incident, how she was not getting the expression right for the iconic song – Raat akeli hai, also from Jewel Thief. Dada had told her, in his unique style – Asha, tum samjo ke tum Helen hai, and also had explained her the sudden scale change in the song, to think that a child is mischievously, doing a `kook', in his mother's ear and running away.
Ms. Joshi also narrated how after Guide, Sachin da had got his first heart attack and had only recorded one song of Dev Anand's next movie. Sachin da had asked Dev saab to have another composer for his movie, but Dev saab insisted that he will wait for Dada to recover. On asking by Sachin da, if he happens not to recover, then. Dev saab had replied that, he will release his movie with just one song – composed by Sachin da. Such was the admiration and love for the great composer, by film makers, who had had worked with him.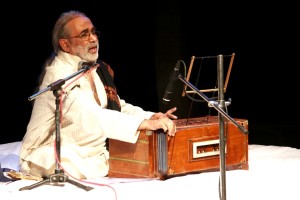 As films are a director's medium, and to explore and analyze Sachin da's interaction with various director's, Ms. Prabha Joshi invited renowned music composer Shri Anand Modak, on stage. Shri Anand ji began by his admiration for Sachin da compositions, and said he was the first visual composer of Hindi cinema. One can feel and view the scenes, by just listening to them. Anand ji at length talked about Sachin da's association with 4 great director of Hindi cinema – Bimal Roy, Guru Dutt, Vijay Anand and Sayten Bose. He lamented the fact that Sachin da never got to work with another great director of Hindi cinema – Raj Kapoor.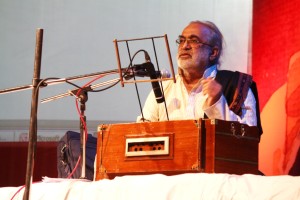 Anand ji talked at great length about Sachin da's association with Bimal Roy and the songs of classic Sujata and Bandini. In particular, he highlighted one of the sweetest loris of Hindi cinema, Nahni kali soni chaali, sung by Geea Dutt. Anand ji said he considered this lori (lullaby) to be the greatest lori ever composed. The feel and ambiance created for the song is just perfect, with minimal instruments, to induce sleep, which is what the loris are for. Anand ji also talked at length about Sachin da's association with Guru Dutt and Vijay Anand, and how these director translated audio magic Sachin da's musical compostion as visual magic on screen.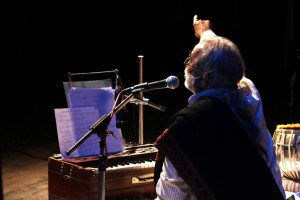 Anand Modak ji said unlike the other composer of Sachin da's era, the orchestra music team of Sachin da was of maximum 15 musicians. He was economical in the use of musicians and instead of 50 violins creating an effect, a single violin had created, or rather created an ambiance of `thandi' in the song from Teen Deviyan, Kitni Thandi Hai, Jalta Hai Badan.
About Sachin da's association with director Sayten Bose, for the ultimate comedy movie, Chalti Ka Naam Gaadi, Anand ji spoke at length about classic Kishore song – Ek Ladki Bheegi Bhaagi Si – and how Sachin da had created right ambiance and feel for the song with real garage instruments. Anand ji said Sachin da was the first composer to create musical ambiance in his compositions.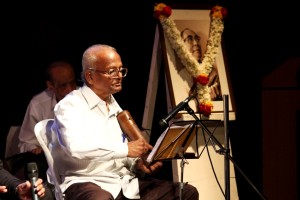 After a short break, Ankush called on stage Shri Amrutrao Katkar, well-known Percussionist, who was part of the musician team of Sachin Dev Burman. Amruatrao Katkar narrated many amusing incidents. Amrutrao also gave a demo on various Sachin da composed song in which he had played `Chinese sticks', whom Pancham used to call `Khopdi Tarang' due to sharp sound created by them.
One not so rare and one very rare clippings from panchamamgic.org archives was also shown during the show. One where ManohariDa had played Gaata rahe mera dil in one of the instrumental shows and the other was short recording of Marutirao Keer talking about his memories of creation of 'Hoton pe aisi baat …..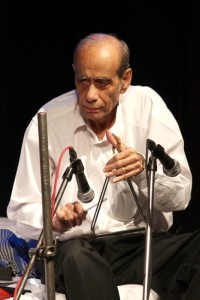 Ankush then called the final guest of the evening Shri Homi Mullan ji, who had played various instruments for Sachin da. Homi ji narrated funny incident of his first meeting with Dada. Homi ji also played Chinese sticks on many SDB songs. I specially loved his playing these trade mark SDB sounds in classic `Hai Apna Dil To Awara' where they are used effectively to mimic train rhythm. Homi ji also played a unique instrument called `Triangle Bell', which was the only rhythm instrument in evergreen Kishore-SDB song `Dukhi Man Mere' , and also played a traditional Bangla instruments `Ek Tara', which was used every effectively by Sachin da in the classic song from Aradhana `Safal Hogi Teri Aradhana' . Homi ji also played the `ghungroo' which was vital part of song – Hoton pe aise baat, to great applause from audience.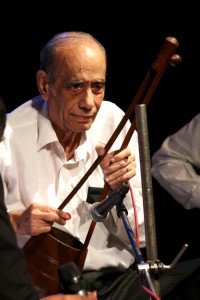 Homi reminded Amrutrao ji to narrate funny incident of `Gong' in the prelude music of `Hoton Pe Aisey Baat'. As the climax of Jewel Thief was set in the mountain kingdom of Bhutan, SDB had a brainwave, at the last moment to use a `Gong' to give in more authentic and local feel. Impromptu search party was sent to look for a real `Gong' so that the recording of the song can be done. With some difficulty a Gong was found in the music troupe of composer Shankar Jaikishan, and the Gong was brought for the recording. Then it was realized that the hammer to struck the Gong, was forgotten to be brought with it. Everyone was ready for recording, as it was getting late, and it the job of striking Gong was entrusted to Amrutrao ji to somehow `bajao' Gong, and someone also wished him good luck! And the recording started – and Amrutrao ji hammered or rather `bajaoed' the Gong with his bare fist!
Finally, a song from classic Bandini – O Panchi Pyare' was played, in which sound of grain sorting can be heard very distinctly. Homi ji asked the audience to guess what instruments was used to created this grain sorting sound – someone said sand, someone said cello. Homi with a smile brought out real rice and real wheat, and a real `bamboo chaaja' and created the the real word sound of grain sorting. And said with smile, that like Pancham, who had used real instruments like bottle, etc. to create real world sounds, so has his father. It has been a tradition of Burmans.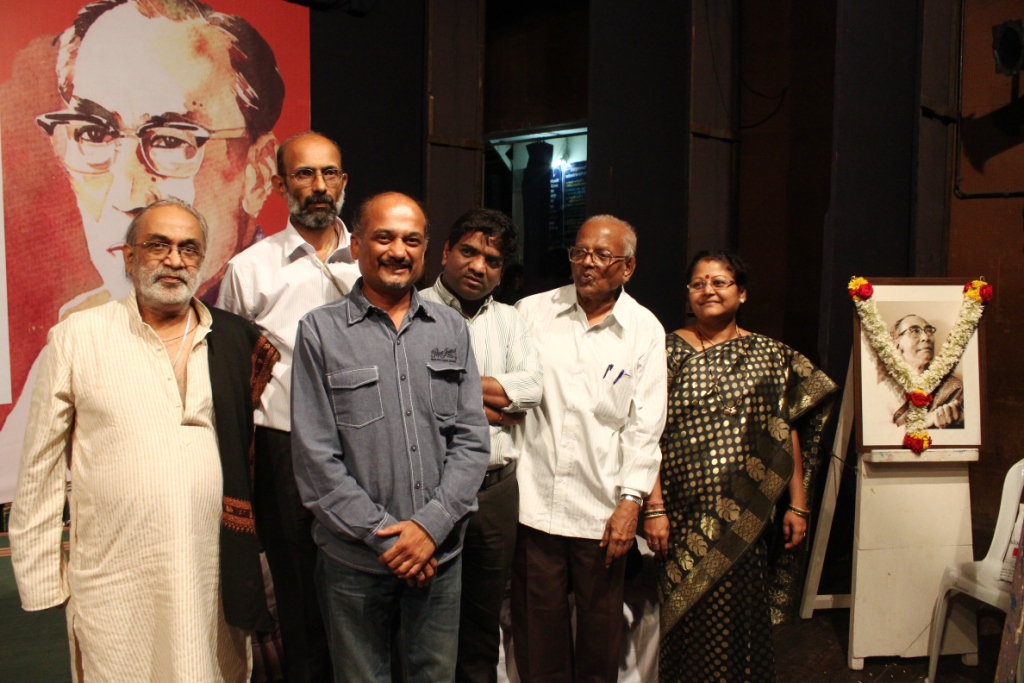 It was truly an unforgettable show. A trip to down memory lane of sweet music of Sachin Dev Burman.
Disclaimer: This is a personal account of the show, as I saw, heard and as my mind registered it. It is written from memory, i.e. without any aid of technology. I apologize for any error, omission or incorrect reporting. As the programme (except for the last half an hour of programme, which was in Hindi) was in Marathi, of which I had limited knowledge, it is possible that I might have misheard or misunderstood something which is written above.
 Raju Bathija
panchammagic.org
Photos By: Prasad Sanwatsarkar, Ashutosh Soman

---