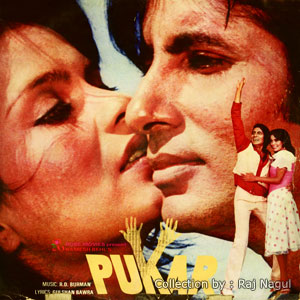 Film: Pukaar (1983)
Producer: Ramesh Behl
Director: Ramesh Behl
Lyricist: Gulshan Bawara
Singer:  Asha Bhosle

Out of other songs like Tu maike mat jaiyyo, Bachke rehna re baba, Jane jigar duniya mein, & Marenge ya mar jayenge…Ashaji's Main tere liye tu mere liye…stands out not only because this being a only female solo but also its composition, superb rendition and music arrangement.
Pancham's "superb composition, superb music arrangement" has now become an integral part & habbit to mention for every song of his due to its credentials as always.
Drums, synthesizers, guitars, resos, chimes, brass instruments….perform to perfection always in Pancham's compositions.
This seductive number starts very unusually with suspence kind of accordian note coupled with Bell tree & flenged guitar and seductive typical smile of asha. Tennor sax takes her to sign line siliencing all the chimes and side rhythms.
Asha starts in adlib, main tere liye..tu mere liye…aa..aaaa…aao na….yes, as expected bass guitar lifts the sign line, main tere liye tu mere liye…to phir kai din kyun jane diye..bina pyar ke ye bata..bata…!! very very seductive indeed, repeat come the words and actual rhythm on drums start alongwith goose bumpy side rhythms which grips your mind and ears throughout the song.
Kind of pace the lyrics in sign line has, rhythm goes double the pace. Catchy twin note on guitar after bina pyar ke ye bata..bata…! ……..Flenged guitar and synthesizer starts the 1st interlude with jazzy tenor sax mixing with violins and rhythm again changes its pace to more faster. Looks like Pancham's "Baye haath ka khel" as usual and it goes so well with song again getting into slower pace with just 4 strokes of guitar..simply amazing. Kersi ji also has interestingly used different tones on synthesizer.( May be different machines altogether..)
Antara starts with Mere dil ne ye kaha hai..hone de jo ho raha hai…guitar frase again here to get into repeating first two lines, very powerfully supported by bass…now the repeatation sung by asha is with harkat ….mere dil ne ye kaha aaaaa hai…hone de jo ho rahaa hai…bridging & extending haiii with kise hai khabar…jahan se na dar…jee bhar ke mujhe, sanam pyar kar…zamana karega bhi kya? Becomming the cross line with smooth landing to sign line as always seen in Pancham's composition.
Asha plays with with words in that timing..her "baye haath ka khel" now..like repeating main…main..main tere liye..these small small things in rendering must be Asha's own contribution and suits Pancham's style of playing with timings for variations.
2nd interlude starts with bottle blowing sound….how I wish, director here, would have shown that on screen since Amitabh drinks at that moment in glass…would have been bottle in his hands..!! Anyways, violins progress the interlude halfway again to step up rhythm with guitar frase and drums pickup ……violins further progress in a sweet melody and interlude ends with bottle blowing sound again as it started with.
2nd antara…aise mujhe chhodke na jaa..aja meri bahon mein aaja…repeatation again has that extended aise mujhe chhod ke naaaaa aa ja…aja meri bahon mein aajaaaaaaaa…extending into hai tu bhi jawan..hoon main bhi jawan…ye mauka hume milega kahan….rahe ab ye kyun faaslaaaaaa…aaa ending into extra seduction and back into sign line…which Asha makes full use of her singing variations with repetition too…saying Main..Main…twice and Bata..Bata..Bata..thrice…going into hmmmmm…hmmm…and la lallaa laa laa laa…what a finish…& how well Pancham concludes the song with Amitabh falling dead drunk, and we Panchamites getting through kick with all that sweet, seductive singing and music, lifting the song to the great heights..Its really amazing how each seductive song of Pancham sounds so different everytime without hampering its end result….!!
Sandeep Kulkarni
panchammagic.org
---