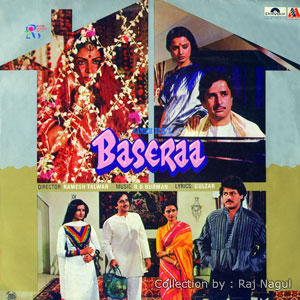 Song: Tumhe Chhod Kar
Film: Baseraa (1981)
Producer: Ramesh Behl
Director: Ramesh Talwar
Lyricist: Gulzar
Singer:  Kishore Kumar, Asha Bhosale and Chorous
As we all know, Pancham's ouvre was so rich, his knowledge so varied and complete that he knew when to use what instrument and when he could not find a pure sound, he created it, he invented it. The medium NEVER became an impediment.
Makes sense?
Well, it definitely will, if you to notice one of the many subtle nuances of the song I am about to describe. The song is Tumhe chhod ke from the movie Baseraa and the detail I want you guys to notice is the use of Bass guitar.
At the first listening, its not apparent because the beautiful voices, the electric guitar riffs, Gulzar's mesmerizing lyrics, etc. simply overwhelm you, but, by about 50th time listening, you can't help but notice Boss ka Bass guitar – Tony Vaz or Ramesh Iyer – I am not sure, but whoever it was the Bass guitar is just so integral to this song that you cannot ignore it. Unlike the popular music of the times, this stuff is nuanced. Pancham has used subtle sounds to add an unimaginable depth and has shown why he was clearly ahead of its time, even when playing on a commercial turf. In fact, it feels as if Pancham was experimenting with 8 instruments Fugues while the rest of his peers were still struggling with basic notes (okay, I tend to exaggerate, but you get the point)
Baseraa was produced by Rose Movies and directed by Ramesh Talwar. Musically, it was a gem with 3 Lata solos, each filmed on three different heroines in the movie, an Asha solo and this racy, Asha-Kishore duet filmed on Poonam Dhillon and Raj Kiran. (the same Raj Kiran, who unfortunately is relegated to a penniless man spending his days in a mental asylum in Atlanta and Poonam Dhillon who was in her own version of an asylum – the Big Boss house…but I digress)
As usual Pancham reserved his best for his friend Ramesh behl, add to it Gulzar's lyrics and Asha-Kishore's vocals and the result was what people in Calcutta fondly call – Gun powder !!
Tumhe chhod kar… is an example of Pancham's travel rhythm. The prelude starts with a high-tempo, bubbling rhythm followed by racy, mad violins (Pancham trying to depict speedy mo-bikes through his tune) which go quiet as a synthesizer enters the proceedings followed by electric guitar riffs that continue till the end of the prelude. A softer, romantic Kishore starts with tumheyyyyy… and as his voice tapers off before singing 'chhod kar…' the percussions join the mix and within a second of that, the base guitar completes the rich and deep rhythm that stays with us throughout the song!
Gulzar's pen shines in how the mukhada is written where the first line talks about – अब जीने को, जी तो नहीं – and the second line says – मर जाने को जी करता है .
Also characteristic is beautiful use of Yamak alankar where in one case 'jee' is used as Jeena (life) and in the second case as Jee (desire)
Pancham's use of chorus is infectious in how it is introduced quietly after the first line – roo roo ru roo – but slowly grows in stature as it elegantly fills the crossover from Kishore to Asha – higher pitched but shorter – roo roo ru!
There're a lot of trademark Pancham touches throughout the mukhada – Kishore's rendering of – tumhare binaaa aa aa.., or Asha's humming to support Kishore's vocals at the end of the mukhada and the slight overlap of the chorus with Kishore/Asha's vocals. Goosebumpy!
Antaras have another pattern for the usage of chorus – it is longer in duration and used as a filler to connect the repetition of the first two lines – roo roo roo roo roo ru ru rooo oo.
Interludes are varied, racy and uniques as they can be with rich use of chorus in a couple of them. First interlude is composed with Trumpet, chorals and Jaltarang (Pancham trying to capture the essence of rain?), Second interlude has mad violins, 12 string guitar and whistling, bringing it back to violins, but, Pancham stores his best for the Third interlude – he starts it with mad violins, once again, punctuates them with the same synth tune that the song started with, layers the chorus on top of it and then caps it off with…well, that's something you will have to listen to the song for. Its worth it, trust me !!
One last thing about Gulzar – how he includes absolutely colloquial, regional terms into his songs baffles me. Asha sings a word that is used in UP hindi a lot – इत्ती – not इतनी, इत्ती.
It means the same thing, however, Gulzar's usage – इत्ती see सी कसम दास्ताँ हो गयी – delights me. Furthermore, not only does he use it, he explains it when Kishore sings the same line – छोटी सी कसम दास्ताँ हो गयी…
Hemendra Kumar
panchammagic.org
---