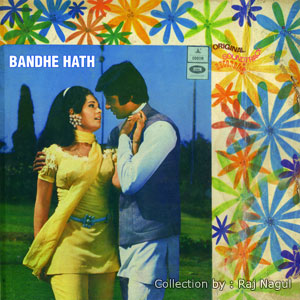 Film: Bandhe Haath (1973)
Producer: O. P. Ralhan
Director: O. P. Ralhan
Lyricist: Majrooh Sultanpuri
Singer:  Lata Mangeshkar
(Mumtaaz ka) dil to (Amitaabh) lai gawaa ..ab kaa hoga ?
Kaa hoga ? Ek sundar gaana hoga ..Pancham ki dhun par aur Lataji ka gaaya.
Bandhe haath was Pancham's second film with O.P.Ralhan after Hulchul. After presenting himself in the lead role and that too going song-less, Ralhan may have decided this time to go with the proper cast and make it lyrically musical this time. Amitabh was the hero in double role, one as a robber while the other a poet. Mumtaz was cast as the stage dancer. This arrangement ensured that it had enough scope for the song and more importantly dance situations.
Pancham obviously was in splendid form with the momentum of stupendous output (both in quantity and quality)of 1971 and 1972 behind him. He composed some lovely songs for this film too using range of premier singers viz Kishore, Manna Dey ,Mahendra Kapoor (although a cameo) and the Mangeshkar sisters for the leading lady of the film.
Although all of them but one were stage songs, it was a fabulous array of emotions and situations appearing at the strategic junctures of the relationship between the lead pair. While the arrival of Amitabh in her life (green room actually) was greeted by "yeh kaun aaj aaya mera dil churaane" the only song by Kishore displayed the dilemma of Amitabh in "dekho yeh mere bandhe haath". If Lata celebrated the cheerful side of her dancing life, Pancham did have a fantastic use of Asha for Mumtaaz's grief in that experimental Maazi-cabaret, the term coined by Gulzar-ji and then Asha going overboard(literally) with her emotions in the multi-starrer rollercoaster "dil to lai gava" with some fantastic vocal support by Manna dey, Tarzan Pancham and as I earlier stated a cameo by Mahendra Kapoor unmistakably for the director-actor O.P.Ralhan. A notable omission from the film was a Lata-chorus rhythmic marvel "Chhalla mere chhaila ne chheena".
But one song by Lata, which is our song in context, stood distinct for its outdoor situation and the fresh and energetic Mumtaaz expressing her love for the shy Amitabh in the outfits of kurta and jacket and his hands tied.
The song starts with the surging violins for her dashing entry that continue for quite a length before a breathy stop and Lata enters with a gasping "la la la la la" almost unplugged before the rhythm beat catches as usual at the trademark Pancham offbeat place with the kick of bass guitar. The closeness of the rhythm pattern to Bossa Nova perfectly suits her unsteady butterfly-ish movements. Mumtaaz has some lovely assertions in her extending of "tune" as "too-neyy" and ending with a teasing "ch..ch..ch" in an effort to provoke her lover.
Pancham's interludes as usual seamlessly/ jerklessly pick the baton of the melody from Lata's abrupt end of mukhada along "gale lag jaa". The trademark quick-shift of instruments along the progression again follows a similar butterfly pattern, first on wavy and lingering accordion the sax following suit, the dynamic violins racing to break the pattern only to do a quick wind up.
Majrooh saab had always been excellent in balancing both the sides of a Pancham song. Even while perfectly following the vagaries of the song meter he could maintain the lyrical value of the phrases.
The first antara beautifully expresses her urge while being pleasantly poetic. It just takes a "aah aah" for Lata to reset the lines that end with a fantastic crossover along
"Phir aaja mere paas
Bhanvara sa jhoom le
Phir chhooke mera tan
Kaliyon ko choom le"
You almost hear the yelling Pancham during his studio recording of this song or as he may have sung before Lata..ohh..how I wish we could get hold of those magical moments or the audio extracts.
Anyways back to the song: Even after that quite a long crossover we are still quite a distance away from the entry point of mukhada..you wonder how Pancham would bridge this gap ..and as expected that unpredictable Pancham takes the route of coiling "ru ru ru ru" and the quick spurt of violin to arrive at Lata's humming again. This makes you realize that her humming start wasn't just a one-time-wonder. Pancham just did make it an integral part of the mukhada. Such kinds of touches do make the song quite informal and expressive even if abstact.
The second interlude starts with a near similar pattern as first, this time with the electric guitar strums, the sound which can be heard only in his songs. It's followed by a lingering accordion and then the racing violins punctuated by a solitary strum.
The arrival of second antara makes the things more urgent for Mumtaz as there is no visible effect on Amitabh of the earlier efforts. Always trust Majrooh to come up with the intense (still not crossing the aesthetic boundary or sounding vulgar) words like this:
"Meri pyaasi..pyaasi aankhon mein chhup jaa
Khulee khulee baahon tak aake naa ruk jaa"
And wrapped by this beautiful phrase
"armaanon ki jwaala pe badal banke jhuk jaa"
It's the vintage Majrooh time.
The song then ends with the fading out signature humming of the singer leaving its lingering and fond memories behind.
Sudheer Kulkarnee
panchammagic.org
---