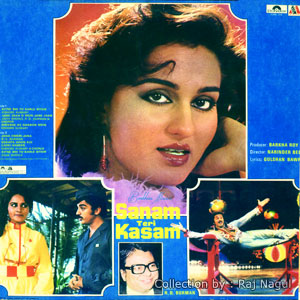 Film: Sanam Teri Kasam (1982)
Producer: Barakhaa Roy
Director: Narendra Bedi
Lyricist: Gulshan Bawara
Singer:  Asha Bhosle / Kishore Kumar
badaa pyaaraa hai teraa julam ….
A tandem song in Hindi movies usually comes in two contrasting emotions – happy and sad. This lovely tandem has the feel of romance, cajoling, chedd chaad teasing, being impish, Pancham has created two lovely sweet songs with the same basic tune.
An artiste craves for love and admiration from his fans and peers and also for universal recognition which usually comes in the form of an Award. Filmfare Awards, which used to be quite popular in yesteryears, ignored Pancham for nearly 20 years. He got the first of his 3 Filmfare awards for Sanam Teri Kasam, which he himself had admitted was not among his best. It was more of an electronic frenzy, which was the flavor of songs in the early eighties. He had cried on knowing that Filmfare had chosen him for the best music award. He was a human being, after all.
Sanam Teri Kasam might be an electronic frenzy, but this sweet romantic song was low on electronic sound and high on melody – one version was by Asha, the other by Kishore. In the movie the Kishore version came first. Among its songs, it stands out for its sheer melody. I would not be surprised if it had melted the hearts of stone-hearted Filmfare jury. Both the versions were quite popular at its release, and still remain so.
Read somewhere that on one of his visits to Gulshan Bawra's home, Pancham overheard Bawra's wife, Anju, humming a tune while cooking a dish for Pancham. Pancham abandoned his music session with Bawara and tiptoed to the kitchen to ask Anju to hum the tune again. Being Pancham, he may have been inspired from a single note of that tune she was humming to create this timeless tandem.
Let us first talk about the Asha version, which happens to be personal favorite. A Pancham song invariably begins with a flourish and this one is not an exception. The short interlude piece, of guitar and trumpet is followed by short alaap aah haa haaa by Asha. What a way to begin a sweet melodious romantic song about managing a rootha hua sanam!
The mukhda of the song is one of the finest written by Gulshan Bawara – sitam sanam kasam have been rhymed beautifully :
kitane bhii tuu kar le sitam
hans hans ke sahenge hum
yeh pyaar na hogaa kam
sanam terii kasam
Love the way Asha sings sanam each time in so different a way. In the first and second interlude, santoor (or a santoor like instrument) has been used beautifully. The first antara has such lovely and heart-tugging lines to melt anyone's heart. What a cute way to ask forgiveness for sitam on one's sanam :
maana ke Khataa merii hai
par itanii sazaa na de tuu
le pa_iyaa.N pa.Duu tere sajanaa
ab to gale lagaa le tuu
tere dam se hai meraa dam
And the icing on the song is the soft humming of la la la laa laa and the violins at the end of the song. The song fades away gracefully. Restrained, sugary sweet singing by Asha makes it all the way for an elegant composition.
As sanam (beloved) is a unisex word in Hindi, lyricist Gulshan Bawra has retained the similar mukhda, but the antaras have completely different lyrics.
The Kishore version is over the bus, oops over the top. Such a boisterous and energetic singing to go with the fully energetic on-screen Kamal Hasan!! The mood of Kamal Hasan bursting onto the scene from the top of a bus is created in the song by a burst of violin pieces. And Kishore announces his entry by a boisterous ho ho hooooo with guitar and violins playing in the background. Guitar, violin and keyboard pieces create a magical effect in the mukhda of the song. Note how the violins are used – kitane bhii tuu kar le sitam (violins), hans hans ke sahenge hum (violins). Pancham has increased the tempo of the song slightly to give it more energy.
jitanaa ta.Dapaaegii mujhako
utanaa ta.Dapegii tuu bhii
jo aaj hai aarazuu merii
vo kal terii aarazuu hogii
ye jhuuTh nahii.n sach hai sanam
Like the Asha version, Kishroe version too fades with a flourish with violins and trumpets.
Badaa pyaaraa hai teraa julam, Pancham. Killing us softly with your sugary sweet songs. Like these.
Raju Bathija
panchammagic.org
---