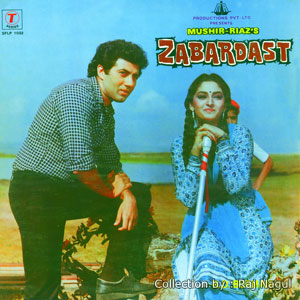 Song: Dekho Idhar Janab-e-man Kahan Kho Gaye
Film: Zabardast (1985)
Producer: Mushir-Riaz
Director: Nasir Hussain
Lyricist: Majrooh Sultanpuri
Singer:  Kishore Kumar and Chorous
Movie maker Nasir Husain has an envious track record of making romantic musicals. Even more envious is his amazing track record with composer Rahul Dev Burman. Their partnership, not only blazed new trails for musicals in Hindi cinema, they also delivered sizzling thrillers and thought-provoking drama in their over 3 decades of partnership.
Nasir Husain was blessed with a fantastic sense for movie scripts and wielded a pen that produced screenplay and dialogues that instantly endeared themselves to the movie going audience. He was one of the few remaining movie makers in the 80s to continue the use of Urdu for his scripts and movie language. He was ably supported by, his favorite lryicist Majrooh Sultanpuri, who had worked with him even during Nasir Husain's days as script writer/director for Filmstan's doyen Sasadhar Mukherjee.
After the immense consecutive successes of Pyar Ka Mausam, Caravan, Yadon Ki Baraat and Hum Kisise Kum Naheen, Nasir Husain faced his first box office disappointment with Zamane Ki Dikhana Hai. Around that time, he had planned for a multi-starrer similar to scale of Yaadon Ki Baraat. This venture was titled Zabardast and was supposed to star Dilip Kumar (as father), and Dharmendra, Rishi Kapoor as his children. But following the disappointment of Zamane Ko Dikhana Hai, budget and logistics issues, Zabardast was shelved in 1981.
In panchammagic.com's 4th Jan 2013 program, their guest – the veteran actor-director Randhir Kapoor revealed an amazing anecdote on one of the tunes Pancham had composed for the shelved Zabardast. Randhir Kapoor was enamored by the tune (which as per him went 'Zabardast…Zabardast…Zabardast') but was disappointed with Pancham's steadfast refusal to part with the tune already committed to Nasir Husain. When Zabardast got shelved, Pancham offered this tune instantly to Randhir Kapoor and it became the popular hit 'Tujhsa Haseen Dekha Na Kahin' after the 'Zabardast' was replaced with the words 'Kashm-a-kash' and 'Gul Badan'.
Nasir Husain however, revived the Zabardast project in the next couple of years, this time with the producer-Alam brothers Mushir-Riaz. The new star cast now had Sanjeev Kumar replace Dilip Kumar while Sunny Deol and Rajiv Kapoor stepped into Dharmendra and Rishi Kapoor's shoes. On listening to the new Zabardast soundtrack, one can perhaps speculate the song 'Dekho Idhar Janab-e-Man' as the closest in mood/style/singer to the one that became 'Tujh Sa Haseen' in Harjaee.
In terms of mood, both songs are designed as party or stage showpieces, the distinct style of fast paced rhythms and of course the swinging rendition by legendary Kishore Kumar. Each song is directed/addressed at the hero's object of affection who not surprisingly ends up being impressed and falling in love with him.
Pancham's approach to 'Dekho Idhar Janab-e-Mann' is remniscent to the stage shows he had created earlier for Nasir Husain in Teesri Manzil (Aaja Aaja Main Hoon Pyar Tera) and Caravan (Piya Tu Ab To Aaja). Pancham introduces the song with a short prelude – almost an overture. The dramatic piece using violins and percussions is followed with the tolling of a tower clock, followed by a whimsical tune played by the brass. Pancham prefers to re-visit his favorite Pink Panther title music and adapts it to create his own cat-and-mouse tune. One is instantly reminded of the cabaret shows Nasir Husain staged in Caravan and Teesri Manzil. More dramatic violins and drums follow interspersed with female choral exclaiming in fear/relief. As in operatic performances or the silent era musicals, this prelude is an independent, self-existing piece that has no discernable link to the song and music arrangement that follows.
Pancham introduces the song with its tune played on a solo flute which is followed with a rapid rhythm setup of keyboards, drums, guitars and various percussions. One can easily discern the Zamane Ki Dikhana Hai hangover in this rhythm setup – especially the eclectic use of the keyboards. Overtly it may seem to be a composition dominated with electronic sounds (compared to Pancham's early day output for Nasir Husain), however upon closer inspection one finds that Pancham has employed a relatively simpler structure for the song – which mostly focusses on rhythm, choral that start and end each antara and Kishore Kumar at his swinging best.
In terms of arrangement, Pancham employs an interesting pattern. For the mukhada of the song, Kishore Kumar's vocals are matched (or rather countered) by electric guitars whereas in the antaras Kishore Kumar (or rather the tune) is countered by violins. This interesting pairing of sounds with vocals makes the tune/words easily memorable or rather hummable. After listening to this song, one cannot help but follow the vocal part of the mukhada with the humming/vocalization of the electric guitar follow-up. Such practice, although common in western popular songs, became the hallmark of a Pancham composition. Rarely has any Indian film composer emphasized the use of instruments to bolster/lead or even counter the vocals. In most instances, the instruments have played the more submissive role of accompaniment.
Back to the comparison with the tune that became 'Tujh Sa Haseen' (Harjae), the mood of the lyrics is similarly suited for the lead actor's confident (almost arrogant) prediction for the heroine to fall in love with him.
If Harjae had Randhir Kapoor boasting to Tina Munim 'Tujhsa Haseen Dekha Na Kaheen, Tu Hogi Meharbaan Kabhi Na Kabhi', here his younger brother Rajiv Kapoor boasts to Rati Agnihotri 'Dekho Idhar Janab-e-Mann Kahan Kho Gaye, Jaano Lo Ke Aaj Se Mere Ho Gaye Tum'. Confident hero – and an awestruck, irresistibly drawn to him heroine – Nasir Husain has had an entire generation of Kapoor's successfully wooing their leading ladies – Shammi Kapoor (Teesri Manzil), Shashi Kapoor (Pyar Ka Mausam), Rishi Kapoor (Hum Kisise Kum Naheen, Zamane Ko Dikhana Hai) and now Rajiv Kapoor (Zabardast).
For this song (Dekho Idhar), Nasir Husain employs the entire gamut of stage props including a fictitious town center, bridge, shopping mall, falling yards of fabric (timed with the choral), an array of extras who form an interesting horse carriage with umbrellas for wheels, and if that was not enough to sweep Rati Agnihotri off her feet – he has a swing setup in the center of the stage that lands hero Rajiv Kapoor right to the heroine (Rati Agnihotri) seated in the audiences. Romance at its outlandish best Hindi film masala style.
Pancham's focus on rhythm (and perhaps the influence of his assistant maestro Maruti Rao Keer) is evident at the outset in the first interlude music where the beat is successively introduced and repeated by keyboards, then madals, sticks and finally dholak/conga-guitars. Kishore Kumar makes a welcome comeback to the Nasir Husain camp (after Zamane Ko Dikhana Hai and Manzil Manzil) dominating almost the entire soundtrack of Zabardast. Even the second interlude is relatively simple – with the Flutes taking center stage. For anyone under the impression that Pancham's music arrangement had become overly complex in the 80s, one needs to listen to this song in comparison to 'Bachna Ae Haseeno' (Hum Kisise Kum Nahin). 'Dekho Idhar Janab-e-Mann' comes across as a conscious attempt at delivering a similar song (for a similar situation) albeit with restraint and simplicity.
 Shashi Rao (The Loin)
panchammagic.org
---