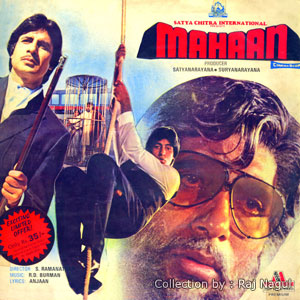 Song: Jidhar Dekhoon..Teri Tasveer
Film: Mahaan (1983)
Producer: Satyanarayana, Suryanarayana
Director: S.Ramnathan
Lyricist: Anjaan
Singer:  Kishore Kumar

In early mid-80's, in my circle of friends, it was de rigueur to look down upon Hindi film music and listen to only English music – preferably the classic British rock bands. It was common to see our gang blasting some classic rock number and dance around, playing the air guitar passionately.

However, there was only one Indian composer whose songs could make these die-hard rock fans play the air guitar and grudgingly admire him – Rahul Dev Burman. And "Jidhar dekhoon…" from "Mahaan" was one of them.

Pancham as usual blew the soundtrack out of this world for this masala entertainer and also stunned with his sizzling background score. And how beautifully he starts this number with the soft, loving notes on the guitar…before he gestures Kishore Kumar to step in. And how the latter comes in majestically. Pancham's done some magic mixing to Kishore's voice here for sure – it sounds smoother, mature, and even more divine than ever before. A rich, smooth, single maltish, golden glowing voice. And when he begins, "Jidhar dekhoon.." you melt into RD's magical tune…just into it…and that yearn that Pancham gives for "teri" in "teri tasveer.." a lovely opening masterstroke. And that haunting guitar piece, that made everyone play their imaginary guitars…that piece that everyone hummed as much as the song itself….and then Pancham gets in the soaring, bouncy violins to kick off the happy pace….the violins now settling into a bouncy tune, accompanied by the nice percussion, santoor punches….and then that unexpected touch of love and passion through the flute…a beautiful tune that's repeated by the violins, and then the staccato punches of santoor that's taken over by Kishore's "Ho.." and right at that moment, Pancham beautifully gets in the bass that comes stumbling in, yet raises the tune and your anticipation higher…that's partially quenched by the mukhda in flow….and you realize what a tune it is….it rises till "tasveer", then comes down beautifully for "nazar aati hai…" and then that haunting guitar piece that follows. And RD's genius – he pauses the percussion when this piece is playing, just the bass bouncing beautifully, only to have them join in when Kishore sings the second part, "Teri surat meri taqdeer…"
The first interlude begins on a beautiful synthesizer, almost cooing like a love bird, that's followed by the spring-fresh santoor. And then the violins….and here one has to pause to admire Pancham's eye for detail and his brilliant sense of leitmotif for a movie plot. The violin that follows plays a lovely tune, almost as if a rowing effect. A little later in the movie, Pancham superbly re-uses this same tune in a poignant shell for the title music! – the violins now rowing backwards, almost going the "Lalla allah tera" way. That's Pancham and his genius for you. And he uses a variation of this same piece throughout the movie as a theme for the senior AB and Waheeda Rehman pair!
Back to this haunter – the violins fade away and Pancham begins the antara – what a scorcher of a tune this is. Beautiful, passionate, semi-classical based. And Kishore's majestic entry for "Zinda hoon main.." is mind-blowing. And again Rahul Dev takes your breath away – for, after "main" he gets in that echoing, valley-kissed synthesizer piece. That's absolute goose-bumps. (I remember listening to the "Mahaan" LP on my cousin's Bose system in the 80s, and he is an Indian classical music aficionado. And when this piece came up the first time, he just shook his head and said, "Wah wah, bahut khoob!") "tere liye"  – again those echoing synths – "jeevan tera hai…"and then the violins, beautiful, lilting, classical sounding…then Kishore repeats the tune with "Mera hai jo…" and you expect Pancham to repeat the synths, but he instead caresses you with distant, rising violins, such a marvelous touch.."sab hai tera"  – again those violins rising in the distant mountain peaks…."ab kya mera hai…" and then Pancham gets in the mukhda tune for the cross-over.
The second interlude has the santoor notes getting impatient, climbing the mountain peaks of the valley, their climb stopped abruptly by the echoing violins and you gasp in amazement. The santoor now climbs down playfully, accompanied by the hopping percussion, greeted by the violins to be led into the next antara. Again that beautiful tune, those hair-raising synths, and the extra special far away violins that beckon you.

Pancham ends the song with the mukhda, the song fading away with that iconic guitar piece. And all you can think is  – how apt a name this movie had, for its brilliant, brilliant composer.

Vineet Upendra
panchammagic.org
---