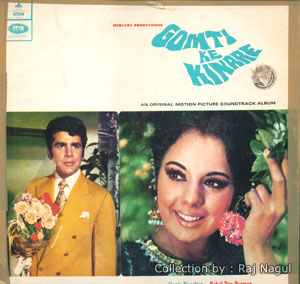 Song: Jackpot Lag Gaya
Film: Gomati Ke Kinare (1972)
Producer: Sawan Kumar Tak
Director: Sawan Kumar Tak
Lyricist: Majrooh Sultanpuri
Singer:  Asha Bhosale, Manna Dey
A somewhat ignored gem from gemti..err…Gomti ke Kinare.
Before I came across the full album of this Saawankumar Taak movie, I was already familiar and in love with the Kishore-Lata duet "jeene ka din mar jaane ka mausam" through a HMV compilation cassette and was floored to say the least with the choral experiment that Pancham did in other duet "aao..aao jaane jahaan" by Kishore-Asha when happened to hear it full. The eyes (read ears) really had to get used to the dazzle of these two duets to see further into Pancham-baba's musi-magical cave and explore the other songs. Lata's pathos-filled mujara was the next one to get hooked up with and then came this duet  Manna Dey and Asha Bhosle. The last one by Manhar has a breezy treatment and a brilliant tune but somehow the (not so) Manhar Ud(h)aas mood hovers over the song when it comes to the singing aspect.
Coming back to this duet..Pancham impresses right from the prelude that begins with the surging violins giving rise to ecstatic yells of Manna da and his fabulous way of playing with the "pot" and crescendo to "Jackpot".
I just imagined Pancham, a genuine fan of the game of football, envisaging this as the typical sequence of a football match ..the player marching ahead and dodging the opposition along "pot…pot…pot…pot…" and finally kicking and posting a goal and the ecstasy and joyous celebration thereafter. And its my opinion however, that Mr Taak, the director, got it all wrong as it is an Agha-st visual experience every time I dare to see the video.But Manna da does it perfect as usual following Pancham's visualizing foot-steps.
By the time Pancham immediately makes the song break into a mini-stanza along "saare jahaan se kaho" He has already pocketed us and the song. Love that galloping rhythmic beat He designs for that invariable association of the jackpot with the horse-racing for every instance of the mukhada line.
A beautifully scenic world tour continues after that lyrical hint in "saare jahaan se kaho" taking you to the exotic locations of the world in each of the stanza separated by the interludes associated  with those location-specific genres but invariably ending with the rising violins and the special effect of the "phoonk" of the magician/ Gin that transports us to new locations.
First interlude takes us to the deserts of Arabstan where his beloved Helen serves it with brisk phrase of violins vaguely reminding us of a similar in Asha's "parde mein rahne do" but with the intersperse of intoxicating Rababs followed by a typically Arabian phrase and a repeat of the sequence.
Asha so beautifully picks up the baton with her seducing Arabic (w)oo-ing and accepting his love and giving perfect justice to Majrooh's Arabic touch along "Yaa Jaan-e-man yaa habibi". Again, Asha's Habibi, Pancham, details out this sequence fantastically by making her sing vocal fillers but changing them on the instruments on next lyrical lines. The theme is beautifully continued on the rendition of mukhada line by Manna-da with Asha harmonizing him with an appropriately inert "la-la-la-la".
Again that quick violins-phoonk instrumental sequence and we are transported to a Japanese town. The melodic and intoxicating Arabic interlude now changes to staccato xylophone beats to give a perfect regional flavor. Now Manna-da picks that beautifully on his vocal "waa.N waa.N"s to wrap the second interlude.
Majrooh saab pens this stanza as if working backwards from the iconic Japanese word "Saayo-naara" and makes Asha add to his desperation (Beqaraari) by parting away but promising for next day's date.
And what a date that turns out to be taking us to the dazzling and foot-tapping flamenco dance scene. The Spanish guitars and  ?? make it electric for Helen to swerve her frilled frock rhythmically for conquering his heart. Asha supports her initiatives with amazingly attractive assertion in her voice backed up by superb strums of guitar played near its bridge. The sound that may connect you to another stunner "Tere sau diwane" (Shareef Badmash). Absolutely love her switch to "Lou..la lou..la..la" that suits perfectly to Helen's Spanish Avataar.
Pancham has quite frequently come up with such Arabian-Flamenco combination in many of his songs like "Aaya hoon main tujhko le jaaoonga" (Manoranjan) and "Aap se miliye" (Pyar ka mausam) to name a few. It may be the sharp contrast between the two musical genres that He seems to have attracted to. Here He makes it further memorable with the insertion of Japanese genre in between.
After those repeated listens, one thing nagged me for quite some time. There was something very very attractive in the song that was quite recurring but something failing to spot. The realization was quite late that it were the fillers that were constantly improvised in patterns, sounds, shifts from vocals to instrumentals. For example, the Arabic "(w)oo"s are replaced by the instrumentals on the repeat. Even the Japanese "waa.N waa.N" is improvised to "yaa.N.wa" at the next occurrence.
These small droplets do make an ocean of a difference to the song and we can always bank on Pancham and his amazing team of singers and musicians for doing this superbly and differently every time.
Sudhir Kulkarni
panchammagic.org
---