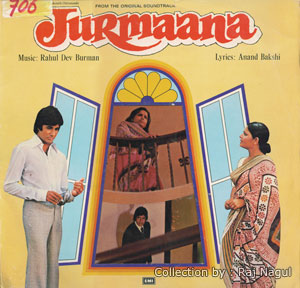 Song: Saawan Ke Jhoole Pade
Film: Jurmana (1979)
Producer: Debesh Ghosh
Director: Hrishikesh Mukherjee
Lyricist: Aanand Bakshi
Singer:  Lata Mangeshkar
Although Pancham's extensive use of Khamaaj is a known thing, he has used even Pahadi quite a few times to beautiful effect, be it Chalori chalori or Saawan ke jhoole pade which is my personal favorite! Lovely Sitar, fantastic Violins, the haunting voice of Lata and you are all set for a classic classical!
As is quite regular in Hrishida movies with the heroine singing solo (mostly a classical number even if she's not a classical singer ) and the lead actor hearing her intently and falling in love with her with that "performance", this one is slightly different in two ways. Rakhee is actually a classical singer which gives her the authority to sing one and it's Rakhee here who has fallen for Amitabh, her words are beautifully expressing her feelings indirectly.
The slower romantic version is made to look as if the lady is humming to herself, just like you sing when no one is around and yet you know the person intended to hear is hearing it. It's even a realization and confession to herself that she's in love. Lata's sweet, loving humming starts the song. You see a blushing Rakhee, her coy eyes at times trying to tell what she is feeling, at times searching if Amitabh has understood her…the orchestration is minimal (probably to give it a realistic effect of being sung outdoors and extempore and to provide a contrast to the other version where it being a radio broadcast, it had to be with a fuller orchestra). The use of accordion in the first interlude gives it a very easy, romantic, lazy effect when both the lead actors are in no hurry to go anywhere, in fact are wanting to be with each other to the maximum…
Anand Bakshi pens it beautifully…
Aanchal na chhode mera paagal huyee hai pawan…
Ab kya karun main jatan, dhadke jiyaa jaise panchhi ude re….
With the entry of Vinod Mehra in the second interlude who too loves Rakhee, his shock on seeing Raakhee with Amitabh is denoted brilliantly with the flurry of violins playing the uneasy notes. The accordion brings back the pleasantness when the scene shifts to Rakhee and Amitabh who are unaware of his arrival. Rakhee, although already in love, is still hesitant to accept even the smallest of Amitabh's advances.
Dil ne pukaraa tumhe…yaadon ke pardes se…
Aati hai jo dekh ke, hum us dagar pe hain kab se khade….
(This line is almost reminiscent of the other twin of this song – Aeri pawan dhoondhe kise tera man…with the heroine having been waiting for ages and ages for true love to come her way!)
No rhythm variation, plain, simple, sweet madal throughout the song. Also Rakhee's singing still being in the formative stages of learning, there are no variations like alaap or quick small taans. The song ends with Lata's voice trailing off and Vinod Mehra leaving the scene (Did she sing Tum chale jao? )
Taking the story fast forward, Rakhee and Amitabh have distanced with the circumstances developing in the while. Rakhee has left her village and moved to a city where she has made it big as a singer. Although news of her being supposedly dead is rumored, when Amitabh hears her voice on radio, he's sure she's alive and rushes to find her out.
This brings us to the second version of the song which is my utmost favourite of Pamcham's classical outre. It being relayed live on radio and sung by a famous singer obviously has more instruments, more variations…even more antaras! The Pahadi comes into effect more here. The initial aalap, so so so beautiful, totally goosebumpy, keeps echoing in mind, the way it does when being among the mountains! Rakhee hasn't yet come out of her past, still loves Amitabh…and you feel the pain of separation in her rendition right from the beginning…
The words remain the same, the antaras remain the same but the way Pancham differentiates the feel of both the versions is superb! A fuller orchestra, a fuller and faster rhythm and yet the presence of each instrument is felt, each instrument has it's own individuality…even a small piece of Santoor is used so effectively, it gives a feel as if one is among the mountains with the jharnas running down here and there (Pahadi in the literal sense) reminding Rakhee of her good times…. Lata's rendition too has an added "haan haaan" at the end of every antara probably denoting Rakhee's ascent as a singer where she uses variations with ease…note the additional verse in this version…."Jab hum mile the piya, tum kitne naadan the…hum kitne anjaan the, baali umariya mein naina lade"…the innocence of the times past captured by Lata's happy and girlish "haaan haan" at the end of this antara…sheer brilliance!
But for me, it's the Roopak (meter) that takes the cake…an odd meter to deal with, Pancham has used it so easily….the mukhda that starts with a "tin tin na, dhin na, dhin na", goes to "taak taak, dhin na, dhin na" in the antaras making the 3 singular beats go to 2 beats of 1-1/2…the latter version generally used in dugun of Roopak actually gives a feel as if the song has gained momentum (of course it's just my imagination but it seems as if Rakhee's mind is racing back to the past with a rise in the pace of heartbeats) and yet the tempo remaining the same! And going by the same imagination, the coming back to "tin tin na…" obviously would denote her coming back to reality of being alone and away from her love!!
A song very close to my heart…brings me too always to a reality…that Pancham was unreal!!
Shivani Zaveri
panchammagic.org
===================================================================
Saawan Ke Jhoole ( Romantic ) or say Part 1
The rude and rich brat Amitabh (Inder) having an attitude that money can buy anything meets his childhood friend Vinod (Prakash) on a business tour. A casual talk leads to a bet between him and Prakash that Inder would prove money is above love and that he would get Rama (Rakhee), who apparently isn't someone who could be lured with money, to fall in love with him. Hence begin AB's tricks and gestures to lure Rama. When nothing works, he takes her out saying they are going to the Sitar maestro Pt. Ravi Shankar's concert. Rama being a classical singer, agrees. On the way, AB decides to tell her the truth to which she objects. AB tells her they can go back but before that, in a last attempt he says he is going forever to foreign and hence he wants to spend some quality time with her, but will return back home, if she insists. This finally works and Rama says they can go back after some time and the situation breaks into this beautiful song.
A very mature subtle love story hence nothing in this song being said directly, no use of common words used in love like mohabbat, ishq, pyar, jaan etc. in the mukhda
A very short and sweet alaap by Lata, followed by lovely guitar strums and rhythm, maadal doing its lovely takum effect.
Saawan ke jhule pade, tum chale aao
The lingering on "tum chale aao" is really goosebumps.
The first interlude just a brief short piece on accordion and Lata takes off from there.
How beautifully Anand Bakshi describes a woman's dilemma who is just falling in love,
Aanchal na chhode mera, paagal huyi hai pavan – (2)
abb kya karu main jatan, dhadake jiya jaise panchhi ude
saawan ke jhule pade, tum chale aao, tum chale aao
Second interlude starts on Sitar and suddenly turns suspense kind as Vinod Mehra enters the scene, and finishes off again on accordian as focus switches to Rakhee. The movement of Rakhee as AB walks in the lines "aati hai jo dekh ke, ham uss dagar pe hai kabase khade " is so subtly shot.
Dil ne pukaara tumhe, yaado ke pardes se – (2)
aati hai jo dekh ke, ham uss dagar pe hai kabse khade
saawan ke jhule pade, tum chale aao, tum chale aao
Saawan Ke Jhoole (Sad) or Part 2
From here the story moves forward.
One day Inder asks Rama to accompany him. Rama promises him and lies to her father about seeing off Laila (Farida Jalal). Upon learning the truth, Daya Shankar unexpectedly drops in with Prakash at Inder's house, finds Rama in his bedroom and scorns her for lying. Rama leaves the house forever and while heading towards Delhi, is robbed for which she has to get down the train. Distressed Rama gets the help of Station Master Nandalal (Asrani), who shelters her in his house.
Coincidentally, the same train meets with an accident. Assuming an unrecognizable damaged body to be Rama, the police sends a letter to Daya Shankar about her death, shocking everyone. Inder, feeling guilty for the incident, believes that Rama is alive and searches for her. Meanwhile, Rama learns singing to forget her sorrows & becomes a renowned singer. One day Inder hears her singing on radio.
Same tune but totally different treatment making it soulful number.A wailing alaap by Lata in the beginning followed by tabla and violins only.
Saawan ke jhule pade,  tum chale aao
The difference is in the way Lata has sung it this time, it's more of pain.
The interludes changes to sitar, santoor and tabla.Santoor comes only once when AB sparks up knowing about her existence, but searching ways of finding her.
The past still haunts hence the first antara is kept the same. Since she still is in love with him, past is not leaving her yet.
Aanchal na chhode mera, paagal huyi hai pavan – (2)
abb kya karu main jatan, dhadake jiya jaise panchhi ude
saawan ke jhule pade, tum chale aao, tum chale aao
The second interlude has the beautiful sad solo violin, tabla and violins rounding it off.
She is ruing, repenting why such things happened in her life in next antara.
Jab hum mile they piya, tum kitne nadaan they, – (2),
hum kitne anjaan they, baali umariya mein naina lade..
Notice how guitar, accordion and maadal in romantic version is replaced by Sitar, Solo Violins, Santoor, violins and tabla making it a haunting soulful song.
Ritesh Gadhvi
panchammagic.org
---