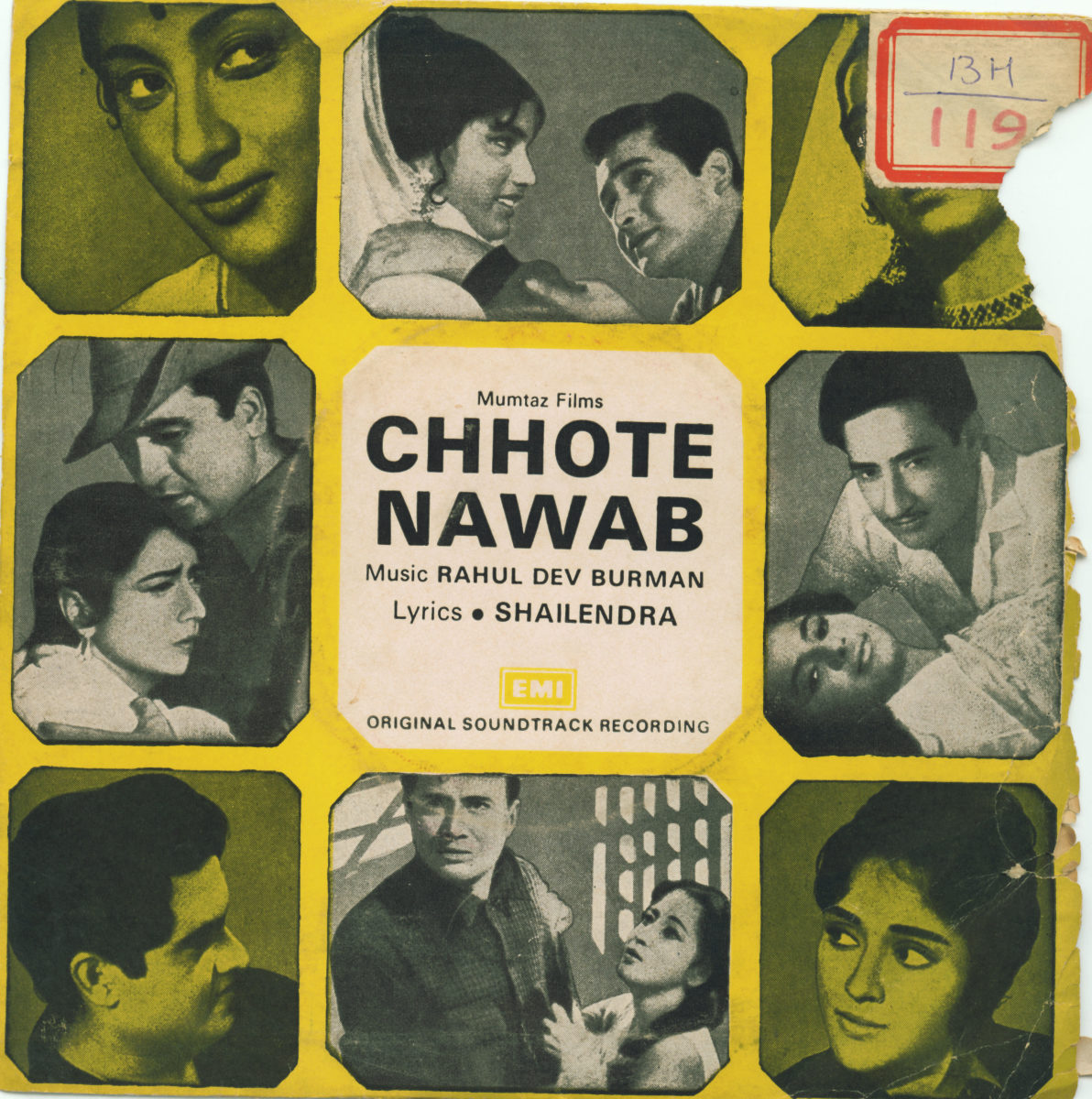 Song: Jeene waale muskura ke jee
Film: Chhote Nawaab (1961)
Producer: S.A. Akbar
Director: Usmaan Ali
Lyricist: Shailendra
Singer:  Lata Mangeshkar and Mohd. Rafi
"Jeene waale muskura ke jee
khushi ke jaam muskura aur pee
khabbar kisko ke ke kal kiya ho
arrey yeh do din ke hai zindagi …"
Read somewhere that when Pancham was asked if he still rated Chhote Nawaab (1961), his first, as his best. This is what he had said : "I do, if only because Lata Mangeshkar wasn't any longer singing for Dada Burman when Mehmood asked me to compose Chhote Nawab. Those days you were `made' if you got Lataji to render your maiden song. So I told Dada point blank I was ringing Lataji. Actually Lataji too — I found out later — wanted to get back to Dada! So she readily agreed to sing Ghar aa jaa for me."
Chhote Nawaab, needless to say, had exceptionally good songs. The movie had 8 songs (of which qawwali type song – yak ba yak rang-e-mehfil – sung by Rafi and Shamsad Begum – seems not to have been filmed or edited out of the movie) – ghar aaja ghir aaye, a classic, soulful song by Lata; matwaali aaNkhoN waale, peppy and racy duet by Rafi and Lata; aaj hua mera dil matwaala, romantic duet with longish Panchamish prelude music; chura ke dil ban rahe haiN bholey, a sweet song by Lata with brilliant use of chorus; aam chham taam chham by Rafi and chorus – first ever children song by Pancham; ilaahi tu sun le hamaari dua, a prayer song sung by Rafi; and jeene waale muskura ke jee by Lata and Rafi – a club/cabaret type song.  In short a complete album and it gave an ample indication of versatility of Pancham – that he could compose any type of song. A seminal album.
Jeene waale muskura ke jee has remained a favourite ever since I heard it. On the surface it seems typical club/cabaret song. But on a closer and attentive hear it can be said to be one of the earliest song in which Pancham seems to be experimenting – mixing and merging Indian melody with western type of instruments. The mukhda has congo/bongo playing rhythm and in all the three antaras the beat or rhythm of the song switches over to pleasantly sounding dholaks and the way the antara ends and Lata sings the mukhda is seamless and sounds beautiful. The interlude music is also quite interesting – the first interlude has mandolins and trumpets which are polished off by violins, the second interlude has lovely accordion followed by just two strums of guitar – imho a R.D. Burman touch, and the third interlude has mandolins, trumpets and violins.
Mehmood himself seems to have sung dummy words of aa ahaa and ha ha aa ha which gives nice touch to the song – his character, an adult, with a mind of a child, groomed by the heroine, had fallen in bad company and cares a damn for life's questions.
A song with typical club situation, turns out to be listenable and enjoyable song under Pancham.  Song also has meaningful and insightful sawal jawaab lyrics.  How one wishes Sailendra and Pancham had collaborated for more movies.
And how one wish this sweet song was sung by Geeta Dutt – the only major singer of the 60's who is missing in the Pancham's published oeuvre.  Club songs were her forte.  To me, Lata, distinctly sweet in this song is, sound like Geeta when she sings "khabar kis ko, ke kal kya ho", Lata goes back to her high pitched self in the next line "arre yeh do din kee hai zindagi"
Whenever I feel feel down or upset, I find myself humming this song and it makes me feel better.
Raju Bathija
panchammagic.org
---