Venue: Tilak Smarak Mandir at 7:30pm
Guests:
Madhu Ramesh Behl (Bubbles)
Shrishti Behl
Raju Singh
&
Sunil Kaushik
The rain which otherwise are stormy everywhere were treated as "Rim Jhim Gire Sawan" by Pancham's fans on his 74th Birthday.
The rain this year has a longer prelude than ever which resulted in heavy traffic congestion, delaying the guests and the audience. The show which was slated to start by 07:30 p.m. was started by 08:15 p.m. But hats off to the audience which waited patiently and enthusiastically till the guests came and hats off to the guests, who made it possible in the heavy rains.
The curtains were lifted and the hall reverberated with the Pancham sounds of "Doston se pyar kiya". Ankush Chinchankar, the anchor of the show, apologized for the delayed start of the show because of rain and traffic.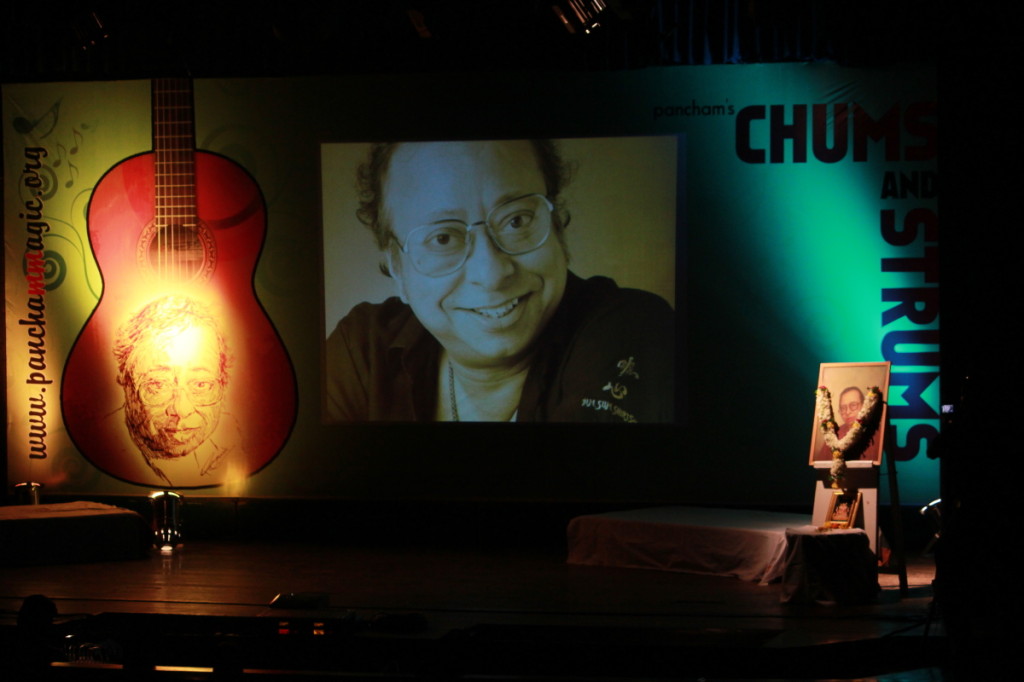 Ankush began by introducing the theme of the show – `Chums & Strums'.  Chums, he said is the exact word, as per Oxford Dictionary, for `an intimate friend' and Pancham had many intimate friends for whom he composed for many movies.   Pancham had formed a great collaboration with his friends Mehmood, Dev Anand, Rajesh Khanna, Shakti Samanta, Nasir Hussian, Amjad Khan, and made many memorable movies with them. While talking about Pancham's association and friendship with Amjad Khan, the audience was shown a trailer of the un-released movie, Adhoora Admi, which was directed by Amjad Khan and musically composed by Pancham.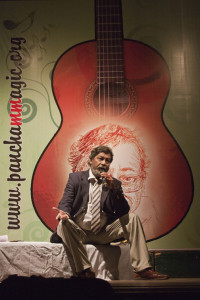 Anuksh pointed out that Pancham had one more everlasting friendship with producer and director Ramesh Behl, for whom Pancham scored music for all movies produced or directed by him. This was one of its kind of relation, where throughout different phases of their lives, friends were available for each other. The first of their films together was The Train which was released in 1970.  Ankush said that we have a Pancham fan from USA who is attending the program and he called Shashi Rao to stage.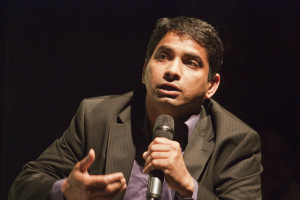 Shashi Rao, who is well known among Pancham fans, began by saying `Namaskar Pune' to an warm applause by the audience. Ankush and Shashi had engrossing conversation about Pancham and Ramesh Behl.  Shashi said that The Train directed by Ravi Nagaich was a remake of a Tamil Movie, Nilgiri Express. Ravi Nagaich had adapted the CID Shankar character for the The Train. Shashi said this process of remake was reversed when Ramesh Behl directed Kasme Vaade, which was released in 1978, was remade in Telgu and Tamil. Ankush pointed out that with The Train, which was the maiden production of The Rose Movies, it was the first big hit release under the music label Polydor and the start of a long lasting relationship with Rose Movies that lasted till Apne Apne.
Before talking about Kasme Vaade and other Rose movies films, Ankush invited the guest of the evening – Madhu Ramesh Behl, wife of Ramesh Behl (Bubbles) and Shrishti Arya (daughter of Ramesh Behl).
What followed was an engaging and engrossing discussion about Pancham and Rose movies films. Madhu, who asked Ankush to address her as Bubbles, talked at length about Pancham. At the beginning she had warned that when she talks about Pancham, she is unstoppable. And unstoppable she was.  She started with saying that, if Pancham would have been there at show, watching her on the stage with a mike, he would have amazed and would have said, "Bubbles tu yeh kya raha hain, tu stage pe kaise, tu kya bolega". This was with reference to her shy nature otherwise and a personal memory of Pancham playing a prank to her by getting her on stage and singing around. Pancham was gender neutral when he spoke, like English and hence most of the conversations happened to her were in terms of he is talking to a man.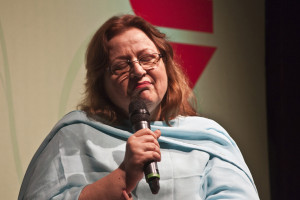 Like Pancham's blend of instruments for sounds where Bubbles recalled that, Pancham once put a burning match stick in to the nearly empty whisky bottle and then tried to listen the sound out of it, he used to experiment with food and used to cook "Gosht" with "Bhindi" or "Gosht" with "Beatroot". And then Bubbles was requested to test those. She said, he was so caring that, whenever the cook at their house is not around; either Pancham would cook or make sure that he sends food to her house.
Pancham was very attached to her kids and wanted to adopt one. He wanted to use the middle name as Tublu for her kid.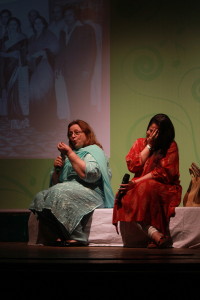 Pancham used to take the kids and her to eat ice cream and during one of such occasion, she found that Pancham was applying the brakes to the car in some repeated manner. Later she said, the same trick was used in creating the rhythm pattern of the song, "Tere Bina Jiya Jaaye Na."
Pancham used to drop to Scotch bottles to his friends in their bad times, without realizing the friends that he has intentionally dropped the bottles.
While talking about the song "Gumsum Kyun Hain Sanam", which was picturized for Kasme Waade, but as it was not used in the movie, was given to producers of movie as a friendly gesture of Ramesh Behl.
When asked by Shashi Rao, why the The Train has a credit title presented by Rajendra Kumar, Bubbles said that her husband, Ramesh Behl, was like a son to Rajendra Kumar and he has encouraged him to start his own banner.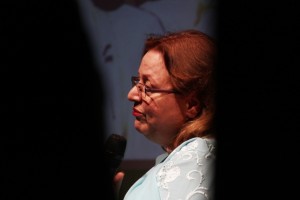 Bubbles talked at length about all the Rose Movies films, and said making pictures were like a picnic for them. When Ankush wanted to discuss about making of Indrajeet, Bubbles stopped him and said she do not wanted to talk about that movie – her husband had passed away before the movie was complete and Pancham too had passed away two years after that.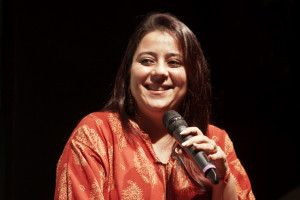 Shrishti Behl also talked about Pancham. She said she has fond memories of visiting Pancham's home, and running around the house, with other children, on the mattress with white sheets, not releasing that Pancham on harmonium, is creating music.  She said Pancham was a cool uncle.
As a tradition of Panchammagic.org to cut the cake on Pancham's Birth day by his closed ones, other guests of the evening, guitarist Sunil Kaushik and Raju Singh and director and panchammagic.org's close associate Raj N. Sippy were invited on the stage. The cake was cut by Bubbles followed by classic birthday song from Kasme Vaade playing in the background "Aati Rahengi Bahare….Jaati Rahengi Bahare"
Just before the announcement of interval, we were shown titles of Mehbooba, which was stopped at a point where it shows `publicity designs Studio Diwakar'. The audience was informed that Shri Diwakar Karkare has designed posters and LP covers of many Pancham movies, and is a native of Pune. He has also sketched the ticket for this edition of the show. Owing to some reasons, he could not attend this event.
The audience was informed by Mahesh Ketkar that next year will mark 75th birthday of Pancham and to mark this event, some special shows are being planned and its details will be put on the Panchammagic.org website.
As per requests of the iPhone users, the R.D.Burman Filmography, which was released at the same show sometime back for Android Phones, was launched for iPhones. Nishant Bapat has adopted this application for the iPhone version. The application is free to download.
After interval, Ankush talked about the role guitar played in the music of Pancham.  Pancham's team of musician has many guitars over the years –  Dilip Naik, Bhuipendra Singh, Bhanu Gupta, Charanjit Singh, Tony Vaz, Ramesh Iyer, Sunil Kaushik, Raju Singh.  Anuksh said we are fortunate that Sunil Kaushik and Raju Singh, who is son of guitarist Charanjit Singh, are among us and he called both of them on stage.
Ankush asked Sunil Kaushik when he begin his association with Pancham.  Sunil said that he become part of Pancham `Gang' with the background music of Shalimar, which was released in 1978.  Raju Singh is currently doing the background music of 3d version of Sholay.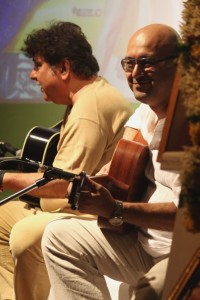 Though both Sunil Kaushik and Raju Singh said they have come un-prepapred, both of them treated the audience to some lovely guitar strums from Pancham song. For the first strum which they played, expected the audience to guess the tune. With the first strum, people recognised and given a warm applause for `hoga tumse pyar kaun', followed by the chorous from Public "Hey Kaanchi".
It followed by he title music of Sholay with Raju Singh whistling besides playing on his guitar. Audience demanded an encore of this timeless tune, which both of them gracefully obliged.  They also played the magical guitar strums from `chingari koi bhadke' and asked audience to hum the timeless tune.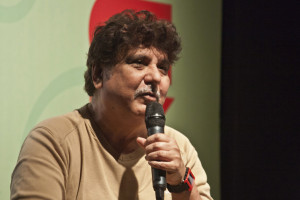 Ankush played the song from Teri Kasam – "Yeh zameen gaa rahe hai", in which Sunil Kaushik had played 12 strings guitar and asked him how this magical strum was played by him, and Sunil replayed "bas ho gaya tha".
The Dance Music Track of Abdullah in which guitar was played by Ramesh Iyer and Sunil Kaushik and also  Azarbaijan Azarbaijan puja song, which also had fantastic guitar work by Ramesh Iyer and Sunil Kaushik, was played.  Raju Singh remarked that after hearing these tracks one feels both these guitarist are not in competition but are actually complementing each other.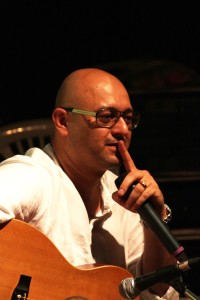 Raju Singh narrated an interesting anecdoate – once he was playing something on his guitar, as sort of practice, and this was overheard by Pancham, who asked him to play it again, and Pancham created a song – "Ye koree karaaree kanwaaree nazar" which appeared in movie Samundar (1986).  This is how a song was sometime created by Pancham. Both of them talked very highly of Pancham and said that they were privileged to be part of Pancham team.
Raju Singh and Sunil Kaushik shared that at many times when they used to try random things on guitar, Pancham would come to them and asked them to paly it again or make note of those notes which he would use them later. It used to get so difficult for them to remember what they were playing as it was some random notes they were trying.
Ankush got a promise from both Sunil Kaushik and Raju Singh to appear again on the show, fully prepared and he said he will arrange for Bhuipender Singh also to appear on the show.  The three guitarists from Pancham team together will be something magical.
Ankush thanked all and said we will meet again on January 4, 2014, and the program ended with song `Aaja meri jaan' played in the background, in which Raju Singh had played the guitar.
=====================================================================
Disclaimer: This is a personal account of the show, as I saw, heard and as my mind registered it. It is written from memory, i.e. without any aid of technology. I apologize for any error, omission or incorrect reporting. It is possible that I might have misheard or misunderstood something which is written above.
=====================================================================
Raju Bathija
 panchammagic.org
Photos By: Mahesh Ketkar, Prasad Sanvatsarkar and Shekhar Dere
---