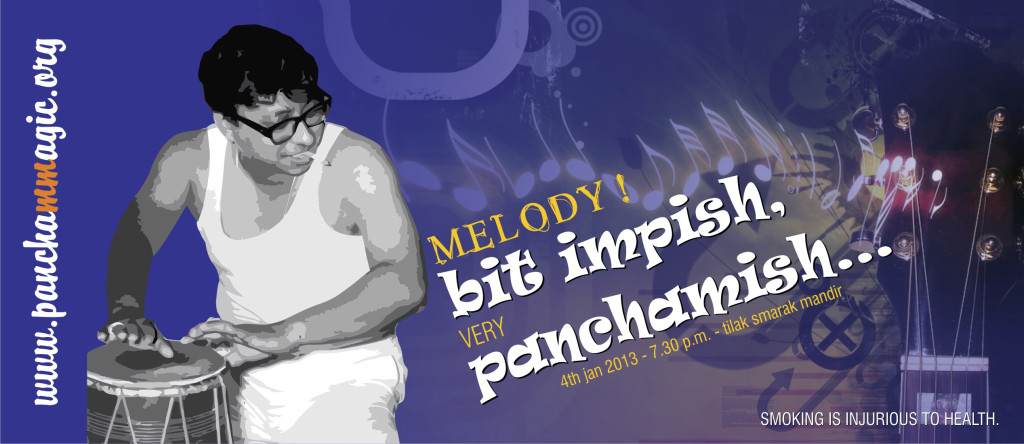 Venue: Tilak Smarak Mandir at 7:30pm
Guests:
Ashok Sharma
 Zharin Sharma
Arvind Kumar C
Pramod Sane
 &
Randhir Kapoor
* impish = mischievous; Panchamish = Panchamlike, unique, unlike another sound
January 4 and June 27 – landmark days in the life of a Pancham fan. For me, these days mean a must presence at the Tilak  Simarak Mandir, Pune for the Panchammagic show – this year it was 26th edition of the biannual program. This time, my son, Sachin, was accompanying me. We reached the venue in time before the program begun at 7:30 p.m.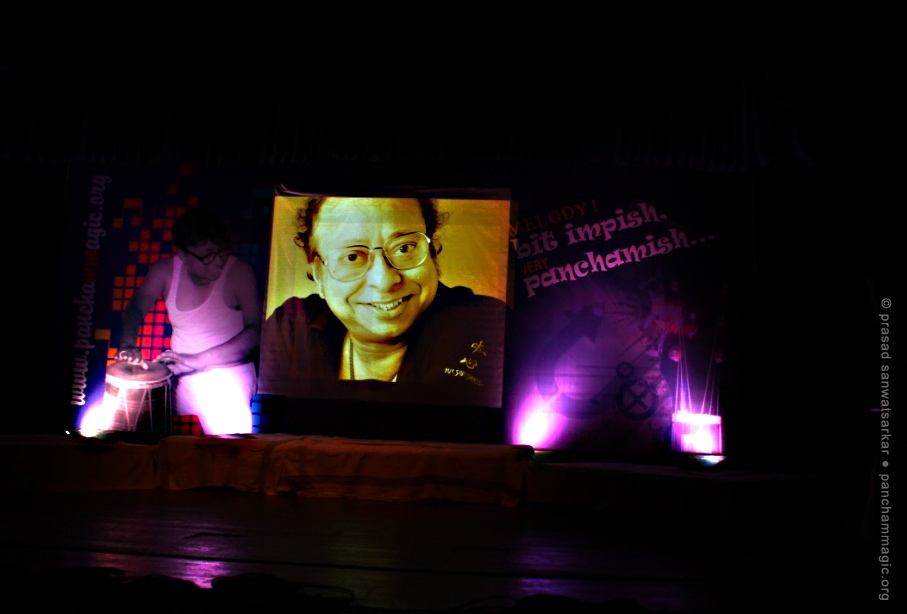 The program begun with the mind-blowing prelude music of fantastic medley songs of Hum Kisise Kam Nahin. Ankush Chinchankar, the affable and smiling host of the show, begun the proceedings of the show by touching the portrait of  Pancham on the stage. He said in every edition of the program panchammagic.org try to have a theme and the theme this time was impish and fun loving nature of Pancham, which also reflected in his compositions. The audience were shown a movie clip from madcap movie Bhoot Bangla, which had Pancham himself appearing in a sequence of the movie with Mehmood.
Ankush said the right person to tell us about fun loving character of Pancham is Randhir Kapoor, whom he requested to come on stage. The hall was filled with Pancham sound of Samne Yeh Kaun Aaya.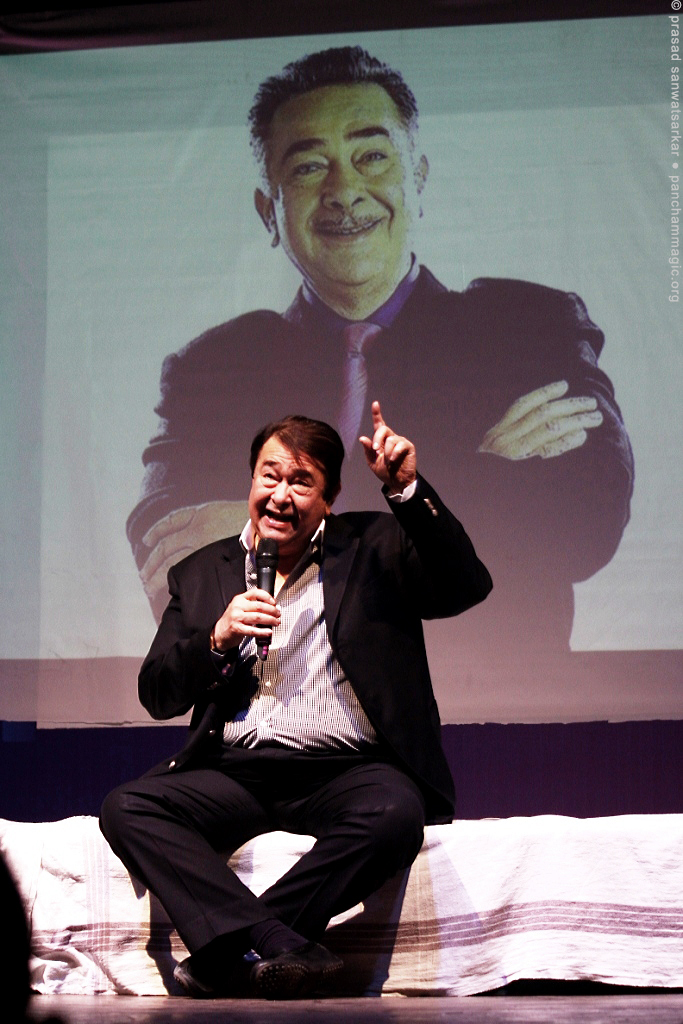 Acknowledging the warm applause from the audience, Randhir Kapoor said he is overwhelmed by the presence of so many Pancham fans, and if he had known that such a tribute is paid to Pancham, he should have come earlier for this show. Randhir Kapoor paid rich tributes to Pancham. He began by saying that if it were not for Pancham, he would not have become a star that he was in the 70's. He said the song, saamne yeh kaun aaya, which was just played was the first song he did with Pancham. If Jawani Diwani had not become a hit, he said, he may not have become a successful star. After Rajesh Khanna, who Randhir Kapoor said has the best Pancham tunes in his movies, it was he, Randhir Kapoor, for whom Pancham gave his best music. This statement was agreed by all with a huge applause. Randhir Kapoor said that in the beginning he was a bit skeptical about Pancham and jokingly used to refer to him paagal bengali. He said once he said gone to his recording studio and heard some ajeeb sounds, and wonder what paagal bengali is up to. On asking Pancham about the weird sounds, he came to know that Pancham is playing a soundtrack in reverse mode and this sound was heard in the Gulzar-directed Kitaab. On another occasion, he had gone to Pancham's recording studio and saw his musicians and he making sounds by blowing in the half-filled beer bottle. Again he wonder what this paagal bengali is up to. Those sounds were, of course heard in Mehbooba Mehbooba in Sholay. Randhir Kapoor made an interesting observation that he regards today's musicians not as musicians but as electricians – as most of the musical sounds are created by their machines rather than by real instrument.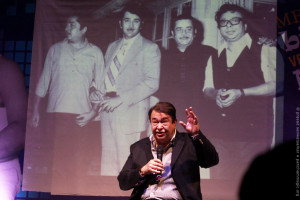 Ankush asked Randhir Kapoor that after hugely successful Jawani Diwani they did its follow up Dil Diwana together, whose songs were excellent but why had picture flopped. Randhir Kapoor skirted the issue by saying that some movie are best forgotten and Dil Diwana was one such movie, though he greed that songs are good. Ankush asked him about other Randhir – Pancham movies – Rampur Ka Lakshman, Rickshawala (when a song from Rickshawala – Kaee Tarah Kee Hansee Hoti Hai – Randhir was impressed and said – aap logon ke pas to Pancham ki aacha collection hai) and of course Dharam Karam, which was directed by him. Ankush asked him how Dharam Karam's came to be musically directed by Pancham. Randhir Kapoor replied that making a movie is a team work and since has has a good tuning with Pancham, he was glad that Pancham worked for a Raj Kapoor movie. Randhir said an interesting point – he said the humming words – la la lalaa la – in the mukdha of the song were Raj Kapoor's contribution. After hearing the tune of classic – Ek din bik jaayega – Raj ji was humming la la lalaa la, which Pancham had overhead and liked it and ask Raj ji, yeh rakh loon gaane mein, and Raj ji replied, hann haan rakh lo.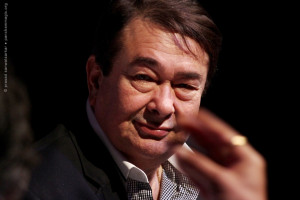 When the music of Bhala Manus was being discussed and song Jaan Pahnchaan to Pahle Se Thi, Randhir made an interesting point that this song was recorded for Kasme Vaade, but since that film had already become too long, this song was dropped and later on appeared in Bhala Manus which was produced by a gharib producer (Randhir's words). The music of Harjaee was also discussed. When the track Tujh sa haseen dekha na kaheen was played, Randhir Kapoor told us an interesting anecdote about this fabulous Kishore sung song. He said Pancham had played for Randhir this song during the recording of the songs of Harjaee and Randhir had taken instant liking to this song and asked him to give this song for Harjaee, but Pancham had flatly refused by saying that this song belong to another producer and as a matter of principle he cannot give him this song. After much prodding, Pancham had told him that this song was recorded for Nasir Hussain's under production movie Zabardast and this song also had word Zabardast appearing in the lyrics of the song. Randhir had given up on this song, until one day he was called in the lobby of the building by Pancham and asked tere ko woh zabardas waala gaana chaiye, you can take it now as that movie has been shelved, but you must record it today. Randhir immediately send his driver to fetch Gulshan Bawra and they the words zabardast were substituted by kashmakash and gulbadan in the song!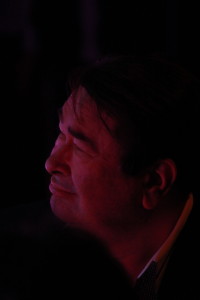 Ankush asked Randhir to us about the mischievous fun loving character of Pancham. How long their parties used to last – Randhir replied jab tak hosh rahta tha. Randhir Kapoor mentioned that he, Pancham, Gulshan Bawara and Ramesh Behl were quartet of friends and they had lots of fun together. One could feel his emotions when he said "ab to main akela hee rah gaya hoon… it started with Ramesh Behl leaving , Pancham followed..had the company of Gulshan Bawra till couple of years back..". He said he has good tuning with Pancham. Whenever Pancham was unhappy with his emoting on screen on his songs, he said to tease him `kyon paise poore nahin mile kiya '. And when Randhir noticed there is almost no interlude music in Gum Hain Kisike Pyaar mein, he teased Pancham by saying `kyon paise poore nahin mile kiya'.
Ankush thanked Randhir Kapoor and said hope they will also get Rishi Kapoor to come for this program. Randhir replied aap bulayange to woh zarror aayeega, Ankush smilingly said iss main aap ke maddat lagegee. Ankush punched the air and said it was a marathan interview for him. It was so surreal, for me, to see Randhir Kapoor so closely. He was like he is, jovial and easy going, in his movies.
Ankush then call all the guests of the evening and also Raj N. Sippy and the new year calendar, with Pancham appearing prominently on it was released by Randhir Kapoor. Each ticket holder were requested to collect a copy of the beautifully designed, small and compact calendar, in the intermission or at the end of the program.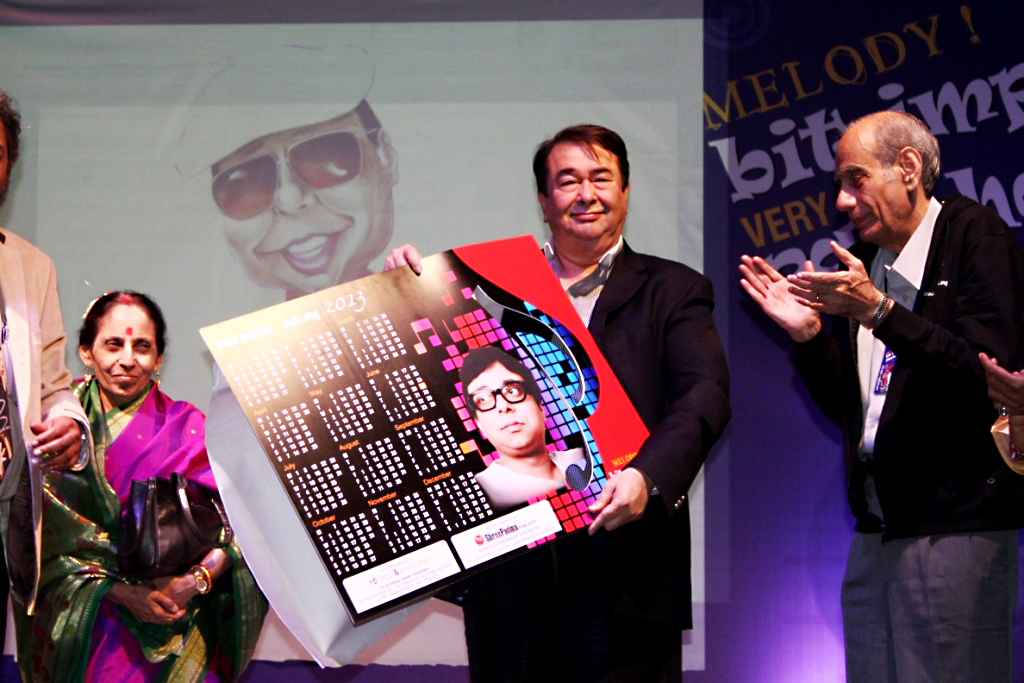 Ankush then called on the screen the next guest of the evening – singer Anand Kumar C. The song played in the background when Anand Kumar appeared on the screen was Rafi sung song from Shaan – Yaa Ali, aate jaate main sab pe nazar rakhta hoon.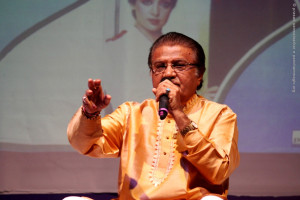 Anuksh said that we must be wondering why a Rafi song is being played now. He said the high pitched words Yaa Ali in this song are actually sung by Anand Kumr C, while the rest of the song is by Rafi. Ankush requested Anand to tell us more about this song. Annad said that when this song was being recorded, Rafi saab, who was then in his twilight of his career, had difficulty in singing the words Yaa Ali in high notes, as required by Pancham. Pancham had then summoned Anand Kumar, who used to live in suburb those days to Tardeo's Film Centre, and requested Rafi to wait. Anand Kumar gave a wonderful demonstration of Yaa Ali. Such a perfectionist Pancham is. Anand Kumar too had nice words to say about Pancham. He said he has sung many bit parts in Pancham songs, and once had asked Pancham to give him a full song, Pancham said your turn will come. Anand Kumar then told us the story about how his turn to sung a bigger part of Pancham song came about. Anand Kumar had sung a full song for Madan Mohan composed Laila Majanu.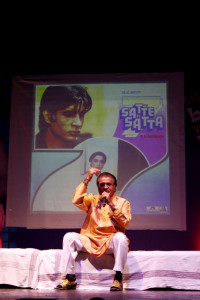 Once Pancham had asked Anand Kumar to come to his home and he introduced him to a producer sitting there by saying he is Ramesh Behl. Ramesh Behl, who was then making Kasme Vaade was saying o Pancham to give a new singer, whose voice had liked, a chance in his movie. He asked his driver to fetch a cassette from his car and played the song, which was sung by Anand Kumar, from Laila Majnu. Pancham looked bemusedly to Ramesh Behl and pointed to Anand Kumar to him by saying here is the singer whose voice you had liked. The song, pyaar ke rang se too dil ko sajaaye rakhnaa, which also sung by Asha ji, was recorded and included in the movie. Anand Kumar said he felt proud that he had got a Pancham song to sing and that too filmed on Amitabh. Anand Kumar also recalled how the song Hum Aashiq Hain Mit Jaayenge, which he had sung with Suresh Wadkar came to be recorded. Suresh and he kept forgetting the lines of the song, which is too long with several antaras, and Anand Kumar also was unwell on that day. Pancham offered to postpone the recording of the song, but Anand Kumar had insisted that they will finish it that day. Pancham was very happy with the song after it was recorded that day.
Anukush announced the intermission of the program, and before that Shemaroo, the sponsors of the prorgram, released the DVD `101 Silver Screen Stars' .This year, panchammagic.org had introduced a new concept – they have started the idea of presenting the original trailers of old Pancham movies … just like we used to see in the theater in our childhood. We were treated to the trailer of Carvaan. I think this is a splendid idea. Look forward to more trailers of Pancham movies in the future editions of the program.
After the intermission, Ankush introduced the guest of evening – Ashok Sharma and Zarin Sharma. Ashok Sharma, who is son of renowned music composer Bhagatram of Husnlal Bhagatram duo, had played sitar in many songs of Pancham and Zarin Sharma, who is a renowned sarod player had played sarood in numerous songs of Pancham. Ankush mentioned that both of them had appeared in an earlier edition of pogram in 2010, but had not come with their musical instruments, this time, they had come with their sitar and sarod.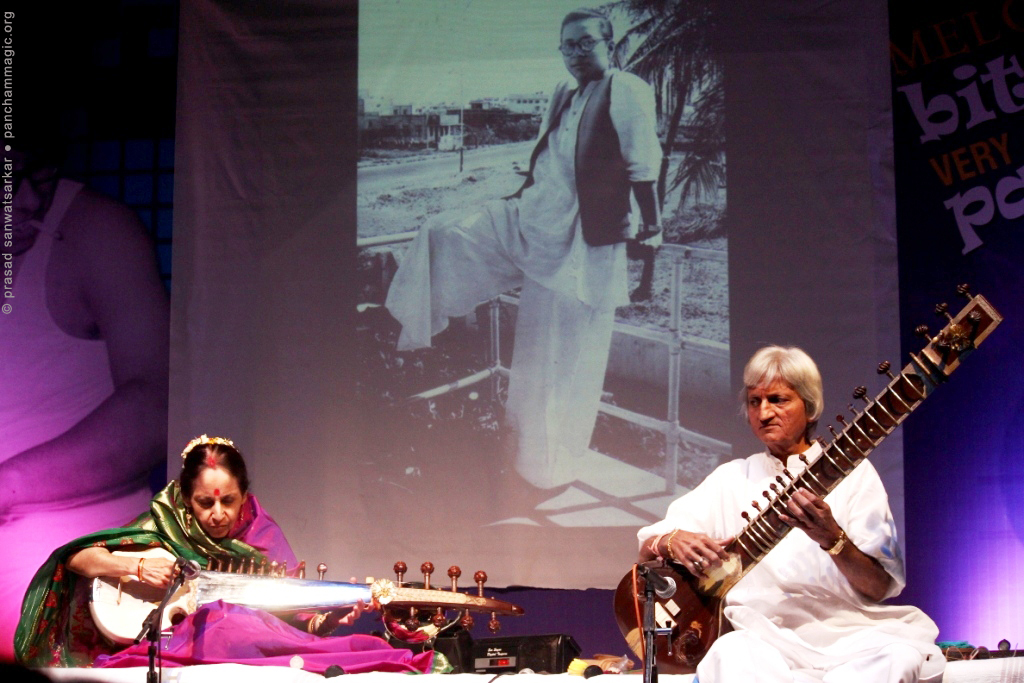 Ankush begun the discussion by observing that Pancham had got typecast as a musician who gave westernized tunes, but his classical based songs are equally good, but may not have become as famous as his westernized songs. Ashok ji replied by saying that Pancham's knowledge of classical music was vast and he expertly mixed classical notes in the westernized tunes. Zarin ji disagreed with Ankush and said that Pancham gave the classical and westernized tunes as per the demand of the situation of the songs in the movie.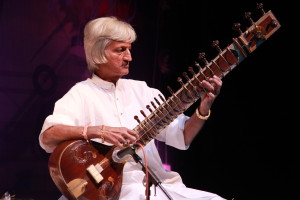 Ashok ji played sitar with the track of the several Pancham songs. The first one he played was from classical Beetee naa beetaaee rainaa which is based on raag Yaman, but antara of the song has a different feel. Both the parts were played expertly by Ashok ji. He played next the sitar which appears in the interlude of westernized tune of Pancham from Jawani – Tu Rutha To Main Ro Doongi Sanam . Ashok ji also played sitar, with the track, for two iconic Ghar songs – Aajkal Paaon Zameen Par and Tere Bina Jiya Jaaye Na, both these were hugely applauded and Ashoji had to play both of them again due to
demand of the audience, and Jamuna Kinaare Aa ja, Chhaliya Pukare aa ja and Main Tawaaif Hoon Mujra Karoongi from Mehbooba. Ashok ji also played the single sitar note which appears in the song Doli meN sawaar sajnee ka pyaar. Ashok ji then said that he will be roo.ba.roo with the audience and will play some sitar noes from the mukhda of the songs which the audience has to guess the songs. The Pancham fans present accepted this challenge and Ashok ji played notes from some Pancham songs like Ae Ri Pawan and Naam Gum Jaayega, which were guessed easily by the audience.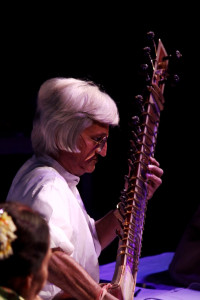 Ashok ji shared an interesting anecdote with the audience. He said a few days ago he was watching a movie called Maati Maangey Khoon on a television channel and when the song `chup jaa chand sitaron ke neeyat theek nahin,  appeared on the movie, he immediately called up Ankush and asked him has Pancham given music in movie Maati Maangey Khoon and have I played sitar in `chup jaa chand' song? Ankush confirmed both these to Ashok ji. Ashok ji said he had played sitar in so many Pancham songs and for most songs he do not know the names of the movies, as during recording the songs as in most of the cases, the song is recorded as `Production Nuumber 4, Song 3′. Ashok ji said when he heard this song he was sure that this is a Pancham song. The song was then played and Ashok ji played sitar, with the song's track, perfectly.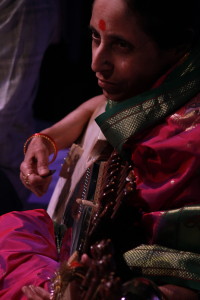 Zarin ji shared some memories of Pancham. She said Pancham had once told him that he feel liberated when he has to composed for the Puja songs, and feels confined when composing for the film songs. Once during the recording of Puja song, he had told her to play something ad lib. She said okay and started playing some notes on sarod. Pancham interrupted her and said no no, play something as if you are in a concert and playing something in the beginning ad lib. She then played some sarod notes which Pancham liked and it was heard in the prelude of a Puja song – Na dekona. She also mentioned that Pancham always recorded the part he needed for the song, and not more. He had confidence in them and was sure that what he needed for the song has been played by them perfectly. Once Zarin ji had said to Pancham, during recording rehearsal that should I play this music piece like this, will that be okay. Pancham was upset with her and said of course, if you think you can play it better this way then play it like this, after all I will get the credit for the song when it comes out if you play it better.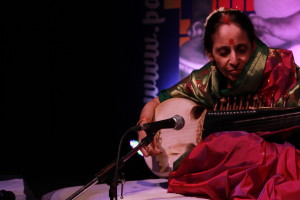 Zarin ji also mentioned one incident where Pancham wasn't getting the right sound from her sarod when he sat behind the console, but it sounded right to him when he stood in front of her amongst the orchestra. So he asked the sound recordists to go and check, and then she played her sarod piece again with all the orchestra, and Pancham again found something amiss. Pancham repeated this three-four times (sitting behind the console and then in front of her) – and finally stopped the recording and got the mike replaced, which might have been the culprit due to which Pancham was not hearing her sarod piece as he wanted on the console. Zarin ji said Pancham took great pains to check out the tonal quality of all instrument before okaying a song. Zarin ji said as Pancham himself had learnt the instrument., he knew the range and capacity of the instrument perfectly, or for that matter every musical instrument. That's how keenly he followed each instrument for his songs.
Ashok ji mentioned that Pancham's recordings for a song usually use to last for 5 – 6 hours and sometime it use to go on for 2 days until Pancham got the song recorded to his satisfaction.Towards the end of the programme, Ankush requested both Ashok ji and Zarin ji to play a small jugalbandi of sitar and sarod. It took some time for both of them to tune their instruments, but it was worth waiting for. It was a short and beautiful jugalbandi.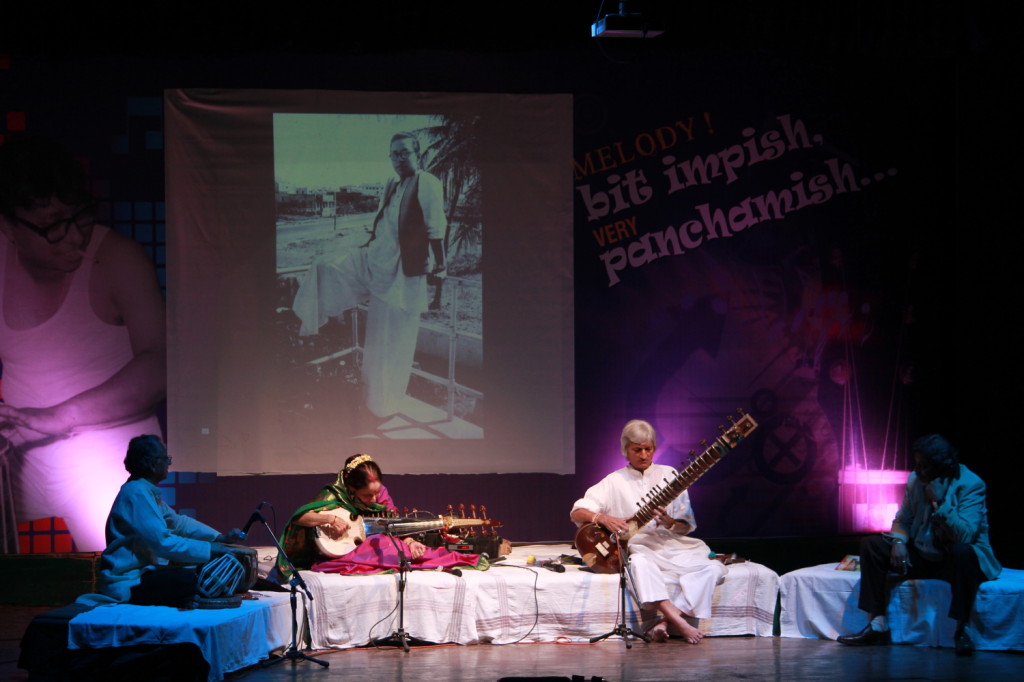 Ankush ended the programme by saying `aata punaha bhet hun 27 June laa' The program ended at around 12:00 a.m. It was 4 hours of exhilaration for me. Looking forward to 27th June and another edition of Panchammagic show.
Personal account of Panchammagic show, January 4, 2013, Tilak Smarak Mandir, Pune
Raju Bathija
panchammagic.org
Different Strokes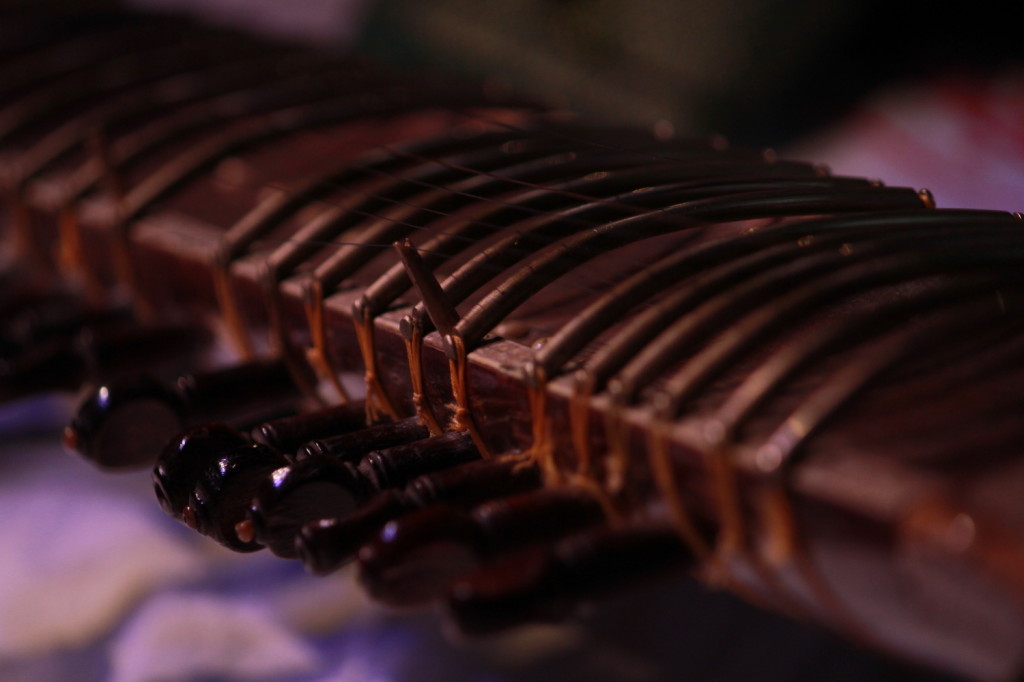 Photos By: Mahesh Ketkar & Prasad Sanvatsarkar
---