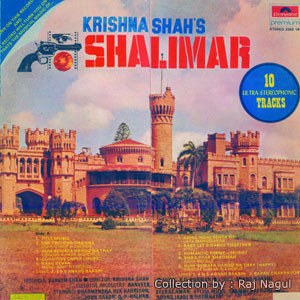 Song: Aaina Wohi Rahata Hain…..
Film: Shalimar (1978)
Producer: Suresh Shah
Director: Krishna Shah
Lyricist: Aanand Bakshi
Singer:  Lata Mangeshkar
A song which is said to be not fitting in the movie, but leaving that debate aside, the song is a gem in its own, oscillating between  happy and sad moments.
The songs starts on a sad note shifting to happier interludes reminiscent of past times. The first two lines of first 2 anataras also is more about celebrating love with the punch(or why love happened) coming only in last line.
Mukhda ( the rhythm based on dholak)
aaeenaa wo hee rahataa hai, chehare badal jaate hai
aankhon mein rukate naheen jo, aansoo nikal jaate hai
With first interlude enters Maadal, Violins, Keyboards depicting the romantic times.
First Anatara (shifts back to dholak)
pahalee mulaakaat kee, tobaa wo pahalee najar
kyaa ho gayaa, kab huaa, hotee naheen kuchh khabar
(kitanaa bhee dil ko sanbhaaloo, aramaa machal jaate hai)
Second interlude again depicting happier times with some lovely Santoor, Sitar, Violins
Second Antara (shifts back to dholak)
gulashan mein foolon ke saath khilate hain dil mein gulaab
hotaa hain jab pyaar to, lagataa hain paanee sharaab
(do ghoont peete hee lekeen ye honthh jal jaate hai)
Now comes the major difference with third interlude and third antara.
Zeenat catches Dharam red handed and Lata just stops at "Chehre Badal Jaa"…the racy violins as she runs towards her car, chorals adding to the pain, keyboards and flute dual playing on the shock factor, ending with slower maadal beat along with saarangi.
Last Antara ( note the difference in dholak play, along with violins following the lines)
Then starts one of the longest anatara, starting on lower scale. reaching on crescendo with "jhoothe vaade tere" and again coming to lower scale on same words seamlessly merging with the main mukhda…
bekhabar, bekadar, pyaar sach hain agar
dekhanaa yek din royegaa mere been
raah mein chhodakar, meraa dil todakar
muz ko tadapaayaa kyo, too bhee tadapegaa yoo
yaad rakh bewafaa, ye meree baddoowaan
toone jisake liye, muz ko dhokhe diye
wo teree dilarubaa, legee badalaa meraa
mai ye gam humanashee, bhool sakatee nahee
wo iraade tere, zoothhe waade tere
jab yaad aate hai, dil par bas teer chal jaate hai
Ritesh Gadhavi
panchammagic.org
---