Venue: Tilak Smarak Mandir at 7:30pm
Guests:
Pravesh Sippy – Producer
 Ashok  Gaikwad – Director
Ajit Varman – Music Director
 Amrutrao Katkar – Percussion
Vijay Katkar –  Percussion
&
Honorable Presence – Bhupinder Singh & Sunil Kaushik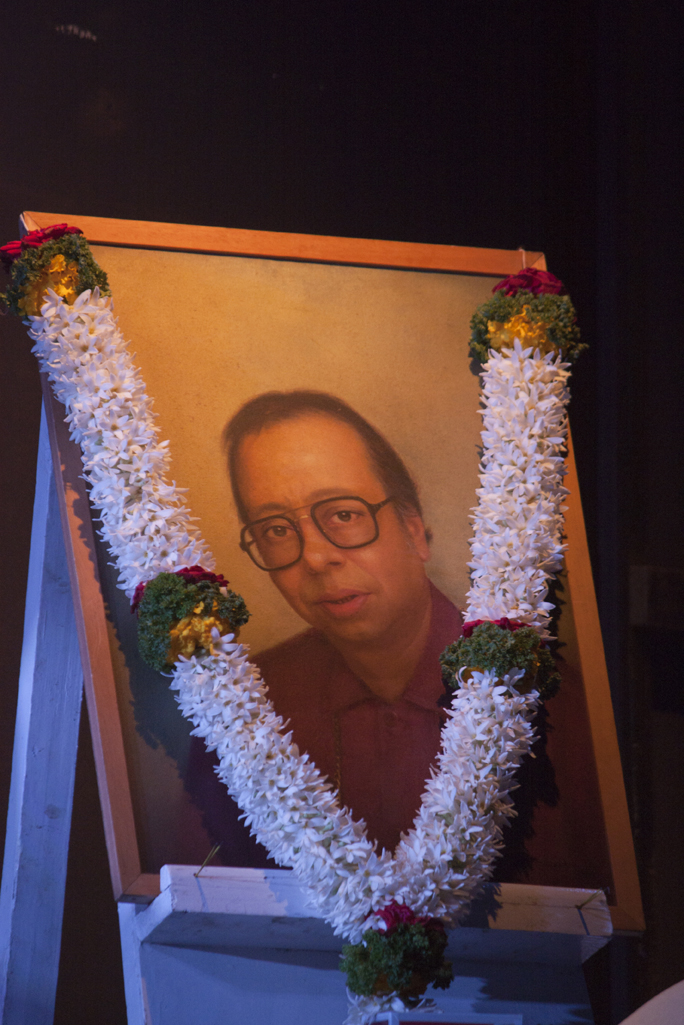 Being a Pancham fan, since don't know when, 2 days are of utmost importance to me — June 27 and January 4.  June 27 is a special day at our home, we we celebrate it at home by having a small party in the evening and by cutting a cake to celebrate the birthday of Pancham, an absent, yet present friend, of me.  This year, my family had to celebrate it without me as I was to my biannual pilgrimage to Pune for the Pancham's birthday show. This being my second visit for this not to be missed program.
My friends, Sudheer Kulkarni, who is part of the organizing team, had secured my seat for the show well in advance.  My journey to Pune began by the Shinghad Express from Kalyan, where I live.  This train also carried Kuntal Ghosh, another Pancham fan, who was to attend the show, his first. Thankfully the train was on time and the evening traffic in the Pune was normal.  Kuntal and I reached Tilak Simarak Mandir half an hour before the scheduled time of the programme.  Near the entrance of the gate, someone called out my and said `I am sure it is you Raju ji'.  I was a little surprised to hear this and was trying to recall the person who seemed unfamiliar to me. The person smiled and said I am Girish Iyer, your FB friend. Girish is one of the members of the Pancham froum on FB, and his comments and posts are to look forward to for his insights. He introduced me to my two other FB friends, and also members of Pancham FB group – Nandan Munshi and Sunil Desai. Girish and Nandan had came all the way from Ahmedabad and Sunil had came from Surat. "
The gates were open at exactly 7:30 p.m. for the patiently waiting Pancham fans.  I was among the first one to enter the auditorium. A glance my ticket showed my seat number as B5.  And the person sitting just ahead of my seat – A5, was Shri Amrutrao Katkar, who was an integral part of Panham's team of musicians.  And in the first row I spotted Bhupinder Singh ji.  I was dumbstruck for few moments, and gathering courage, I shook hands with Amrutrao ji and Bhupi ji and also took their pictures, with their permission.
Soon the auditorium began to fill with Pancham fans – I spotted quite a number of young men and women in the audience.  The wait was finally over – the curtains were lifted with the fabulous sound of Pancham's music – Doston Se Pyaar Kiya and the beautiful stage with Pancham in red muffler and black with guitar in hand was a sight to see.  This songs set the mood of the evening.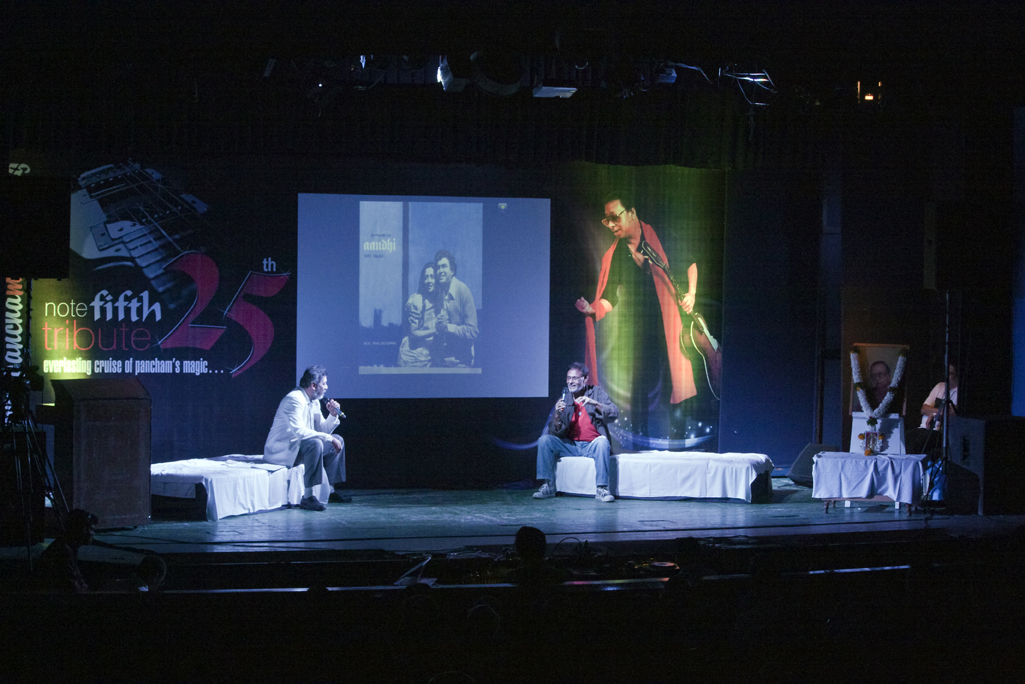 The host of the show, Ankush Chinchankar began the proceedings of the evening by welcoming all to the 25th and special edition of the Panchammagic show.  Ankush said at the very outset that film music directors, unlike jazz musicians or classical singers, are challenged to compose a song, either based on jazz notes or on classical music, lasting 3 minutes but fully conving the feeling of the situation of the song, the character's feelings,  to the viewers and also to make it hummable or memorable for the viewers.  Ankush rightly said that this limitation can be understood better if a musician tell us about the films songs, and also about the songs composed by Pancham.  He called on the stage, Music Director Ajit Verman, who had composed music for movies like  Aakrosh,  Vijeta, Ardh Satya, Saaransh, Janam  and other movies.  Ajit Verman began by saying that his home in Kolkata was quite nearby the home of Pancham's and that Pancham was a Burman while he was a Verman.  Ajit Verman had began his music career by working with such renowned personalities like Satyajit Ray and Salil Chowdhary.  Ajit Verman said that it is remarkable that Pancham's music had lived on ever after 18 years of his death and the living proof is this auditorium which is so full of Pancham's admirers.  Ajit Verman, for some strange reason, repeated this quite often during his conversation with Ankush.  Ajit gave quite a good explanation of why Pancham's music sound so distinctly different.  Pancham knew the importance of each and every musical instruments, however small, and where to place them.  And when the vocals came in the song, these musical instruments though subdued were heard equally well. A musical instrument formed the pulse of the song and it was heard throughout the song.  Pancham always composed as per the script of the movie and that is what made his music distinct.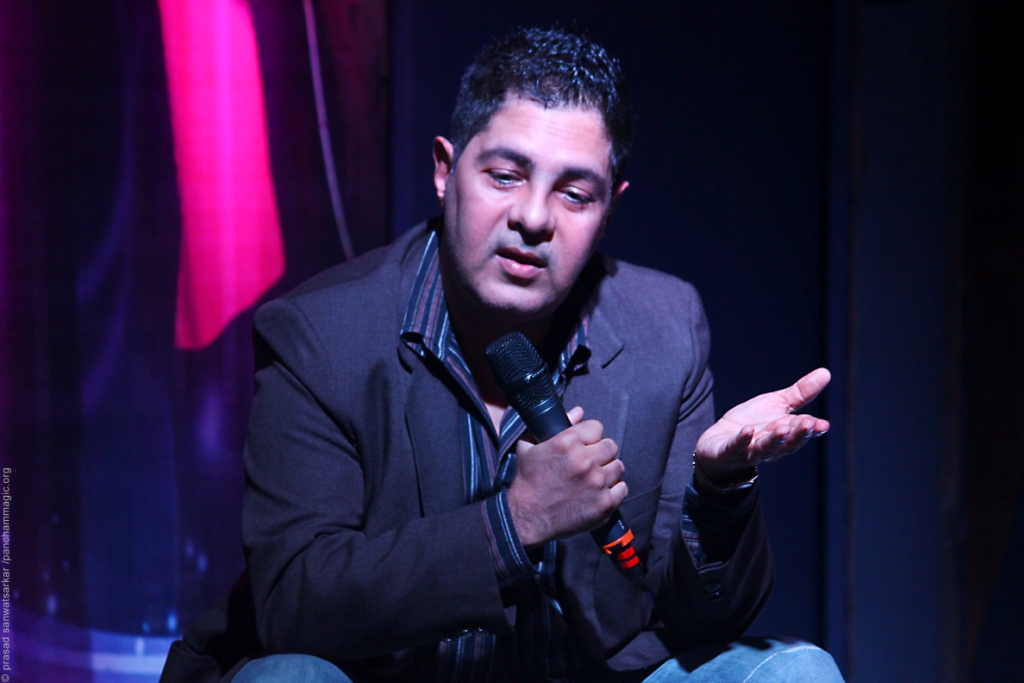 The next guest of the evening was Producer Pravesh Sippy, son of eminent producer N.N. Sippy.  Pravesh had had produced Aag Se Khelenge, the music of which was given by Pancham. Pravesh said at the very outset that he is not a musical man, so don't expect any technical details from him.  Pravesh said several interesting things about Pancham.  He said Pancham used to take juice out of a director about the script, story and setting of the movie.  He usually used to begin work on the music of a movie after hearing the complete script of the movie.  He usually created a song by making a tune first rather than working on the songs of the words to set it to tune.  Pravesh narrated a very heart-touching story about Pancham – in the late 80's when Pancham was having a lean period and had no films on hand, one day in the morning Pancham had arrived at the home of Pravesh Sippy. These days Pravesh had announced his maiden film, Aag Se Khelenge, and had almost finalized the music composer for this movie.  Pancham, Pravesh said, literally began crying and said to Pravesh to give him a film to compose music. There and then, Pravesh decided that he will sign Pancham for this movie, which got released in 1989.  Pravesh regretted that this movie could not help Pancham much, and only one song `tere naina mere naina' had become popular those days.  Pravesh said that Pancham's music has survived and got ever more popular after his death is testimony to the fact that he made his music with heart and wondered what Pancham could have achieved with today's technology, when technology is there but creativity seems to be dead.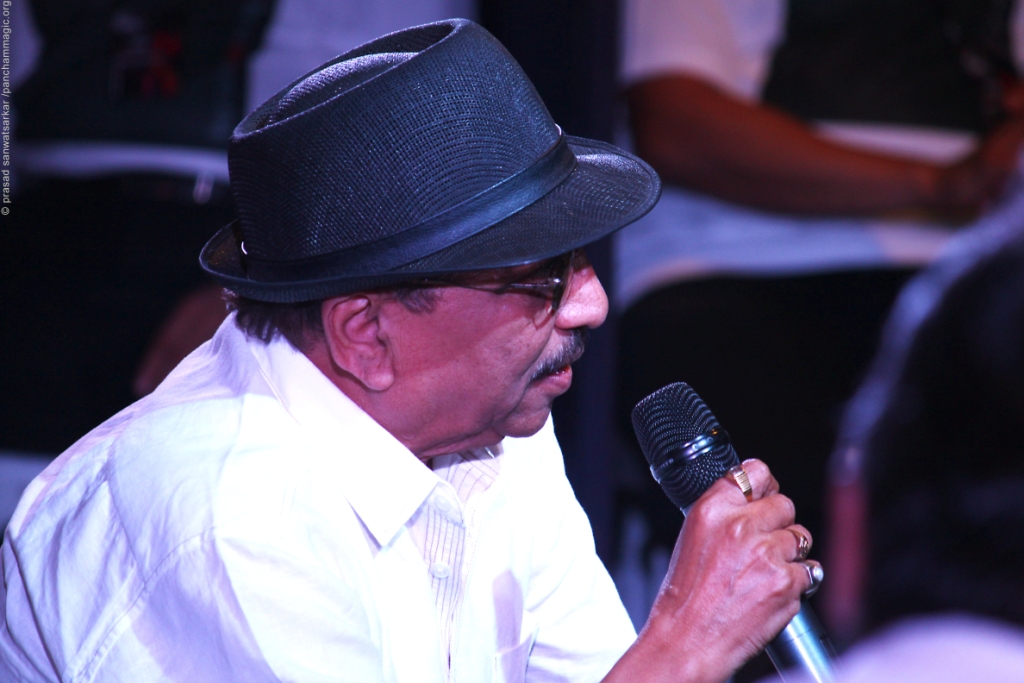 The next guest of the evening was director Ashok Gaikwad, who has  directed, among other movies, two movies  – Sarphira and Gunehgar Kaun – which were composed by Pancham.  Ashok was the most articulate of guests of the evening.  When Ankush asked Ashok to say something about him and in 5 minutes Ashok lucidly gave a biography of his life.  Ashok had started as 9th assistant to Raj Kapoor in Sangam and  slowly made his way as chief assistant director to Raj Sippy in Satte Pe Satta.  Ashok said it took him 19 years to graduate from an assistant director to a director.  The first movie directed by him was Sarphira which had a big startcast.  Pancham used to insist on listening to the complete script of the movies directed by him.  Ashok, like Pravesh said before, before began work on the music of the movie without listening to script of the movie.  When asked by Ankush why the second movie directed by Ashok, Gunehgar Kaun, which had excellent songs, had not become popular, Ashok said that the songs of this movie had got released about 9 months prior to release of the movie, and the release of the movie got delayed due to some reasons.  Normally the songs are released 1 month prior to the release and they remain fresh in the memory of public.  In the case of Gunehgar Kaun, the delay in the release of the movie had made public forget the songs of the movie.  Ashok said that Pancham as a man was fabulous.  Ashok used to look upon Pancham as a big brother and a friend. Pancham had fetish for chillies and had planted various kinds of chillies in his home garden.  Once, Ashok had sent the delicacy of his native place, Kolhapur, mutton achar, and Pancham took liking for,  and Pancham used to ask Ashok for this whenever they meet, about mutton achar.  Just a 10 days before the untimely demise of Pancham, Ashok had got a call from Pancham and he had asked for the mutton achar, and as Ashok was leaving for Pune at that time, he lamented that he could not meet Pancham to deliver his favourite dish.
Ankush then called on stage all the distinguished guests of the evening – Bhupinder ji, Amrutrao Katkar, Ajit Verman, Sunil Kaushik, Pravesh Sippy, Ashok  Gaikwad – on the stage to release the coffee table booklet commemorating 25th show of the Panchammagic. It was announced that this booklet will be given free of charge by showing the entry ticket of the programme, at the booking counter, after the show.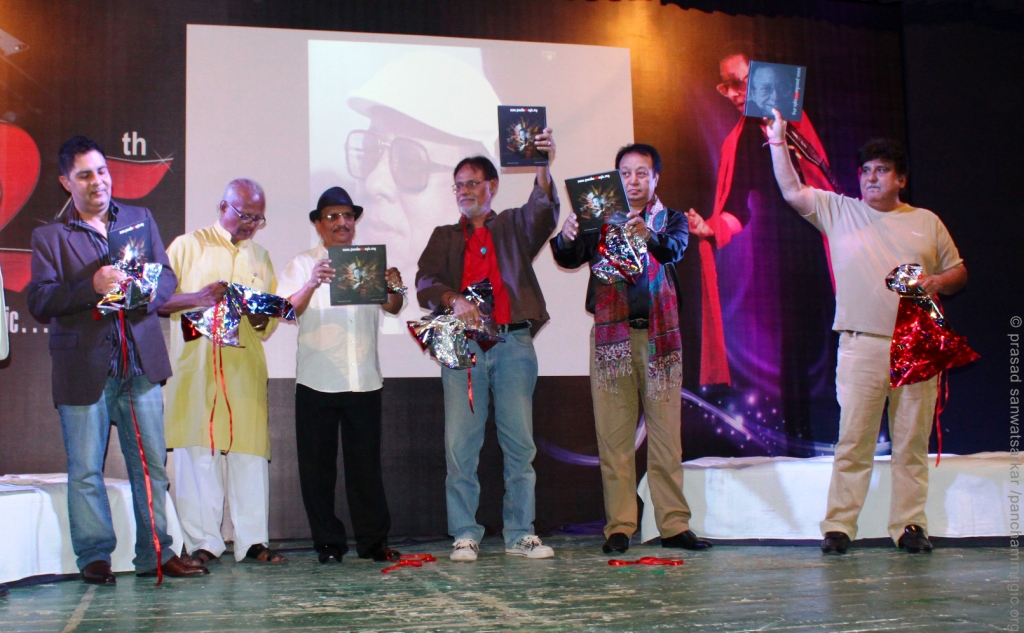 Pravesh Sippy, Amrutrao Katkar, Ashok Gaikwad, Ajit Verman, Bhupinder Singh and Sunil Kaushik, releasing the coffee table booklet commemorating 25th show of the Panchammagic
When Pravesh Sippy had narrated the incident that Pancham had literally cried at his home about being out of work, it seems it had touched a chord with Bhupinder Singh ji, as it had with most of the audience. Just after the booklet release, Bhupji gave a short and moving speech about why an artist like Pancham had to die.  Bhupi ji said that Pancham never used to get angry with his musicians of his team, but later he used to get angry with musicians and even used expletives sometime.  Bhupiji wonder why a person like Pancham had to die. He never wished anyone ill, and was friendly with most people.  Then why the same producers, for whom he gave hit songs, ignored him and did not give him films.  He said this fact should be explored and people should know facts. He said Pancham himself was also to blame as he had surrounded himself with people who exploited him.  Artists are innocent people, they do not have much knowledge of financial matter. Bhupi ji said that artists should be  financially secure, and should take care of themselves to survive in this world so as the creativity inside them prosper.   Bhupi ji then said sorry that he had said unpleasant things on Pancham's birthday and asked everyone to stand up and sing Happy Birthday to you, when the cake to celebrate Pancham's birthday was cut. Everyone in the auditorium got up and sung Happy Birthday To You.
A break of 10 minutes was announced at time.  During the break I happened to spot Amod Kashikar, who had created excellent RD Filmography, an application for Android phones.  Amod said the efforts are on to evolve this application further so as to make it interactive, rather than having it has reference tool. But various copyright issues are involved in it.  If this application, when tapped on a song, to play either a YT video or the audio version, it would just be wonderful. It was a pleasure to meet Javed Mahadik and Hemant Kulkarni during the break. I spotted a young girl taking an autograph from Bhupinder Singh.  As I do not happen to have a piece of paper with me, I requested the young girl to allow me to take picture of the autograph, which she happily did.
After the break the special segment of the program began.  Since it is 25th program of the series, it was natural to look back, and be nostalgic about how this wonderful programme came into being.  For me this was one of the highlight of the show.  The four founding member,Mahesh Ketkar, Ankush Chinchankar, Raj Nagul and Ashutosh Soman, on stage recalled their early struggle days, and about how this show came into being conceived.  To quote from the wonderful booklet released during the show:
"27th June 2000 was the day this flight of Panchammagic took off …"

"With a desire to discover and share facets of Pancham's music through a program without any live orchestras, but a kind of appreciation of music. Unfolding various aspects of his music through an audio-visual show."
With the belief that his music cannot be recreated, it was obvious that we played parts of his original soundtracks and our observations with whatever little understanding we had. To render authenticity and value to the discussions, our idea was to have msomeone who has worked with Panchamda.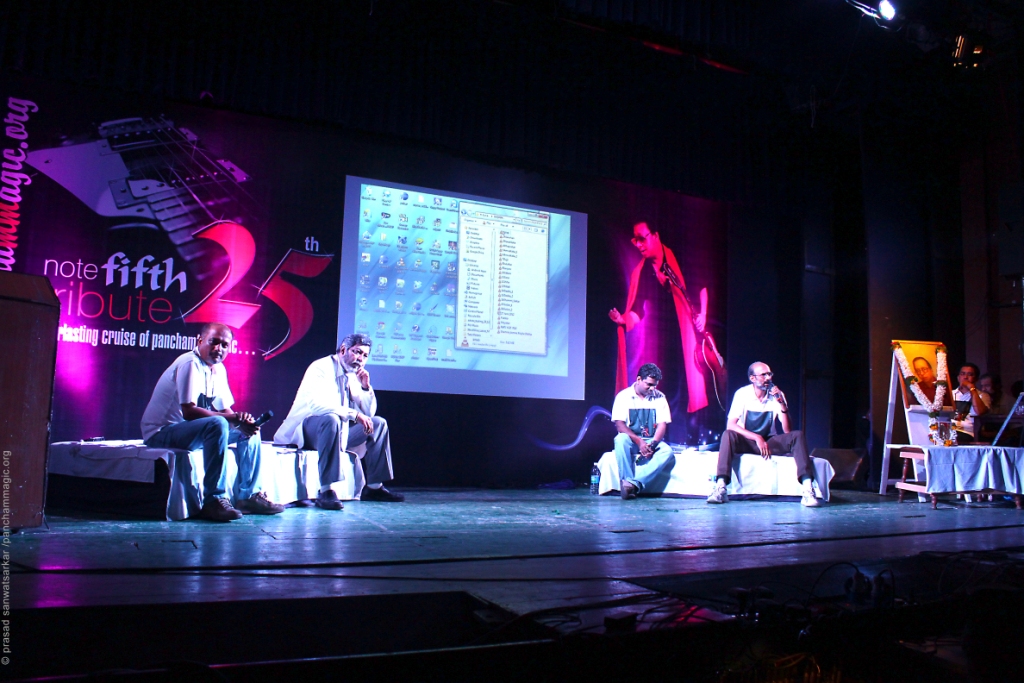 This is the mandate of the show.  One of my regret in life is that I live so nearby Pune, and yet till last show, had not attended this wonderful show. The clips and the talk that followed gave me a glimpse of the previous program.  Ashutosh Soman began by recalling how the first ever show was held at the Institute of Engineers before it switched over to its present permanent venue of Tilak Simark Mandir.  Ashutosh recalled how they got to know that Marutirao Keer lives in Ratnagiri.  And Raj Nagul, the driving force behind the show, actually called all the Keers of the Ratnagiri.  The 7th Keer turned out to he home of Marutirao Keer and they came to know that he lives now in Dadar. On calling on his number in Dadar, Mumbai, Marutirao had picked up the phone and said that Marutirao is no more.  In desperation, they had again called Ratnagiri number again and got the news that Marutirao is alive and was given their present address. How the organizers convinced Marutirao to participate in their second programme makes for a fascinating story.  Ankush had actually gone to Martuirao's home, in Dadar, Mumbai,  but was unable co convince him for participating in the show.  Next day Ankush had again gone to Marutirao's home with his complete collection of Pancham's records, cassettes and the first song he had played was `kisee ke vaade pe kyon aitabaar' from The Burning Train, which had prompted Martuirao to exclaim "are is mein to mein bhajaya hai" and had agreed to participate in the show. The audience, were treated to some excellent clips from the previous program.  Some of which will remain in my mind, ever. Let me recount here these clips.
In Sholay, whenever Gabbar Singh made an entry, there used be an eerie sound. Various people and varying theories about how this sound was created.  In one of the show, Sanjay Chakravarthy(hope I got the name correctly), son of legendary Basu Chakravarthy demonstrated how this eerie sound was created – it was created by long and stretched strums on a cello.
Raj Sippy, fondly called Daddujee, by the organizers of the show, had given a tough time in appearing at the show.  Finally, it was through his chartered account, who incidentally, was present in the audience, Raj Sippy made his appearance, and had been regular in the shows.  In one of the clip, which was shown, Raj Sippy recounted how in the recording of Dukhi pe dukhi ho song, Pancham had to play a dual role in the recording.  Pancham, along with Kishore, Bhupiji, Shailendra and Sapan was one of the singers and Banu Gupta was supposed to play a long piece of harmonica.  At the time of recording, Banu ji had breathing problems and after few attempts, Pancham hold him to take it easy and just leave the harmonica.  The singers' mike and the mike of harmonica was at some distance, and Pancham after recording his vocal part had silently tip-toed to the mike for harmonica recording and played the long piece in the the song.
Shammi Kapoor, when he had graced the show with his presence,was honored with a traditional pagdi and the shawl.  He was moved with this honor and actually had insisted on wearing the padgdi all the way to his way back to Mumbai.
Gulzar's clip was among the longest. He said why Pancham is still so popular even after so many years of his death is because he gave music for his generation.  Everyone gives music, but he he gave music with some `nayapan'.  He gave something new in music which has made him a legend.
Gulzar also recalled in a clip how after ek hi kHwaab kaee baar dekhaa hai maine, Pancham had said to Bhupji, to keep aside the headphones now and take up the guitar and play it as per the notes of the song.  The result is, of course, an evergreen classic song, in which guitar strums are as magical as the song itself.  Such an extempore music creation.
There are other memorable clips, but these were to be seen and applauded there.  The organizers of the show deserve all the credit for organizing this show twice a year to make us understand Pancham the man and the Pancham the musician. The journey continues.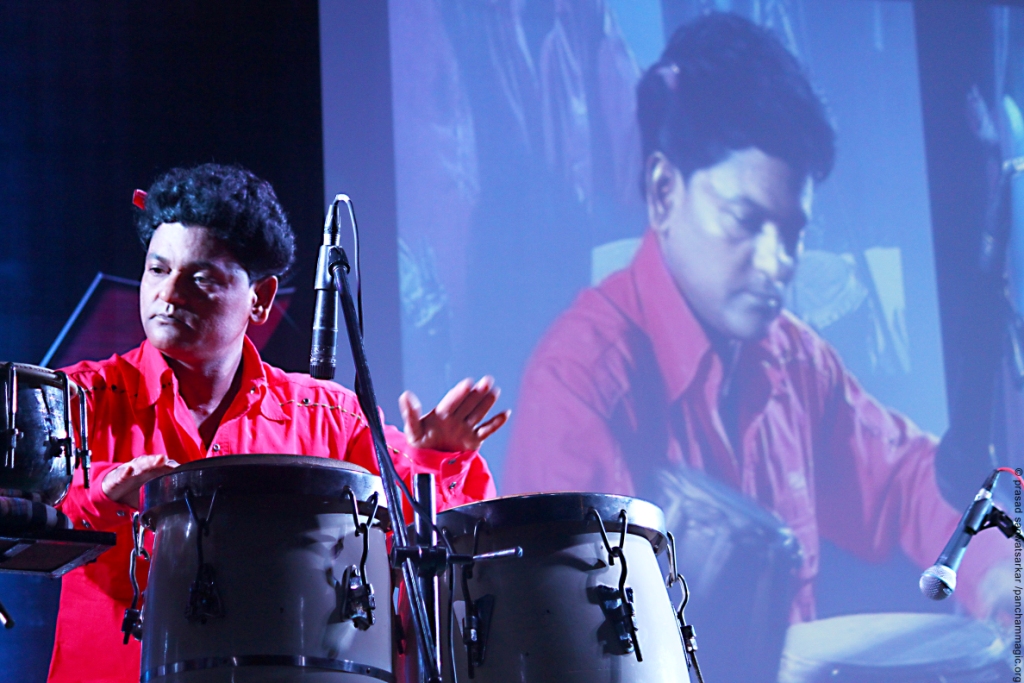 The last part of the show, like the climax of a Hindi cinema, was explosive and just unbelievable.  One of the percussionist, Viju Katkar, son of Shri Amrutrao Katkar, gave a glimpse and insight about rhythms of Pancham.
Stage being set up with various rhythm instruments for performance by Viju Katkar
Viju Katkar, was also part of the Pancham's team of musicians had played tabla and other rhythm instruments in many songs. Viju gave some amazing demonstration on tabla, madal, reso reso and other instruments.  Her performance was seen, to be heard, to be believed.  His father, Shri Amrutrao, who was seated just in the next row, applauded whenever Viju demonstrated some difficult rhythm pattern. Vijay gave demo on many songs – beginning with bancha ae haseeno, roz roz aankhon tale, mujhase bhalaa ye kaajal teraa (the reso reso in that song was played by his father Shri Amrutrao), jaane do naa,aa dekhen zaraa.  My favourite, and most of the people in the audience, was of roz roz aankhon tale, in which he played tabla, madal and reso reso, amazingly well, and was asked for a repeat performance. And Viju sportingly obliged.
Ankush declared the show over after the performance by Viju Katkar, at 12:30 a.m. with a see you on January 4 next year.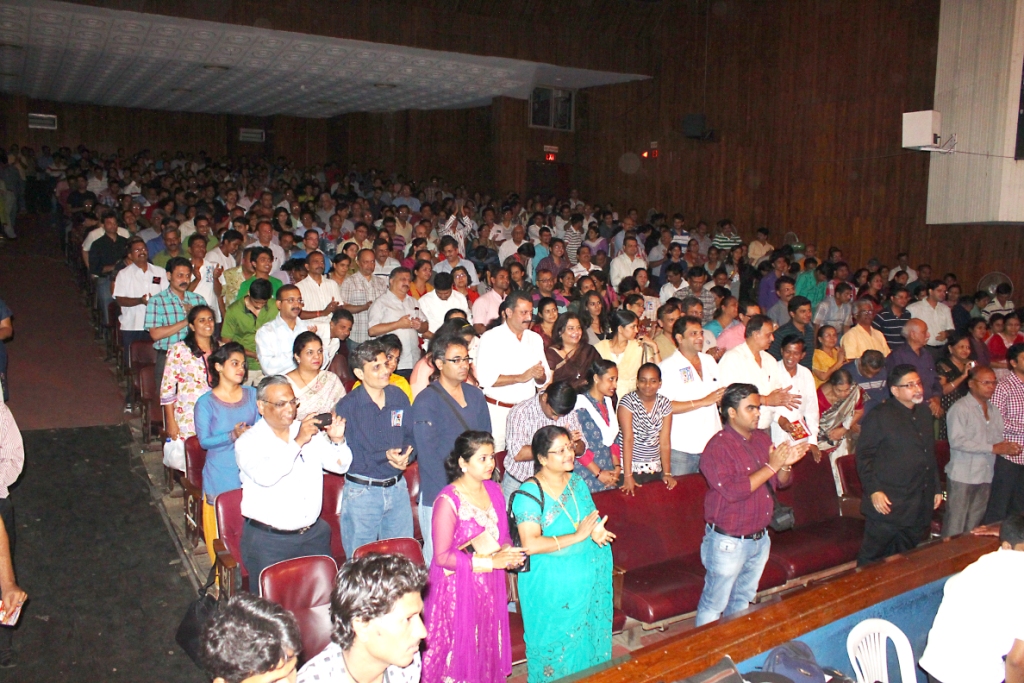 What an amazing evening it was. After collecting my copy of the booklet, it was time to say goodbye to Sudheer and friends from Ahmedabad.  Luckily I got an auto rickshaw to Pune station in a short time. Pune station had two quite food joints at the station which remain open 24 hours for travellers.  After a a bite of veg burger and coffee, it was wait for my 2:00 a.m. train to Kalyan.  The express train, from Secunderabad, and going all the way Porbandar, was amazingly on time and reached at Kalyan at 4:40 a.m.  And I was home at 5:00 a.m. An evening for me to remember for a long long time.
The above is my personal account of Panchammagic.org show organized by panchammagic.org at Tilak Simarak Mandir, Pune, June 27, 2012.
Disclaimer : As most of the program was conducted in Marathi, and as have very limited knowledge of Marathi, let me apologies beforehand for any incorrect or nonfactual account of the program. 
Raju Bathija
panchammagic.org
Different Strokes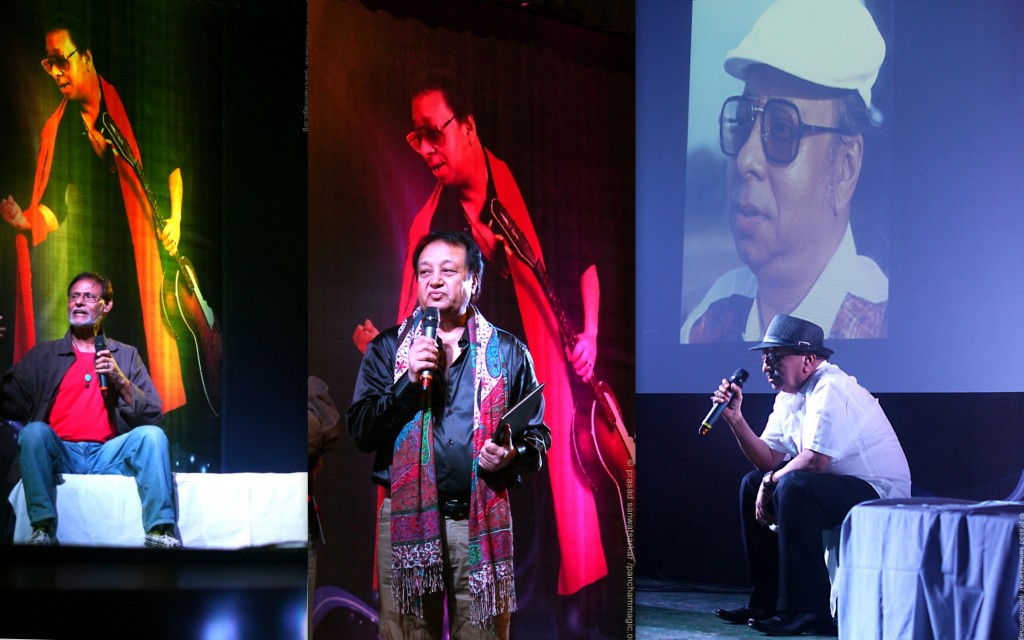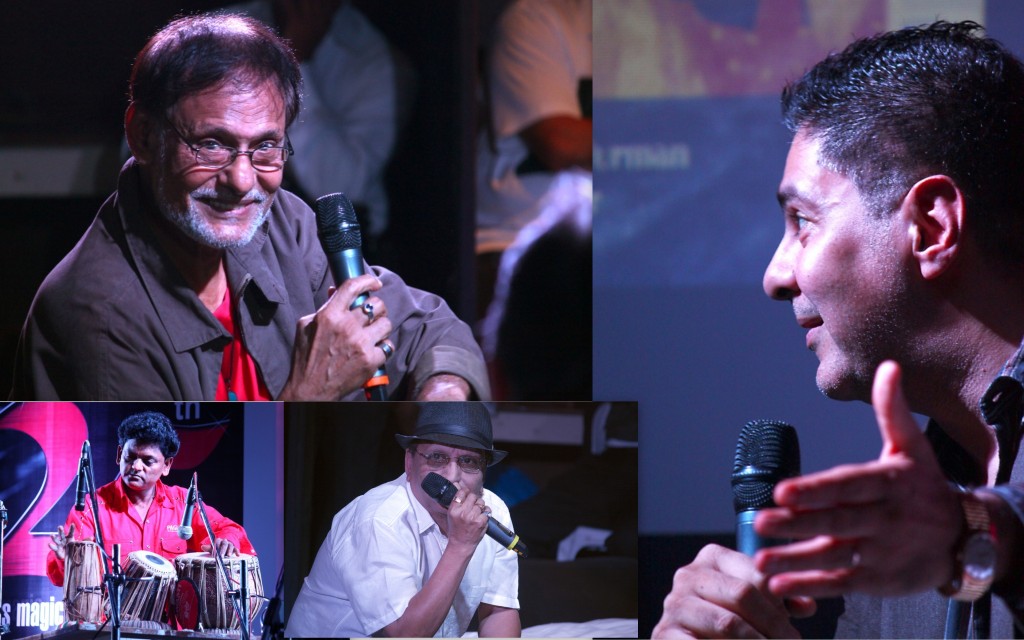 ---