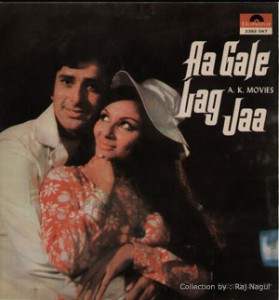 Song: Naa Koi Dil Me Samaya
Film: Aa Gale Lag Ja (1973)
Producer: A. K. Nadiadwala
Director: Manmohan Desai
Lyricist: Sahir Ludhiyanvi
Singer:  Kishore Kumar
Although the song is emotional and has tragic touch it is still very dynamic, and going with this aspect , similar to "dil ke zarokhon mein" from Brahmachari( MD: S-J). Thats because the Hero is a roller skating champion and most of the songs are on skating background , hence  that dynamics is part of the character of the Hero.
Pancham always scores in the opening itself and this song is no exception to it, the mix of violent violins , emotional accordions and the dynamic brass leaves you spellbound.
Kishore then takes over the song in his complete control with his superb renditions. We have been enthralled by his unique use of yodeling in the happy or light mood songs but here we have a surprise when he does a similar sort in this sad song in "o jaan-e-jaan-hooo…aa.. janeman".
The song goes better and better from prelude to mukhada to interlude to antara.
Kishore starts the antara starts with a controlled voice but see how he is taken over by the emotions and at its end (just after the yoddle) a fantastic violins rushing to the foreground and taking us to the mukhada.
Now I want to highlight this very end situation as I perceive it. He seems to be at the brink of emotional outburst at "poochhogee jab bhi.." and the violins give him just that breathing period while say, consoling him.
Kishore is so much at the low that even after that fantastic violin bridge he enters in the mukhada hummimg "hoon..hoon..hoon..hoon" and not "naa koi dil mein samaya" ( which is only at the start and the end).
A special mention needs to be mentioned about Kishore's pronunciation of select words which adds a great value to the word and the song. Just two examples
1 Consider his rendering of  "nishaani" in
"tum jo mujhe de gayee ho
ek khubsoorat nishaani" and
2. the way he embraces the word "liptaake" in
"liptaake seene se usko
kat jaaye gee zindagaanee"
Use of the orchestration is just fantasrtic and that of the church bells very innovative and effective due to its perfect placement.
As I mentioned, this song has that dynamics of roller skating and Pancham doesn't miss the opportunity to simulate it. Just listen to the rhythm particularly in the antara which goes something like "tik tak.. taak..doo.doo"  simulating perfectly the strides of the skating and also sounds so well gelled and effortless
The movie version has those inquisitive questions posed by Sharmila to Shashi in the preceding scenes that keep  haunting Shashi but he cant reply her on her face directly due to his own "majboori", Then we have this lovely song where he opens himself ,actually answering her queries,
Doesnt then the back-questioning "jaanti ho? " after mukhada and every antara sound more meaningful and touching, then?
Saahir's perfect mukhada still haunts me whenever I get emotional over Pancham and Kishore, make me sing "Naa koi dil mein samaayaa..naa koi pehlu mein aaya, jaake bhee paas rahe tum hee"
Sudhir Kulkarni
panchammagic.org
---