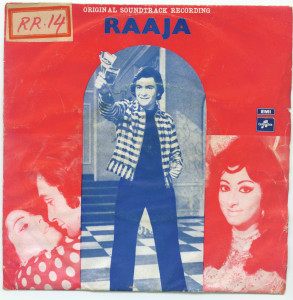 Song: Kal Yahan Aayi Thi Voh
Film: Raaja (1975)
Producer: Sandow M.M.A.Chinnappa Devar
Director: K.Shanker
Singer: Kishore Kumar
Raaja is a relatively lesser known film of Pancham, For me , too, the only childhood memory of Raaja was the radio promos presenting the "whaao whaao" song ( kaun hoon main..kaun hai too). Later on, thanks to the HMV compiled album "Tumke Milke", I met a superlative duet "jee chaahe" by Kishore-Lata. While the EP gave me the cute solo by Lata, "saiyaan too hai naam kaa", the VCD presented the Asha romantic, "mere roothe balam se" . And then it also had this lovely breezy solo by Kishore, composed by Pancham for that lively and lovely Rishi Kapoor, "Kal yahaan aayi thi who".
The start of the song which has the combination of charging and dynamic violins and strumming on foreground that reminds me of the start of "Maangi thi ek dua" (Shakti), the common feature being the sheer excitement , be it the arrival of "babe" or a "baby" in a man's life.
Kishore's singing has that authority equally complemented by Bakshi-ji's mukhada "kal yahan aayi thee woh..aaj phir aayegi wo" demanded by the situation and the lovely dreaming along the extended ending of "aaye to haaye mazaa aa jaaayeeeeeeeeeeeee".
The interludes have the same combination of shooting violins, romantic flutes, the strumming and the keyboard phrases. The sort of drunken and lazy-cozy feeling that's given by those keyboards is well complemented on-screen by showing multiple mirror images of the heroine
The antaras have some interesting structure which open with the exuberant first phrase followed by the linger on second one ( like "dilbar jaani" or "de gayi dhokha") with the lovely yodeling touch by Kishore The repeat happens but the linger is again on second and not the fourth phrase.
The brief but leisurely strumming and the windup by violins thereafter to crossover to mukhada tune just shows the total control Pancham possesses over the composition.
The skipping of mukhada "kal yahan" after the first antara and the entry straightaway into the second interlude just complements the excitement graph and enhances the pace, something you can surely expect from Pancham to break the pattern and please the listener with the unexpected twist.
Kaash..Pancham phirse aa jaaye..to kitna mazaa aa jaaye. Missing you, badly, Pancham.
Aa jaao yaa bulaa lo.
Sudhir Kulkarni
panchammagic.org
---