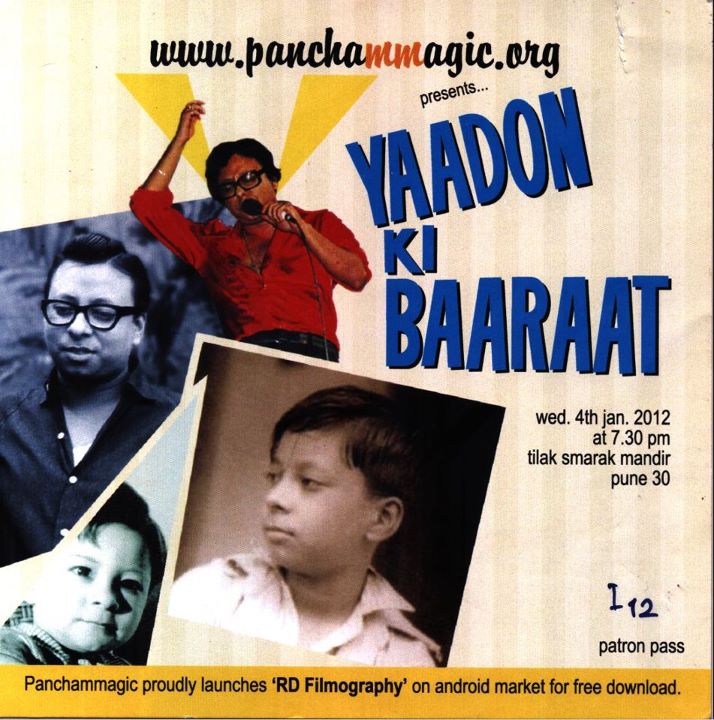 Words and Tune
 A personal account of the Panchammagic show organized by Panchammagic.org, at Tilak Smarak Mandir, Pune, January 4, 2012, on the 18th death anniversary of Pancham.
I have a few regrets in life, one of which is I had not learned Marathi, though being born and brought up in a small town in Maharasthra (my mother-tongue is Sindhi).  Though I had picked up some words of Marathi and could understand most of it, but spoken Marathi is still beyond me.
More of it later.
Another regret was though I knew of a wonderful Pancham show being organized every year on 27th June and 4th January by passionate Pune Pancham fans, since last 11 years, I had, till yesterday had not attend it even though Pune is just a few hours' journey from my home.  Well, this regret is now longer a one, as I attend Panchammagic show yesterday, January 4, 2012, which was 18th death anniversary of dear Pancham, courtesy Sudhir Kulkarni.  The following is the report.
The show was to start at 7:30 p.m.  Sudhir had warned me well in advance about the show timings and also of the evening Pune traffic. Well, The Train was on time and thanks to a benign auto walla I reached half an hour before the start of the show.  It was a pleasure to meet Sudhir in person (he is Param Pancham Bhakt, and no picture of himself but of Pancham on his FB, thankfully I had several of mine on FB so Sudhir could recognize me instantly).  Sudhir also introduced me to Ashutosh Soman and Rahul Pande.
The show began a little after 7:30 p.m. A word about Tilak Smarak Mandir. I was quite impressed by the auditorium, in general, the seats and the audio system in particular.
It is quite a huge auditorium, with the balcony.  Fittingly it is named after one of the great sons of Mahrashtra.  Soon the hall begin to fill with Pancham fans and before the show began, it was full of ardent Pancham fans — Old, middle-aged (like me), and young ones.  The person on left and right of me were in their early or mid 20s. Pancham fans everywhere, it seemed almost surreal.  I had a very good seat, I/12, and had a clear, and centric view of the stage.  Soon, the curtains lifted and the auditorium was filled with magical Pancham sounds — the prelude music of medley songs of HKKN.  Oh, what a great start, I said to myself.  Whistling, foot taping and the echo of Wackao. Great ambience. Soon the first host of the show, Ashutosh Soman began the proceedings, in Marathi.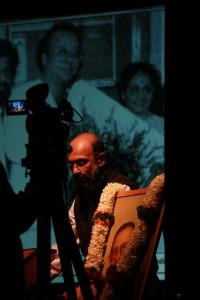 For a moment, honestly, I was taken aback.  But soon realized that I am in Pune which is the cultural capital of Mahrashtra, I should have learned Marathi. So I had to pay extra attention to what Ashutosh was saying.  I would understand that the show was begun correctly with a homage and tribute to departed souls who were associated or worked with Pancham.  Tributes were paid to Mrs. Vandana Vitankar, who wrote both the Marathi serial title songs which were composed by Pancham , "Yaala jeevan aise naav" and "Shodhu kuthe kinara", Gautam Rajadhyaksha, Sachin Bhowmick, Shammi Kapoor ji and Dev Saab.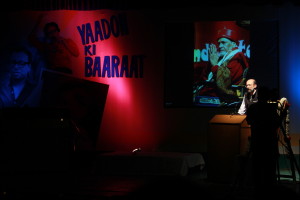 About Shammi Kapoor ji, Ashutosh read out a quote by Hrithik Roshan, in TOI, which is worth repeating it –
"… the death of Shamji should not be mounred, but rejoiced.  He lived a full life,for him I would not say rest in peace, RIP, but DIH, Dance in Heaven".
About Dev saab, Ashutosh said that Panchammagic could not invite him for a show and this will always remain a regret for the group.
After the curtain raiser and HKKN tune, pianist. Chitti Pillai played Yaadon Ki  About Chitti Pillai– Very humble person. He was a popular musician in stage shows, Manoharida spotted him and brought him to RD camp in 1988. Chittiji was part of RD's Dubai, S. Africa and the very last Cochin shows. We approached Chittiji at the 11th hour really, on 31st Dec. But without any tantrums, he graciously accepted our invitation. So special thanks to him. [This paragraph added by Ashish Kashikar, one of the organizers of the show.]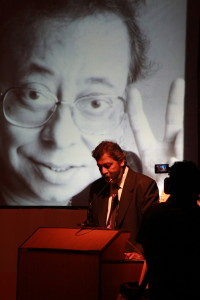 The 2nd host of the evening, Ankush Chinchankar, then took over. In chaste and fluent
Marathi, which I was beginning to follow (for this had to thank 3 of my office colleagues,
with whom I had worked for last 24 years and acquired a workable knowledge of
Marathi). In clear and to the point words, Ankush introduced the theme of the evening — words and tunes. How difficult it is to fit words into a tune.
One of lyrics who could do it fluently and whose words were as good as the tunes
they were set in was Majooh.  Ankush said that they could not invite Majrooh saab
earlier to talk about his association with Pancham, his son, Andaleeb, has been invited to share Majrooh saab's association with Pancham. Hence the tag of this year's programme — Yaddon Ki Baraat. Majooh penned numours lyrics — 402 to be exact — which were set to tune by Pancham. Several short audio clips of Pancham-Majrooh songs were played.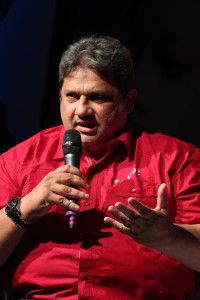 Ankush then invited Andaleeb on stage and began an engrossing conversation with him. Andaleeb at the beginning apologies for not being well versed with Marathi, and said that he will talk in Bombaiya Hindi.  Ankush begun by asking Andaleeb, why Sultanpuri after Majrooh saab's name.  Andaleeb said that Majrooh saab's real name is Asrar ul Hassan Khan, but since they were from Azamgarh, district Sultanpur, his father had decided to add Sultanpuri in honour of the district he was from.
Andaleeb then went back in time, Yaddon Ki Baraat, and shared several memories about Pancham.  Andaleeb said at his home, they always referred to Pancham as Pancham Bhaijaan (how endearing, I said to myself).  Pancham's relations with Majrooh were very very cordial. Among Andaleeb's memories, these two remained etched in my memory.
Andaleeb, when he has about 11 years old, had gone with Majrooh Saab for recording of a Pancham song – rut hai milan ke, from Mela.  Pancham, Majooh and Andaleeb had gone to singer's cabin to give last minute instructions to Rafi saab and Lata ji just before the recording, and left the singer's cabin, but Andaleeb had remain in the singer's cabin through the recording of the song.  Andaleeb said it is greatness of both Rafi saab and Lata ji that none of them had shooed him away, and allowed him to remain in the singer's cabin.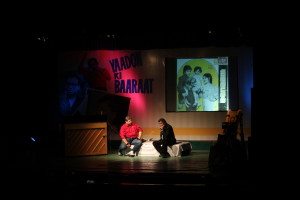 Another unforgettable incidence Andaleeb mentioned as about movie Yaddon Ki Baraat.  Nasir Hussain had requested Majoorh saab that the lyrics of movie should not be too poetic as the story involves youngsters who are not supposed to have poetic learnings. Majrooh saab had written lyrics of a song, of which tune was already approved by the director.  On hearing the lyrics, Nasir saab was upset with Majrooh and said he do not want poetry in the lyrics and almost rejected the song.  Pancham had then intervened and had said to Nasir saab that the lyrics written by Majrooh saab fits both the meter and the tune of the song and the lyrics should be retained. Despite being the captain of the ship, Nasir saab had relented and given in to Pancham's suggestion.  No prize for guessing the song – the song in question was Churaliya hai, which had remained a cult song. 
Andaleeb stressed the point that earlier it was respect for each other's work and the earnestness of the work was the reason behind the gems of songs created.Andaleeb said that we all love the songs penned by Majrooh saab, but he took great pains to fit the exact words in the songs, keeping in mind the characters who will be emoting them on screen. Majrooh saab was an avid reader and everyday before retiring he had a book in his hand.  He knew how to play around with words. One example Andaleeb gave of a song from Inkaar, which was directed by Raj Sippy, who was present among the audience.  Majrooh saab was stuck at a word and called his driver, who was Marathi speaking and ask him what is the Marathi word for black ant, mungda, the drive had replied.  That is how the song Mungda was written.
Several genre of Pancham songs, written by Majrooh saab were discussed. Ankush wondered why Waadiya mere daman from Abhilasha was a tandem song, which could easily have been a Rafi-Lata song. An interesting and innovative editing of these two similar, yet different song was played for us, as a Rafi-Lata duet.  Similarly, tum bin jaaon kahan, Kishore and Rafi version were innovatively edited and played as a male duet. This song really brought the house down with cries of once more.
Andaleeb also remember about how Rishi Kapoor was not sure that a better qawwali can be created in HKKN, after Parda hai parda in AAA, which was released that year, which accorrding to Rishi was the ultimate.  Pancham took this as a challenge and created an all-time great qawwali.
Before the half time break, Ankush invited Raj Sippy, pianist Chitti Piillai, Homi Mullan ji and Chaitanya Padukone on stage and a new year 2012 calendar designed by Panchammagic.org was released.  A copy of this calendar was given to all in the audience.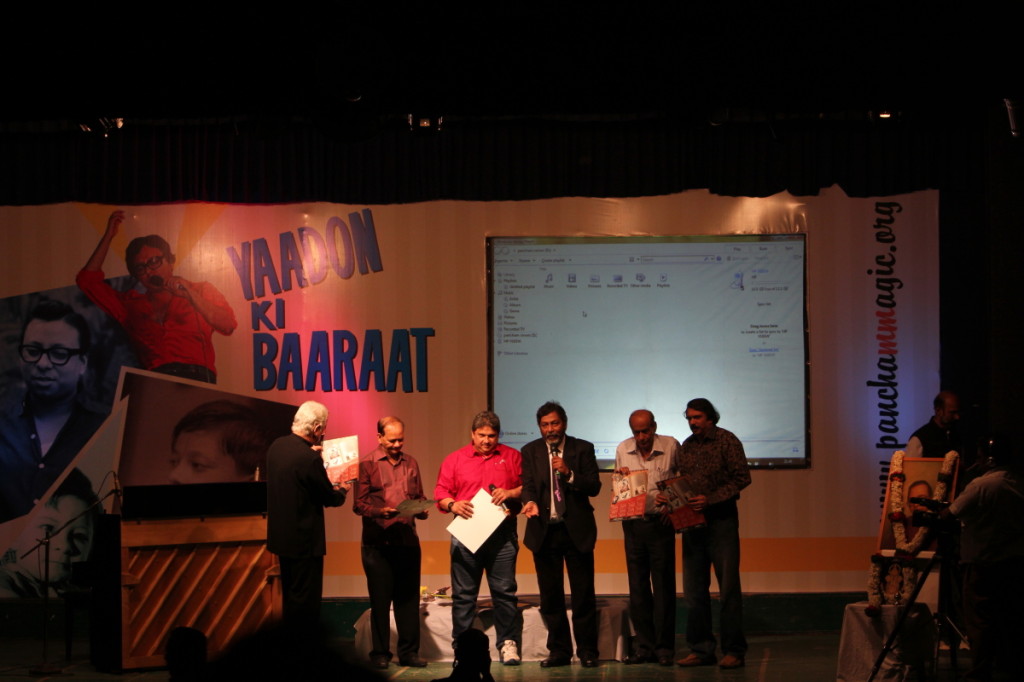 During the break I was keen to meet Ashish Kashikar and Amod Kashikar.  I spotted Rahul Pande near the stage and asked him for Ashish. It was a pleasure to meet Ashish in person, who in turn introduce me to Amod, who stood shyly nearby.  I chatted a little while with Amod and congratulated Amod for his wonderful creation RD Filmography and wished him success for his innovative idea. Sudhir also joined us and enquired if I was enjoying the evening, which I certainly was.
After the break, Ashutosh introduced RD Filmography Android application, which is created by Amod Kashikar. This free searcable application lists all the 292 Pancham albums, with songs and lyrics names, and is for Android 2.1 version onwards and is available in Android Market for free download.  Ashutosh said the copyright issues were being sorted out so as to play YT songs when clicked on songs. This application, which is already available on trial basis, since past week, in the Android market already had more than 1000 downloads. This innovative application was then officially released to big applause from Pancham fans.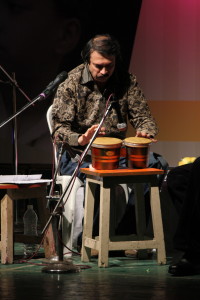 Ankush then invited the other guest of the evening, Chaitanya Padukone on the stage. Ankush mentioned that it is the first time that a journalist, who happens to be a Pancham fan, was invited to talk about Pancham.  Chaitanya, who writes regularly for Mid-Day, Mumbai, said that Pancham was responsible him taking up the profession of journalism.
Chaitanya had gone to meet Pancham after he had been awarded FF for Sanam Teri Kasam.  He had said to Pancham that I am your big fan and wanted to do an interview with you. Pancham had replied that you cannot be a fan and also take my interview. Pancham advised him to come back as a journalist and as a critic and then take his interview. This has inspired Chaitanya, who also is an amateur musician, to take up journalism as career. Chaitanya shared several memories of Pancham. He said Pancham was fond of four Fs — Food, Fish, Football and Fusion music. Pancham had told him that he do not like to create western style tunes and classical compositions give him creative satisfaction.  Ankush asked Chaitanya that we all are fans of Pancham, but who were Pancham fan of. Chaitanya said Pancham was fan of Jaikishan of SJ, and greatly admired the songs created by Jaikishan.  Since football was passion with Pancham, he was fan of great football player Pele and had his pictures all over on his walls.  Pancham was also fan of singer Louis Armstrong, and like Louis, Pancham wanted to be known as unconventional singer.
Once Chaitanya had asked Pancham what is the connection of football and music and Pancham had replied both these have scores, and like in football, if Pancham scored a hit song he used to refer to it as goal ho gaya.  Chaitanya also shared two heart-breaking stories about Pancham in his later years. At the launch of DPH at Hotel Taj Mahal Pancham had told him how he felt upset and disheartened at the unceremonious way he was removed from Ram Lakhan. And at the success party of QSQT, where Pancham was the chief guest, he was sidelined and was sitting all by himself in a corner. Chaitanya was asking everyone for Pancham and no one seems to knew. Pancham had spotted him and asked a waiter to point out Chaitanya to him.  Truly heart-breaking.
Chaitanya had also brought his own bongo drums on which he gave a very good demonstration of soul beats used in various Pancham songs like Dum maro dum, jaane ja dhoondata phir raha.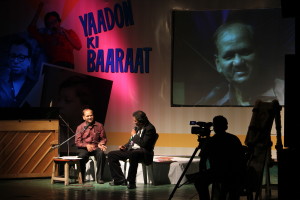 The last guest of the evening was pianist Chitti Piillai, who was
associated with Pancham team in the later years. He had played piano in
Tumse milke song in Parinda and in later Pancham movies.  Ankush
mentioned that it is the first time an acoustic piano has been brought
to stage for Panchammagic programmes.  Chitti Piillai played several
Pancham tunes on the piano which really mesmerised all.  My favourite
were three ultimate piano songs – pyaar diwana hota hai and suhane
chandini raatein and hamein aur jeene ke.  Words cannot describe the magical ambience created when Chitti Piillai played several lovely Pancham tunes on piano which had all of us in a spellbind.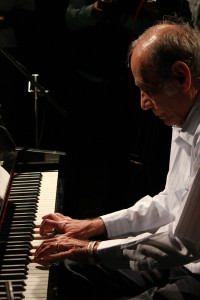 Ankush then invited Homi ji on stage and requested for tune on piano. Homi ji said that he has not touched piano for the last 20 years but he will play a tune for the Panchammagic.  He played a western tune to a great applause.  Homi ji endearingly mentioned that he had leanred to play the piano to earn the love of his (would be) wife.
The last tune played on piano by Chitti Piillai was Jeevan ke din chotte sahi, with with the programme ended to a great applause.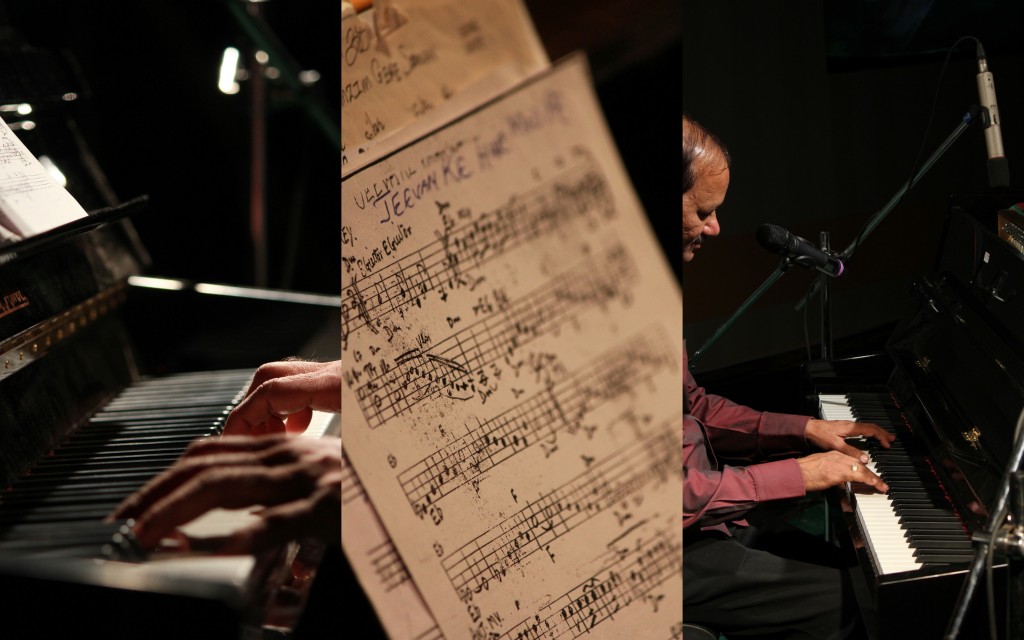 Before curtains were drawn for the evening, Ankush announced that this yar's 27th June programme will be the 25th programme of Panchammagic and it will be something special and hoped to see us all again.
*************
Disclaimer: This is a personal account of the show, as I saw, heard and as my mind registered it.  It is written from  memory, i.e. without any aid of technology.  I apologize for any error, omission or incorrect reporting. It is possible that I might have misheard or misunderstood something which is written above.
*************
Raju Bathija
panchammagic.org
Photo Courtesy: Mahesh Ketkar , panchammagic.org
---