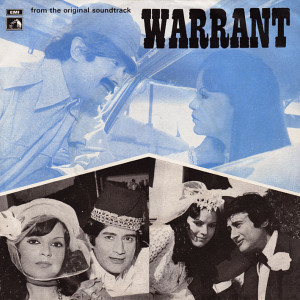 Song: "Suno Bhai Baaraatii"
Film: Warrant (1975)
Producer: N.P.Singh
Director: Pramod Chakravorty
Lyrics: Anand Bakshi
Singer:  Kishore Kumar & Chorus
Kya baat hai, kya baat hai, kya baat hai are the only words in Dev Anand style which I can say for this song.  Pancham always created best of his tunes for Dev Saab. The song is situated in Goa that's all pancham wanted to know. He has used perfect Goan music, chorus and what not.
Beginning of the song has exactly the same style of chord (This is only on LP) which was used in Bombay to Goa's Dekha Na Hai Re…  Rhythm starts in typical goan fashion in 6/8 form. Chorus once again takes you to old Goa, singing in Konkani.  The accordion supports the Goan tune along with Trumpet. Then comes the first new instrument which was indigenized version of South African Kalimba made out of umbrella ribs. The same sound was heard in Raja Rani's "Jab Andhera Hota Hai" and background of Sholay played by none other than our PanchamMagic's senior most member and Pancham's original artist Mr. Homi Mullan.
Kishor's special Dev Anand suited voice portrays Devsaab in front of the eyes. The song starts in same 6/8 pattern rhythm. However there is a dramatic change as soon as first interlude music starts. It starts with typical Banjo in Spanish/Hawaiian style but the rhythm pattern is now 2/4. Very short M1 once again and antra starts continuing 2/4 pattern. The link line which is nothing but the replica of sign line (Sajan Sajani Ki Akela zara chodo) comes back in 6/8 pattern.
It is unbelievable what pancham did by continuously changing the beat patterns from 6/8 to 2/4 to 6/8 again. I do not think any other MD has even thought of doing so, forget doing it. Second interlude music (M2) carries the 6/8 pattern with chorus singing same Konkani words. Once again the switchover from 6/8 to 2/4 comes from chorus singing "Zuilili Zuilili Zuilili….." and antra continues in 2/4 just like 1st one. M3 continues with typical Goan band in 6/8 (reminds me of Bachke rahena re baba ) again chorus helps Pancham to bring it back to 2/4 pattern with their "Zuilili Zuilili.." At the end of the song chorus takes over where Kishorda has left and fades out the song with trumpet overlaps.
All in all the song gives perfect feel of songs sung in Goa during marriage times.  A perfect song for the situation of Marriage and background of Goa.
Ankush Chinchankar
panchammagic.org

---