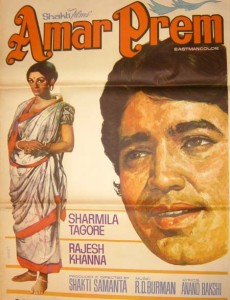 Year: 1971
Producer: shakti samanta
Director: shakti samanta
Lyricist: anand bakshi
cast: rajesh khanna / sharmila tagore / vinod mehra
Alibaug, a small town at the sea shore and those 2-3 years of childhood, from where the memories start taking shape with the first admission to the school. 38 years back, it was a quiet serene place and we came across it as my father was transferred there as a routine procedure in his job. The government quarters were just a few minutes away from that beautiful beach and from where we could listen to the 'sea', making its presence felt through the magical surroundings.
Our school, the small market, this beach and an observatory adjacent to it was all in close vicinity. And distant was the only theatre in the town, 'Mahesh Talkies', where my college going siblings would frequently go to watch movies, and would talk endlessly for hours about them. Or would listen to the songs on 25m band aka Radio Ceylone or on Vividh Bharati.
For me, the little girl that I was, it was only the special films like Jay Hanuman, Sampoorn Ramayan or Ashirwad, which I was supposed to watch. But one day, it was a surprise opportunity to get to see a certain Rajesh Khanna on screen, about whom my sisters and her friends would be talking almost every day. That was Amar Prem, a family entertainment movie and so I allowed to the Mahesh Talkies with Aai and Aaji. The title seemed grand or divine and my faint memories allow me to recollect this fact that I saw Rajesh Khanna for the first time in this movie but what has remained etched in my mind is the little Nandu.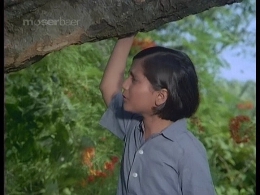 In many a story I had read or heard about step-mothers or about how cunning or selfish they are. This was the first time I was watching it on that big, silver screen. Nandu, his sauteli maa and towards the end, the grown up Nandu with the motherly Pushpa, are the few images registered in my mind. 'Bada Natkhat Hai Re' was the solitary song I could remember. It was obviously not an age when one could understand the relationship between Anandbabu and Pushpa.
Amar Prem came across repeatedly in various stages of life. And it was only when I grew up that I was attracted to the music of Amar Prem.  Those were the days of Chhayageet, the single, weekly half an hour slot on Doordarshan about film songs. 'Chingari Koee Bhadke' would feature quite regularly on it.
Pushpa with her back towards the camera, that 'nauka', and the lantern moving with the flow, that yellowish, soothing light and 'there but lost in his own world' Anandbabu, singing in the voice of Kishore Kumar. The lone song from this film Doordarshan would telecast and that too so many times, as if it was the only song suitable for the tv audience.
Later on, in college at Ratnagiri, we saw Amar Prem on Matinee. (Matinees were all about old films those days) and the same week, two days earlier on a regular show, we had watched Amitabh's Kaalia which was re-released. So it was a period when Amitabh had long back captured the reigns of superstar status from Rajesh Khanna.
This time, Amar Prem had a totally new impact. Obviously, more than Nandu, it was for Anandbabu, Pushpa, the sensitive underlying nuances of their relationship, the performances, meaningful dialogues, Shaktida's sets, Anand Bakshi's lyrics and RD'S music that had taken the total control of heart. It was for all the hypnotic effect of all these together.
One had already lost sleep over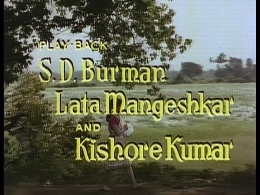 Lata's Raina Beeti Jaaye. The aalap at the start, the pain in that musical expression was enough to make one restless. Anand Bakshi's punch –lines like 'Kuchh Toh Loag Kahenge' or 'Seeta Bhi Yahan Badnam Huee' would get instant and spontaneous appreciation. And as I keenly listened to 'Doli Mein Bithhaaike Kahan' running with the titles, it strongly made a place of its own in my sensitivities.
In spite of all this, Amar Prem was too innocent against Aamitabh's action-packed performances. And I remember the taunts on Rajesh Khanna from my friends. Still, it was a realization that a director called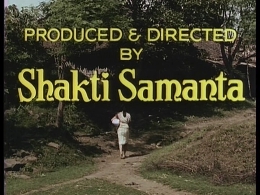 Shakti Samantha was making some important and definitive statement through this film.
Years passed. Music of Amar Prem continued to play, or appear on TV.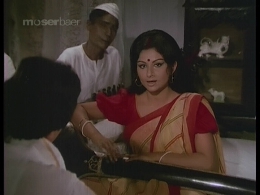 'Raina Beeti Jaaye'was still number one in my heart but now, I was taken over once again, like in my childhood, by 'Bada Natkhat Hai Re'.
I am amazed with the thoughts of how Panchamda has conceived this tune and what could have been playing on Latabai's mind while rendering this song. Set in Raag Khamaj, known for 'shringar' through thhumri or dadara, the way pancham adds effortlessly an altogether different feeling of compassion or benevolence, just mesmerizes you.
Recently Amar Prem was telecast on Doordarshan and in titles appeared a name, Bibhutibhushan Bandopadhhyay. The man who had written the stories on which Satyajeet Ray had based Pother Panchalee and Opoor Sonsaar has also written Amar Prem, which explains the unusual thought and treatment behind this film.
Now the evolution of my personality and changes in sensitivities resulted in a new bond with this film. Nandu, the child and Pushpa, showering him with love and care came forth relating to some new experiences in life.
Anandbabu and his parallel life with Pushpa, living with their own fate and journey of life, leading to old age, the unexpected arrival of the grown up Nandu back to the town and him taking her with him forever was so touching.
At the end, while Nandu is taking his mother in a cart, it is the beginning of Durgapuja. The symbolic connection of devotees bringing statues of Durga when Nandu is on way with his mother presents a unique montage.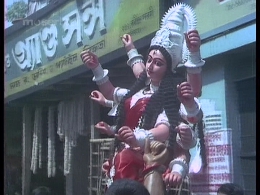 This last scene from the film always brings a certain haziness in front of my eyes and I am unable to decide if it is just for the moment or has it anything to do with all the memories carried through since childhood…
Prabha Joshi
---