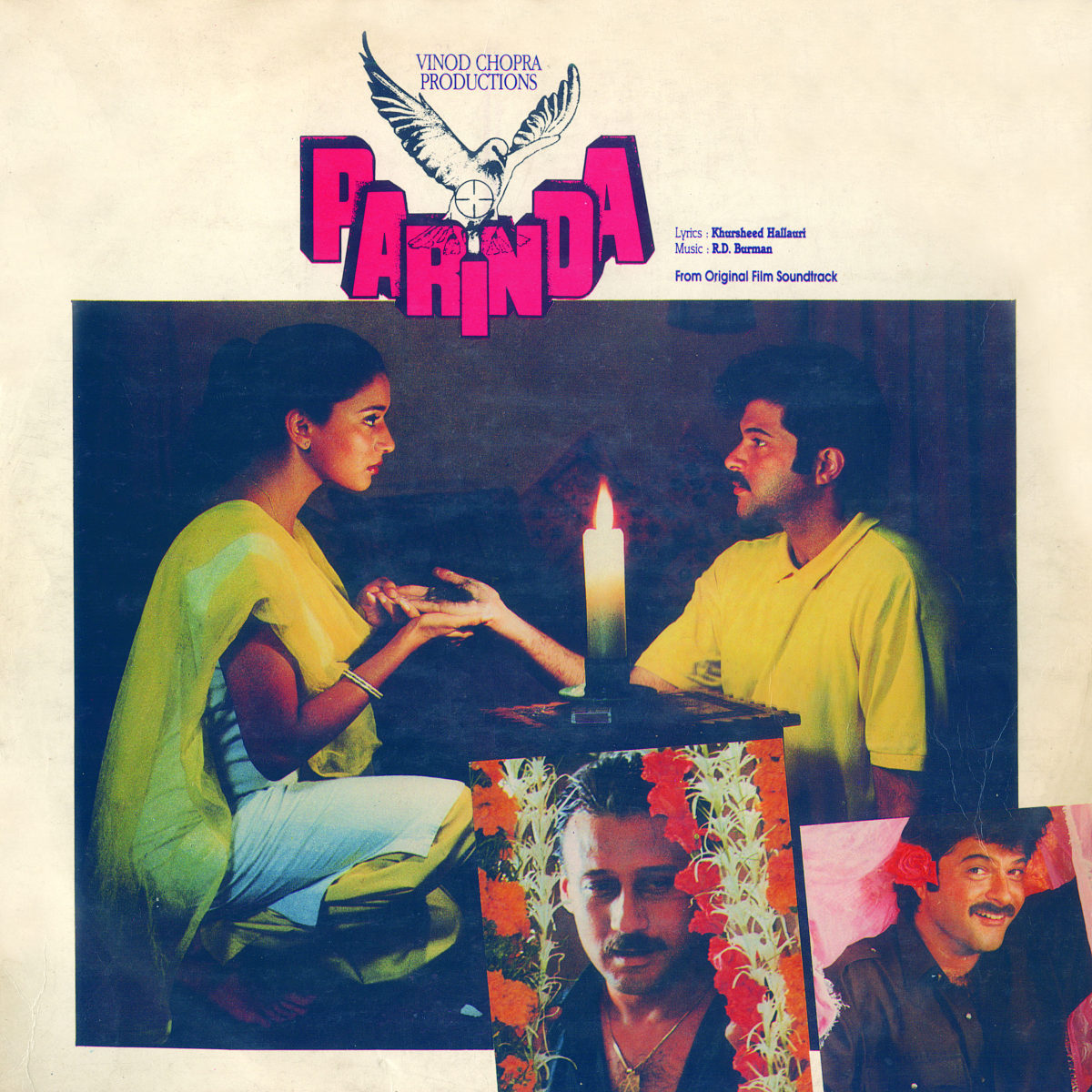 Song: "Pyaar ke mod pe…"
Film: PARINDA (1989)
Producer: VIDHU VINOD CHOPRA
Director: VIDHU VINOD CHOPRA
Lyrics: KHURSHID HALLAURI
Singer: ASHA BHOSLE , SURESH WADKAR
A Pancham-bhakt friend of mine had once remarked "Meri maiyyat pe yeh gaana zaroor bajaana". The song in question is "Pyaar ke mod pe" from the 1989 Vidhu Vinod Chopra thiller 'Parinda'. Pancham lovers have always placed this under-noticed song at the very top of their favorites' list!
Cut to the movie scene preceding the song sequence. The vibe exudes somberness….Anil Kapoor is frustrated at the futility of a fighting life; he is out on a revenge mission. Madhuri Dixit, his childhood sweet-heart, is out on a wooing spree – trying her best to help him forget the past and lead a nice peaceful joint distant life. But he obviously has other thoughts….It couldn't have been more perfect challenge for RD Burman, the composer, to re-create this contrasting mood in the recording studios.
The sunset back-drop makes it even more stimulating. And Ulhas Bapat's Santoor lets itself loose as the song launches with a bang! The intoxication begins…….no alcohol needed for sure. The Tabla joins in; Tony Vaz's Bass Guitar pulsates in the back-ground, in comes the Flugel Horn, followed by the Bamboo Flute. All this is sheer bliss to the ears! Creativity at its very best, boosted by Asha Bhosle's ultra-expressive voice and feelings. You are nicely led by the Keyboards and Drums to the 1st antara interludes.
"Ho zindagi mein jo kahin aur mein kho jaaoonga, tumse milne ke liye laut ke phir aaonga" croons Suresh Wadkar, brimming with earnest romantic concern. "Aye meri jaan-e-wafa dekhna raahein meri"…and your ears still can't go off Tony Vaz's Guitar strums in the back-ground!! The 2nd antara interlude decorates itself with the matchless Flugel Horn, mixed with the stylish Santoor beats. Truly another experience of invigorating concoction….Pancham's assertive instruments continue to glow!
"Aisa naa ho aye sanam jaao toh phir aa na sako, meri yeh tamanna hai tum mere paas raho", Can there be a better pleading question? Only Asha Bhosle can do it! "Kyon tumhe bhaati nahin aaj panaahein meri". Superb sentimental stuff. The crescendo slowly starts to build. And what awaits you in the 3rd antara interlude is a knock-out punch!
The ambiance reaches its peak with the use of RD's ace instrument…The instrument from the north-eastern ghats – Kanchaji's Maadal – begins to cast its spell of magic, set to classic Tabla beats. Meanwhile Ulhasji's charming stretch with the Santoor still carries on….."Koi ban jaaye mera aisi taqdeer nahin, dil ke aaine mein ab koi tasveer nahin, yeh haqeeqat hai asar kho chuki aaheein meri". Suresh Wadkar's punchline "me…eh..eh…eri" kills. And Pancham's knack to inspire the singer is only more vindicated. You are almost dead with joy by now!
The last interlude is the 2nd interlude re-played. Your ecstasy now knows no bounds, getting to re-listen to the captivating Flugel Horn Santoor combination. "Saath main tumhari hoon ab koi gham naa karo, khud ko tanha mere hote humdum naa karo". With Asha and Pancham around, can one really feel lonely? The antara transitions beautifully to the end…."Hoke maayoos naa dam tod de, chaahein meri".
The allure of "Pyaar ke mod pe" can be attributed to its distinctive innovative handling, unique blend of melody and power-packed orchestration. Kudos to Vidhu Vinod Chopra too for the brilliant serene picturisation. The emotional depth in words is surely a triumph for song lyricist Khurshid Hallauri. On the orchestration front, the delightful brew of instruments is sheer icing on the cake. The use of original instruments, instead of synthetic sound, has no doubt been RD's hallmark. Needless to say, the 'Sense of Sound' that we love Pancham for, is at its very best.
What is perhaps more significant is this creation was during a low-point in RD Burman's life – both professionally and personally. His box-office popularity was at its nadir, he had even undergone a bypass surgery around that time. Perhaps he was trying to prove that there was still lot more left in him. And how he rose to the opportunity!
"Pyaar ke mod pe chodoge jo baahein meri, tumko dhoondegi zamaane mein nigaahen meri". We continue to be in search of Pancham and his majestic compostions!
SHANKAR IYER
Panchammagic.Org
---