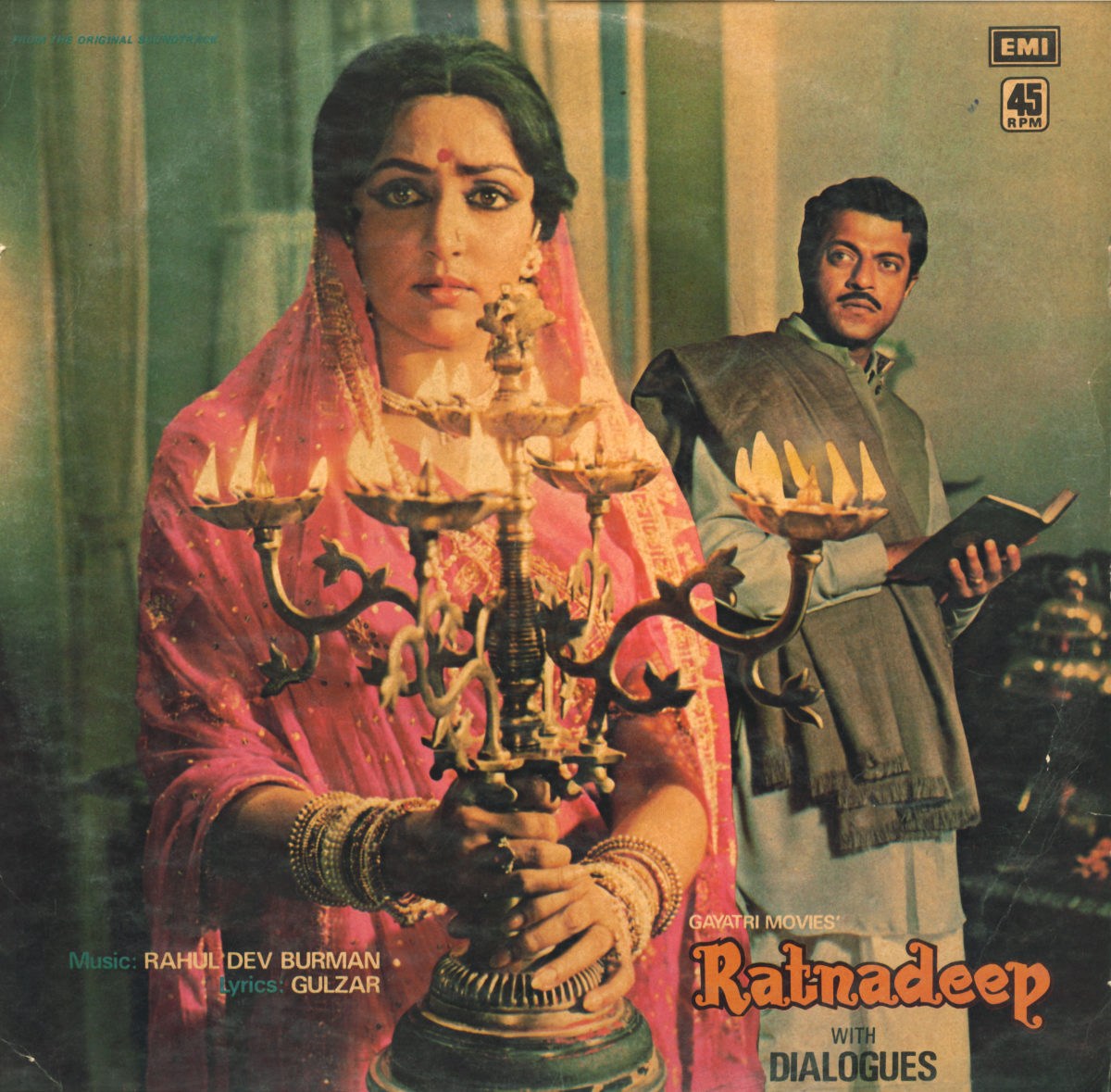 Song: "Kabhi kabhi sapna lagta hai"
Film: RATNADEEP (1979)
Producer: R.KANNAN , R.JAGANNATH
Director: BASU CHATTERJI
Lyrics: GULZAR
Singer:  Asha Bhosle , KISHORE KUMAR
The lyric just inspires me and confuses also… and at different times, it feels quite different as well. I mean due to various changes that happen in life.
It is a simple but very sweet melody, very very rich, musically. One of the most lilting tunes, the expressions of which make it so 'radiant' that one starts relating to it instantaneously. There is some sense of baffling fantasy in the basic tune, leading to a feeling of 'realization' that, eventually, it might only be a make-believe situation.
The use of violins and flute mix so well and give a soothing effect to the original lexis of musical notes. And with the introduction of sitar-sarod combo, pancham only enhances this and gives the substance of vibrations that the feeling of 'love' brings to our life.
Not among the most popular songs but when one gets to listen to it, it is sure to strike the chord to the attentive ears, for the very lovable melody and the way kishore and asha render it in their inimitable style. Watch out for their pronunciation and the spaces they leave between the words. If the lyrics imply reading between the lines, so are the gaps between the notes.
It is a dialogue between the lovers and like those best things being unsaid, the musical understanding of words become more of the capturing mood than treatment with orchestration. The subtle conduct of the song leaves more space for the meaning.
Coming to the lyrical part, it is another gem from gulzar.
Kabhi kabhi sapna lagta hai
Kabhi ye sab apna lagta hai.
Tum samjhha do man ko kya samjhaaoon
Kabhi kabhi sapna lagta hai…
This is why I mentioned the status of mind which is of being in confusion. The play of the real and the dream, finally leads and leaves to 'you' to explain it to 'me', as if, it were the only way to explain it to my spirit.  If there is any means to tell my heart, that is.
Tum samjhaa do man ko kya samjhaaoon…
Just with a twist of a word or two, it is said so beautifully. This part of mukhda is basically an interpretation of the mind in the state of bewilderment.
Mujhe agar baahon mein bhar lo
Shaayad tumko chain mile (asha)
Chain to us din khoya maine jis din tumse nain mile
Phir bhi ye achchha lagta hai
Magar abhi sapna lagta hai
Tum samzaa do man ko kya samjhaaoon…(kishore)
Is love an answer to the bechainee or the very cause? … Does the bliss of togetherness lead to content or more unrest?
It all seems so pleasant, yet this moment still seems to be too good to be true, it has to be the dream, the unreal that I continue to chase…
You better tell me what I should, to my dear heart.
Chehre par hai aur ek chehra
Kaise ise hataaoon
Mera sach gar tum apna lo
Janam janam tar jaaoon
Aese sab achchha lagtaa hai
Sab kaa sab sapnaa lagtaa hai
Tum samjhaa do man ko kya samjhaaoon
Kabhi kabhi sapna lagtaa hai… (kishore)
As I may take off masks hesitantly, only if you could accept the real that is me, or inside me, I may survive… on and on for ages. 'tar jaaoon' is an unusual language. And musically, pancham gives the delicate stress on 'tar   jaaoon…' This is a slight break in the way kishore is made to render the lines before. It so befittingly gives the 'pivotal' character to the concept of 'tar jaaoon'.
So fine thus, but it all is a trance. How can I believe it is mine, this wonderful feeling.
Tell me, how can, I tell my heart and what I should…
Mahesh Ketkar
Panchammagic.Org
---