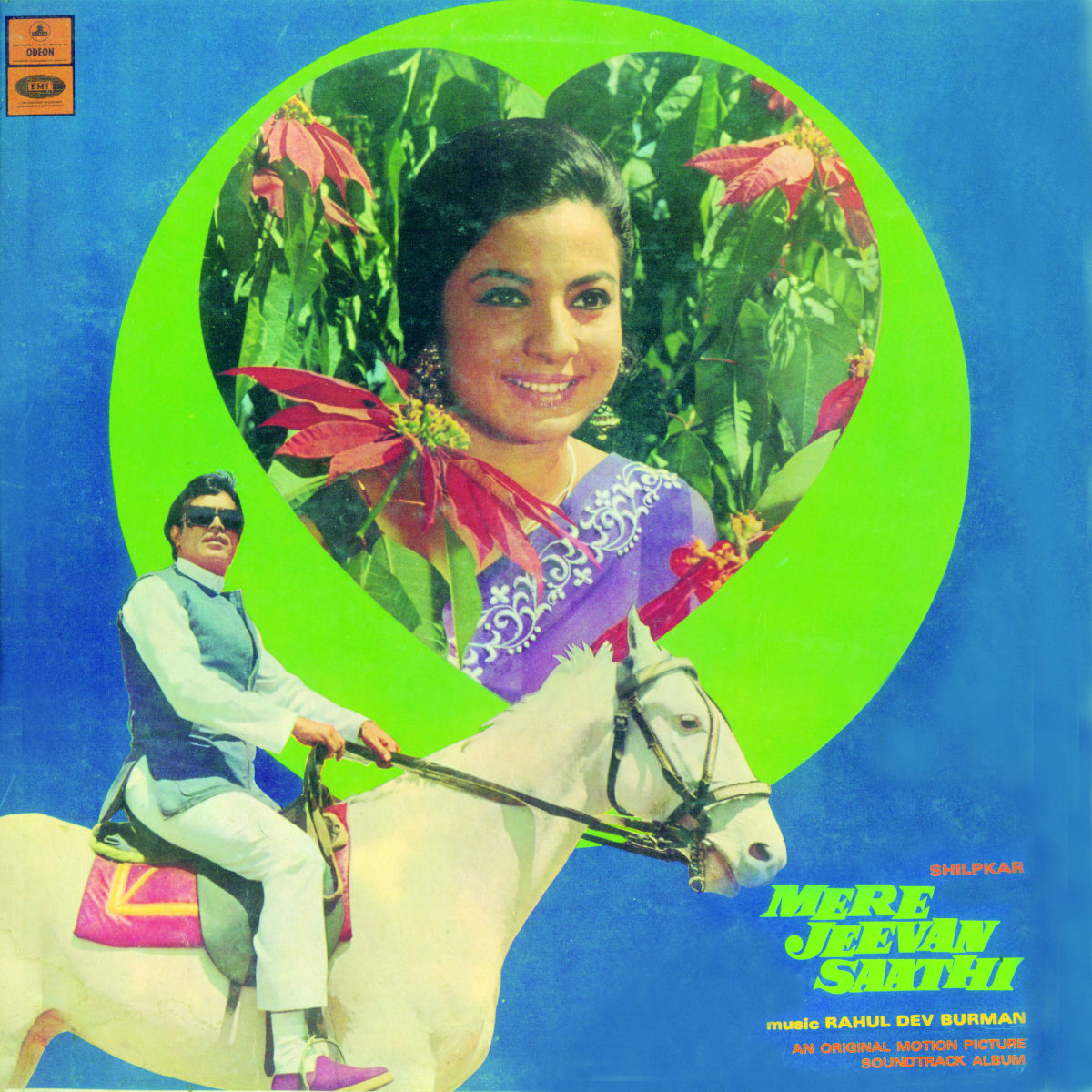 Film: Mere Jeevan Saathi (1972)
Producer: Vinod Shah, Harish Shah
Director: Ravee Nagaich
Lyrics: Majrooh Sultanpuri
Singer: Asha Bhonsle
–
Mere Jeevan Saathi had a mix bag of music by Panchamda. It had romantic " O mere Dil Ke Chain", Mischivous "Deewana Karke Chhodoge", Flamboyant "Chala jata Hoon Kisi Ki Dhoon Mein", Friendship song "Deewana Leke Aaya Hai", Religious "Apnon Ko Kab He Ram"…almost all moods and Panchamda had complied all moods with absolute finesse including his own "He is a sexy playboy" for titles.
Song concerned here is Seductive "Aao Na Gale Lagao Na"..by none other than Ashaji and for Helen.. so needless to say that one of the most seductive songs Helen ever got to perform. When you hear this song , none other than Helen comes before your eyes.
This fantastic number starts with "Ae,… Aao Na..Gale Lagao Na"….in that special whisper voice of Asha where you get an immediate idea of what's going to happen to hero now..!! very simple congo rhythm gets picked up with "Dekho…Seene Mein Kaisi Hulchul Machi Hai..by Drums entering in typical RD style coupled with rim shots and reso reso on side rhythms. Don't miss the triangle ringing behind at every off beat which again adds to enhancement to rhythm.
Amazing part of this song is use of Flute, or Recorder as Manoharida adds and played superbly by himself. Pancham also wanted to have that flutter in the sound of recorder by tongue swirl….Just listen to the recorder flute as it accompanies through out the song and is simply wonderful to know that even an instrument like flute can add such a spice to a cabaret song..!!! That's Pancham…unimaginable and so much un conventional..!! with such a marvelous experiment of using flute so effectively in a cabaret song. Normally, flute is associated with religious or in a classical composition by most of other music directors.
Notice the rhythm pattern in sign line from "Aao Na… upto ..Tumne Jo Agan Lagayee Hai"….which has congo and triangle playing in a particular tempo and then its accelerated by drum beats and then again back to slower one on congo with Aao Na,Gale Lagao Na …replaced by Ru..Ru..Tu Ru..Ru Ruu..Ru Ru….in Asha's voice adding a different flavour altogether..!!
Similarly, in stanza one can notice a fast start up and then break up of tune into pieces like….MujhKo….In Baahon….. Mein..Lelo…..Na Sanam..( one small line sung into 4 pieces without losing its meaning or sounding awkward and on top of it adding mischievous mood to song..!!) and then stanza ends with " Ta..ra..tta…ta..Pa..Pa..Pa..pa..pa..Pa….tu ..turu.tu.turu…..and then recorder flute following Asha's trumpet notes ending with guitar strum ,falling straight into sign line..!!! Pancham had done similar stanza to sign line gelling in a song from Khooshbu"Bechara Dil Kya Kare"…in which Asha had hummed at the end of stanza to go on to sign line….!! such variations make Panchamda compositions special and different than others.
Aao Na.. is ended also in " he..he..he…La..la..la..la.. sung in tune of sign line and feds slowly, another typical R D Burman touch.
Important aspect of this song is words or lyrics are quite seductive or direct , for example, meaning of " Tumne Jo Agan Lagayee Hai…To Chhoo Ke Dekho Na Kahan Kahan.." pointing directly towards parts of her body. Anytime there is a possibility of song slipping into double meaning or vulgarity. It's a sheer treatment to the composition and purely a credit of singer which gives song a correct degree of seductiveness and not vulgarity. The same goes for lines like "Sajan Kaslo In Baahon Ka Ghera" or " Man Hi Na Tarse Milan Ke..Dilbar Pyasa Pyasa Tan Bhi Mera" etc.
All in all a perfect package of simple lyrics, seductive singing, superb orchestration with trumpet, triangle, reso reso, drums, congo, Xylophone, bass guitar etc and above all variations in tempo makes "Aao Na… evergreen and fresh cabaret song over the years now due to all these finer abilities created in the composition.
Always Wonder any music director today can compose anything near to this R D Burman creation which will keep audiances enthralled for god alone knows, how many years to come..!!
Sandeep Kulkarni
Panchammagic.Org
---