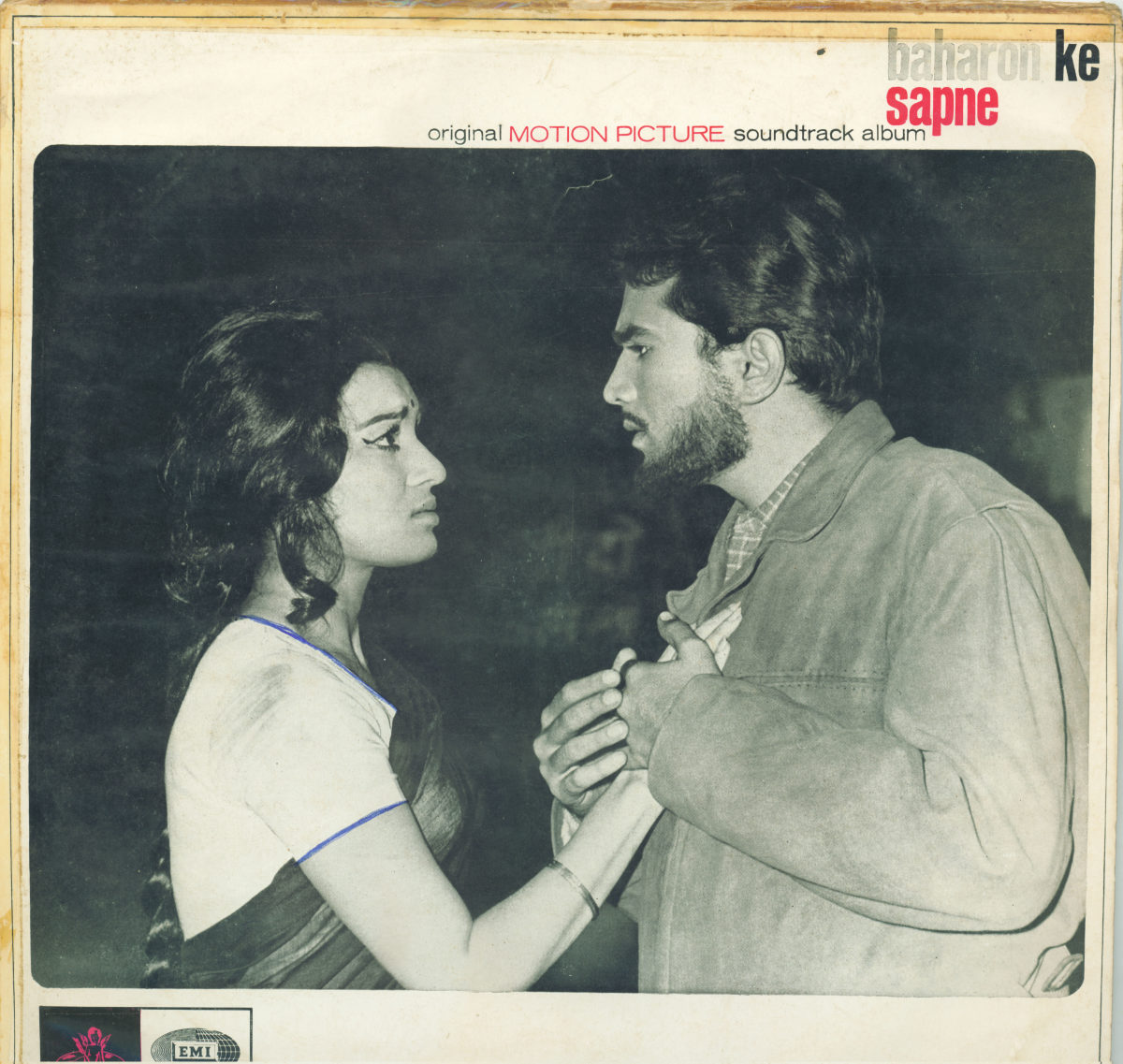 Film: Baharon Ke Sapane (1967)
Producer: Nasir Husain
Director: Nasir Husain
Lyrics : Majrooh Sultanpuri
Singer: Lata Mangeshkar
–
It seems Pancham treasured his most valuable compositions for certain people, Nasir Hussain being one of them. I think Nasir Hussain really got hold of Pancham's creative nerve and utilized his music to great effect in his trend-setting melodramas.
"Baharon Ke sapne" is one Nasir Hussain film, which is seldom talked about, and although it is remembered mostly for its beautiful melodies, there's one song " O more sajana", which seems to have been forgotten or probably overshadowed by more popular numbers from the same movie.
To start with, this song has one of the best M0's that I have listened so far. The M0 starts with a soft piece of santoor, which is then picked up by the guitar to a beautiful piece of rhythm and melody, which like typical R D has no relation whatsoever with the main melody as a stand alone piece, but Pancham weaves and bridges this piece so beautifully with the main structure that it becomes inseparable from the song….and how many times has Pancham done this ? Remember the M0 of " Aisa sama na hota" ? . This piece coupled with R Khanna's "Aati ho ke jaaon ?" really establishes that although its all about he leaving and she persuading him not too, its not a sad song at all; rather its a sweet romantic number. The music then goes back to the santoor followed by a soft single bell tone which not only acts as bridge between the M0 and the Mukhada, but also an indicator for the singer to start the song and a stop gap for us to prepare ourselves for a different perspective..the she side of it, all this achieved through a single soft tone….brilliant.
Lata Mangeshkar then , in her heavenly voice, starts the song " O more sajana,O more balma, ab bideswa jaiyyo na" The rhythm; mainly dholak, gives a rural touch to the song.
Along with the M0, I also love this song for the beautiful stanzas, this song has very romantic antara, the already romantic melody is enhanced by the use of flute and the soft rendition of Lata when she sings " Usi sham ko jala ke diye, bahut roi hai mien tumhare liye".
Pancham again creates magic with the M2. He starts with prominent guitar chords played in a rhythm, introduces shehnai with amazing effect and gets back to the track with a simple flute bridge. While listening to the second stanza, I could not help recollecting " Tere liye palkon ki jhallar", it might be because of the words.." Meri to daulat tum ho sajanwa, jaise rakhoge waise rahoongi" or may be because of the similar effect both the songs had on me.
The song ends with Lata's fading voice humming the mukhada with only soft guitar chords in the background, a perfect ending for such a soft romantic number.
Do listen if you haven't, and if you have…listen again.
Anand Dhodapkar
Panchammagic.org
---