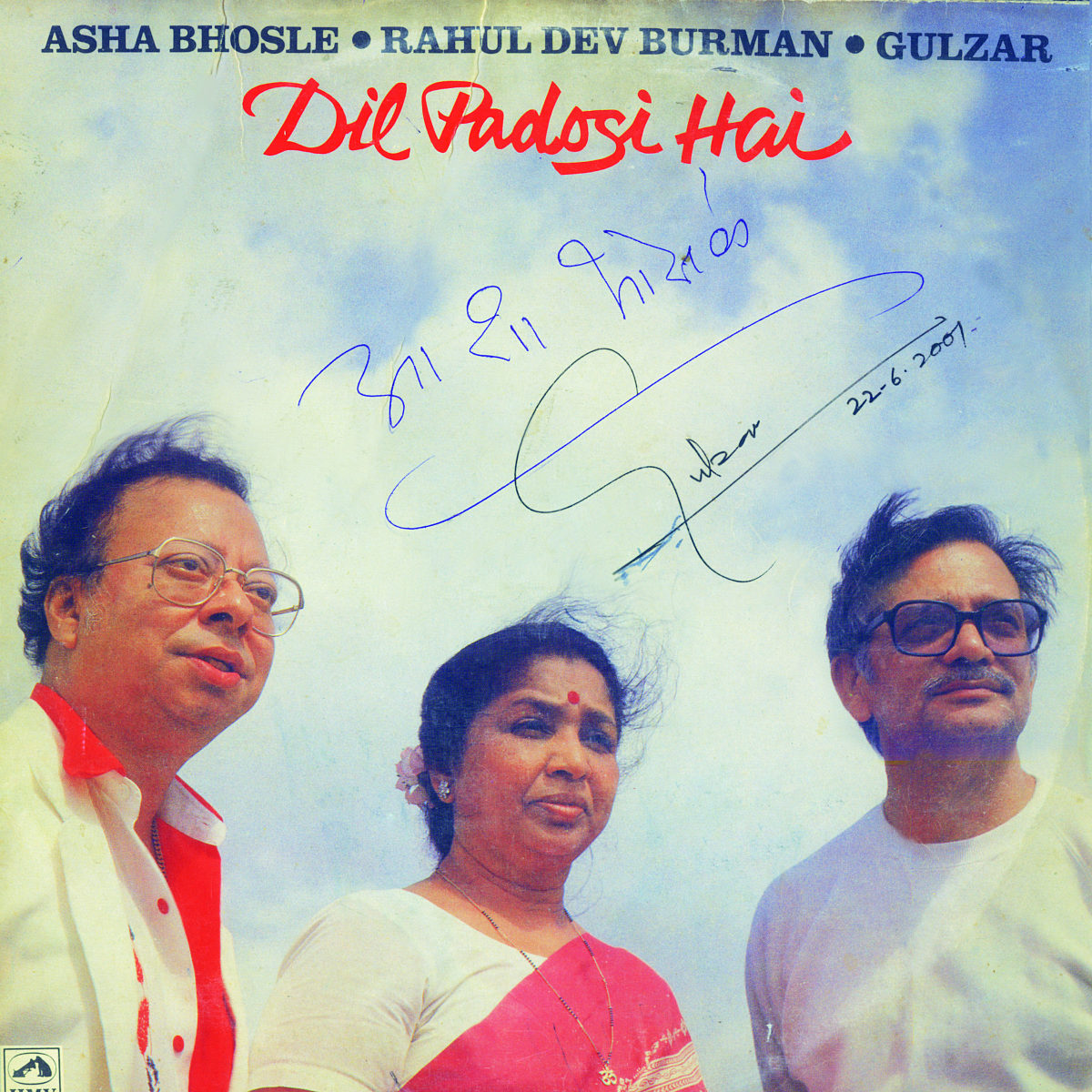 Non Film Album: Dil Padosi Hai (1987)
Producer: The Gramophone Co. Of India Ltd
Lyrics : Gulzar
Singer: Asha Bhonsle
–
One of the most finest & classiest non film albums is DIL PADOSI HAI. It has to be with trio of R D Burman-Gulzar & Asha Bhonsle doing it.
I must have listened to innumerable non film albums but have never came across the quality of lyrics, quality and range of singing, quality and range of composition and orchestration, number of variety of songs and not to forget the sound engineering which takes Dil Padosi Hai to greatest height, more so because its also a HMV SAREGAMA banner..!
14 songs of different mood and different types make this a bouquet of musical fragrance way beyond comparing with other non film songs & par excellence. A must collector's item for any good hindi music lover.
I have been told by Kanchabhai(Ranjit Gazmer-Madal) that Dil Padosi Hai was done so leisurely that everyone including Chaiwala in studio also enjoyed every bit of making it.
The song for review here is " Manzee Re Manzee, Ramaiya Manzee Mani Nadee Ke Us Paar Jaana Hai". A typical of Bengali location with a boatman in the river and a backdrop of temple complex or a typical ghat like banaras, is clearly visualized through its composition. A real sweet tune coupled with superb sound effects enhanced by complexed yet simple instrumentation.
Song has amazing start with water sound and that too of rowing of boat where you can feel with the thrust of a row in water and pushing behind the water, a typical to take the boat ahead…This effect was recorded by Pancham in a studio by actually rowing inside a small tub of water and has been recorded to a perfection by Deepen Chatterjee, the sound engineer. It has come so alive in recording that you feel the water sound almost makes your speakers wet…!! Alongwith water, Pancham has also used choke and symbles (metal dishes on drum set) to give support and fillers to intro. Also he has coupled sounds of little larger boats honking in the background of which sound pans from left to right channels of stereo depicting movement of the boats. Pick up on bass guitar & electric organ which is so different than expectation..! Santoor follows in combination with 6 & 12 string guitars and flute and then Ashaji's sign line rendition starts with Manzee re Manzee… . Rhythm is played on tabla a 7/8 pattern in Roopak Taal, again a very complexed one, in combination with Madal pattern in fillers…speciality of this rhythm is, same pattern follows for sign line as well as stanza..!! a perfection of mathematical timing of composition or meter.
The variations of Tabla pattern along with bass guitar in M1 is simply out of capacity of writing in words..!! when tabla ends in this part its known as Syncho Pattern, where santoor and guitar picks up from then on. This piece is only to be heard to believe it. Tabla also has played brilliantly with chati and baya so crisp and variable in its nature. This M1 also has a pick up of boat honking immediate after sign line. Every time after sign line there is a santoor piece ending with Sitar played like Ektara on one string which is so beautifully done for repeatation of stanza lines as well. To make sitar sound like ektara by usage of only one string is again an innovation of panchamda's experimentation. This piece has been throughout played in the song at particular positions. Santoor piececs which are so crisp and so soothing on ears whenever they are played for repetitions and woven in between the lines so well. Flute plays important role as well to support santoor and some complementing pieces in M2.
Note the singer's contribution when Ashaji sings "Mani Nadee ke Us Paar JAANAA HAI…." Every time she has sung PAAR JAANA HAI differently. All the lines' endings have been made to effect as vocal meends. Note the santoor pieces after Jogi Jane…( Short piece)….Rog puraane……(longer piece)…… and Tabla-Madal in "Jogi Ko Man Ka Rog Dikhana Hain" line at 1st stanza ending. Similarly in next stanza, at the same position.
The entire composition is absolutely catchy and mind gripping. More you hear to Dil Padosi Hai the more you find hidden treasure in its all 14 songs.
Some excellent instrumentation work by Pt.Ulhas Bapat on Santoor, Pt. Ronu Muzumdar on flute, Ranjit Gazmer on Madal, Viju Katkar on Tabla and Shri. Arvind Mayekar on Sitar, mainly, has made this composition an unforgettable one in non film music.
R D Burman, unfortunately has started getting his due for this fantastic effort of Dil Padosi Hai only recently after 20 years of its making. Hats off to R D Burman-Gulzar-Asha Bhonsle trio….doubt that this type of album ever be made again..!!
Sandeep Kulkarni
Panchammagic.Org
Read more about this Non Film album : Dil Padosi Hai
---