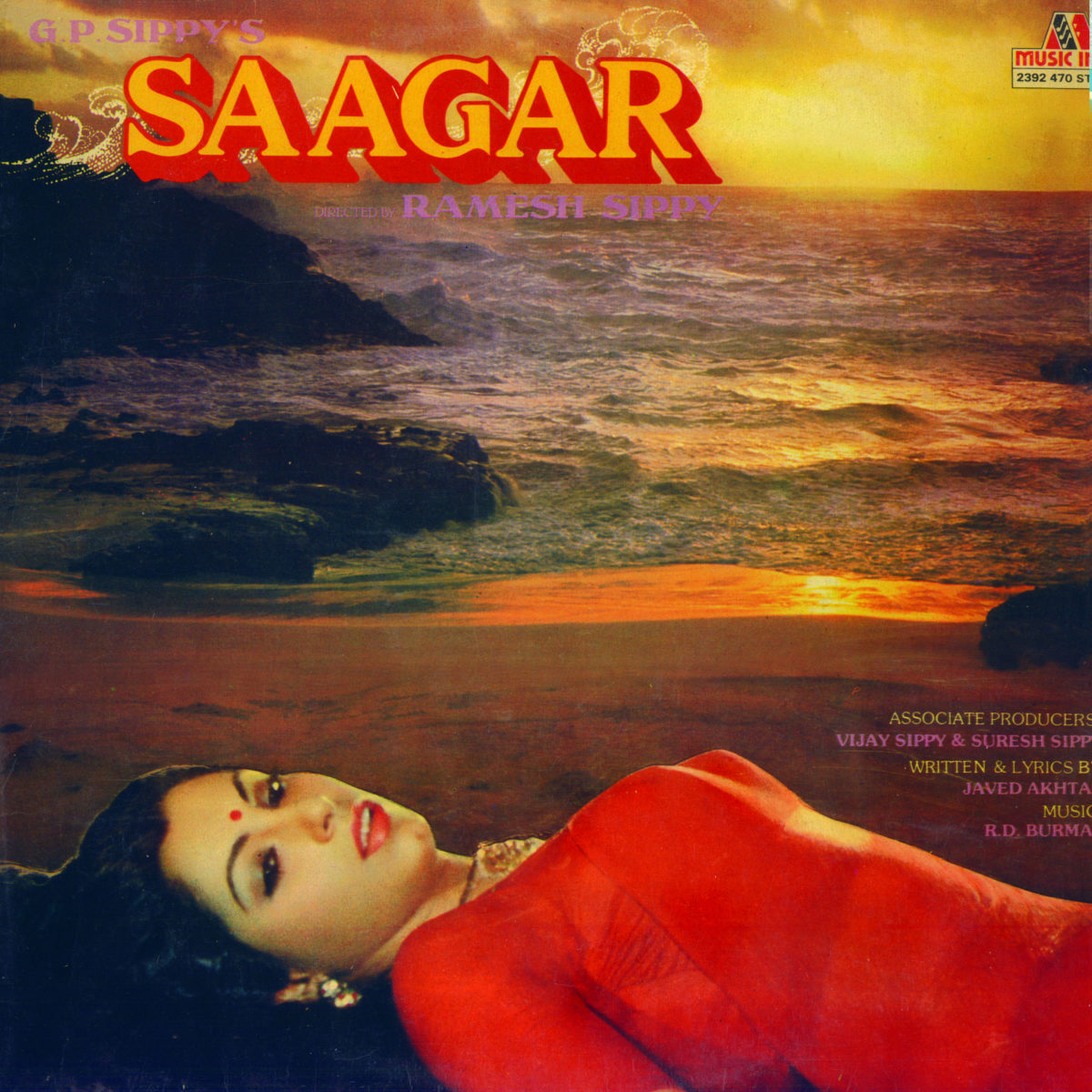 Film: Saagar (1985)
Producer: G. P. Sippy
Director: Ramesh Sippy
Lyrics: Javed Akhtar
Singers: Shailendra Singh, Asha Bhosale
–
Very rarely can we experience a true chemistry between a director and a music composer. When both of them conceive/ visualize the unfolding of the number in their unique but complimenting ways, we get to see a gem of a song… it is poetry in music and visuals.
Jaane do na…is easily, one the most sensuous songs of all times. The situation is very common and familiar for hindi films. Where hero persuades the beau to have some magical moments and she hesitates/ opposes his advances… all in a teasing dialogue.
Here the treatment is a rare combination of aesthetics in different media woven together. Ramesh Sippy has an ace up his sleeve with water-babe Dimple and a comfortably uncomfortable Rishi Kapoor to enact his idea of romance. Beside swimming pool, Dimple is clad in a red saree with an obvious string-back blouse, which still leaves so much for the imagination. And without zatkas and all that stuff she oozes ample appeal to make you go weak in your knees.
A Very controlled picturisation…Very effective! The light and shadow play in the background provides dramatic canvass for the director's camera and it rolls as if he himself is smitten by the charms of the wet beauty.
If all this was not much, we have Pancham coming up with a soft melody, unusual mix of instruments and Asha's voice to deliver an 'audio-film' to match the Ramesh Sippy photo- challenge.
The M0 starts with the notes on flute followed by bass guitar (symbolizing missed heart beats?). Tabla is being subtle in the background when Asha enters with a 'aahhmmmm..ja..ne..do..na'. the Tabla is joined by the unexpected drum stick and you are forced into the rhythm circle around which Pancham rolls his magical tune. Shailendra singh sounds convincing with his rendeing of 'pas aa oo na'…. With Asha, he is into a dialogue of expression of love. Pancham makes him sing to a 'demand'ing tone and Asha at her husky- teasing self provides a playful touch… specially where she sings, 'chhodo kalai dekho ro doongi… jaaao main tumse naheeen bo loongiii…'.
Or when she huskily says, Din jaise karvate badal ta hai…. ( a perfect match of Dimple's 'aangadaee' on screen) Mera to sssara tan …(very softly) jalta hai… (The lampshade reflects on the wall which itself becomes mirror carrying the image of pool-water).
And she is made to sing 'chhuo na chhuo na mujhe' in a fashion that you don't know whether she is saying yes or …else.
Lyric is simple and straight. The way words are expressed gives them depth.
Orchestration is imaginative. Use of bamboo-flute, santoor and guitar give the song its feel, enhanced by Tabla- drumstick combo- rhythm. The 'meend' on electric guitar carries the lingering mood.
M1 is missing as in many Pancham songs. (According to Babloo, his assistant, Pancham did this trick whenever he liked the antara of the song very much. He said, 'interlude music mera antara maar sakta hai', so he would skip directly to the first antara.)
And he takes a short break in the antara itself. A sweet piece on santoor in first/third antara and same notes at same points, but on flute in second antara. Interestingly, same combination can be found in dada burman's 'jeevan ki bagiya' or 'aasman ke neeche'.
Maybe Burmans saw a duet in flute and santoor/mendolin.
Jaa ne do naa ends with 'hmmm'…'hmmm'…'hmmm'…'hmmm'…
Loss of words? Surrender?
It is underplay at its best.
Mahesh Ketkar
Panchammagic.Org
---