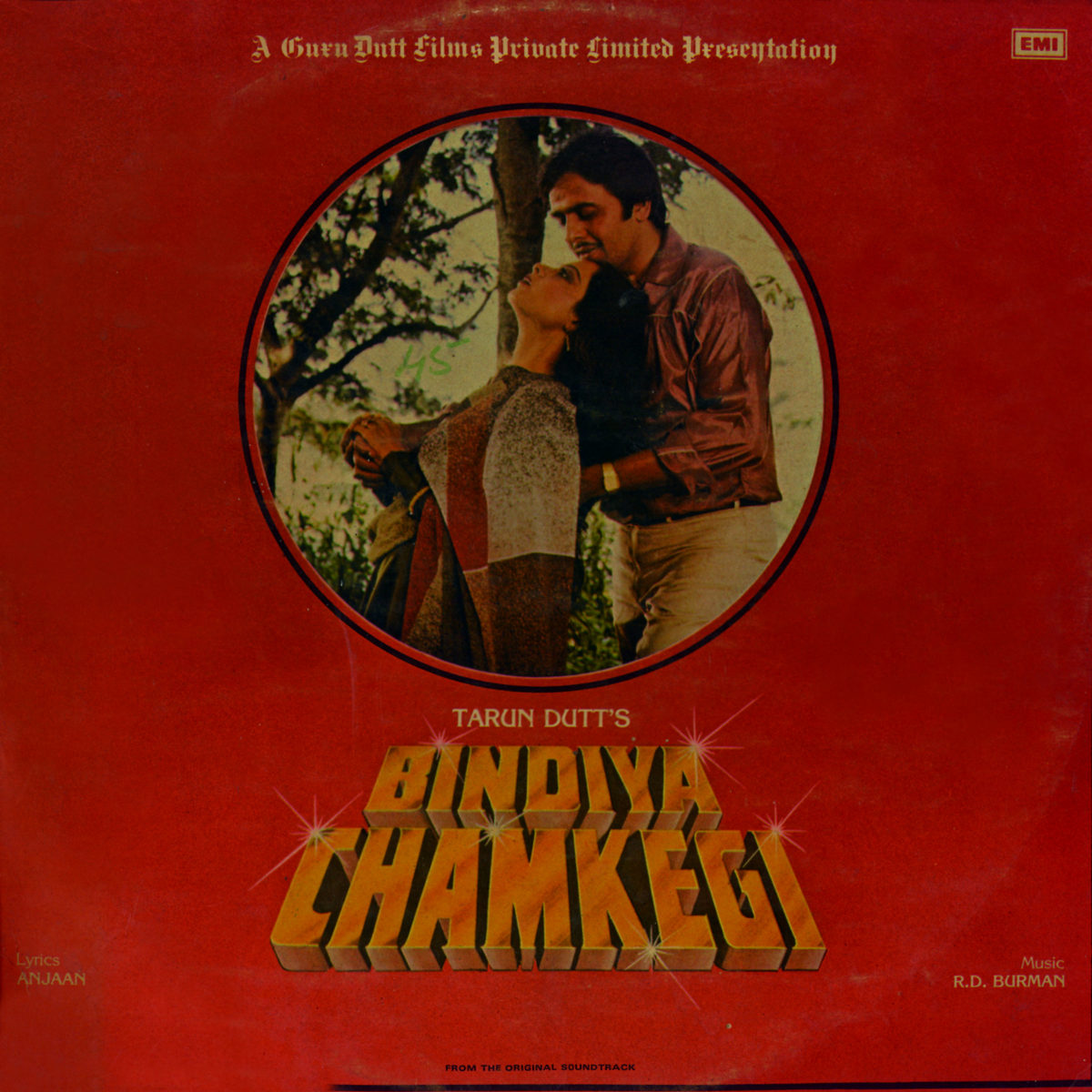 Film: BIndiya Chamkegi (1983)
Producer: Tarun Dutt, Arun Dutt
Director: Tarun Dutt
Lyrics: Anjaan
Singers: Lata Mangeshkar
–
Bidai situations are not new in hindi films and one is used to listening to the same type of dull and monotonous music for this situation year after year. Nobody but Pancham could have thought of creating something so different and beautiful for a bidai song! This is one song and probably only one of its kind which is strikingly different in treatment and yet preserves the essence of a typical bollywood bidai situation. One of the many rare gems from Pancham, this number is from the film Bindiya Chamkegi.
The most striking feature of the song is the way the rhythm pattern has been used. The song uses the common 8 beat tal 'kaherwa', but the tal has been played quite differently here. 'kaherwa' has 8 beat cycle divided as 4-4 and the normal 'bol' goes something like 'DhaGe NaTin NaKe DhinNa, DhaGe NaTin NaGe DhinNa'. Instead of this, the way it has been played goes something like 'Dhin Dhin Dha GeNa, Tak Tak Ta DhinNa'. This coupled with beautiful use of guitar chords on the first beat and percussions played on the first and fourth beat and a brilliant base guitar pick up on the 8th beat makes the rhythm pattern simply amazing.
The song starts with a full cycle of this rhythm pattern in M0 after which Lata Mangeshkar takes over in her heavenly voice. The violins play beautifully in the background and the accompanying flute during the mukhada is amazing. This flute piece plays only during the mukhada keeping the listener craving for more only to be repeated at the end.
As with many of his songs, Pancham skips M1 here too. The song has a very short two lines anatara which compliments well with the long mukhada. Pancham creates a typical bidai situation feel with shehnai and violins in the M1. second antara is similar to the first one.
Till the second stanza, the song moves in pretty much a similar way with a continuous rhythm pattern and long and dominating mukhada, at the end of the second stanza however, pancham suddenly breaks the continuity of the rhythm pattern and switches to the more traditional 'Kaherwa' rhythm , this switch in the rhythm pattern gives an amazing feel of completeness to the song, this switch to the more traditional rhythm pattern is as beautiful as the initial intentional incompleteness.
The song ends with repetition of the mukhada. A simple song with a very different treatment, another outstanding composition by the great Rahul Dev Burman. Kudos!
Anand Dhodapkar
Panchammagic.Org
---