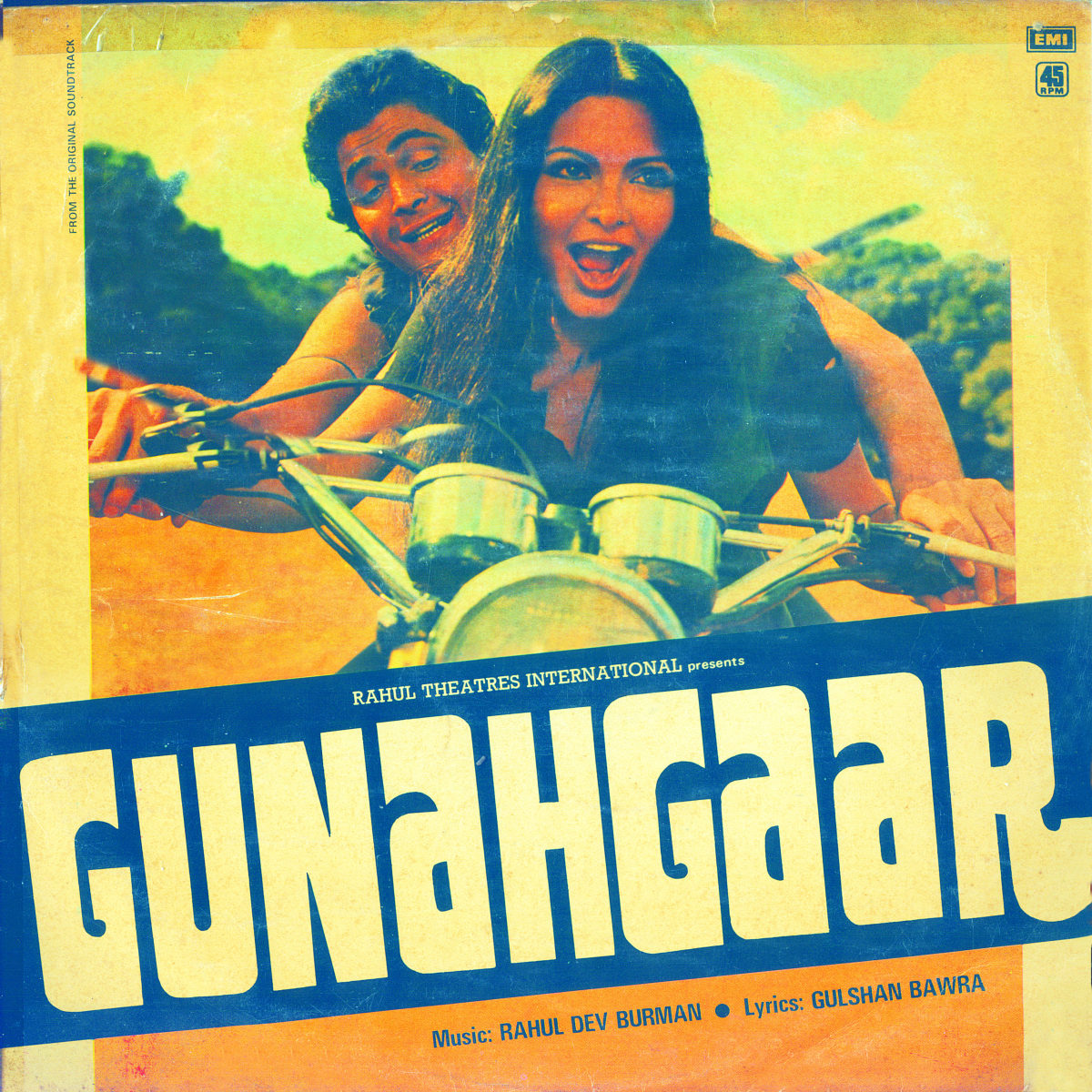 Film: Gunaahgar (1980)
Producer and Director: Rahul Rawail
Lyrics: Gulshan Bawra
Singers: Kishore Kumar, Asha Bhosale, Bhupendra and R.D. Burman
–
The first time I listened to this song, my general feeling about the song was it could really be categorized as a "MACHO" song.
The song has everything special about it. This is a quartet song sung by four stupendous singers, Kishore and Asha, obviously the main pillars of Pancham's music, the ever-supportive Bhupendra and our darling Pancham in his trademark gargling voice.
The song is all about the friendship and the way how the life should be enjoyed every moment by moment. The M0 starts with the whirlwind violin followed by drum beats and (string instruments), the trumpet just soaring above all, followed again by String instrument On screen, the song seems to be picturised on actors riding motorcycle and the intro music just sets up the tempo for a fast paced song.
Here Kishore enters to sing the sign-line with Hey Hey to add punch. He is followed by Asha – Pancham and Bhupendra. Don't forget to listen to the amazing changeover of rhythm just before Pancham's entry. Pancham has beautifully intermingled the words Yaara Yaara here and right through the song. These words just keep on repeating and lingering in our minds. I feel that these two words bind the song so well and generate a sense of unity.
Generally Pancham's songs have distinct intro, interludes and exit music but here he has done a lot permutations and combinations of small phrases of Harmonica (or mouth organ) violin, trumpet, guitar for all intros and interludes with a large exception of M2.
M1 starts with Harmonica followed by violin raising tempo to the crest and a sudden silence and a beautiful pick-up on bass-guitar followed by soaring trumpet. This is an amazing sequence to listen.
The stanzas are beautifully structured giving equal presence to each singer.
Gulshan Bawra's lyrics are just apt to the theme of the song and provide adequate punch. It's really heartening to listen to Pancham singing the last lines in each stanza raising the tempo to the crest and adding a lot punchum (Pun intended).
M2, as I mentioned earlier, is slightly different starting with guitar strums followed by violin and Kishore entering with "Hey Hey".
M3 starts with same sequence of notes with only addition of harmonica. Here again listen bass guitar pickup followed by same sequence of notes in M1, but wait.. The tempo suddenly changes here to a slow pace with slowing guitar notes. Pancham gives us a surprise here as the song suddenly turns emotional as Asha singing "Dil mein basa liya pyar tumhara, pyar jo hai jeene ka sahara, bichhadenge ham nay eh armaan leke aagley janam mein milenge dobara" giving the hint of separation of hero-heroine in the future.
Now the tempo suddenly picks and races with violin and drum combination to the original, Asha again singing same lines in fast mode and finishing the last stanza. She is joined by all others singing "Yaara Yaara" in many repetitions.
I am really amazed at the way these words beautifully weaved throughout.
Pancham, here as usual, scores in all departments of the song right from choice of instruments (for a faster and forceful type), the use of his own gargling voice, the seamless variation of tempo and rhythm.
IT WOULD BE APT TO DESCRIBE PANCHAM'S WORK AS ONE OF THE LINES OF LYRICS OF THIS SONG
"NAAM USEE KA JAHAN MEIN RAHEGA KAAM NIRAALA JO KAR JAAYE"
You all will agree with me.
Sudhir Kulkarni
Panchammagic.org
FOOT NOTE: My first impression was that this tune may not have its Bengali counterpart, but to my amazement I found the traces in "Baba Khoka" sung beautifully by Kishore Kumar. Listen to this song also if you have not and if you already have, listen again to re-experience.
---