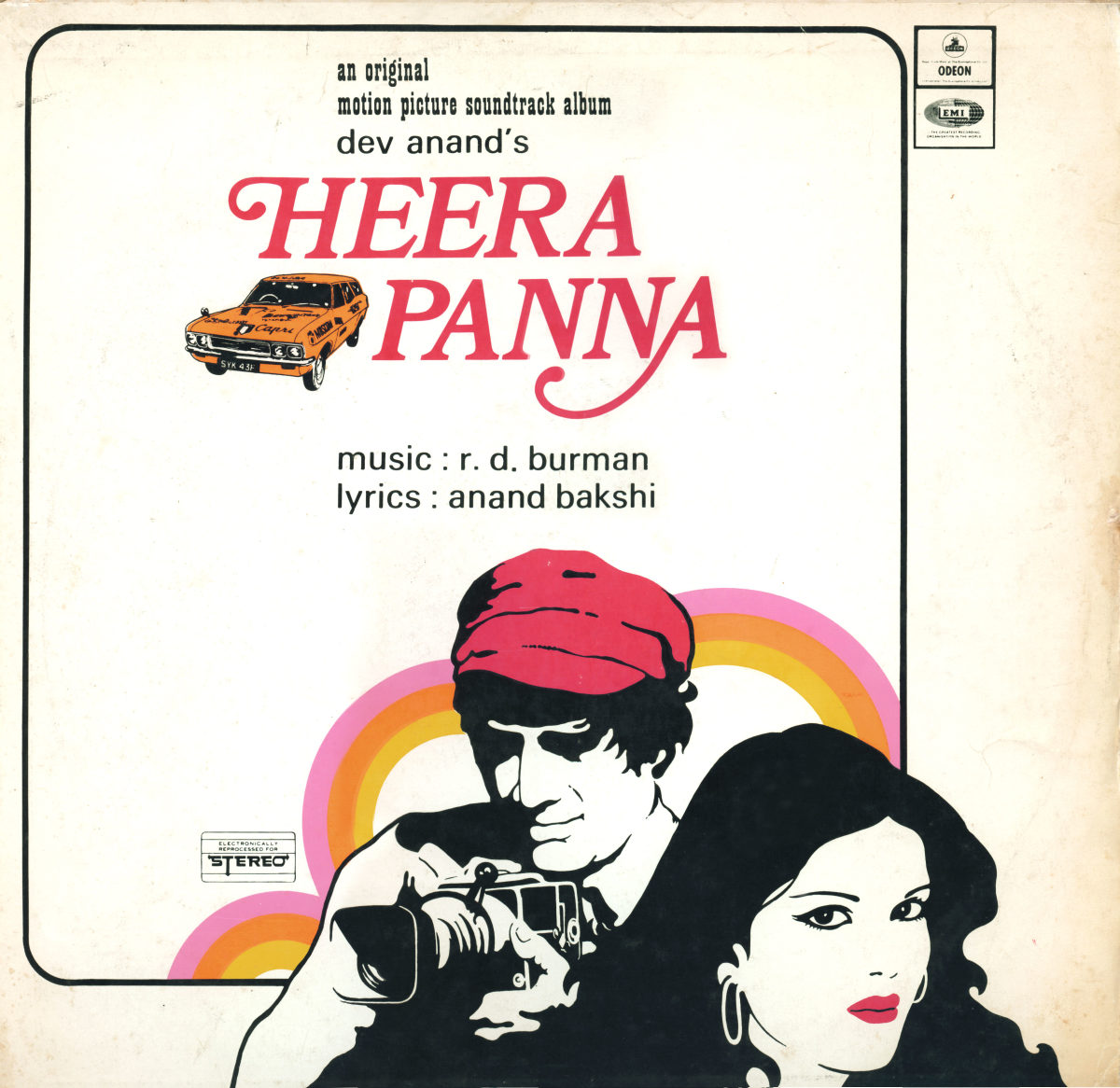 Film: Heera Panna (1973)
Producer/Director : Dev Anand
Lyrics : Anand Bakshi
Singers: Kishore Kumar, Lata Mangeshkar
–
One of the romantic most duet created by Panchamda and what a passion it reflects….through its poetry, singing and the arrangement of orchestration.
It's the night before heroine is going to leave for abroad on her job and hero wants to make most of that romantic night with her and live on the moments till she is back.
Anand Bakshi has written it so meaningfully suggesting the accident that would happen in the further story of a movie and hero-heroine's last intimatacy in the lines like –"Teri Bahon Mein Mujhe Aaj Mar Jana Hai..!" The lines –"Jane mile ya na mile…" just provides that hint.
"Bahot ( Mark the pronunciation BAHOT and not BAHUT as normally spoken in Hindi ) Door Mujhe Chale Jana Hai" meaning heroine's trip away from hero and —"Bahot Najdeek Mujhe Aana Hai" meaning she also wants to be in her lover's intimate company maximum possible time she has on her hands…..so nicely penned.
Similarly, hero says—"Kissi Ko is Jagah Pe Nahi Aana Hai" meaning he doesn't want to get disturbed their privacy for the night by any one and—" Kissi Ko Is Jagah Se Nahi Jana Hai" meaning he also doesn't want his lover to go away from him early next morning…. Like they are so much engrossed in each other's company and so much so that they would almost die in each other's arms. This sad expression marks the utmost involvement of passionate lovers and hence Pancham has rightly given a treatment of whisper in singer's voice and not making it as a mundane romantic duet. Like passion even the pain is a part of romance and love, that's what the song is all about and hats off to Pancham for getting this expression throughout this gem.
Stanzas also are so unusually tuned. Mark the tune of " Jaane Mile ( extended e-e-e-e) ya Na Mile, e-e-e-e..phir aisi tanhaee" matching to this is " Dil Ki Lagi, i-i-i-i Lene Lagi, i-i-i- Seene Mein Angdaee…" Those are such tender expression that Pancham complemented through his composition by giving longing treatment to words like Mile ( extended e-e-e-e), Lagi (extended I-I-I-I). These lyrics are basically complimenting each other's feelings and so as treatment moving along with the lyrics. Amazing combination of composer and lyricist.
Stanza has a linking line of " Mujhko chhupale Dil Mein Basa Le, Dekh Bura Ye Zamana,a,a,aa,a Hai,I,I,….sss..sh..shh…shhhh…" this last expression of passionate sigh brings back from stanza to sine line….. That's Kishore and Lata for you…their contribution to this song is very difficult to judge in terms of percentage in comparison to music arrangements of Pancham… The way they have put in that extra softness and caring expression throughout is just superb…who else would give justice to the fabulous composition of Panchamda otherwise?
Panchamda has caught up with such a passionate mood of the tune, giving it a smooth silky finish with very unusual tempo, subtle rhythms on the rims of drum coupled with Congo. Saxophone & alto flute usage is just out of the world and the tone of Sax is so different that we could hardly hear in any other Hindi film songs. Also he has used Xylophone so effectively in the melody, which enhances the beauty of the song.
M2 and M3 interludes have his favorite Bossanova pattern on rhythms. Another feature of this song could be the rhythms which are same for sign line as well as stanza…!!
That is Pancham for you. Understanding the right mood of passion, so rightly mixed with melody to make it a classy romantic duet, is easily one of his best five romantic duets.
Sandeep Kulkarni
Panchammagic.Org
---