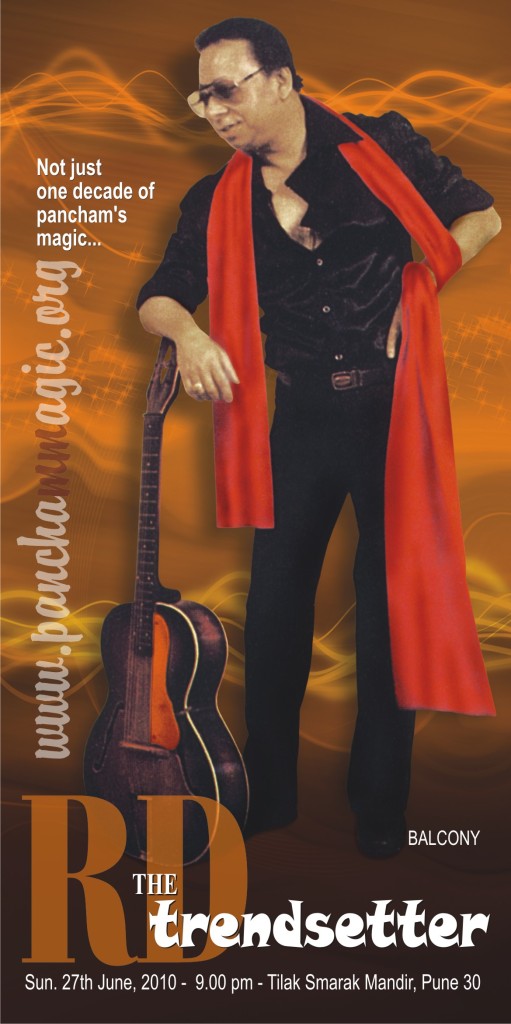 27th June 2010….An occasion when R D Burman's 71st birth anniversary coincided with ten years of completion for Panchammagic, the Pune based organizing group. With an enjoyable prospect already in store, the added presence of Hindi film industry's Yahoo man Shammi Kapoor meant a sure shot double Sundae treat. The Panchamrut was too tempting to resist….off I drove to Pune to be part of another commemorative event on the beloved composer.
A prayer to Pancham with "Tumi koto je dure", Bengali version of the "Jalpari" (Saagar) sequence set the evening's enlivening tone. Theme for the program 'RD THE trendsetter' attempted to present the composer's dashing experiments that popularized a new brand of music in bollywood films.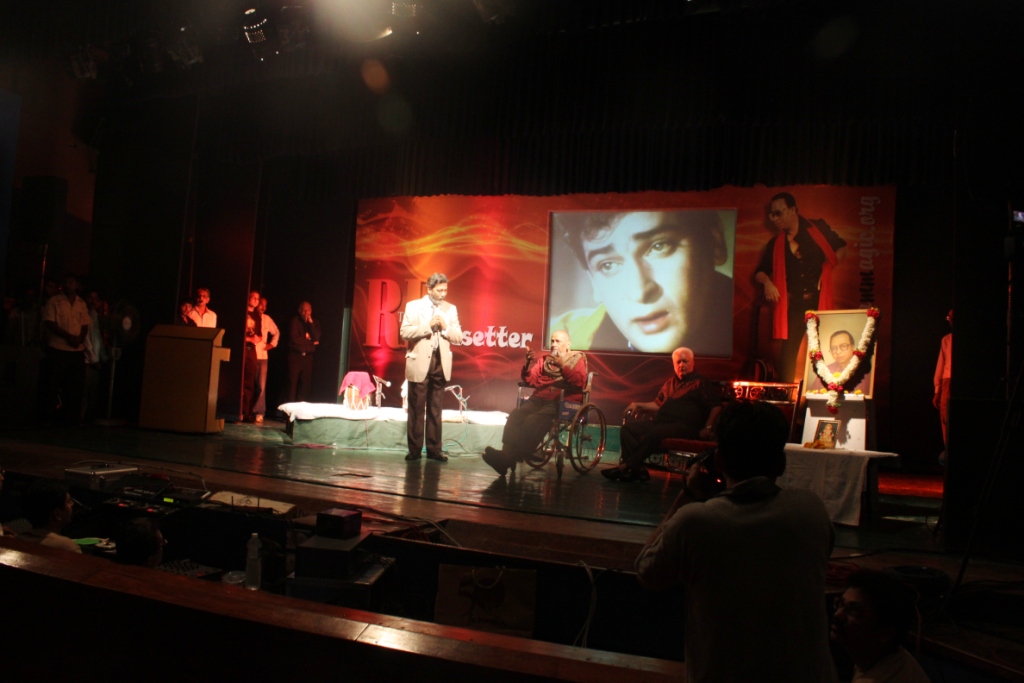 With Shammi Kapoor on stage, it was not surprising that the conversation began with RD's first blockbuster movie Teesri Manzil. It was heartening to see the actor speak with all the cheer and gaiety we have loved him for. "I am pleasantly surprised that an event like this happens in India to remember the great R D Burman. You people show great affection and love for Pancham". A sincere compliment that would have surely made the audience and Panchammagic team proud.
Rewind to many years back, with a video of Pancham narrating an incident on the making of the song "O haseena zulfonwaali" (Teesri Manzil). It was a one take ok song, much to the joy of producer Nasir Hussain and lyricist Majrooh Sultanpuri. "Nasir, I tell you this music will be a trendsetter", Shammi had then predicted.
"Pancham had done two or three movies before Teesri Manzil. But I think the movie that made a difference in his life and career was Teesri Manzil. Nasir Hussain, who had worked with Shankar Jaikishan and O P Nayyar before, phoned me and recommended Pancham for this movie. As it turned out, it was great that Pancham did the score".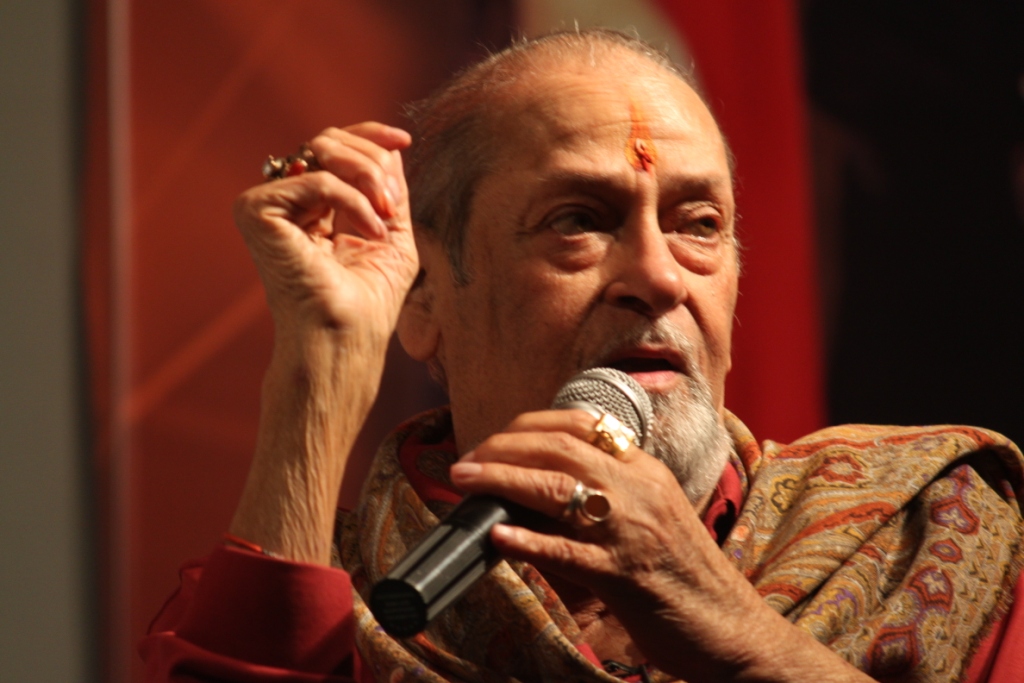 "When we sat for the first music session, Pancham started with a Pahadi tune that was basis for the song "Deewana mujhsa nahin". No sooner did he start humming the tune, than he heard me completing the first line of the song. He could not believe and almost ran away thinking I would eat him up. I told him I was only appreciating his music and although I had little knowledge, I loved the tune and wanted it to be used for the situation. After this, he gave me some maddening songs like "O mere sona" and "O haseena zulfonwaali". That was how my association with Pancham started".
A medley of Teesri Manzil songs invoked special trivia from the veteran actor. "Tumne mujhe dekha" has had a lot of meaning for me. After "O Haseena zulfonwaali" was picturized, my wife Geeta took sick; she died within a period of twelve days. I had stopped shooting for some time. When I resumed, I started with this song. If you notice, the song has a tinge of underlying sadness and given the circumstances, it was naturally seen on my face"
"Teesri Manzil was such a big success that film circles were abuzz with excitement when we came together for my first directed movie Manoranjan in 1974. Ashaji's "Chori Chori solah singaar Karoongi" was the film's first recorded song. And I still recall the way he composed this song; the melody, the double rhythm, the obligatos….they were all very beautifully interwoven. He proved that he was well-versed with all nuances of music making. We got close to each other during the film's making. And he gave some great music. I don't know why the songs did not become more popular. The swinging impact in songs "Dulhan maike chali" and "Goyake Chunanche", coupled with a unique topping of melody, was very refreshing. And I must say his use of electronic equipments and grip over them was commanding".
"I remember the many sittings we had at Pancham's place, Majrooh saab used to be there, of course Ashaji too would be there. We would discuss music; Pancham happily accepted suggestions and incorporated them in his music. Then, out of the blue, he would come out with a tune that would invariably end up being recorded as a song. He had the inborn talent to compose something very sweet and attractive!"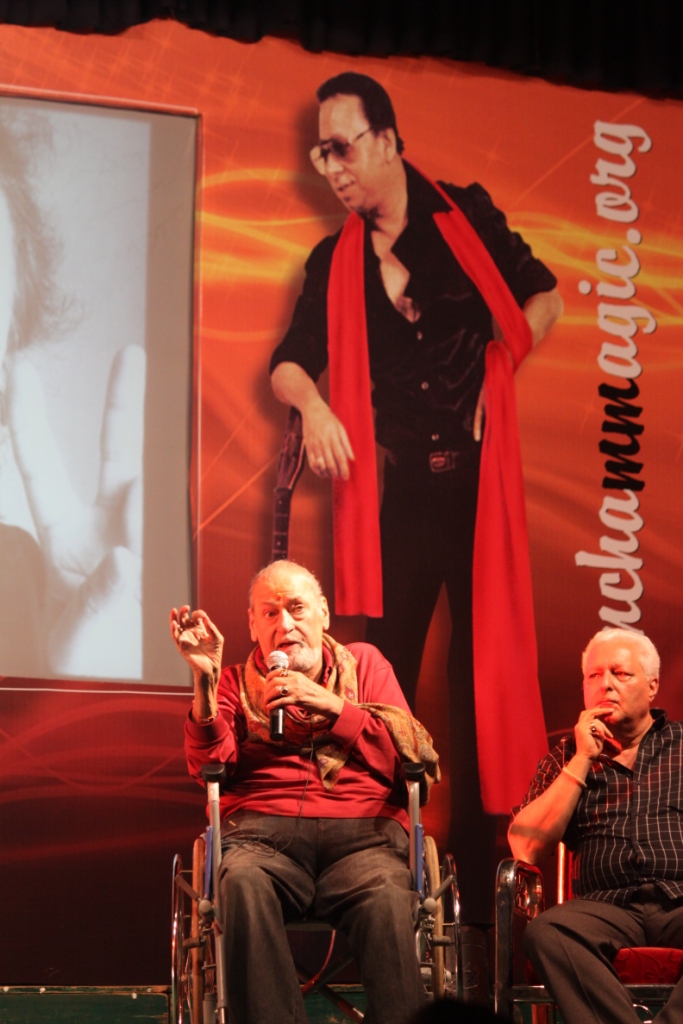 What was different and special about Pancham the composer? "I would say Pancham understood the various aspects of music making; he was a man who went mad with brass instruments, Trumpets and percussion. For his times, people did not understand what he was playing, what he was doing. His control over brass and obligatos, which he often used, was original and exceptional. More importantly, when he got inspired by Western music, which he was to a very great extent, he did not do a 'pick and drop' exercise. The imbibed elements were very nicely fused. In the end, it turned out to be some wonderful melodious music"
"For instance, international musician Sergio Mendes may not be well-known here, but he was one of Pancham's inspirations. The ingredients of his music style were intelligently used by Pancham…in a manner that the common music lover could relate to and understand. This was Pancham's greatest quality as composer; very few people are able to incorporate diverse inputs and yet retain the topical appeal".
Next: songs from the second RD – Shammi collaboration Bundalbaaz – the romantic "Bemausam bahaar ke", the filmi-classical "Nagma hamara" and the countrified "Kya hua yaaron". "Bundalbaaz was a movie meant for children, full of fantasies. It was disappointing that there were not many kids who came to watch the film. But it had some good music"
"RD had great sense of humor. And the timing of his jokes was perfect, which was not surprising, given his sharp skills with multiple instruments. We often played the game of Chess, even sometimes between song rehearsals! Like his father, he liked football too. He was a very good cook and fond of eating", Shammi reminisced. The emotional connect with beta Burman was, without doubt, evident.
"He was a very fine person. During the later stages, all his companions had left him. He felt desolated and had almost gone in to a shell. But as a true champion, he bounced back with the unforgettable 1942, A Love Story. As we all know, it was one of the finest scores of those times. Sadly, he was not alive to see the success of the film's music. But I am sure, wherever he is today; he will be going berserk with his brass instruments". Touching comments from a very close friend.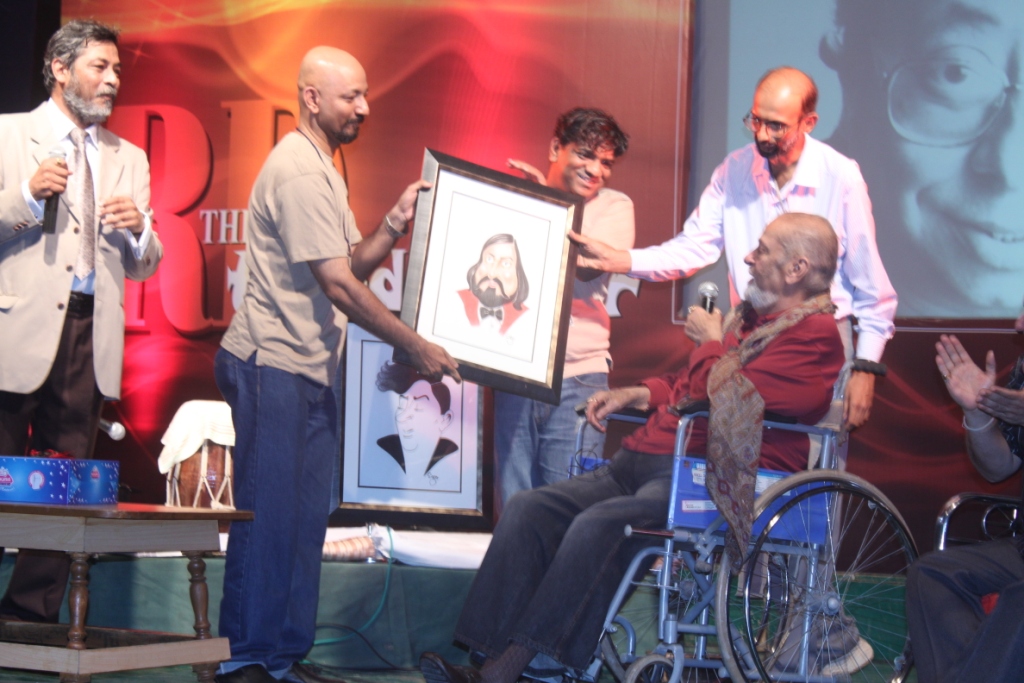 Some lasting moments followed – Panchammagic presenting Shammi
Kapoor with two simple but beautifully drawn caricatures and well-known film-maker Raj Sippy placing the Puneri pagdi (local turban) on the actor's head. Compere Ankush thanked the evening's second guest, director Umesh Mehra for having got Shammi Kapoor to Pune.
It was now time to live through some of RD's milestone compositions, courtesy the evening's theme 'RD THE trendsetter'. A series of innovatively crafted songs were played – the musically metrical "Aao twist karein" (Bhoot Bangla), the bossonova inspired "Maar dalega dard-e-jigar" (Pati patni), the creatively serene "Kya janoon sajan" (Baharon Ke Sapne) with landmark use of voice-over-voice technique, the experimentative verse-filled "Mera naam hai shabnam" (Kati Patang), the powerfully wacky "O meri jaan maine kaha" (The Train), the epoch-making "Dum maro dum" (Hare Rama Hare Krishna) and the sinusidally flowing "Jaane jaan" (Jawani Diwani) – as ample proof of RD's daring conviction to explore and venture in to untrodden territory.
Some more crazy experiments to illustrate the point – use of Flangers in "Dhanno ki aankhon mein" (Kitaab), the digital music loop in "Pyaar karne wale" (Shaan), the pioneering Sholay title music, the spectacularly mounted "Jalpari" (Saagar) instrumental and the use of bottle (a non-instrument) in "Mehbooba mehbooba" (Sholay). Not to forget "Ek ladki ko dekha" (1942, A Love Story), with a sound to correctly symbolize the pre-independence era. One, however, wished there were some lesser heard but more innovative songs included to this list. On the other hand, the difficulty in handpicking certain Pancham numbers over the others cannot be ruled out.
The camera now shifted to filmmaker Umesh Mehra, second guest for the evening. Umesh has been actively involved in films made by the reputed "Eagle Films" banner .The company was established in 1953 by father F.C. Mehra, a noted film producer and distributor. Umesh studied under tutors Gajanand Jagirdar and Shammi Kapoor who he assisted in films Manoranjan (1974) and Bundalbaaz (1976).
"Today you have given my guru Shammiji all the respect; this would have surely given him the energy he requires. I have assisted him and been with my father for many years; those years helped me learn the nuances of filmmaking". The soulfully sung "Hum aur tum the saathi" formed basis for discussion on Umesh Mehra's first independent directorial venture Hamaare Tumhare (1979).
"Hamaare Tumhare had a galaxy of stalwarts like Sanjeev Kumar, Raakhee, Amjad Khan and Mehmood, besides seven young children. As with all films, the script played a key role in the picturisation of its songs. The music director (Pancham) and lyricist (Yogesh) had to keep this in mind and convey what the song situation demanded. Pancham would often get in to the soul of the situation, trying to give different tunes or even playing the same tunes differently to suit the situation. Take for example the song "Jaadu daar gayo re" when Sanjeev Kumar meets his wife after long. The mood and ex-pression in the song correctly portray the essential sentiment. Of course, singer Kishore Kumar sang it with great improvisation"
The engrossing chat now moved to the making of Umesh Mehra's second film Alibaba Aur 40 Chor, a multistarrer action fantasy made with Soviet collaboration. "The film was highly acclaimed in Russia, besides being a "Silver Jubilee" hit all over India. The arrival of a Russian team for a movie titled "Sunrise over the Ganges" and the producer backing out at the last minute had led to the idea of Alibaba Aur 40 Chor with me as director!" Umesh Mehra remembered.
"Those were adventurous and tough times in Russia while the movie was being made. But the final outcome was very satisfying. Even today, the film is among the top five grossers of all time in Soviet history. Its top song "Khatooba" is played in every discotheque there and even in weddings. The word "Khatooba" was actually given by Pancham and there is an interesting tale around it. In Russia, when we were asked what the word meant, we had said it was the Indian equivalent for liquor, and when similarly asked in India, we had said it was the Russian equivalent for liquor!"
Followed two film sequences with background recordings that Umesh Mehra spoke highly of – the "Shakti de maa" chant with special audio effects created for a fight sequence in Ashanti and the famous scene when Alibaba enters the caves in Alibaba Aur 40 Chor. "When Pancham saw the scene he was very thrilled. He picked up stones, tiny boxes, utensils and asked them to be dropped from a height. He then mixed the sounds and played them in reverse fashion to create the background music to give an unusual eerie effect. And its impact in the theatre was terrific". It was also interesting to know finer points about the song "Lawangi mirchi main kolhapur ki". (Ashanti), created with a Maharastrian laavni (form of folk music) base, with inputs from assistant Maruti Rao Keer and singer Asha Bhosle.
"Pancham's greatness lay in the fact that he was open to suggestions and that youth could identify with his music. The innovative use of instruments and sound were his real big strengths. None of the other composers could attempt what he did in the name of improvisation. He was a true genius and a wonderful human being, even occasionally admitting that he could have done a better job of his compositions! It is sad that such a great man and artiste had to later go through a tough phase in life. I still remember the day when he had said "Umesh, kaam chahiye". There were tears in my eyes; I had felt completely shattered. This possibly happens to most geniuses. But God has been kind, Pancham's music continues to live and grow even today!"
Take 2
The landmark Cello prelude of "Yeh jo mohabat hai" (Kati Patang) served as introduction to Sanjay Chakravarti, son of noted musician and arranger Basu Chakravarti. For connoisseur Pancham lovers, it was great to see the very Cello on stage that Basuda had used to play in many of Pancham's songs.
Introduced as an instrument from the string family, the Cello and its bass sound immediately struck chord with the audience. More soothing solo renderings followed, played with great feeling by Sanjay – "Kuch to log kahenge" (Amar Prem) "Zindagi ke safar mein" (Aap Ki Kasam) "Bade achche lagte hain" (Balika Badhu) "Panna ki tammana" (Heera Panna), "Phir wohi raat hai" (Ghar), "Na koi umang hai" (Kati Patang) , "Kya janoon sajan" (Baharon Ke Sapne), "Meri bheegi bheegi si" (Anamika), the memorable mouthorgan piece from Sholay and, icing on the cake, the spine-chilling Gabbar entry piece from the same movie. It was obvious that son Sanjay had nicely learnt and incorporated some of his father's illustrious playing skills.
"My memories of Panchamda are from as early as 1963", Sanjay started in his own words. "I may have been just five days old when my mother was to be taken home and father was busy in a recording. The first time I was exposed to sunlight was in Panchamda's car! He always treated my father as his elder brother; he would be at our place for every function to take blessings. You can't see a man like him today; I don't think there ever will be one". High, respectful words from a seemingly reticent admirer.
"My father came to Bombay as a Cellist. There was a music show in Calcutta which was attended by Dada Burman, Salil Chowdhury and Naushad. The local musicians like my father also participated. Naushad saab was impressed with my father and called him to play in Bombay. He began his career as arranger for SD Burman's music. When Laxmikant – Pyarelal stopped arranging for other composers, my father began to work as arranger for Panchamda. He was with him for 24 years!"
"As composer, I remember Panchamda was always open to ideas; anybody's suggestion that fit the song situation was accepted. He was the musician's true delight; you can hear their music pieces in his songs very clearly and prominently. To me, the success of his music is due to the fact that it is easily hummable – start humming any of his songs and you will understand what I mean", Sanjay passionately said.
Another visual delight in the form of an inspired on-stage performance of "Mehbooba mehbooba" from Sholay, featuring Pancham's music team and Basu Chakravarti, kept the viewers glued. "I am glad I came here. It has been great to see and experience an audience like this. Panchammagic is doing some great work, I wish them the very best in their endeavors". As tribute to his playing skills, he was requested to repeat the Gabbar background piece and he readily obliged.
RD Burman's penchant for the use of western instruments is well-known; however use of Indian instruments like the Dholak (percussion) is also seen in many of his songs. His main Dholak player, Uday Kumar Dubey, fourth guest for the evening, was called on stage as the extraordinary Hare Rama Hare Krishna dance sequence instrumental played in the background. "Dubeyji has been a senior artiste, we are thankful that he has made it to Pune", senior musician Homi Mullan introduced his colleague. "He played till the year 1994 and will today perform on stage after 16 years".
Viewers were introduced to the Dholak sound through songs like "Chehra hai ya" (Saagar), "Tu mera kya laage" (Oonche Log), "Jidhar dekhoon teri tasveer" (Mahaan), "Yamma yamma" (Shaan) and "Dil lena khel hai" (Zamaane Ko Dikhana Hai). "Bahut khushi hui yahaan aake", shared a beaming Dubey. The well-liked "Jai jai shivshankar" (Aap Ki Kasam) kicked off a list of original songs along with live Dholak playing on stage. The player's polish and ability on the instrument despite a long gap was admirable. Some more engaging gems followed to prove this point – "Bangle ke peeche" (Samadhi), "Pal do pal ka saath hamara" (The Burning Train), "Hain agar dushman" (Hum Kisise Kum Nahin) and "Nisultana re" (Pyaar Ka Mausam).
"Panchamda's recordings were special. I used to let the messengers (people used to book musicians) know in advance when we had his recordings. That was because we were never assured of a normal unchallenging day when playing for him and could not guarantee when the recording would get over". The novel playing patterns in "Jab hum jawaan honge" (Betaab), "Saagar kinare" (Saagar), "Kaun mil gaya" (Azaad) and "Paas nahin aana" (Aap Ki Kasam) proved the fact that RD always wanted new rhythms to be incorporated in his songs.
Take some more instances – the Dholak played by placing vertically (known as "Urdu baaya" to musicians) in "Maine poocha chand se" (Abdullah), "Ek din bik jaayega" (Dharam Karam) and "Jaanoon meri jaan" (Shaan). Pancham and his entire team need to be complimented for such unique sounds that have lived on for all these years!
It was now time for Panchammagic supporter and long time RD associate Homi Mullan to take centre stage, amidst a short quick felicitation function for Dubeyji. The champion percussionist has been dearly admired by the Pune crowd for his down-to-earth presence and commitment. Not willing to disappoint them, he expertly demonstrated a variety of instruments, playing along with the original sound tracks. Of course, Panchammagic's committed effort to bring out the variety and range of instruments in RD Burman's music deserves a special mention too.
The small percussion instrument Duggi (resembling the Tabla) was introduced to hindi films by veteran players Abanida and Dashrath. Its unconventional but endearing use in Pancham's music was brought out that evening through some first-rate songs – "Jaago sone waalo" (Bhoot Bangla), "Gori Ke Haath mein" (Mela), "Dekha na hai re socha na" (Bombay To Goa), "Bhali bhai si ek surat" (Buddha Mil Gaya), " Aao jaane jahaan" (Gomti Ke Kinare), "Gum hai kisike pyaar mein" (Rampur Ka Laxman), "Chaiyyan re chaiyyan" (The Train, beautifully blended with instruments Dholak and Woodblocks).
It was now the turn of the instrument Triangle, a thick, rounded length of steel bent in to the shape of a geometric equivilateral Triangle. Note its use in "Hum bewaza hargiz na the" (happy version in Shalimar) and "O haseena zulfonwaali" (Teesri Manzil). The instrument Cowbell, named after a similar looking bell historically used by herdsmen to keep track of their cows, has also been magically used by RD in "Dilbar mere kab tak mujhe" (Satte Pe Satta ), "Kitne bhi tu karle sitam" (Sanam Teri Kasam) and "One two cha cha cha" (Shalimar)
The Tambourine is a percussion instrument , made of a wooden or plastic frame, with pairs of small metal jingles attached to it. Listen to its use in "O haseena zulfonwaali" (Teesri Manzil), "Samundar mein nahake" (Pukar) and "Khatooba" (Alibaba Aur 40 Chor). Another percussion instrument, the Chanda (an Indian drum similar to African and Caribbean rhythm drums), has been skillfully used in songs like "Aa dekhen zara" (Rocky) and "Bachna ae haseeno (Hum Kisise Kum Nahin)
Additional demos to highlight the versatility of the composer and the musician – Donkey jaw (Tongs-shaped instrument of Peru origin, sound is produced by slapping the jaw) in "Haye re haye tera ghungta" (Dhongee), the Manjira (Indian traditional percussion instrument generally used in devotional or folk music) in "Bolo bolo kuch to bolo (Zamane Ko Dikhana Hai), the Kalimba ( a South African instrument which has a sounding board to help resonate the plucked sound) in "Aise na mujhe tum dekho" (Darling Darling) and the Timpani (a type of Drum) in "Teri meri yaari badi purani" (played by a mallet, Charitraheen). The show had surely stretched beyond normal time, but an interesting quiz on the intro music of "Na soenge, na sone denge" (Mr. Romeo, effect produced on a Cymbal with nails placed inside!) offered salvage.
Shammi's video tribute to Pancham, Homi Mullan acknowledging Basu Chakravarti as the man who brought him to Bombay and Pune Akashwani's effort to recognize contribution of every Panchammagic member – continue to remain additional cherished memories of a treasured evening.
Another exciting RD Burman birthday celebration had got over. It has been ongoing challenge for Panchammagic to continue with the consistent work, given that many of Pancham's close colleagues are no longer with us. The team's tireless effort to keep the narrative going surely deserves a special mention. Hats off and heartfelt kudos!
As die-hard Pancham fans, we continue to offer our unwavering, staunch support. And await the onset of January 2011 to embark on another RD exploring mission – a journey that promises to be filled with unending anticipation, long lasting thrill and a satiated sense of achievement.
– Shankar Iyer
---