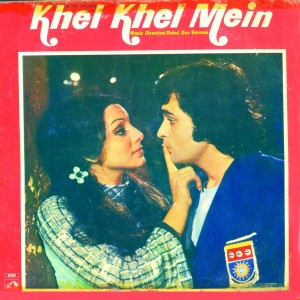 Title Song: "Khel Khel Mein …"
Film: Khel Khel Mein  (1975)
Producer: Ravi Malhotra
Director: Ravi Tondon
Lyrics: Gulshan Bawra
Singer:  R D Burman, Asha
One may wonder what this title music is doing in the section of "song of the fortnight", but as it's a Pancham creation, we all know his love for this visual medium and it was HE who could bring out that intense and complete expression as in any of the conventional songs.
Generally, a title track is what is played at the time of film credits rolling on the screen. Its also a fast forward glimpsing of the film story and its theme.
This field of film titles and also the background score is where Pancham revolutionalised the concept and remained way ahead of all others.
Some of HIS title scores which have become popular like Sholay,Aandhi and Shaan. Some like Deewaar have repeatedly used not only in HIS but also other films.
Still, many of HIS title scores remain unexplored for their beauties , hence this business of tribute.
One of HIS titles which is very close to my heart is that of "Khel Khel Mein".
The film is a suspense movie which portrays college youths getting entangled in the web of gangsters due to a seemingly fun-purposed prank.
The track starts with the violins, with a cross thread of cello, which is a sort of musical expression of "WOW, WHAT A SCENE" taking us to that fresh and serene snow-packed mountaneous zone.
What follows is a typically Pancham bass-guittar cue and the strumming tune on guittar very reminiscent of the one in Sholay title. Asha and Pancham entering with the humming "la la la la" and singing "khel khel mein".
The tune is so engaging, very nimble, of youthful pace , in short sounding PANCHAM that anyone is bound to fall in its love instantly.
A playful jugalbandi of Asha and Pancham is very well taken over by the soaring trumpets and the surging violins with the seamless transition.
Its nothing new about Pancham displaying a spectrum of tunes of the songs of the album in the title, but here HE does it so lovingly.
Somewhere at 1:38 min, HE inserts "khullamkhulla" on trumpet. Before you are out of this sweet surprise, follows immediately is "sapna mera" on violins in HIS own inimitable way.
Noticable thing about this effortless trick is the way HE uses the instruments, their tone and style and immaculate placement which does not make them sound alien but actually carrying forward the main theme tune of "la la la ".
As if its usual business, it returns to the theme tune with Asha and Pancham returning for the last time and the violins raising to the climax.
Everything happening so lovingly and "khel khel mein",
By the way, there is an interesting story behind this title track. The track we find on the vinyl was the one to be used for titles but somehow changed last minute. So we find this track only in the film. The track on the vinyl was later used for Dil-diwana.
But this change turned out to be a blessing in disguise as it had that signature theme which we revisit in the film in so many situations and in so many ways.  By introducing it in the titles, Pancham has already made the tune familiar and in fact grafted in the viewer's mind so successfully.
In my opinion, this tilte plays a major role in the success of the film.
Sudhir Kulkarni
Panchammagic.Org
---