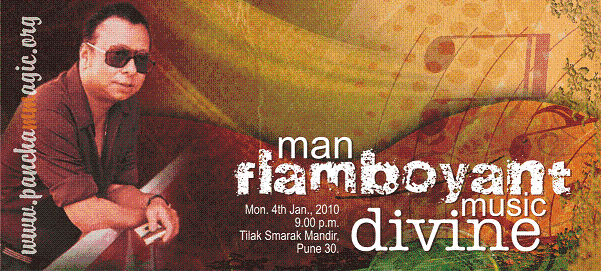 Guests:
Jairam Acharya –  Sitar
Ashok Sharma –  Sitar
Zarine Sharma –  Sarod
Chandrashekhar Gadgil –  Singer
Pramod Sane –  Percussionist
An audio-visual tribute based on original soundtracks with inputs from his friends and musicians.
4th jan 2010, Tilak Smarak Mandir, Pune.
The onset of January 2010 ushered in another brimming prospect for RD Burman fans……the occasion of their beloved composer's 16th death anniversary to relive poignant memories and discover some more of the magic maker's fascinating work. Thanks to Panchammagic's untiring endeavors, the appetite has remained alive and kicking. In fact, the hunger has grown…..enough to draw Pancham lovers (yours truly included) time and again to the buzzing metro city of Pune.
Venue: The familiar Tilak Smarak Mandir. As the clock strode past 9 pm, curtains began to unfurl, with the household Hum Kisise Kum Nahin competition track heading its way through the speakers. The fervent ambiance was noticeable; Panchammagic's 10th anniversary year embarked on an all-new flight of Pancham discovery. The show's theme 'Man flamboyant music divine' attempted to unearth the 'not-so-mentioned' Indian-based compositions of the multi-colored composer!
The soulful "Tumi koto je dure" set the backdrop for a memorable musical gathering. The program's first song? "Ghar aaja ghir aayi" from the first Pancham film Chhote Nawab. Rightly so. After all, the evening's opening guest, reputed Sitarist Jairam Acharya had played in the Chhote Nawab's 1961 debut song!
With a live demonstration of the song's mukhda, Jairamji's playing instantly invited applause from the audience. 81-year old Jairam Acharya belongs to a family of Sitar and Violin players. He came to Bombay in the year 1939 with the desire to become a singer in Hindi films. He even played part in the chorus for the song "Naya zamana aaya logon" (Mera Sansar, 1941).
Though Jairamji's father wanted his son to take to the instrument Dilruba, young Jairam was keen to play the Sitar. "I was learning to play the Dilruba from my childhood. There was a Sitar at home which I picked up one day and began playing. That is when I got attracted to the instrument". Joining music company HMV in the year 1946, Jairamji fine-tuned his playing style by watching and learning from Sitar maestros like Pandit Ravishankar. He later joined the famous Rajkamal Kala Mandir, even getting a chance to play on-screen for the film Teen Batti Char Raasta! Having literally played with all yesteryear Hindi composers, Jairam Acharya has been proud recipient of the prestigious Dadasaheb Phalke award for contribution to music.
The Chhote Nawab magic continued with the film's beautifully built title track, filled with some of Jairamji's lovely Sitar pieces. "Pyarebhai, RD's assistant for the movie, had explained to us the pieces. One must remember that playing for a Hindi film song meant executing the composer's concept; which is different to playing a piece of classical music. Moreover, during those days there were only 3 tracks, one for the singer(s), one for percussion and the third for the orchestra. All sections had to be attentive and ensure that they played their piece right the first time!"
To the question "Why a career in film music?" Jairamji said "The benefit was film musicians were paid immediately, unlike the Classical musicians". On his association with Pancham, he remembered "When SD Burman used to call me for a song recording; Pancham used to be there, especially during the later days. When I used call him Panchamda, he used to say Panchamda mat kaho, Pancham kaho".
Next – The Sitar-decorated "O Ganga maiyya" (Chandan Ka Palna); the song had also been nominated for the Sur Singar award! Complimenting on the composer's versatility, Jairamji said "Though Pancham was keen on using percussion and rhythm, his compositions never deviated from the essence of Indian music" Another striking case in point – the Sitar prelude of "Main na miloongi" (Pyaar Ka Mausam).
"I left Sitar playing in 1995; I have not seen the face of artists after the1980s. I practice nowadays for my own self. I play for friends and well-wishers who visit home", Jairamji concluded. The moving "Aaj to meri hansi udaai" (Gomti Ke Kinare) with the stalwart's characteristic Sitar pieces concluded the short but sweet first session for the evening.
Replacing the veteran on stage was another 'not-so-young' Sitar expert Ashok Sharma. Pandit Ashok Sharma, youngest son of Bhagatram (of the famous Husnalal-Bhagatram film music duo) has been a well-known Sitar player, winning many gold medals and the famous Surmani award, besides playing in Hindi films. Ashokji has learnt the Sitar from his father Pandit Bhagatram, Pandit Ravishankar and Pandit Dilipchandra Bediji. His wife and celebrated Sarod player Pandita Zarine Sharma (earlier Daruwala), has learnt from eminent musicians Pandit Hariprasad Ghosh, Pandit Manohar Chemote, Pandit P Madhukar, Pandit V G Jog, Dr. S C R Bhatt, Pandit Bhismadev Vedi, Pandit Laxmanprasad Jaipurwale and Padma Bhushan Dr. S N Ratanjankar. She has been winner of 19 gold medals and has performed in front of 'Her majesty Queen of England'. She has also won the President's award and the Dadasaheb Phalke award for outstanding contribution to music.
With Mr. and Mrs. Sharma taking centre stage, viewers were blessed with some finest chat moments of the evening. A spectacular audio dance sequence from the 1977 Gulzar movie Kinara set the tone for a hear-felt, sincere talk session. "My memories about Panchamda are from my early days when I played for Aarohi and Sham-e-ghazal on Doordarshan TV. I used to meet him daily on my way at Worli. I still remember he used to ask "TV center ( Doordashan!) jaa raha hai?" "We have played in many of his songs, most of them films by Gulzarji, who himself is a great Sitar fan!" mentioned Ashokji. Zarineji continued humbly "Humne Panchamda ke saath kaafi saal kaam kiya. Panchamda the nahin, hain, wo amar hain.
Unke recording mein jab bhi main gayi hoon, mujhe ek din bhi aisa mahsoos nahin hua ki main recording mein thi. Itna homely atmosphere hota tha, koi tension nahin, koi apmaanit bol nahin". "Panchamda had a lot of respect for elder artistes. I remember when I asked him if I should play a piece in my way; he carefully said – Don't ask me again, a player knows more about what is good for the situation. Such was the greatness of the man!"
The "Naam gum jaayega" (Kinara) haunt, with its brilliant Sitar and Sarod pieces introduced the two artistes. The first interlude Sitar and the second interlude Sarod effortlessly catapult the song to another level. Host Ankush now played the third interlude from the Lata version of "Mere naina saawan bhado" (Mehbooba) – a song with an exotic combination of Sitar and Sarod. "Panchamda himself knew to play the Sarod; he had learnt from Ustad Ali Akbar Khan. So he understood the instrument well and knew its range. You can hear the same classical touch in the background music of the movie (Mehbooba)", Zarineji remarked.
"Having worked with so many composers, I would say Panchamda's team was a really powerful team, possibly the best of all", Zarineji continued. "It is wrong to say Panchamda was a western composer. Through scores like Amar Prem, he proved that he was equally adept at making Indian compositions".
"There was equal emphasis on all his sections, Violin, rhythm, and Key board. This mutually benefitted all due to the healthy competition that prevailed. Moreover, Panchamda was always open to contributions from his musicians and anything that suited the tune, music and situation was incorporated". Truly, words that spoke volumes of the composer's open mind and ear for music!
"Ye haar dekhke lagta hai ki wo nahin hai, varna aise lag nahi raha hai ke wo hamare beech nahin hain". A song for the occasion – second interlude of "Piya banwri" (Khubsoorat), with wonderful fusion of the Indian and the Western styles. "Is gaane mein, Sitar ko Indian touch de kar, Violins ka pick-up diya hai, jisse Western touch aa jaata hai. This was Panchamda's speciality", Ashokji explained.
Another superb instance – the third interlude in "Tu rootha to main" (Jawani), with easy shift from the Western to the Indian style and back. "Note the Flute in this song played in the same way as the Sitar. These songs are great examples of Panchamda's ability to effortlessly move between two styles of music. And his skill to pick-up on the off-beat was truly amazing", Ashokji was all praise for the composer!
Some more special Sitar songs to illuminate the moment – "Aaj kal paon zameen par" (Ghar) with a 'whirlpool' prelude effect to suggest a build-up to the song, the soft and soothing "Bade achche lagte hain"(Balika Badhu), the swinging romantic "Rimjhim rimjhim" (1942 – A Love Story), the ever-appealing "Tere bina jiya jaaye na" (Ghar, again !) with signature second interlude Sitar, the Bangla version "Ami dhonno" (Purushottam) with its blissful predecessor "Hawa ye prabhati" (Shubhkaamna) and the intense "Tujhse naaraz nahin" (Masoom)
As if to compliment Pancham's grip over the 'filmi-classical' genre, host Ankush played these two creations – "Roz roz daali daali" (Angoor), with an awesome Sitar and Violin blending and "Beeti na bitaai raina" (Parichay,) with its distinctive Sitar prelude. Zarineji remembered the recording days "Once the rehearsals were over; Panchamda used to stand at the centre with the Harmonium. Though arrangers explained their part to us, Panchamda made it a point to repeat the musician's piece to let us know of the exact ex-pression required. He even motivated his musicians to give a little more to the music piece
Ankush took the opportunity to refer to a music pattern – the Jhaala. "A jhaala is more a rhythmic combination of notes; Panchamda always wanted to give a different color to every song. A jhaala can be anywhere in the song, Panchamda used it even at the start of a song!" illustrated Askokji. A stunning example of a Sitar-filled Jhaala at the beginning of a song – the prelude music of "Bechara dil kya kare" (Khushboo)!
"You will always find a new color in many of Panchamda's songs. That is because he valued everybody's contribution, always openly appreciating musicians in front of the team. Many a time, even a wrongly played piece was retained so that it could be used later. Moreover, he showed the same interest in all his songs. Be it any production house, the effort was sincere. Though there was fun on the sets, it was back to serious work when a song was being recorded. Par har kalaakaar dil se kaam karta tha!" recounted Zarineji.
An evocative silence prevailed as the next song was played – "Aeri pawan" (Bemisaal) with its ear-catching 1st interlude Sitar pieces. "The Sitar was played one octave lower after the preceding Violin piece; that was to give it a classical touch", described Ashokji. "Saawan ke jhoole pade" (Jurmana) and "Doli mein sawaar" (Balika Badhu) further augmented the belief of Pancham's expertise with Indian instruments.
"Ye tha ek hi sur ka khel and ek hi music director ka khel……..Pancham!" More Pancham – Ashok Sharma output to establish the point – "Mere dil se ye nain" (Zehreela Insaan) with the intoxicating Sitar, Tabla and Western mix, the souful Ektara in "Mere saath chale naa saaya" (Kitaab) and the Thumri-based "Humein tumse pyar kitna" (Kudrat) by Parveen Sultana.
Two special Sarod songs to speak of the terrific Pancham – Zarine Sharma chemistry – "Mera kuch saaman" (Ijaazat) and "Is mod se jaate hain" (Aandhi, with Sitar by Jairam Acharya). The unique playing has no doubt contributed to the undying magic in these songs, only exemplifying the earlier point made by Zarineji on Pancham's command with the instrument!
Asked about his favorite RD song, Ashokji said "Panchamji khud hi pyare the, unke gaane bhi pyare hi hote the". "Bheegi bheegi raaton mein" (Ajnabee) with the double stroke playing Sitar in the first interlude to signify the season of monsoon, remains the song's real knock-out punch!
"I remember my last recording session with Panchamda at Madhurdhwani studio. Ab wo jahaan bhi hain, sangeet ka hi kaam karte honge", Ashokji reminisced. Zarineji added "Panchamda is immortal. We must not forget Ankush and Panchammagic for their undying passion to explore and present the different aspects of Panchamda's music. I pray that they continue to do well with this noble intention".
Fittingly enough, versatile musician, artiste and Pancham pillar Homi Mullanji was called on stage to felicitate the two senior artistes. Refreshingly innovative was the launch of a special tool on the Panchammagic website to help download Pancham's filmography to mobile handsets. The first half concluded with the inauguration of the much-awaited 2010 Panchammagic calendar and a short preview of the Brahmanand film 'Pancham Unmixed', released by Shemaroo videos.
Take 2
As the curtains re-opened to the energetic Boy George and Hope August numbers, Ankush invited Pune based singer Chandrashekhar Gadgil on stage. Chandrashekharji expressed thanks for having invited him to the show. "I began singing from the late 1970s and was fortunate to meet Asha Tai at a Marathi song recording. She introduced me to Panchamda in Feb, 1979".

The talk predictably moved to "Dukh sukh ki har ek mala" (Kudrat), the song that the singer has been most associated with. "Panchamda wanted to record the song with my voice. He had to convince the film's director Chetan Anand for 2 to 3 days. Lyricist Qateel Shifai was involved to write the song later".
"When the tune was being made, I hesitantly told Panchamda "Aap jo dhun baja rahe hain, wo pehle aa chuki hai. Aap hi ki film thi, Humshakal ka gaana tha, Udti chidiya udte udte phans gayi". The great composer that he was, he immediately moved his fingers on the Harmonium and composed a second tune for the situation. All people around him, including me, were utterly surprised at his speed!" After the incident, he appreciatively told me "You are not only my singer, you are my sitting member". This showed how much he valued even the smallest of contributions from his team and people!"
"Panchamda took great care of upcoming artists like me. Though there were some who did not want my version of the song, he was firm to say "Film ke liye jo chahiye karo, lekin HMV ko Chandrasekhar Gadgil ka hi gaana jaayega". I am obliged to Panchamda for that!"
The Pune singer remembered the song was recorded on 17th Oct, 1979. Repeating his performance after 30 years, his special resonant voice drew huge support from the listeners; in fact made the audience go mad. They were all greatly thrilled; it was surely worth a 'repeat' performance and the singer obliged.
Chandrashekharji also shared another extremely touching episode on the song. "Rafi saab was singing his version of the song. After 3 interludes, when he had stopped briefly, he overheard somebody from the recordist cabin say "Yahi gaana wo Poona ke dadhi waale ne kya gaaya hai". On hearing this, Rafi saab immediately called Panchamda and asked "Ye gaana pehli kisine gaaya hai?" When Panchamda said "Yes", Rafi saab immediately said "Kyon kisi naye kalaakar ki zindagi mere haathon barbaad karte ho?" Such was the man's greatness that he did not go on to sing the 4th stanza. As you all know, the song has only 3 stanzas in the movie. I must say, the entire "Dukh such ki" story is worth writing a book on!"
"Another song that I am infinitely indebted to Panchamda is "Shakti de maa" (Ashanti). The song has been very popular; appreciated by all. It is played regularly during the Navratri festival. The song's great success has been due to Pancham saaheb" the singer earnestly expressed.
It was time now for Homi Mullanji to introduce the evening's final guest Pramod Sane. Pramodji has been a well-known Tabla player, commencing his career as musician in the 1980s. His first film with Pancham – the 1983 film 'Agar Tum Na Hote'. "Pramodji bahut his sincere artiste hain, he used to come to Film centre to listen to RD's songs. I remember he used to come at 9 am and sit till late evening, only to experience and enjoy Panchamda's song recordings!"
Pramodji began "My first memories of Panchamda go back to the early 1970s. "Main ghazab ki cheez hoon" (Rickshawala) from his early days impressed me for its dazzling style and effect". The first demo by Pramodji along with the Agar Tum Na Hote title song delighted the listeners. Another nice display was the sound of 'chappi' so nicely used in songs like "Samundar mein naha ke" (Pukar) and "Baaj uthe ghunghroo, dil se nikale haai" (Chor Pe Mor). Showing his caliber as a gifted musician, Pramodji played alongside some more songs – "Baadal jo barse to" (Gardish), "Aaj ki raat raat bhar jaagenge" (Jagir) and "Badan mein chandni" (Ghatak), with the incredible single Tabla beat in the last two songs serving ample proof of Pancham's abundant will to experiment!.
More exhibitions of the use of Tabla followed as remembrance to Maruti Rao Keer, Pancham's main rhythm man. Note the 'out of the ordinary' use in "Shaam se aankh mein" and "Joothe tere nain" (both Dil Padosi Hai), the unconventional but loving use in "Aise humein dekho nahi" and "Tum jo mile to laga" (both Drohi), the experimentative use in "Pyaar hua chupke se" and "Rooth na jaana" (both 1942 – A Love Story), the novel use of two Tablas in "Jaipur se nikli gaadi" and "Aana re aana re" (both from Gurudev) . And don't complain if a sense of déjà vu prevails…….the "Aana re" song certainly has a "Chadhti jawaani" (Caravan) touch to it!
Some fun stories continued – "Tumse milke zindagi" (Chor Police) with its 'Dum Dum Dumak' 'Monkey & Capseller' tempo and use of the words "Batata wada" in the Hifazat song, thanks to Manya Barve, RD Burman's Tumba player. The evening's last song – 'Katra katra' (Ijaazat), left viewers with the hope 'There is something more to come!'
Some vibrant moments continue to stay in memory- Pancham's favorite 'Maachis udana and paani mein daalna' timepass, Zarineji's touching tribute to Manoharida's (Manohari Singh) versatile abilities, also thanking Pancham's huge faith in the team and last but not the least the caring side of Pancham while interacting with senior artiste Rajkumariji at the song recording of "Hari din to beeta" (Kitaab).
The three-hour plus memorable experience had come to a fulfilling end. Another RD Burman canvas had been endearingly painted. What will the next show be about? Hopes have started to fly high……
We have seen the man's divine music and his divine side too! So, how about a flamboyant birthday celebration with a flamboyant journey of the man's flamboyant compositions? We hand it to Panchammagic…and patiently wait for the dawn of 27th June 2010!
Shankar Iyer
panchammagic.org
---