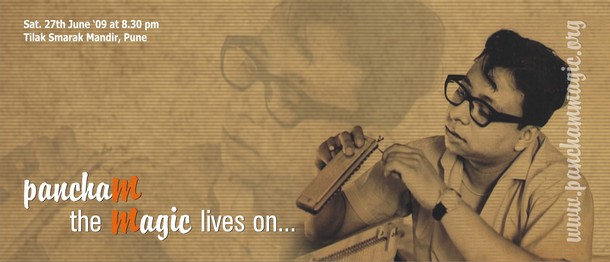 Guests:
Ashim Samanta – Director
Yogesh – Lyricist
Franco Vaaz – Percussionist
The 70th birthday celebrations of composer Rahul Dev Burman promised another eventful get-together for Pancham fans.  The fulfilling Panchammagic assurance and the inviting Tilak Smarak Mandir ambiance were back – to offer the latest merry-go-Pancham ride. It was but natural for RD Burman lovers (yours truly included) to head towards the cheerful city of Pune…..How could they remain unaffected by the prospect of another memorable journey of exploring the Lilliputian composer's Goliath-like work?
The power-packed stereophonic blast of "Doston se pyaar kiya" (Shaan) welcomed viewers to the show. The expectant fervor began to show itself, with the lights switching off. After all, guests for the evening – film director Asim Samanta, famous long-serving director Shakti Samanta's son, legendary poet Yogesh and well-known drummer-cum-percussionist Franco Vaz – promised a lot, given their long meaningful associations with RD Burman.
The opening song "Tumi koto je dure" was followed by a short homage to close Pancham associates who passed away this year – recent one being Sarod maestro Shri Ali Akbar Khan, Pancham's Sarod teacher. Film maker Shakti Samanta also left us this year on 9th April. With themes that could be watched by families, Shaktida's movies boasted of some excellent music right from his early days- Howrah Bridge (1954, OP Nayyar) – to the later years of Barsaat Ki Ek Raat (1981, RD Burman). Shaktida (as he was popularly known) worked with different music directors, but his tuning with the Burmans (both father and son) always remained extra special.
An engaging video tribute showed ample proof of the unforgettable Shakti Samanta – RD Burman partnership – the haunting back-ground voice of Pancham in Aradhana (1969 with SD Burman's music), the delightful Mouth-Organ in "Mere sapnon ki rani" (Aradhana again), "Ye jo mohabbat hai", "Ye shyam mastani", "Pyaar diwana hota hai", "Jis gali mein tera ghar" and "Na koi umang hai" (Kati Patang), "Teri meri yaari badi purani" (Charitraheen) "Do lafzon ki hai" (The Great Gambler) "Raina beeti jaaye" and "Chingari koi bhadke" (Amar Prem), "Apne pyar ke sapne"(Barsaat Ki Ek Raat), "Hum dono do premi"(Ajnabee), "Mere naina saawan bhadon" ( Mehbooba) and "Maajhi teri naiyya se" (Aar Paar) . It was only apt at this point for host Sagar Kopardekar to welcome the evening's first guest, Shri Asim Samanta, on stage.
"Panchamda yahin hain" started Asim Samanta endearingly. When asked about Pancham's contribution in Aradhana, he said "Pancham was assisting his father, music was by Sachinda only". Interesting to note that Aradhana was also done in Bengali; the duet "Madhabi phutechhe oi" by RD Burman and Lata Mangeshkar sounds more sweet and melodious, though similar to "Baagon mein bahaar hai" from the movie's Hindi version.
"I had met Panchamda during the Kati Patang and Amar Prem days. The gap between father, him and me was 14 years on either side. He was elder brother to me and younger brother to father. I remember witnessing his genius right from the "Yeh shyam mastani" days; I was at the song's recording too". The latent masti of "Aaj na chhodenge bas humjoli" (Kati Patang) – served compelling evidence to the composer's ability to dabble with the unusual, even in his early days. Note the effortless shift in tempo as the song moves to and fro from the fast mukhda to the slow swinging antara.
"When dad launched Amar Prem, he asked Pancham if he would give music as the movie required a classical music style. Panchamda readily took up the challenge and how well he did it. Note especially the scene when Sharmila Tagore sees her ex-husband die, the milk is shown boiling, as she relives her past. Panchamda recorded a back-ground music piece and played it in reverse to suit the scene picturisation!" recounted Asim Samanta.
When asked "What was RD Burman's source of inspiration", Asim instantaneously remarked "Panchamda had music in every cell, every pore of his body. He had great knowledge of Indian and Western classical music and Indian folk music. He would listen to music from all parts of the world and use it as inspiration. And how well he blended them together!"
"He always kept the song situation in mind while composing". The drizzling drops of "Bheegi bheegi raaton mein" (Ajnabee) and the dazzling couple of "Teri meri yaari badi purani" and "Chhota sa ghar apna" (Charitraheen) offered some more proof of RD Burman's gifted artistry to compose easy melodies and transit seamlessly between the Western and the Indian flavors  – yet being at home, as literally in this case!
Next – A medley of songs from Shaktida's The Great Gambler. A thoughtfully picturised back-ground score, the title music, "Tum kitne din mile", "Pehle pehle pyaar ki mulaqatein", "Raqassa mera naam" and "O diwano dil sambhalo" – indicate RD Burman's command over a variety of music forms. Did Pancham prefer the mood or the lyrics? "Sometimes the lyrics were written first; sometimes the tune made first to get the essence of the song situation. It was his remarkable rhythm sense, combined with a distinct melody and orchestration style that made his songs exceptional", summed up Asim Samanta
"The movie Barsaat Ki Ek Raat was shot in Darjeeling. Dad wanted the 'Pahadi' style of music. When the situation was given to Panchamda; he was very excited about the song "Kaaliram ka dhol". The movie was simultaneously made in Bengali and Hindi. The extra effort in the Bengali version "Otho Otho surjai re", the equivalent of "Nadiya kinare pe", is noticeable enough. On a different note, the mixing effect in "Main tu ban gaya" for Mithun Chakraborty's double role in Aamne Saamne bears testimony to Pancham's daring will to experiment and think beyond the normal confines.
"For back-ground music, Panchamda would see the film once and compose music for the scenes. For my film Palay Khan, which was an Afghan-based story, he got the local instrument and used it for the back-ground score. He was very excited; he could use a different style of instrument playing, peculiar to that region". The movie's back-ground music for the action scenes and the superbly orchestrated-cum-executed "Kabul se aaya hai" (inspired from Burmanda's "Ye Chandra roos ka, na ye Japan ka") clearly illustrate the composer's extraordinary passion for instruments and orchestration.
"From a director's point of view, Panchamda knew exactly what the director wanted. Since he excelled in all types of music, he could give music that the situation demanded He was a director's delight in the true sense. We never interfered with his music making; this was true even for the back-ground scores". Another stunning execution – the Aradhana back-ground music piece when junior Rajesh Khanna is introduced to mother Sharmila Tagore. "Credit for this really goes to Pancham", acknowledged Asim Samanta.
"Panchamda was a very warm person; full of life, very jovial. He was the darling of every person in the recording room; he also had many friends. Rajesh Khanna, Shatktida, Anand Bakshi and Panchamda all used to meet in our house over drinks. They were close friends and discussed music regularly. Anand Bakshi's words "Chingari koi bhadke" with its basic tune was used in the movie Amar Prem. As a singer, Panchamda had a special charm in the way he sang his own songs", admitted Asim Samanta. "I remember how much I used to like "Bada natkhat hai" (Amar Prem) in Panchamda's voice over the recorded Lataji version".
"A few years later, when I signed Annu Malik for my movie Aakhri Baazi, I was feeling guilty for not having signed Panchamda. When he met me, he simply said "Congratulations, it is good that you have signed Annu". "It showed he was really big-at-heart as a person", Asim Samanta emphasized.
"I remember on January 3rd 1994, father had thrown a party. Panchamda had come home after recording the back-ground music of 1942, A Love Story. He was looking very thrilled and energetic. After having food, he left home at 1.30 am in the morning. At about 2.30, his assistant called me to say Panchamda was no more. I felt terribly sad and shocked".
Shakti Samanta's touching clip recorded on Pancham's death – "RD Burman was a great musician, in addition to being a good friend. I met him first on the sets of SD Burman's Insaan Jaag Utha. We worked together for 20 films; every evening we sat to discuss and make songs. He would make tunes very fast, in fact within minutes. We will continue to remember his compositions for ever. He will remain immortal like his father" – made a lasting impact as the first half progressed to conclusion.
.
The announcement of audio and video releases by Universal company and sponsor Shemaroo brought the curtains down for the first session. Shemaroo's much-awaited release of the RD Burman documentary 'Pancham unmixed' made by Brahmanand Singh came as great news for Pancham lovers.
Take 2
It was time for the evening's second guest – unassuming classy poet Yogesh Gaur – to take centre stage. Yogeshji, with simple, unpretentious Hindi parlance as his forte, has been one of the true living legends of Hindi cinema. The complexities of life and futility of human relationships easily illustrated in his writings, it is no surprise his words immediately connect with music listeners, be it connoisseur or common.
The title music of Bada Kabutar welcomed the song-writer on stage. "I was introduced to Panchamda when I was a struggler. He assured me that he would have me to write lyrics for his next movie. That is how I got to write for Bada Kabutar.  The movie was slight comedy-based; you will find the title song a little funny"….as is the uncommon but lovable lullaby "Chanda mama bole" from the same movie.
"I was a fan of movies in my young days. However, father's sudden death led me to join films for a livelihood. My cousin Vrajendra Gaur was already in films; I moved to Bombay with the hope of joining films, not necessarily as a song-writer. I did about 10 films with Panchamda; it was unfortunate I could not work with him more" remembered Yogeshji of his association with Pancham.
"As with all music directors, we used to have sittings where the films' stories were first narrated. The tunes were then made and approved by the director. We were then made to write on the tunes". The Manzil medley – "Tum ho mere dil ki dkadkan", "Man mera chahe" and "Rimjhim gire saawan" (female version) bolstered the already charged crowd. "Director Basu Chatterji had explained the situation for both the "Rimjhim gire saawan" versions. The male version shows the hero chasing the heroine, later finding her at the same wedding; the words reflect his state of mind. On the other hand, the heroine's song is an outdoor version; the words depict her feelings of falling in love" explained Yogeshji.
"Takra gaye do, baadal amber" (Mazaaq) was a bit challenging, since it had the interspersed dialogue. The demand for the dialogue was from the film's producer" Yogeshji recalled. On the making of the famous song "Jadoo daar gayo re", he recollected "Humhare Tumhare was a remake of Basuda's Khatta Meetha, a story of big family with many children. This song situation arises when the father gets romantic. The song's gimmicks, the improvisation were all possible due to Kishoreda; he takes credit for 70 % of the song's success. Panchamda requested him to decorate the song in his own way and how well he rose to the challenge!"
Two uncommon but delectable songs from the Pancham -Yogesh combination "Tum se hi to shuru hai" (Adhura Aadmi) and "Chalo haseen geet ek banayein" (vocals by actor Ashok Kumar in Shaukeen) further underline the terrific chemistry between the two talented artistes. One gets the feeling that the pair promised a lot, but, somehow, never really took off in a big way!
The evening's real hero, Franco Vaz was now welcomed on stage amid the plucky beats of "Poocho nahin dil mera" (Qayamat). The drummer's affectionately written personal address set the tone for the rest of the evening. "Good evening ladies and gentlemen, all you lovely RD Burman fans and my fellow musicians including my seniors who are here. This is a very unique and different show. You have been a supportive, responsive and vibrant audience; if Panchamda was here, he would have been damn excited. I feel blessed that God gave me an opportunity to work with Panchamda and in the process, I made my sincere contributions as a drummer and percussionist to Panchamda's music".
When asked about his initiation towards the Drums, Franco said "I was a Violin player when at college. But later, I realized that to get more noticed and be in the action, the best thing would be to move to percussion playing. My dad Francis Vaz being a percussionist and drummer in C Ramchandra's troupe, it was natural for me to take to percussions and the Drums. One fine day, Panchamda summoned me; it was dad who encouraged meeting him. I had played in the background music of Warrant earlier"
"My first major song recording was the title song of Kasme Vaade; Panchamda agreed with the second take. And from then, he took me under his wings and taught me all the tricks of the trade. Today if I am known in the industry, it is only because of him. He was a teacher, friend and colleague, all in one" The Kasme Vaade title duet, with Franco's brilliant Drums had the crowd in sheer rapture. "Pancham's songs had fragrance from all over the world. He especially loved Carlos Santana and asked me to name my son Carlos", mentioned Franco
After the explosive "Ek haseen gulbadan" (Karishma), the discussion moved to the different song pick-ups in Pancham's music including contributions from his capable musicians like Maruti Rao. The distinctive pick-up in the mukhda of "Dekho dekho yeh to kamaal ho gaya" (Yeh To Kamaal Ho Gaya) established what was in store for music lovers. "The Captain himself was so great, we all felt motivated" beaming Franco said about Pancham.
The first lively demo began with the Bosonova 1-2-3 rhythm. "Panchamda used the Bosonava beats very cleverly. He used to bring in half of the Bosonava rhythm and use that to go in to another rhythm or pick-up". "Jaani dilbar jaani" (Raksha), demanding a 'once more' from the crowd, set the pattern for a series of live Drums playing, much to the ecstasy of the audience.
The demo sound of a 'Rim Shot', so beautifully used in the mukhda of "Phir aankh phadki sanam" (Dhuan) only added to the jubilation. "Panchamda used rhythms to support the song and not disturb them. He thought of every song as having a rhythm in itself. "O Maria" from Saagar had a different rhythm initially. The pieces had all been rehearsed (original rhythm demonstrated by Franco). Panchamda was not happy and suggested using a Caribbean rhythm. He also recommended that the Cymbal be played on the off-beat. Such was his innovativeness that the song was fully transformed with an entirely new rhythm and pick-up". Again, on a separate note, the popular "Jahan teri yeh nazar" (Kaalia) beautifully blends the 2-4 and the 6-8 music patterns, common to the music of Goa, Franco's native place.
"Generally pick-ups are used at the beginning of a song; there are also phrases in songs where they can be used. You may use pick-ups at the beginning phrase or the end phrase. But there are many instances when these phrases need to be inter-linked. The first phrase needs to flow to the second one, the second phrase to the third one and so on….." explained Franco. "Dekho idhar jaane jidhar" (Boxer) served as perfect illustration of the same. The crowd clapping to the 'slow-to-fast' pace build-up and the exquisite Guitar and Drum pieces made the song an exhilarating experience.
At this point, host Ankush invited the film's director Raj Sippy for his comments. "We recorded this Boxer song in 1 day. We have all the facilities today, but unfortunately it takes all the time in the world. I can't take the credit away from Pancham. The change of tempo was totally his idea. He used to come up with last-minute additions to the song, though he would consult you. He was truly a legend. Yeh sab log masti karte karte music banate the. When it was recording time however, they would get back seriously to work. The back-ground music of Satte Pe Satta was completed in 4 days. No doubt, Pancham had such an endowed musical team to execute", reminisced Raj Sippy in his unmistakable masculine voice.
"I was part of many of Panchamda's sittings. We all used to be there to get the song's feel; each member was assigned the responsibility to play an instrument. Maruti Rao was the ring leader, directing us to play", Franco continued. Two more sterling examples of connecting song phrases – "Aa dekhen zara" (Rocky) and "Tum dilwalon ke aage" (Sitamgar) demonstrated to Franco's live playing only added to the pulsating experience. "For Rocky, Panchamda wanted some energy in the song; it was like shifting a moving Car to the 4th or 5th gear. The song from Sitamgar was Maruti Rao's experiment. Initially Panchamda did not appreciate the Drums as he thought they were acting as hindrance .The last-minute suggestion by Maruti Rao for a different pick-up clinched the issue as Panchamda agreed"
The bonus recordings in Pancham's own voice thrilled viewers no end. "Samundar mein nahake" (Pukar) and "Zainadu" for "Jaane-jaan" (Sanam Teri kasam) left them asking for more. When asked about the types of Drums, Franco explained "As the name suggests, the Roto Drum is basically a drum head mounted on a frame that can be rotated to change the pitch – in short, a Drum that can be rotated for tuning or de-tuning a song. Timpani Drums, on the other hand, are played by striking the head with a specialized Drum stick or a Timpani mallet. These Drums were used for large orchestras like Symphony Orchestra". Savor the magic of the Roto Drums in the mukhda of "Doston ko salaam" (Rocky) and Timpani Drums in "Hum dilwaale" (Jagir). "The slightly de-tuned effect in the Jagir number was at the request of Panchamda. The song's beginning piece is almost a replica of the Sholay title; I was fortunate to be part of it"
The demonstration round continued – the magical "Phire-elaam" (Bengali Puja album), the brilliant use of the electronic Drums in the Usha Uthup Bengali number "Preme pode jaye", the lovely transition from electronic to acoustic drums in – "Meri Awaaz ke doston" (Aamne Samne) and the fresh use of the Drums in "Jaane do mujhe" (Dil Padosi Hai), a classical song with the Santoor, Tabla and Sarod as its main instruments!. "Panchamda was always open to ideas. If something sounded nice, he would use it. I was also a culprit for the use of Drums in Indian song situations. Since there were not many opportunities to play them in Indian based songs, I used to purposely play the Cymbal at song rehearsals to enhance the effect. If Panchamda liked it, he would use it, as in the case of Dil Padosi Hai number", narrated Franco.
Another mind-blowing use of the Drums has been in "Pyaar ke mod pe" (Parinda). The final knock-out punch for the tireless Pune crowd came in the form of the Shalimar title track, brilliantly conceived and orchestrated by musician-cum-arranger Kersi Lord.  "There will be just that one Panchamda, no other. You all have been fantastic; I am happy that you have invited me here. And the Panchammagic team has worked this far, hats off to their passion", Franco thanked all.
Some resonant moments continue to linger – the cake-cutting for Pancham's 70th birthday occasion, Shakti Samanta's heartfelt tribute to Pancham after his death, the use of the morning raag Todi in "Raina beeti jaaye" for an evening situation to signify a prostitutes 'start of day', Pancham's special liking for the Marathi song "Vaadal vaara sutla ga" the shelved Yogesh-Pancham movie Kaanch Ke Phool and the live 3rd stanza rendering of Sholays "Mehbooba Mehbooba" in Panchams own voice  – remain embossed in memory.
An enchanting experiment-filled nostalgic evening had come to an end. Kudos to the entire Panchammagic team for yet another bravura performance. As year 2010 dawns, we patiently wait for the magic to continue. And who else but Panchammagic to depend on? After all, they are the Original, committed to explore the Original and preserve the Original. All for the innovator Original and the improviser Original – Rahul Dev Burman! The legacy lives on……….
Shankar Iyer
---